Kyle Larson Finally Has an Answer to Son Owen's Question: 'Dad, Why Don't You Ever Win a NASCAR Race?'
Article Highlights:
Kyle Larson finished a memorable season by winning the NASCAR Cup Series championship in Phoenix
Owen Larson, 6, saw his father win a Cup Series race for the first time
The driver's 3-year-old daughter roots for fellow Hendrick Motorsports driver William Byron
Once the issue of whether a NASCAR Cup Series team would take a chance on damaged goods was resolved, Kyle Larson answered all the other questions in the affirmative.
Yes, he could compete in the Hendrick Motorsports No. 5 Chevy. In fact, he won at Las Vegas in just his fourth time out.
Yes, he could dictate the action, running up 269 laps led at Atlanta and 263 at Dover despite settling for second place both times.
And, yes, Larson could win often enough to force the competition to take him seriously. He showed as much with a Charlotte, Sonoma, and Nashville triple crown (plus the All-Star Race for good measure).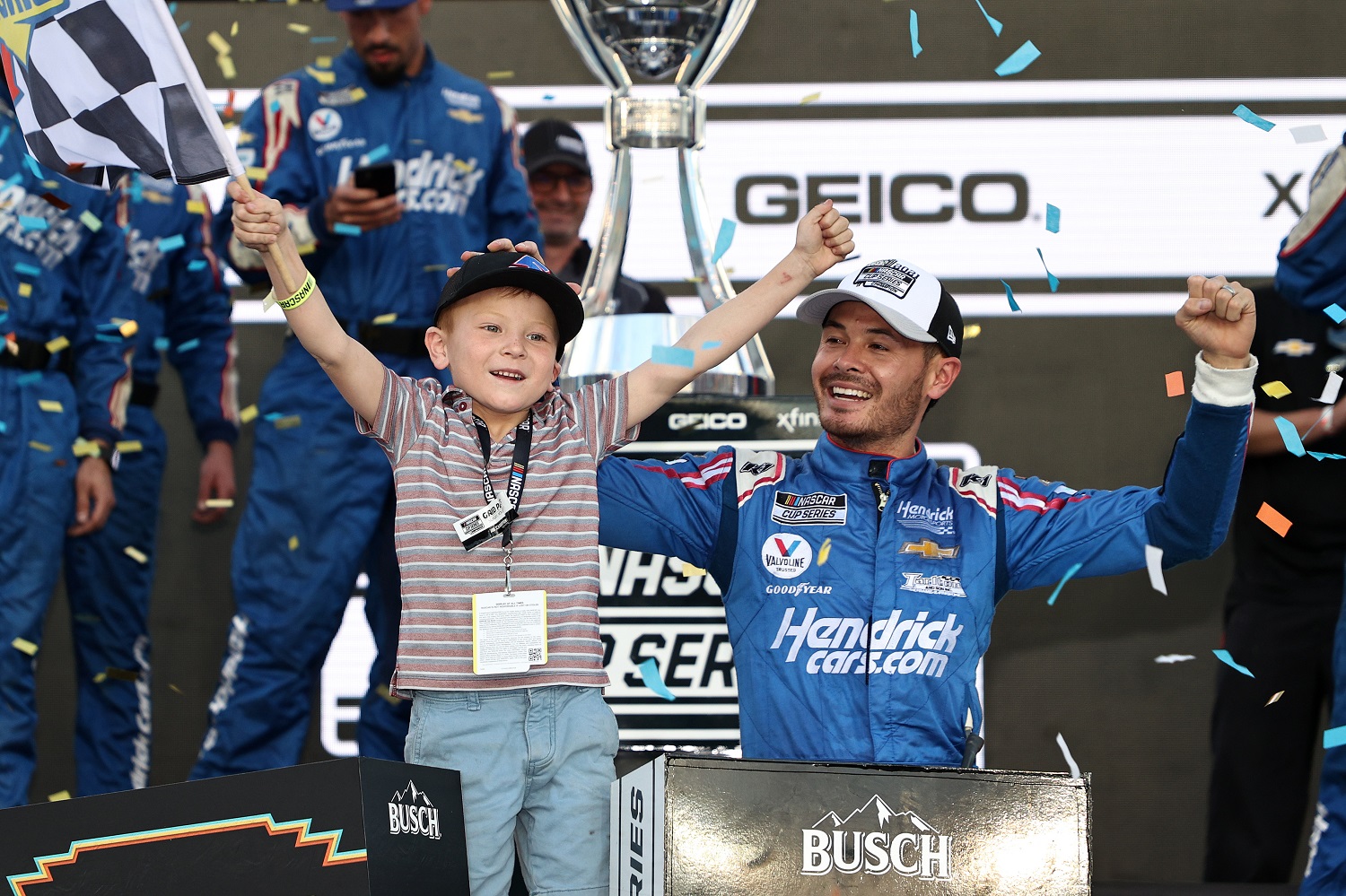 The racing community had one more question, and Larson answered it Sunday at Phoenix. Yes, NASCAR will be referring to him as its defending Cup Series champion throughout the 2022 season. His 10th points race victory of the season came in the Championship 4 against Martin Truex Jr., Denny Hamlin, and defending champion Chase Elliott.
With all those questions to answer, Larson had to deal with one more. It was a tough one, too, because it probably mattered to him every bit as much as beating Truex to the checkered flag in Phoenix mattered. That's because it came from Owen, the driver's 6-year-old son.
A reporter inquired whether the youngster had grown used to visiting victory lane seemingly every week. It was a good question, too, because Larson competes (and wins) frequently at dirt tracks, too.
"I think the last two years on the racetrack have been extremely successful," Larson explained. "I think I won 46 races last year. And I think I'm at 29 right now this year. So, yeah, just really, really cool. Still have like probably 12 or so more races left this year."
Owen has seen some of the dirt-track triumphs close to the family's North Carolina home. However, Kyle noted that Owen had missed out on the NASCAR triumphs.
 "He hasn't been to any of the Cup races I've won this year," he said, according to NBC Sports. "He was able to come to victory lane at (the Charlotte Roval), but he had a baseball game that day. So, no.
"Actually, a month, month and a half ago, he was like, 'Dad, why don't you ever win a NASCAR race? You always finish second when I'm there.'"
Ouch. That one had to sting a little bit despite the success throughout the season. But the Championship 4 victory put that issue to rest. The TV audience saw plenty of Owen and his 3-year-old sister, Audrey, during the raucous celebration. One of the enduring memories of the night was Kyle loading Owen into the HendrickCars.com Chevy at the finish line, where the celebration began, and driving him over to victory lane.
Now, Larson just needs to deal with the humorous issue he's experiencing with Audrey. The word is that the toddler's favorite driver happens to be one of her father's Hendrick Motorsports teammates.
"Loves William Byron," Larson said. "We had a little team outing at the shop on Tuesday. William was there. I brought my kids.
"She got to go take a picture with William. She was too shy to talk. She was embarrassed. She was, like, pushing me and hitting me. She was acting goofy, I think, because she was nervous.
"Loves William Byron. Yes, she cheers for William way more than she cheers for me."
That'll change soon in light of how many reasons Larson has given her to cheer for her father lately.
Like Sportscasting on Facebook. Follow us on Twitter @sportscasting19.