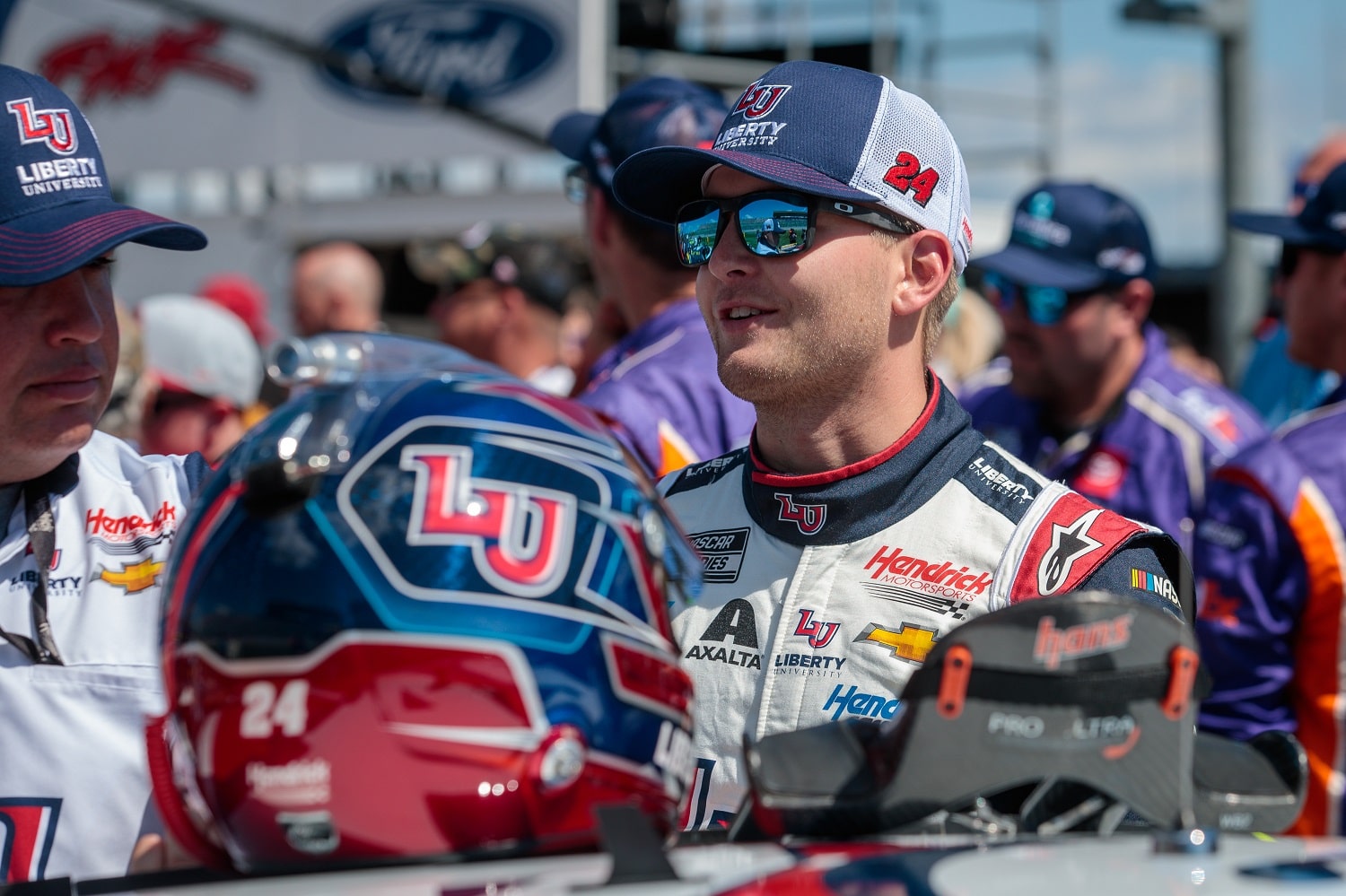 William Byron Is Overpaying for His Foolishness and NASCAR's Sloppiness
NASCAR was two days late and a bit too harsh in hitting William Byron with a penalty.
NASCAR rolled out a quasi-docudrama modeled after Formula 1: Drive to Survive at the start of the playoffs this month. However, the sport needs to embrace Hollywood more, beginning with William Byron.
Byron should watch Law & Order re-runs to familiarize himself with that thing about having the right to remain silent. And NASCAR needs to hire a cinematographer to catch all the action of its five-hour (yawn) dramas.
Two days after the race that wouldn't end at Texas Motor Speedway, NASCAR hit Byron harder than he hit Denny Hamlin. Byron's mistake, aside from owning up to his actions on live television, was trying to adjust Hamlin's attitude with the caution flag out.
NASCAR missed the incident involving William Byron and Denny Hamlin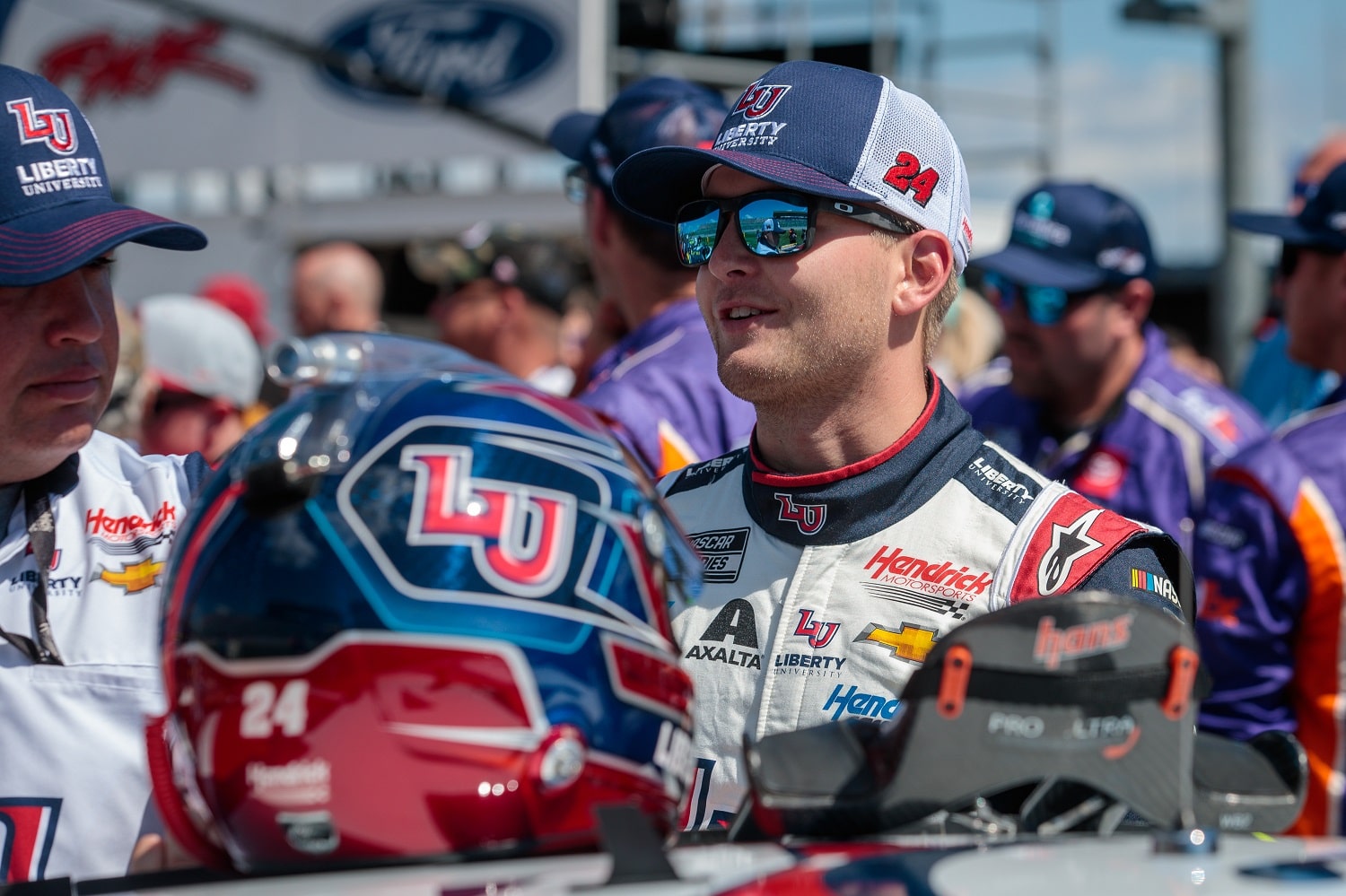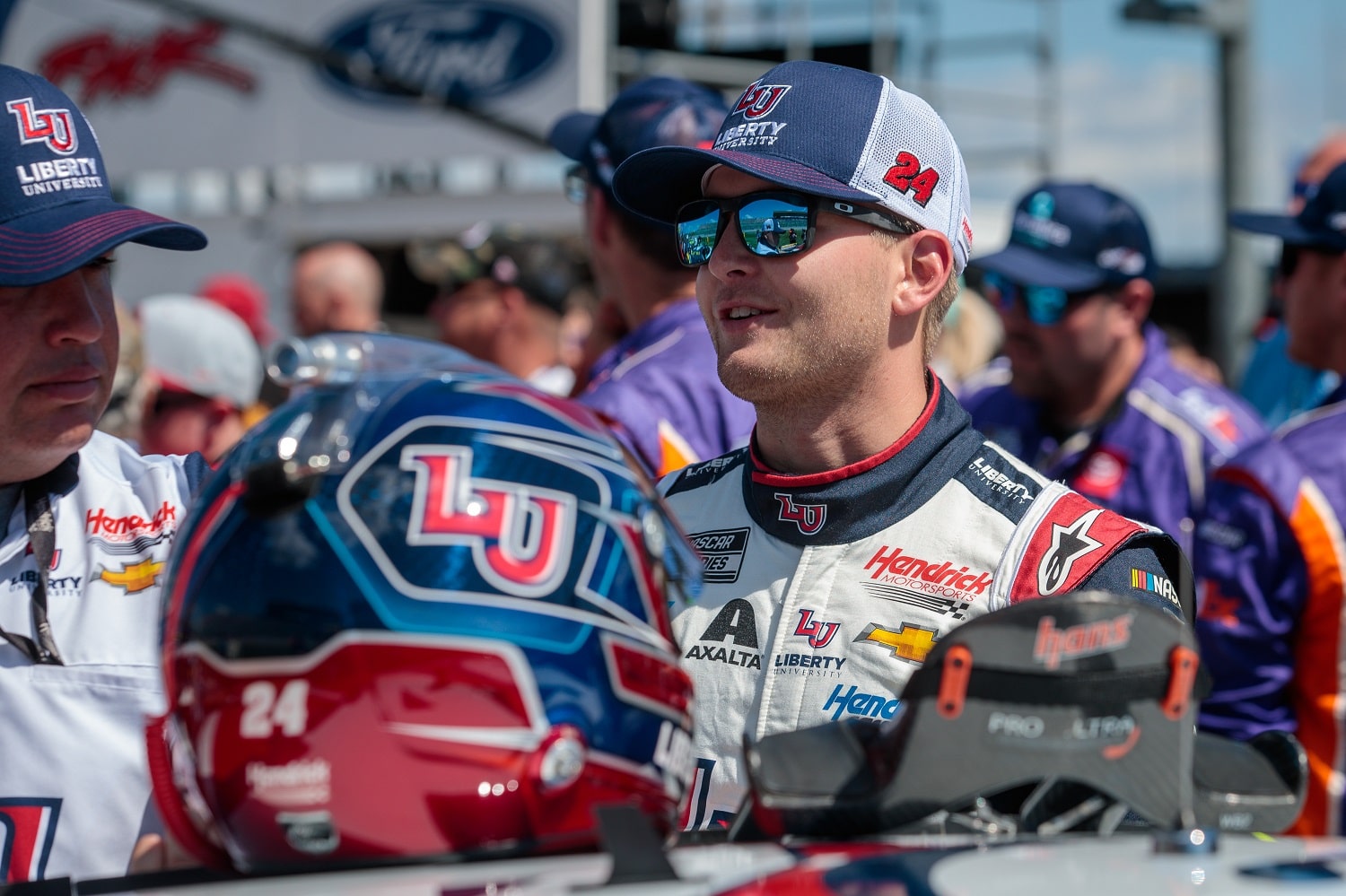 NASCAR officials had to admit on Sunday that they missed William Byron's shove of the No. 11 Toyota, which sent Denny Hamlin onto the infield with the caution flag out. The incident came moments after leader Martin Truex Jr. had a tire go down on Lap 269, and all eyes were on him.
Moments after the race ended, all ears were on Byron. Interviewed by NBC, he all but admitted intentionally tapping the back of Hamlin's car as payback for Hamlin going up the track to squeeze him into the wall a few laps earlier. The smart play would have been to say nothing. Alternatively, he could have claimed it was a split-second lapse while distracted because the caution flag had come out.
The initial TV replay didn't shed light on what caused Hamlin to go into the infield. Ten minutes later, another angle finally showed Byron to be the culprit. By then, however, NASCAR was seconds from waving the green flag to resume the race, and there was no penalty issued.
NASCAR hits William Byron with a fine and points penalty
Tuesday's announcement from NASCAR all but confirmed how badly officials botched Sunday's incident at Texas Motor Speedway. The organization docked William Byron 25 points and fined the driver of the No. 24 Chevy $50,000 for shoving Denny Hamlin to the infield under the caution.
Consequently, Byron drops from third place to 10th and sits eight points below the cut line. The chief beneficiary is Chase Briscoe, who moves seven points above the cut line.
"I didn't mean to spin him out," Byron said immediately after the race. "That definitely wasn't what I intended to do. I meant to bump him a little bit and show my displeasure and unfortunately, it happened the way it did. Obviously, when he was spinning out, I was like 'I didn't mean to do this,' but I was definitely frustrated."
Those words proved costly two days later, but NASCAR was almost certainly too harsh. Hendrick Motorsports should absolutely file an appeal on behalf of its driver to claw back some points.
NASCAR miscalculated in dishing out its penalty
Fining William Byron was a no-brainer, and the driver also deserved a points deduction, but NASCAR opted to go with a nice round number of points on Tuesday. Had officials acted in a timely fashion on Sunday, the penalty would have been smaller.
Byron finished seventh in the race won by Tyler Reddick, and only runner-up Joey Logano logged more points (46) than the 43 Byron earned. The breakdown for Byron included 13 stage points and 30 for his race finish.
As noted by Bob Pockrass of Fox Sports, the likely penalties had NASCAR caught the incident on Sunday instead of two days would have been:
Sending the No. 24 Chevy to the back of the lead lap, which Pockrass figures would have been about a 10-point hit.
Holding Byron for a lap without the benefit of a wave-around. That would likely have landed Byron in 25th place, effectively costing him 18 points.
Holding Byron for two laps or more, which would have landed Byron in 28th place, costing 21 points.
If you back out the stage points he earned plus the 25-point penalty, Byron earned only five points for the race. The problem there is that he came away with fewer points than Martin Truex Jr. (eight) and Chris Buescher (seven), who didn't even finish.
A four-point difference might not seem like a lot, but it is for drivers battling for a transfer into the semifinals. Remember, Ryan Blaney won the final playoff berth by three points over Martin Truex Jr. Three weeks later, Austin Cindric finished just two points clear of Reddick and Kyle Busch for the right to advance.
Still, the damage to Byron's hopes of advancing was self-inflicted, and he has races at Talladega and the Charlotte Roval) to get back above the cutline. On the other hand, Austin Dillon took a crazy cheap shot on Brad Keselowski this summer under the yellow at New Hampshire, and Busch stalked a pace car under caution last year without surrendering points.
That's just a reminder that the only consistency one can expect from NASCAR is its inconsistency.
Like Sportscasting on Facebook. Follow us on Twitter @sportscasting19 and subscribe to our YouTube channel.
Got a question or observation about racing? Sportscasting's John Moriello does a mailbag column each Friday. Write to him at [email protected].