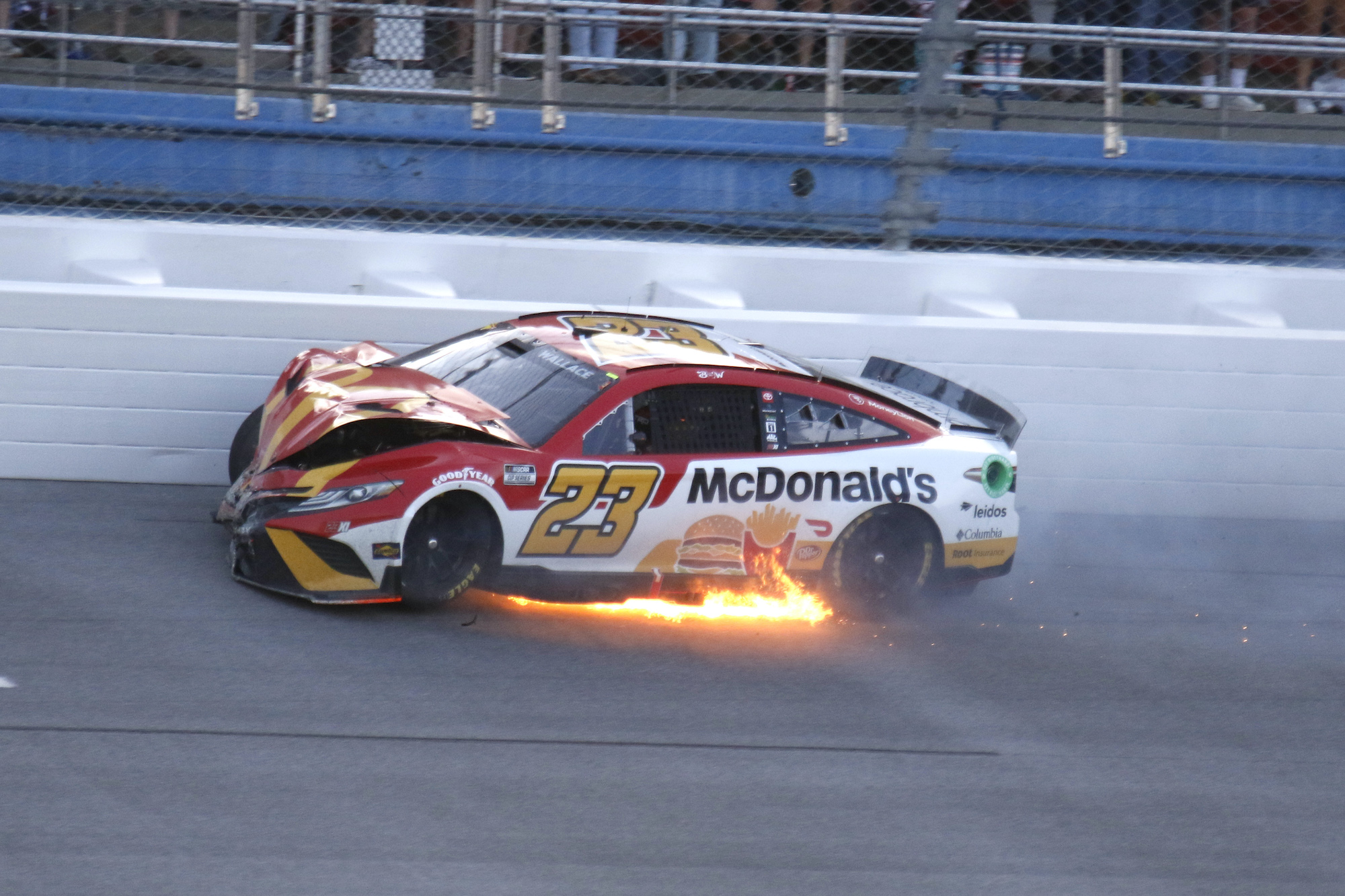 Bubba Wallace's Comments After Talladega Should Open Eyes of NASCAR Officials
Bubba Wallace suffered what he described as the biggest hit of his career in the last lap at Talladega. What's more concerning is it's the second time this year he's said that and it's something NASCAR officials should further explore.
The second season for Bubba Wallace with 23XI Racing has undeniably been a struggle. Outside of a runner-up finish in the season-opening race at Daytona, the 28-year-old has not sniffed the top 10. On Sunday at Talladega, he likely needed a sniff of smelling salts for the second time this year to clear his mind after suffering another nasty hit on the final lap. 
While the Next Gen car has over-delivered and consistently produced an entertaining racing product to start the 2022 season, Wallace's comments immediately following his latest big crash revealed that it's also delivering some big blows to the drivers, and NASCAR officials would be wise to listen to the teams and explore ways to minimize those impacts going forward.  
Bubba Wallace hits wall hard in final lap at Talladega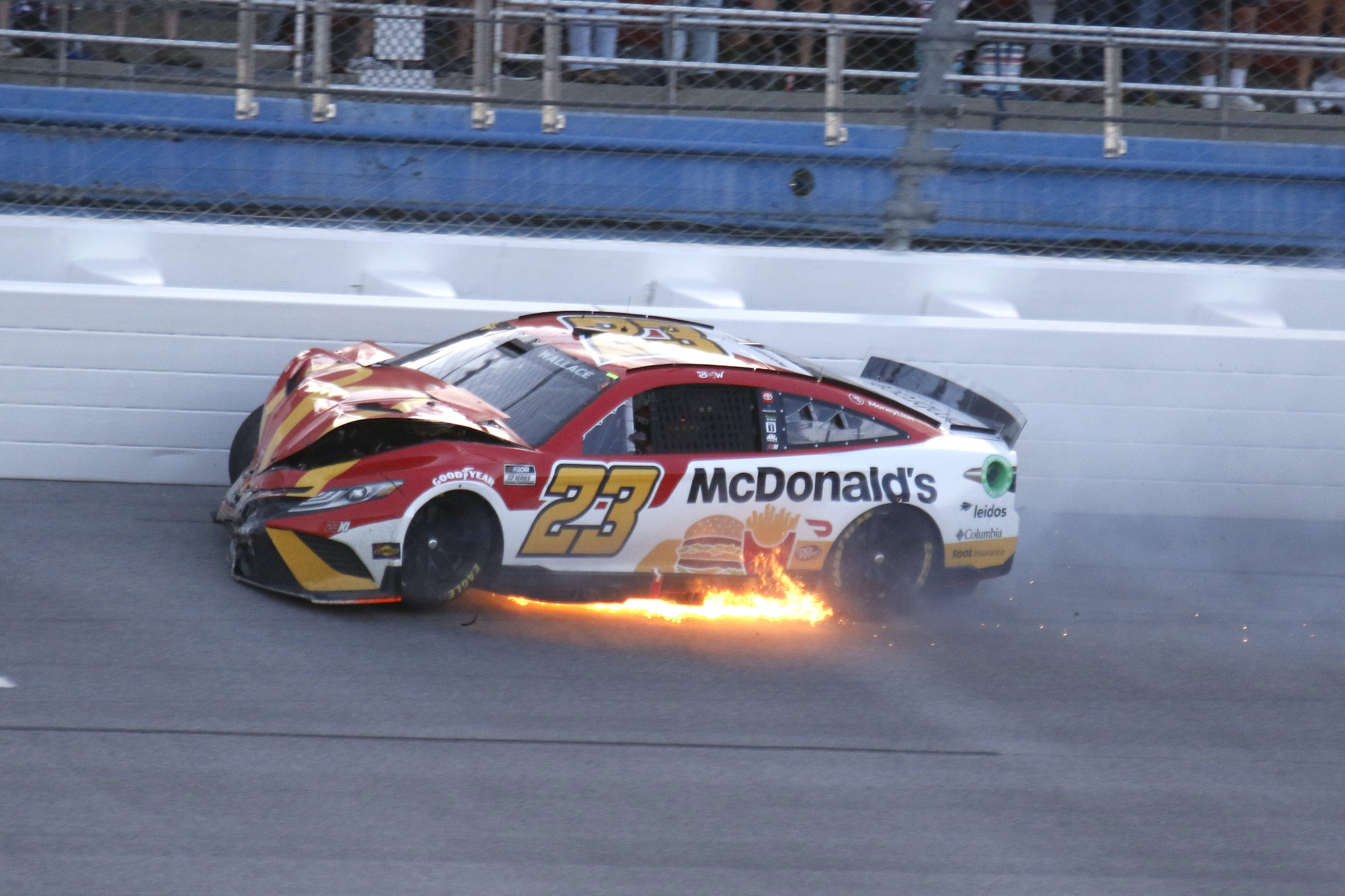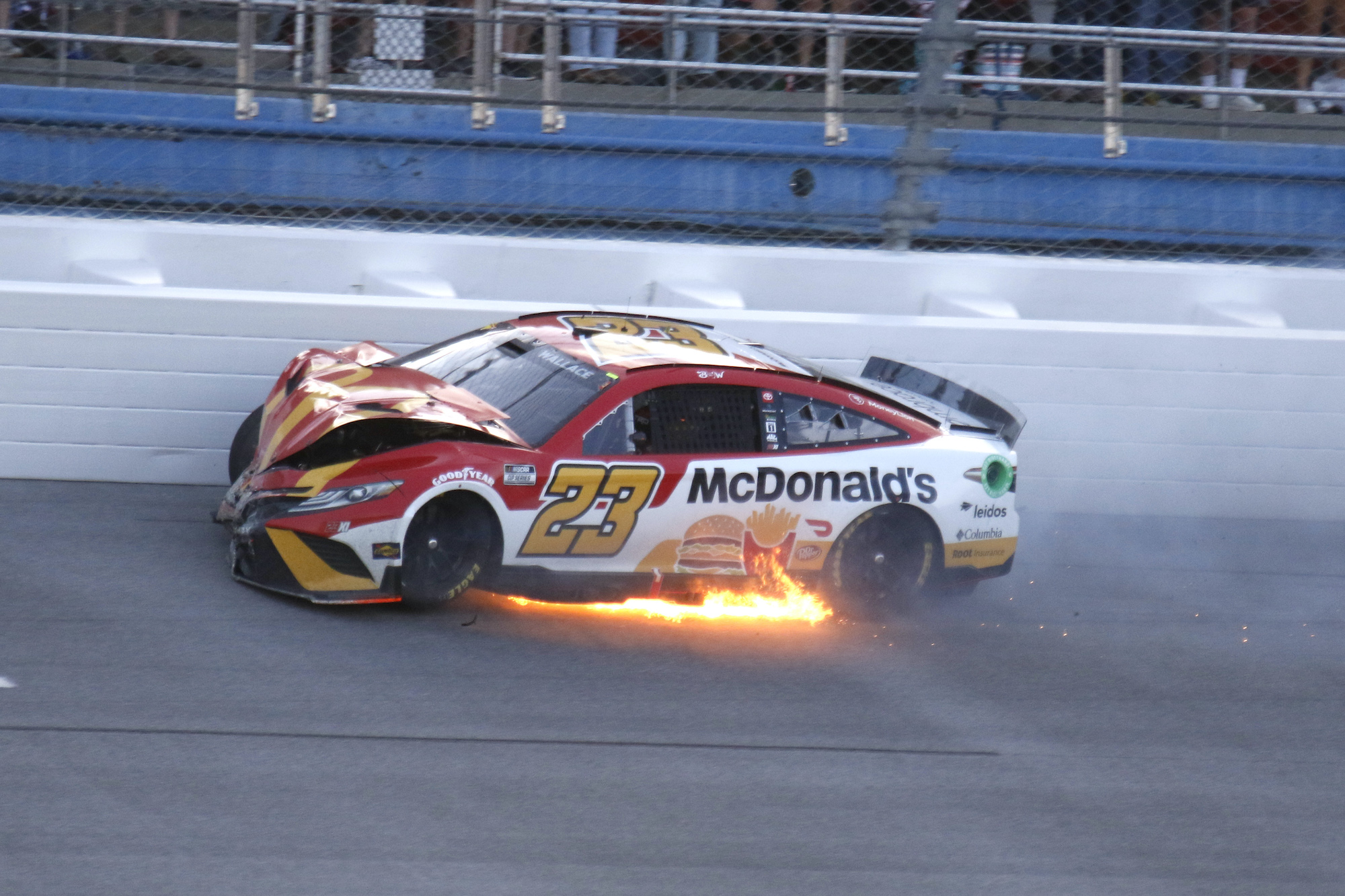 Bubba Wallace flashed speed throughout the day at Talladega, including winning the first stage. It didn't come as a surprise to anyone. It's what he's consistently done for the last year on superspeedways. 
However, like his last superspeedway run on the remodeled Atlanta, it painfully ended on the final lap with a vicious hit. Ironically, his 23XI teammate Kurt Busch was the one who sent him into the wall, only after the No. 45 car had been escorted hard into the wall by Kyle Larson as the pack of cars made a mad dash to the checkered flag. 
When Busch rebounded off the wall, he clipped Wallace's right rear, causing the No. 23 to make a hard right turn into the fence. As the 28-year-old crossed the finish line, he shared his thoughts on the brutal collision.
"There's a new P1. I don't know if I can take any more f****** hits like that," Wallace said while trying to catch his breath from the impact. 
Wallace suffers violent hit in Atlanta a month earlier
A little over a month ago in Atlanta, Wallace ran in second position to start the final lap behind William Byron. Unfortunately, just like Talladega, he limped across the finish line after sustaining a hard hit to the wall. 
This time, it was Justin Haley who slammed into his side and sent the 23XI Racing car hard into the fence. Moments after the hit, Wallace's spotter Freddie Kraft checked in on his driver. 
"You alright?" the spotter asked. 
Wallace let out a loud groan. 
"Catch your breath. Just catch your breath. Tell me you're alright," Kraft said. 
With no response, Wallace's crew chief Booty Barker interjected. "You OK, Bubba?" he asked. After seven seconds without an answer, Barker asked again. 
"Give him a second. He lost his breath," Kraft said calmly. "Just let him catch his breath."
After another lengthy pause, Wallace, out of breath, gasped and said "yeah" in between breaths. He made a surprising admission a short time later when visiting with members of the media.
"All good. That was the hardest hit I've had," the 28-year-old told Fox's Bob Pockrass. "I think that was harder than Pocono."
NASCAR needs to listen to driver feedback and explore potential areas for improvement
Bubba Wallace suggesting last month that his hit in Atlanta was harder than Pocono was a red flag to anyone who witnessed the crash in 2018. That's when his car lost its brakes, went across the grass, then returned to the track, where it got sideways and violently slammed into the outside wall. His window net remained up for more than 30 seconds. When he finally got out, he bent over, put his hands on his knees, and sat down beside his car.  
Placing the Talladega hit above Atlanta and Pocono should alarm those in NASCAR headquarters. Last year, drivers, including Wallace's boss Denny Hamlin, voiced concerns about the safety of the Next Gen car when rumors swirled regarding test dummies "dying" in crashes because the car was too rigid and had too few crush zones to dissipate the force of an impact away from the driver. NASCAR eventually allayed any fears when it provided data to the teams that indicated the car was working as designed.
Those concerns from last year, coupled with what Wallace has now experienced twice this year, should prompt some further investigating. At the very least NASCAR could take its latest data set and update Wallace and other drivers that the car is still performing as intended. But, if there are areas that need to be addressed, they can convey that information to the teams.
In either case, NASCAR should do its due diligence and avoid something more serious from happening and ruining what has turned out to be an exceptional start to the season.
Like Sportscasting on Facebook. Follow us on Twitter @sportscasting19.