LSU's Kim Mulkey Is Departing Baylor for a Reported $2.5 Million
It is no surprise when a college basketball coach leaves one program for big money with another. It is a little more eye-catching when it is a top women's college basketball coach who makes headlines for a big-money move. That is exactly what happened this week when three-time National Champion Kim Mulkey left Baylor University for the head job at Louisiana State University.
The move shocked the college basketball world. Mulkey, at age 58, is in the prime of her coaching career. She previously gave no indication that she was interested in leaving Baylor. Money talks though, and the fact that her new salary is higher than one of the legendary coaches in the game proved to be an offer she couldn't refuse.
Kim Mulkey is going home to Louisiana
Mulkey was born and raised in Tickfaw, Louisiana, a very small town about 50 miles west of her new home in Baton Rouge. She attended Hammond High School where she led her basketball team to four straight Louisiana state titles. She was also the valedictorian of her graduating class.
Although Mulkey stayed in the state for college, she did not attend LSU. She played point guard at Louisiana Tech University where she won two titles, including the inaugural women's NCAA National Championship. She would then go on to become an assistant coach and eventually the associate head coach at Louisiana Tech. Her Lady Techsters reached seven Final Fours and won the 1988 National Championship.
Kim Mulkey's record at Baylor was phenomenal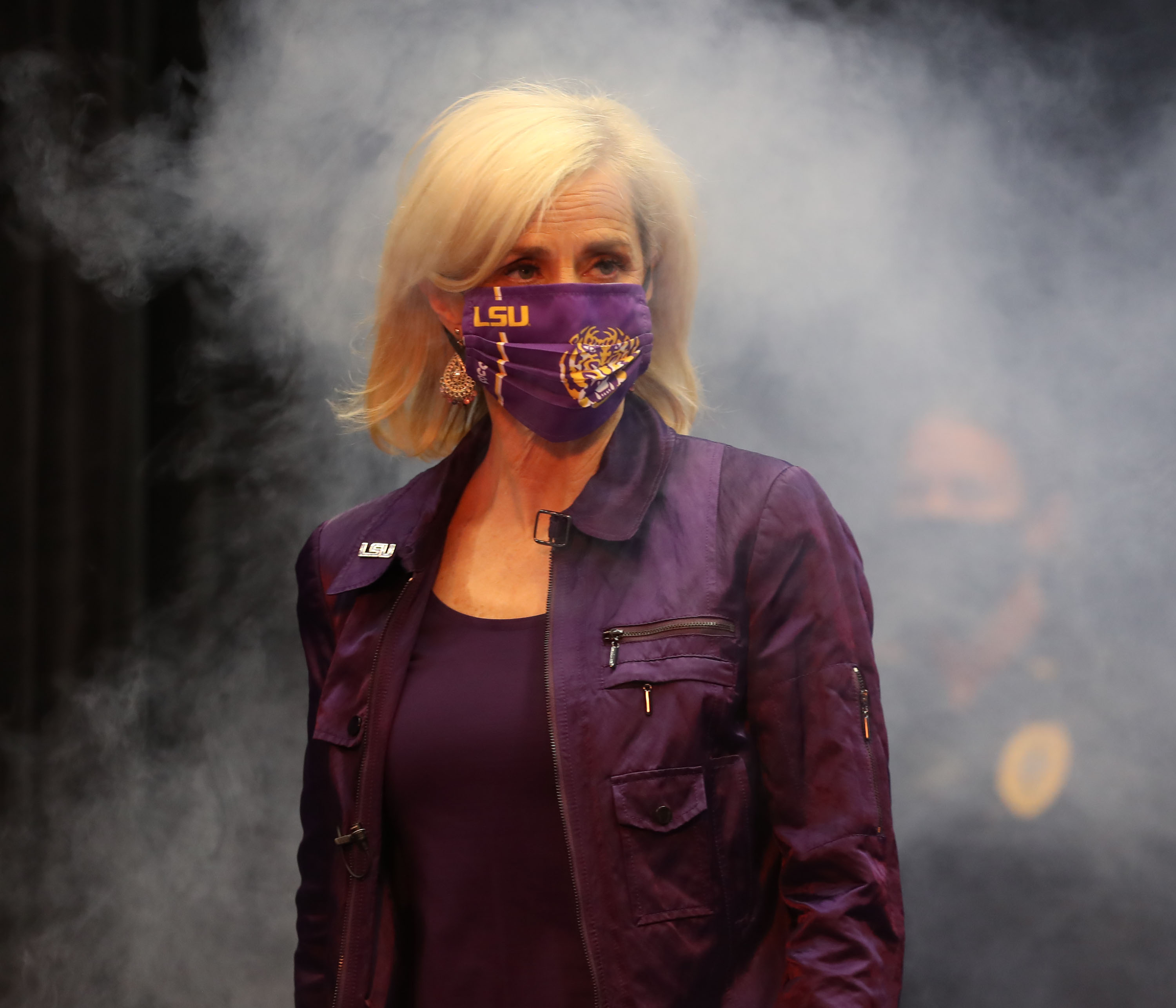 In 2000, Mulkey was hired to coach the Baylor Lady Bears. The team perennially finished at the bottom of the Big 12 conference and had never gone to the NCAA Tournament. In her first season as head coach, Mulkey led the team to a 21-9 record and their first NCAA Tournament appearance. This was the start of two decades of success that included National Championships in 2004-05, 2011-12, and 2018-19. These were Baylor's only National Championships in basketball until this year's men's team win.
The 2011-12 title came at the end of an undefeated season where the Lady Bears finished 40-0. That team included Brittney Griner, one of the greatest college basketball players of all time. Mulkey has also coached many other WNBA players such as Kalani Brown, Te'a Cooper, Odyssey Sims, and Lauren Cox.
Mulkey's overall record at Baylor is 632-104, which gives her a winning percentage of 85.9%. In February 2020, she became the fastest basketball coach in NCAA history (men's or women's) to reach 600 wins. She is also the only person in women's college basketball to win National Championships as a player, assistant coach, and head coach.
Mulkey's new salary puts her on par with some big names
According to a report in The Advocate, Mulkey's new contract will pay her $2.5 million in her first year. Following that report, Brody Miller from The Athletic tweeted that the contract figure would rise to over $3 million by the end of the deal. This is the same amount that the LSU men's basketball coach, Will Wade, makes annually. It is also more than triple what the last women's head coach, Nikki Fargas, made.
The big news from a women's college basketball perspective is that the annual salary is higher than University of Connecticut head coach Geno Auriemma's salary. The iconic UConn coach currently makes $2.4 million annually. This puts a lot of pressure on Mulkey to deliver the first-ever women's basketball title to Baton Rouge. The program did reach five consecutive Final Fours from 2003-04 to 2007-08 but has never made the final game. With Mulkey's long track record of winning though, it will be no surprise if she meets this goal quickly.
All stats courtesy of baylorbears.com and lsusports.net