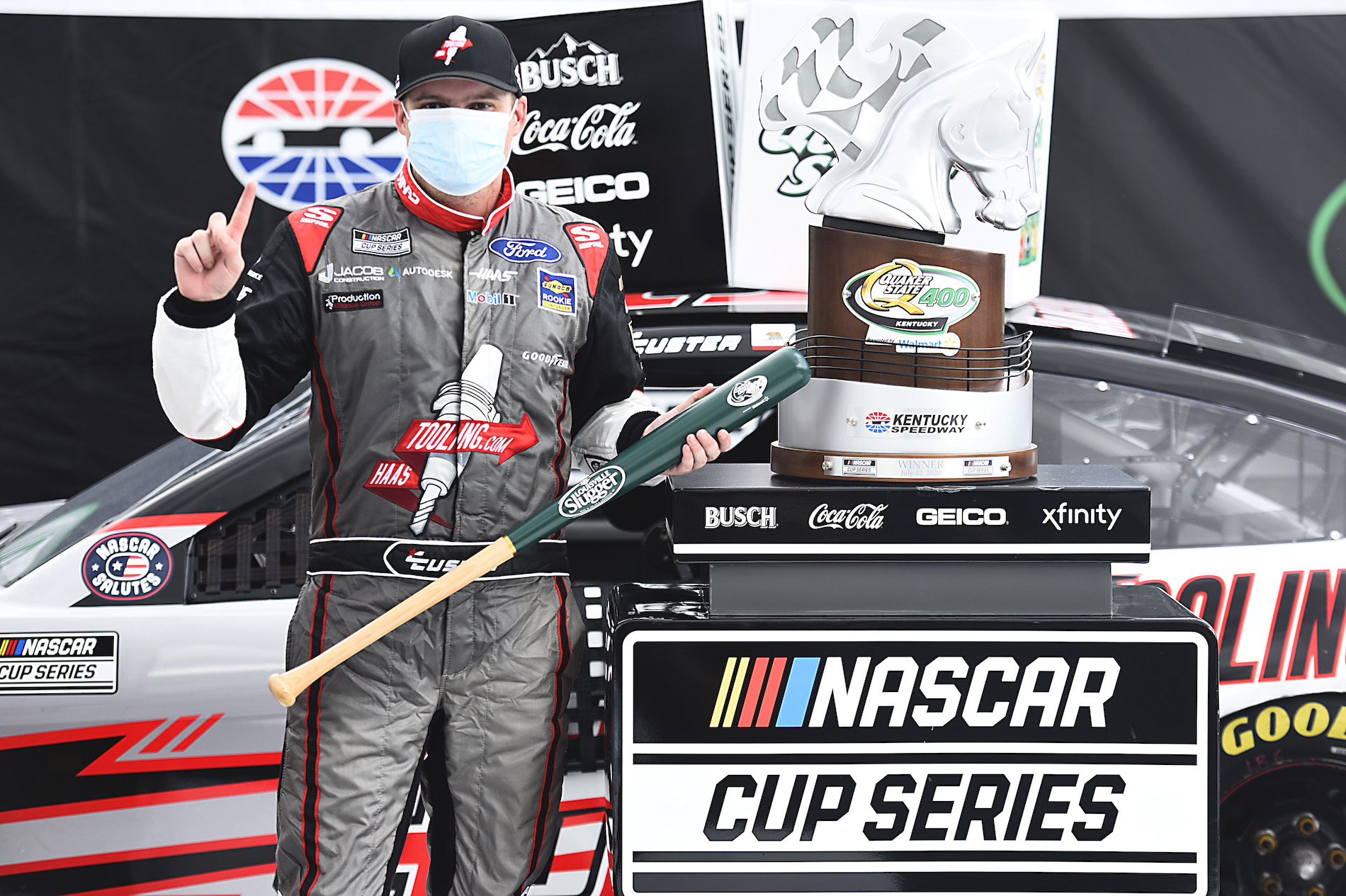 Lucky Bettor Turns $100 Into $25,000 Thanks to Cole Custer's Thrilling NASCAR Win
Cole Custer was a 250/1 long shot to win NASCAR's Quaker State 400 on Sunday, and his unlikely win made one lucky bettor a fortune.
Not many NASCAR fans knew of the name Cole Custer before Sunday's thrilling win at the Quaker State 400 at Kentucky. The rookie driver is only 22 years old and had only two top-10 finishes to his name before the weekend. Vegas oddsmakers barely knew about Custer too, pegging him as a 250/1 long shot to win the NASCAR Cup Series race. One bettor, however, felt confident enough to throw down $100 on the youngster, and it paid off big time.
Cole Custer got his first NASCAR win in thrilling fashion on Sunday
Cole Custer was on his way to a solid finish in Sunday's Quaker State 400. He started fifth on the restart with just two laps to go, and anyone in his position would've been more than happy with a top-five finish at that point.
But not Custer.
On the final lap, Custer made a daring pass of the leaders and overtook the lead with barely any time left. When the checkered flag flew, Custer was the first to the line by a mere .27 seconds for his first NASCAR Cup Series victory.
"I knew I just had to get to the top," Custer said after the race. "The top rolled pretty good and once I got past and I was like in third I was like, 'I've just got to take a shot and do whatever I can here.' "And it ended up the 4 [Harvick] and the 19 [Truex] got together a little bit and I was able to take advantage of it."
With the victory, Custer became the first NASCAR rookie to win in four years.
One lucky bettor turned $100 to $25,000 thanks to Cole Custer
Cole Custer didn't just make history for himself on Sunday. He also made history for one lucky William Hill bettor who backed the young NASCAR driver.
Custer was a massive 250-1 long shot to win the Quaker State 400 last weekend, but one bettor liked his chances. The anonymous gambler placed a $100 bet on the rookie to win. When Custer crossed the finish line Sunday afternoon, the lucky bettor pocketed a cool $25,000.
Every NASCAR fan was on the edge of their seat for the thrilling finish on Sunday, but none more than the man with a $100 Custer ticket.
Another Custer bettor blew the chance at winning $45,000
The William Hill bettor took home a massive payout with his daring bet, but there's another gambler out there who's kicking himself today.
One Pointsbet bettor placed a $90 wager on Custer to win Sunday. Pointsbet had Custer's odds set at 500-1, so the bettor would've won an insane profit of $45,000.
However, in the middle of the race, the bettor took advantage of the site's cash-out policy. He cashed out $120 before the race ended, and he was probably feeling great about his modest profit at the time. Evidently, the bettor wasn't confident in Custer finishing the job, and it cost him nearly $45,000.