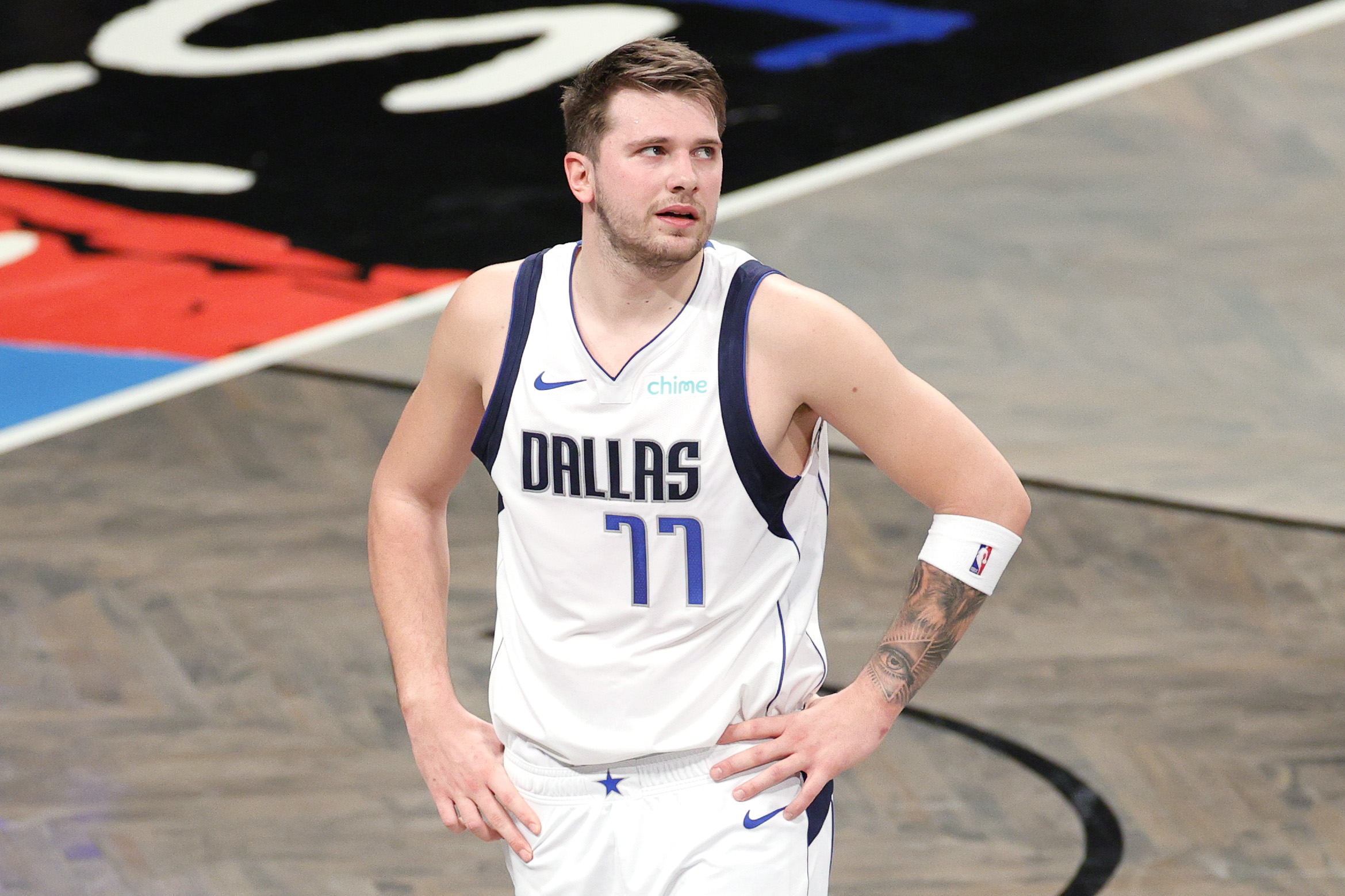 Luka Doncic Rookie Card Astonishingly Sells for More Than Half His 2020-21 Salary
A one-of-a-kind Luka Doncic rookie card sold for a record $4.6 million, which is more than half of Doncic's salary this year.
If he's not already one, Dallas Mavericks do-it-all guard Luka Doncic is a superstar in the making. One basketball card collector is hoping the trend continues after purchasing a rare 1 of 1 Doncic rookie card, paying more than half of what Doncic is making this season.
Luka Doncic is a two-time NBA All-Star
He's only in his third season in the NBA and Luka Doncic is already a two-time NBA All-Star. Doncic, a 6-foot-7 guard, can do it all on the basketball court. Doncic was the third overall pick in the 2018 NBA draft, selected by the Atlanta Hawks. The Dallas Mavericks acquired Doncic in a draft-day deal involving Trae Young.
Doncic had more than lived up to the hype of being the third overall pick. Selected after Deandre Ayton and Marvin Bagley III, Doncic has gone on to show he's the best player in that draft. Although he wasn't named an NBA All-Star in his rookie year, Doncic averaged 21.2 points, 7.8 rebounds, and six rebounds. He started all 72 games he played.
Last year, Doncic really stepped up his game. He improved his scoring average to 28.8 points per game, while upping his rebounding (9.4) and assists (8.8) totals as well. This year, in 31 games, he's putting up 28.5 points, 8.4 rebounds, and nine assists per game. He was named an All-Star for the second straight season.
Luka Doncic has a huge fan in owner Mark Cuban
Dallas Mavericks owner Mark Cuban knows he has a good one in Luka Doncic. Although Doncic is just 22 years old, Cuban realizes his young star is already the face of the franchise. Cuban is a big fan of his star and he said Doncic is mature enough to take the heat when things don't always go well.
"Luka's job is to make everybody on the court better and to help us win games," Cuban said to The Dallas Morning News in December. "We saw what we can do against the Clippers. But we saw what happens when we don't make shots like against the Suns and the Lakers or guys don't do their job and box out against the Lakers. Luka knows that when that happens, he's going to get the blame, no matter what. But there's nobody in the organization that has changed our perspective of Luka at all. We know he's amazing. He's a top-three, top-five player in the league and he's only going to get better."
Cuban said while Doncic is a stud on the basketball court, he's also helping the business side. "He definitely has an incredible fan base," Cuban said to Forbes in 2019. "They're young, they're fun, they're excited to see him. They're coming out; we've seen it on the road more and more. He's definitely selling tickets; there's no question."
Doncic rookie card sells for $4.6 million
In his third season in the NBA, Luke Doncic is making $8,049,360 this year, according to Spotrac. He's a bargain now but will be sure to be commanding the big bucks as he moves through the NBA. Collectors are trying to cash in before Doncic reaches Hall-of-Fame level.
One collector paid a hefty price for a rare, one-of-a-kind Doncic rookie card. According to the Dallas Morning News, Doncic's 2018-19 National Treasures Auto Logoman 1/1 sold for $4.6 million. The deal was announced via an Instagram post on collector Bolillo Lajan San's page.
The deal for the card reportedly is the highest price ever for a single basketball card. It comes roughly two weeks after Doncic's limited-edition Panini Gold Prizm card sold in an auction for $799,500, according to The Dallas Morning News.