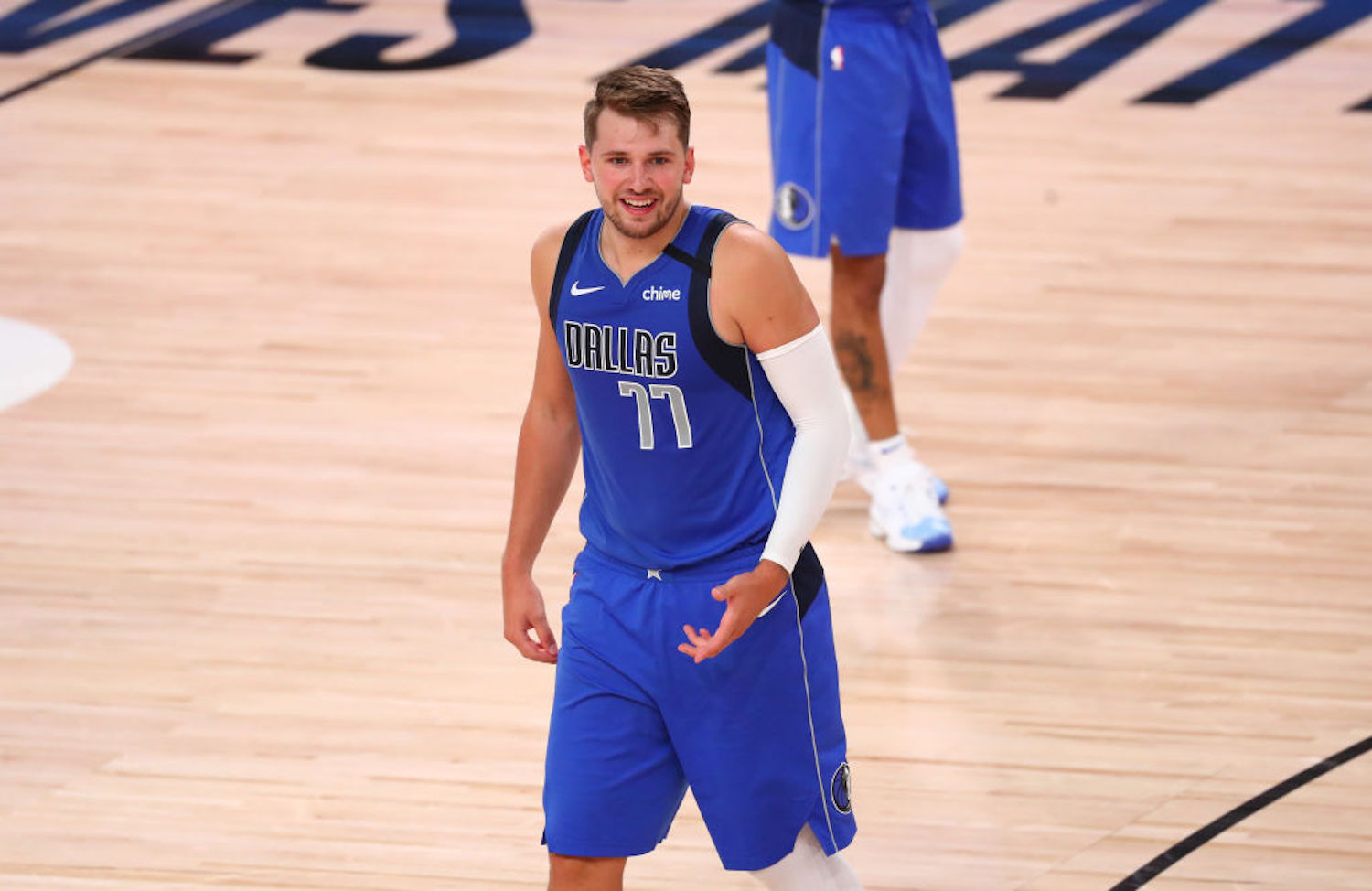 Luka Doncic Just Accomplished Something LeBron James Never Did
Luka Doncic was just named to the All-NBA First Team for the 2019-20 season, and he passed LeBron James in the process.
Luka Doncic has burst out of his shell to become one of the best players in the entire NBA at 21 years of age.
In just his second year as a pro, Doncic averaged 28.8 points, 9.4 rebounds, and 8.8 assists per game and led the Dallas Mavericks to a 43-32 record in the regular season. On Wednesday, Doncic was named to the All-NBA First Team for the 2019-20 season, and he made history in the process. By making the First Team in his second NBA season, Doncic accomplished something not even LeBron James did as a young pro.
Luka Doncic was named to the All-NBA First Team for 2019-20
On Wednesday afternoon, the NBA announced the All-NBA teams for the 2019-20 season. Along with Doncic, LeBron James, James Harden, Giannis Antetokounmpo, and Anthony Davis also received First Team honors.
Doncic finished the season sixth in the NBA in points per game, third in assists per game, and 23rd in rebounds per game. He recorded 17 triple-doubles in the regular season, which was the most of any player in the NBA this year.
The Slovenian phenom was a maestro on the court all season, and he deserved his All-NBA First Team as much as the four veterans who joined him on the list.
Doncic made NBA history by earning First Team honors in just his second season
Not many players have accomplished anything close to what Doncic has in the first two seasons of his NBA career. It usually takes players a few years to find their footing in the league and become a star, but not Doncic.
Doncic is only 21 years old, but he's already a top-10 and arguably top-five player in the entire NBA. He's had one of the most impressive starts to an NBA career in league history, and his First Team nod proves it.
Doncic is the first player to earn All-NBA First Team honors in his second season since Tim Duncan did it as a rookie in 1997-98. He's also the sixth player in league history to be named to the First Team as a 21-year-old or younger. Only James, Duncan, Kevin Durant, Rick Barry, and Max Zaslofsky can say the same.
Doncic accomplished something LeBron James couldn't in his second NBA season
LeBron James entered the NBA in 2003 and immediately became a superstar in year one. In year two, James made the All Star team after averaging 27.2 points, 7.4 rebounds, and 7.2 assists.
Despite his incredible season, James didn't earn an All-NBA First Team nod. He did receive the honor the next season, but it took him three years to get there.
Doncic made the First Team in just his second season in the league, which is something even James can't say about his career. Many believe Doncic is in line to take James' place as the face of the league once James retires, and his impressive feat in year two proves he might be on his way.
All stats courtesy of Basketball Reference