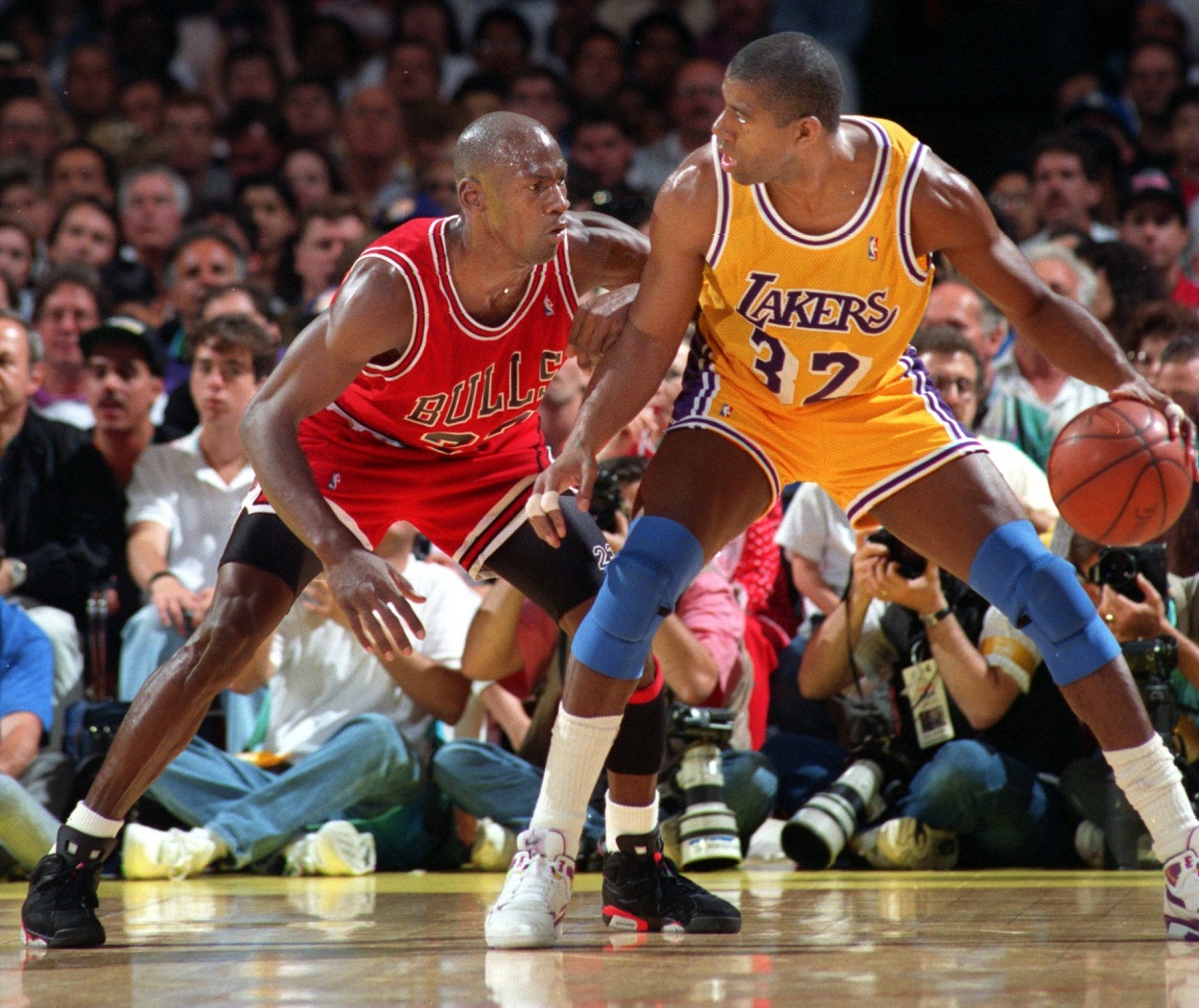 Magic Johnson Dishes on the Cold-Blooded 'Advice' Michael Jordan Gave Him During His NBA Comeback
Magic Johnson reveals a piece of advice Michael Jordan gave him following a Lakers-Bulls matchup in 1996.
On February 2, 1996, Magic Johnson and Michael Jordan squared off in an official game for the first time since Jordan's Chicago Bulls defeated Magic's Los Angeles Lakers in Game 5 of the 1991 NBA Finals.
Now, it's not as if the two hadn't battled at all since Johnson's abrupt retirement from the NBA in November 1991 after acquiring HIV. They battled when Magic took MVP honors with an emotional performance at the 1992 NBA All-Star Game. And there were plenty of battles during those intense practices when they were members of the famed Dream Team.
But, again, this Bulls-Lakers matchup on Groundhog Day was their first official meeting in quite some time.
Just three nights earlier, Magic returned to the Lakers and played exceptionally well, nearly notching a triple-double with 19 points, 10 assists, and eight rebounds in 27 minutes off the bench in a 10-point win. But that was against a Warriors team who entered that matchup with an 18-24 record.
Game two of his return was against a Bulls team that was on a 17-game winning streak, owned a 40-3 record, and would go on to win a then-record 72 games en route to a fourth NBA title in six years.
So, yeah, this was a little different. And truth be told, it was simply a different league than what it had been when Magic had left four-plus years earlier. And Jordan, as he's known to do, made sure to let the five-time NBA champion know it.
Michael Jordan and the Chicago Bulls easily defeated Magic Johnson and the LA Lakers in Magic's second game back in 1996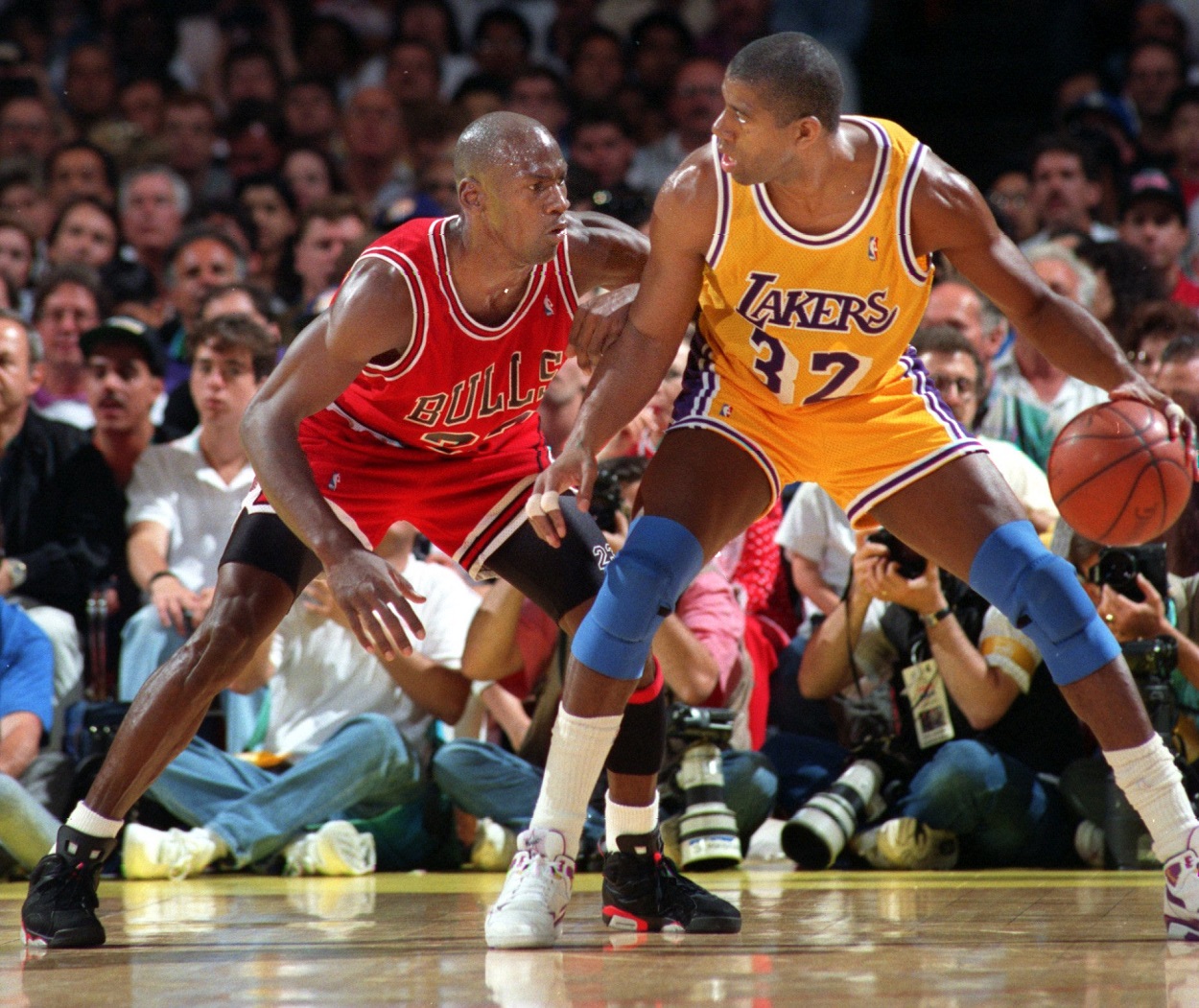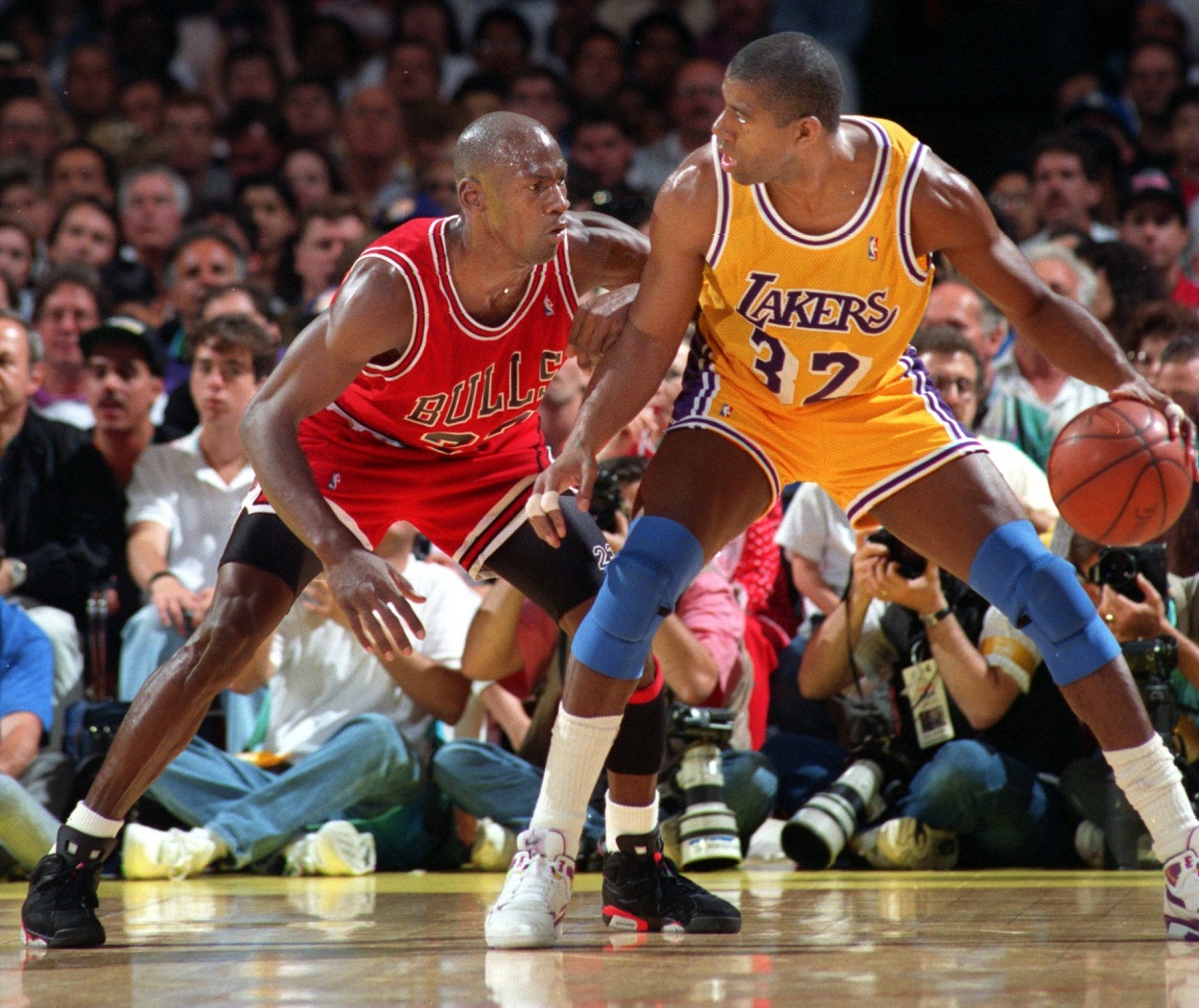 The Lakers, who were 25-18 coming into that Friday night matchup, actually hung with the Bulls for the first 12 minutes, and the first quarter ended in a 28-28 tie. But Chicago outscored LA 26-13 in the second and 26-18 in the third to take a 21-point lead into the final frame and cruised to a 99-84 victory.
Jordan scored well below his season average of 30.4 points, but he also only shot the ball 17 times, also below his season average, and scored 17 points. Scottie Pippen led the way for the Bulls that night, hitting 12 of 21 shots from the floor on the way to a 30-point night. Dennis Rodman chipped in with 10 points and grabbed a ridiculous 23 rebounds.
Magic certainly didn't have the all-around game he had against Golden State, as the stifling Bulls defense made him work for just about everything. But he played decently enough, hitting six of 13 shots from the floor and one of two free throws for 15 points. He also added three assists, three rebounds, and a steal. Cedric Ceballos was the Lakers' leading scorer that night with 23 points.
Magic says Jordan told him to retire after the game
After the game, Jordan apparently caught up with Johnson near the locker rooms and hit him with some hard truths before giving his good buddy some "advice," as Magic explained on Jimmy Kimmel Live! on Thursday night.
"They really showed me the difference between a championship team and a playoff team," Johnson said. "They were a championship team, we were just a regular team. And they played me so hard. They were physical, they pushed me around…

"Michael, after that game, he pulled me aside — I don't think I've ever told anybody this. He met me in between the locker rooms, and he said, 'Earvin, you have to remember now, you're not with Kareem [Abdul-Jabbar], you're not with James Worthy. All the guys you used to play with, Showtime, are not on that Laker team anymore. So remember, maybe you should think about retiring."

Magic Johnson on Michael Jordan
Always looking for that mental edge, wasn't he? Or perhaps Jordan took the attention Magic was getting a little personally. I think I heard somewhere that he'd do that from time to time.
Kimmel jokingly (we think) called Jordan a "sick individual," but Johnson admitted that MJ was right.
A few months later, Magic did retire for good after the Lakers were bounced from the playoffs in four games by the two-time defending champion Houston Rockets.
Stats courtesy of Basketball Reference