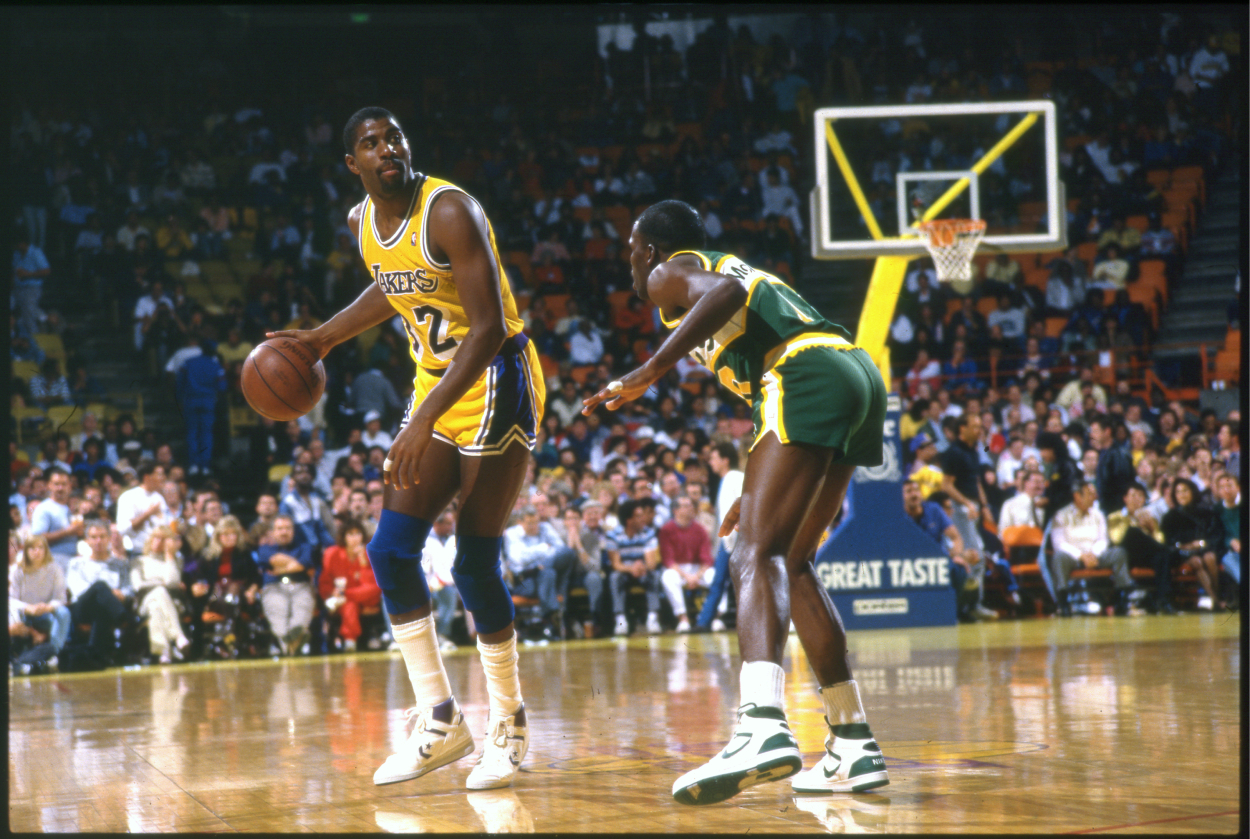 Magic Johnson Had His Own Flu Game in the NBA Finals, Then Was Aided by Mom's Home Cookin'
Magic Johnson had his own flu game during the 1988 NBA Finals against the Detroit Pistons.
Most NBA fans remember Michael Jordan's flu game against the Utah Jazz in the 1997 NBA Finals. Before that happened, Magic Johnson had his own flu game during the championship series between his Los Angeles Lakers and Detroit Pistons in 1988.
In Game 2 of the 1988 NBA Finals, Johnson was questionable to play after falling ill and missing practice Wednesday. He also missed Thursday's shootaround. He played, getting pumped with fluids at halftime, and then flew home to Michigan where he could enjoy his mother's home cookin'.
Magic Johnson knew something was wrong after Game 1 of the 1988 NBA Finals against the Detroit Pistons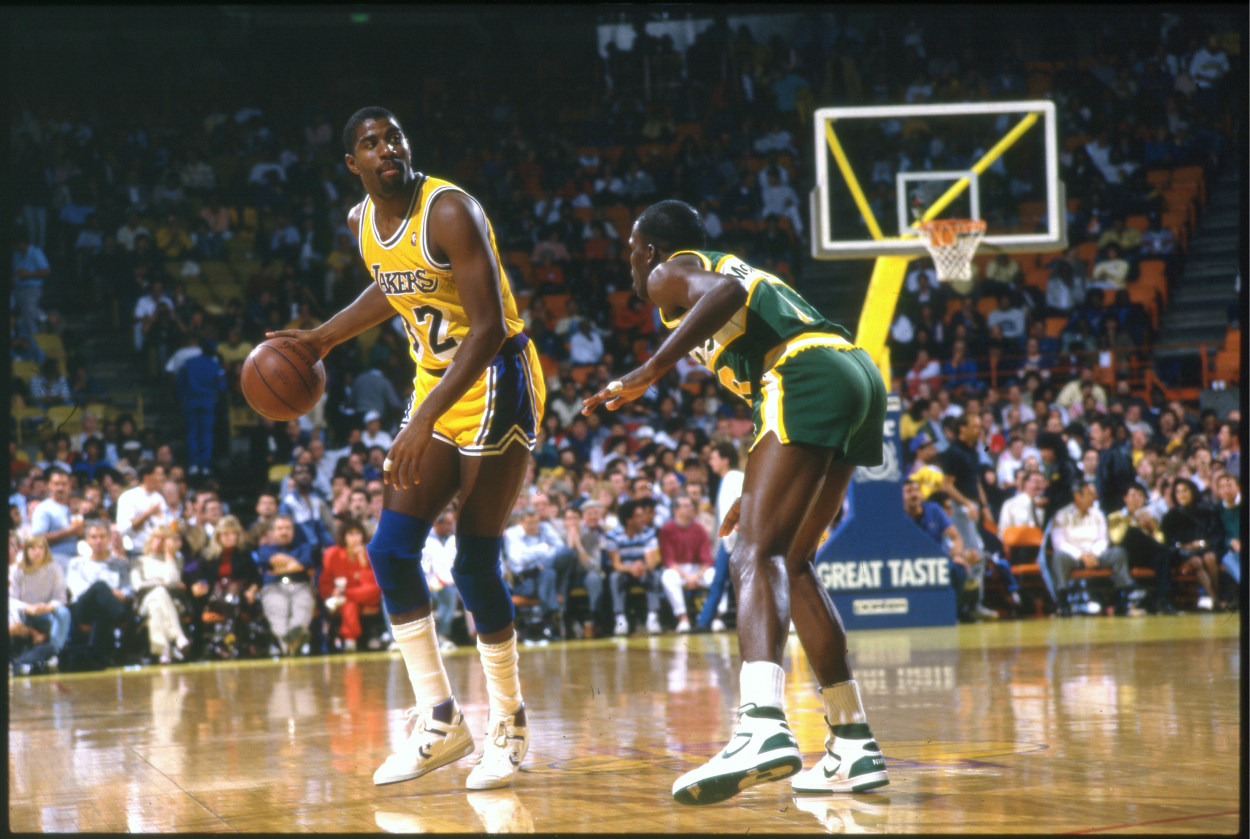 Johnson didn't feel quite right after the opening game of the 1988 NBA Finals against the Pistons. Losing at home, 105-93, certainly didn't help. Physically, something wasn't quite right, and it didn't fully hit until the following morning.
The flu got the best of him, putting his Game 2 availability in jeopardy. He toughed it out without practicing Wednesday or attending Thursday's walkthrough. In fact, he played 42 minutes and led the Lakers to a 108-96 victory to even the series.
"I don't wish this on anybody," Johnson said after the game, according to United Press International. "The other night I had the chills and was sweating a lot and having to go trotting about every 20 minutes to the bathroom. The fever is gone, but it still is in my stomach, and I'm still doing my routine to the bathroom. The doctor said I should be better by the weekend."
Johnson put up 23 points, 11 assists, and seven rebounds.
"When I came (to the Forum) I didn't think I would be able to play 42 minutes," he said. "The doctor did a good job at halftime, pumping me full of fluids. The team looks up to me, and if I'm up, they are going to go. If I showed my teammates I was sick on the floor, it would be a big letdown for them. I had to just fight through it and go all out."
Magic Johnson was able to finally get some of his mother's home cookin'
After each team won a game in Los Angeles, the series shifted to Detroit. Johnson grew up in Michigan, and his mother was still living there. He knew he would be taken care of when he returned home for Games 3, 4. and 5.
Johnson's mother had flown to LA and saw her son in rough shape during Game 2.
"My mother came to kiss me and I said, 'Ma I got the flu,' and turned my head to kiss her cheek," Johnson said after the second game. "She straightened my face and said, 'I raised you and I brought you into this world and I can handle this.'"
According to UPI, Christine Johnson took a redeye flight home after Game 2 to begin her cooking for her son and his teammates.
"She's going to make everything — sweet potato pie, homemade rolls, everything," Magic said. "When we first got into the finals, that was the first thing the team yelled, sweet potato pie."
The Lakers outlasted the Pistons in seven games
Johnson and the Lakers reclaimed homecourt advantage with a 99-86 victory. Although he played two less minutes than he did in Game 2, Johnson showed no ill effects from the flu. He finished with 18 points and 14 assists.
The Pistons then capitalized on the recently added 2-3-2 format and secured the final two games in Detroit to take a 3-2 series lead back to LA.
In Game 6, the Lakers overcame Isiah Thomas' 43 points, pulling out a 103-102 victory. Johnson finished with 22 points and 19 assists.
In the winner-take-all Game 7, the Lakers outscored the Pistons by 15 in the third quarter to overcome a five-point halftime deficit. They needed to hang on as the Pistons mounted a frantic fourth-quarter rally, but fell short as LA claimed the championship with a 108-105 victory.
Although James Worthy won the Finals MVP, Johnson won the hearts of his teammates with his gutsy Game 2 performance and his mother's cooking.
All stats courtesy of Basketball Reference.