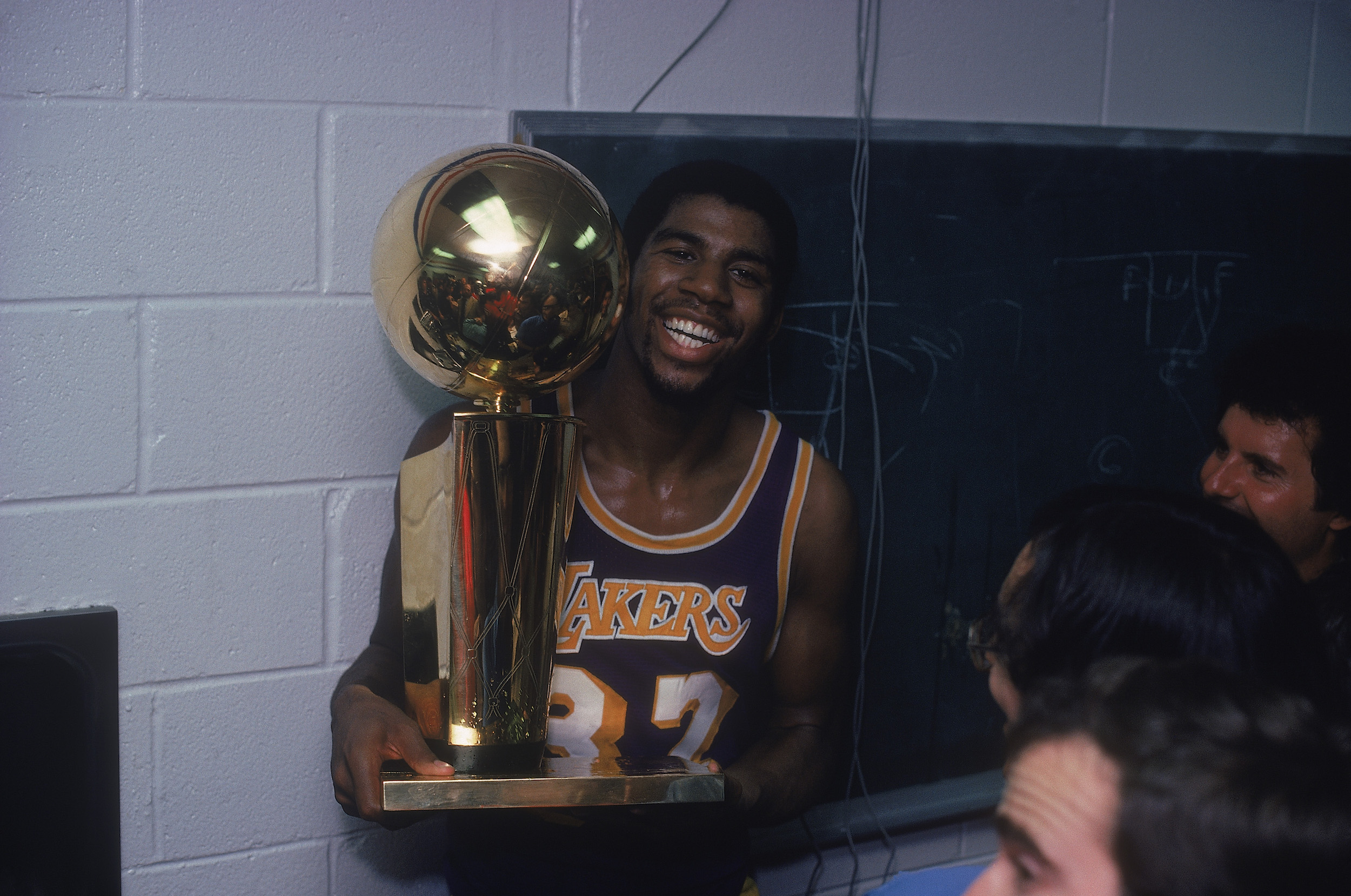 Magic Johnson's Mother Hated Her Son's 'Blasphemous' Nickname
While Earvin Johnson became a star as 'Magic,' not everyone loved the title. In fact, Magic's own mother considered the nickname blasphemous.
In the world of sports, certain names speak for themselves. When a basketball fan makes reference to Magic, for example, there's only one man they're thinking about: Earvin "Magic" Johnson. While that nickname perfectly captured the Los Angeles Lakers guard's ability to do the unthinkable on the court with relative ease, not everyone liked it.
Believe it or not, one major objection came from within the Johnson family. For all of Johnson's success, Magic's own mother actually disliked her son's "blasphemous" nickname.
Magic Johnson's early basketball dominance
Over the course of his career, Magic Johnson became synonymous with the Los Angeles Lakers. The guard, however, was an incredible talent long before he turned pro.
Johnson grew up as a passionate basketball fan and emerged as a prolific scorer in high school. While his unique blend of size and skill caught the eye of college coaches from around the country, Magic chose to stay close to home; the Lansing, Michigan native eventually chose to suit up for the Michigan State Spartans.
Johnson made an immediate impact, averaging 17 points, 7.9 rebounds, and 7.4 assists as a freshman. During his sophomore campaign, the guard continued to dominate; he dropped 17.1 points, pulled down 7.3 rebounds, and dished out 8.4 assists per outing, helping the Spartans reach the NCAA Championship game.
On that fateful night in Salt Lake City, Magic's Michigan State Spartans faced off against Larry Bird and the Indiana State Sycamores. Johnson dropped 24 points, en route to the title and Final Four Most Outstanding Player honors; he was officially a star.
An iconic and blasphemous nickname
Over the years, Magic has become Earvin Johnson's defacto first name. He originally sported a couple of different nicknames, though.
As noted in his NBA.com legend profile, Johnson was originally known as "Junior," or "June Bug" during his youth. Everything changed in high school, however, when a local reporter took note of the teenager's on-court wizardry.
"Magic showed much on the court – his passing, his court vision, his idea of knowing where teammates are without looking to pass the ball, his idea of making the defender think the pass is going one way, then sending it the other," Jeff Zillgitt wrote in USA Today. "It was deception, sleight of hand; he was a wizard with the ball. It was a befitting nickname, given him to by a sportswriter Fred Stabley Jr., of the Lansing State Journal."
While that nickname eventually grew into Johnson's identity, not everyone liked it. "Johnson's mother, a devout Christian, thought the nickname was blasphemous," NBA.com explained. Instead, she preferred to stick with "Junior."
Blasphemous or not, Magic Johnson became an NBA legend
Whether you call him Earvin, Magic, or anything else, one thing fact became abundantly clear: there was nothing blasphemous about his skills on the basketball court.
The Lakers selected Johnson with the first-overall pick of the 1979 NBA draft and slotted him at starting point guard. Magic took the league by storm, averaging 18 points, 7.7 rebounds, and 7.3 assists per outing; at the end of the season, he lifted the Larry O'Brien Trophy and claimed the NBA Finals MVP crown.
While there were some hiccups along the way—Magic missed half his sophomore campaign, struggled during the playoffs, an infamously asked to be traded—the guard grew into a legitimate star. He spent 12 seasons with the Lakers before he was diagnosed with HIV and retired; he would return for 32 games during the 1995-96 season.
During his time in the pros, Johnson proved to be one of the most exciting players in the association, capable of scoring, dishing out behind-the-back assists, and pulling down rebounds with equal ease. Beyond his statistical success, he also won five NBA titles and three league MVP titles. Regardless of his name, there's nothing blasphemous about praising Magic's talent.
Stats courtesy of Sports-Reference and Basketball-Reference