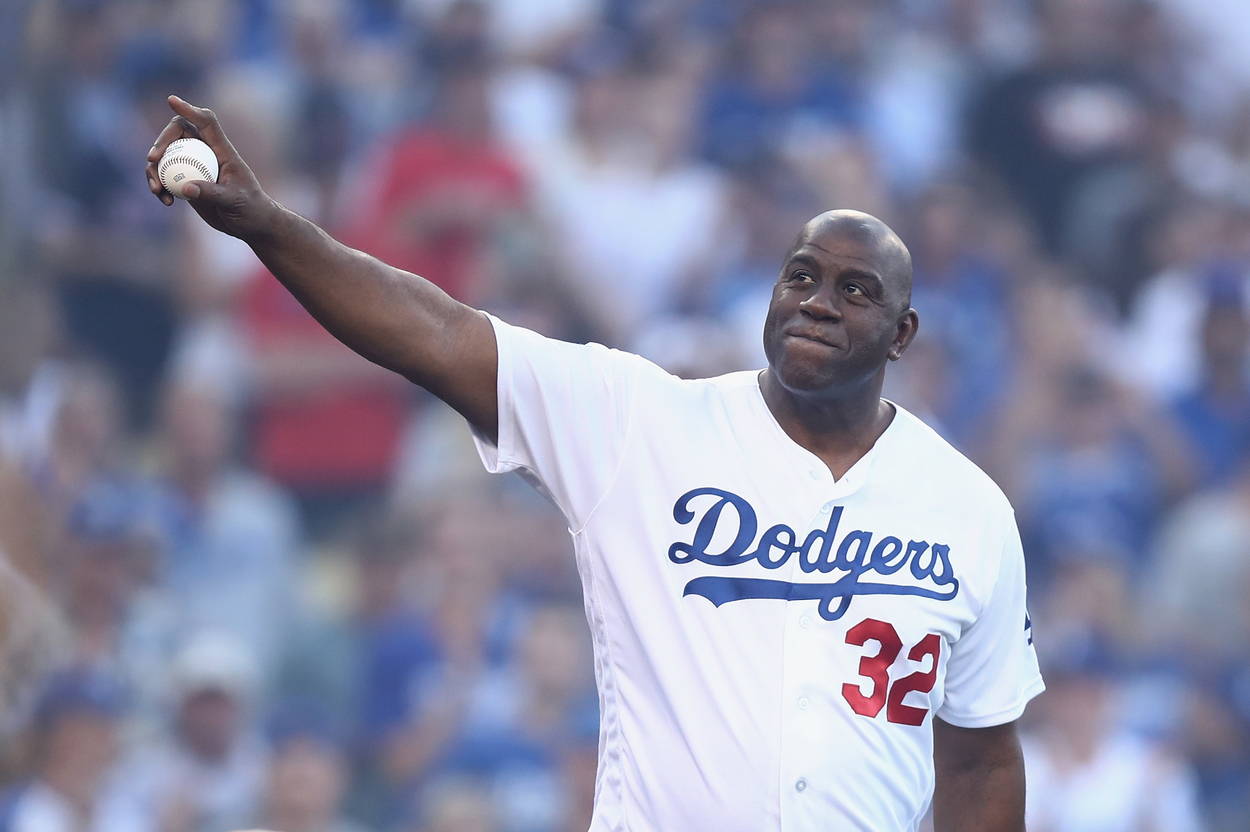 Magic Johnson Hinted at Buying a Professional Baseball Team 22 Years Before Purchasing the Los Angeles Dodgers: 'I Want to Do Big Business'
Los Angeles Lakers legend Magic Johnson has as impressive of a business career as a basketball career. His desire to be a big investor started during his playing career, when he expressed a desire to own a team 22 years before purchasing a stake in the Los Angeles Dodgers.
Magic Johnson has put together two legendary careers. One of them is as a Hall of Fame point guard for the Los Angeles Lakers, winning five rings and three MVP awards. The other is as a businessman and financial mogul, accumulating a net worth of around $600 million.
One of Magic's biggest investments came back in 2012 when he purchased a stake in the Los Angeles Dodgers. And as history shows, owning a professional baseball team was on the NBA great's mind for quite some time.
Magic Johnson is a part-owner of the Los Angeles Dodgers
The Dodgers went from ownership disaster to prosperity overnight. LA was forced to file for Chapter 11 bankruptcy under owner Frank McCourt, facing $579 million worth of debt in January 2012. Once the team went up for sale, Magic came to the rescue.
Johnson joined controlling partner Mark Walter to form Guggenheim Baseball Management. The group, consisting of six individuals, successfully purchased the Dodgers for $2 billion, setting a record for the highest price a sports team has ever sold for. McCourt chose Johnson's group over bids from LA Rams owner Stan Kroenke and future New York Mets owner Steve Cohen.
Magic, who said his primary role with the team would be recruiting free agents and "selling the Dodger brand", contributed $50 million to the sale. Johnson admitted on HBO Real Sports that it was the biggest check he had ever written.
Johnson was open to buying a baseball team when he played for the Los Angeles Lakers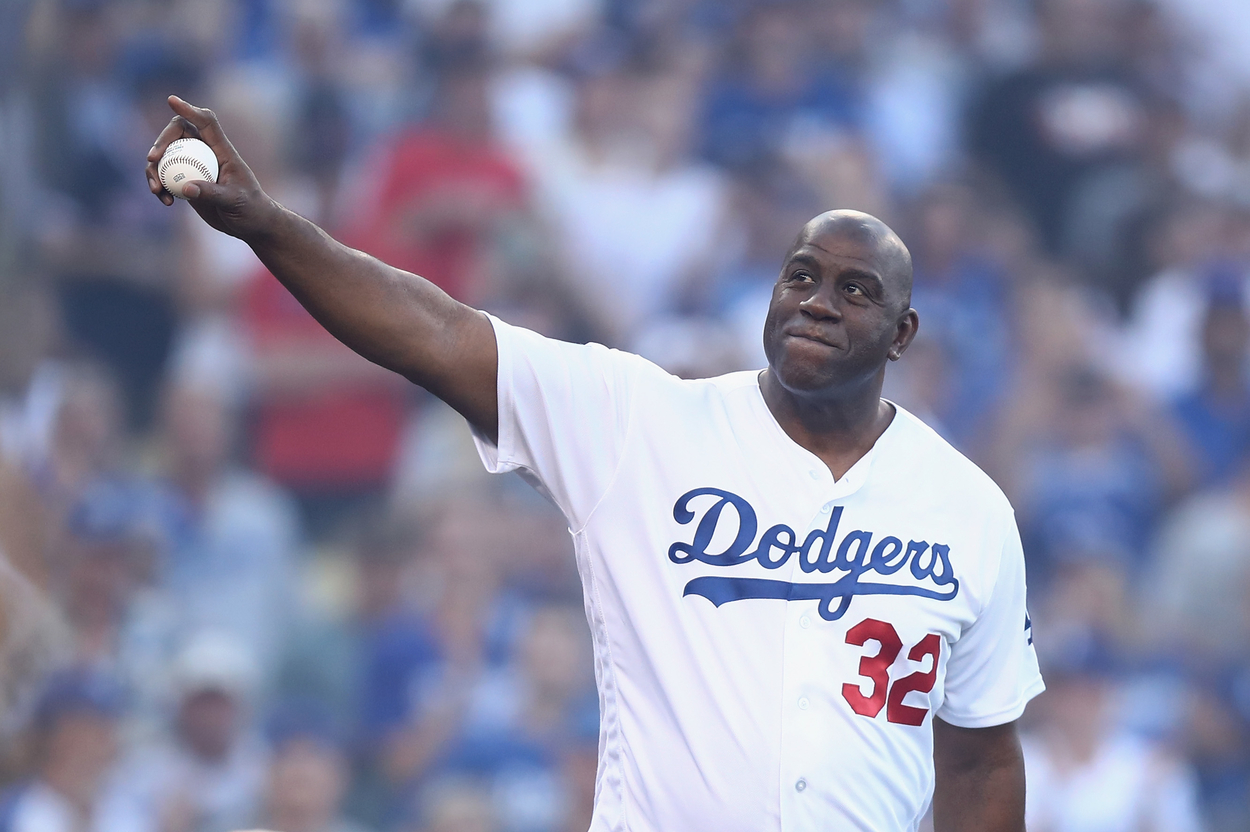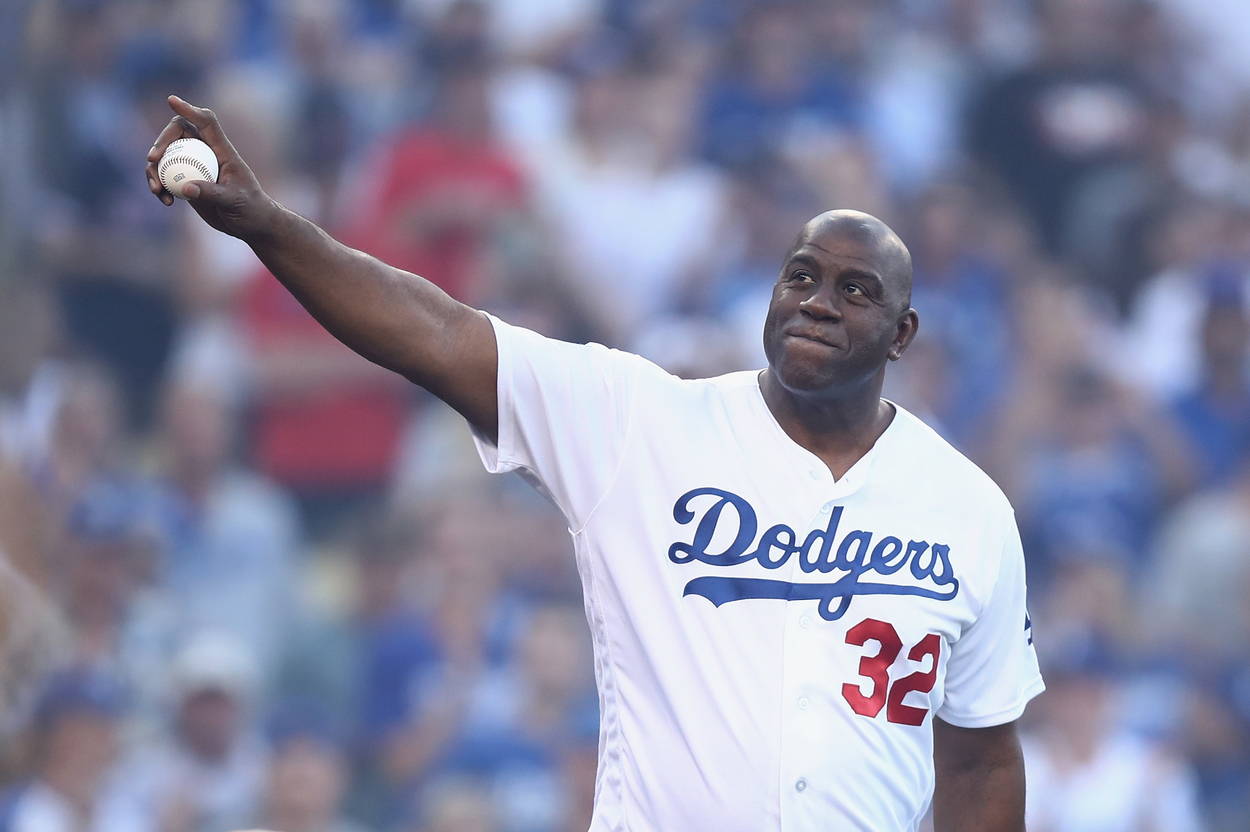 Even when Johnson was making good money in the NBA, it wasn't enough to keep him satisfied. The 12-time All-Star was already making plans for how he was going to increase his bank account after his playing career ended.
"I'm a big dreamer," Magic told Sports Illustrated back in 1990. "For some reason, I'd still like to own an office building."
Aside from owning an office building, one of his biggest goals was to own a team. Even if it meant straying away from the hardwood and moving to the diamond.
"I have goals," [Johnson] says. But where any other NBA player would rattle off point and assist totals, Magic delivers big-business numbers. "I want to be in that $100-$200 million range," he says, "which is what you basically got to have." Huh? For what? A house bigger than his 13,500-square-foot compound? A Forum starter kit?

"For a franchise," he says. "And it doesn't have to be the Lakers, it doesn't even have to be an NBA team. I'm a sports fan. If baseball became available before basketball, I'd be right there. I want to do big business."

Richard Hoffer, Sports Illustrated
Ultimately, the Dodgers wouldn't be the only team Johnson would be able to do big business with.
Magic Johnson has had ownership involvement with several franchises
Johnson's $50 million Dodgers buy-in was the largest amount he's contributed toward a team. But the 62-year-old has been involved with multiple teams across multiples sports.
During his first retirement in 1994, Johnson purchased a stake in the Lakers for a reported $10 million. The legend, who owned 4.5% of the team, would up selling his share in 2010.
Two years after buying the Dodgers, Johnson and other members of Guggenheim Partners purchased the Los Angeles Sparks of the WNBA. Later that year, Magic teamed up with soccer legend Mia Hamm and others to invest in LA's newest MLS club, now named Los Angeles FC. He even enjoyed a brief ownership stint for the minor league Dayton Dragons before selling his shares in 2014.
As a part-owner, Magic has overseen five Lakers titles (2000-02, 09, 10), a Sparks championship in 2016, and a Dodgers World Series victory in 2020. And the more he expands his already impressive financial portfolio, the more likely it is that there will be more titles in his future.
All statistics courtesy of Basketball Reference.