Magic Johnson Flexed His $600 Million Net Worth by Renting Out a $1.1 Million-a-Week Superyacht for Summer Vacation
Some professional athletes are rich, some don't have to work another day for the rest of their lives, and some are so wealthy they don't even know what to do with their massive riches.
Guess which category Magic Johnson fits into.
Johnson has been so successful throughout his life as an NBA player and a businessman that he's built up an insane $600 million net worth. And what do people with that kind of cash do for summer vacation? Rent out extravagant superyachts for $1.1 million a week and invite their celebrity friends to cruise around Europe with them, apparently.
Magic Johnson has built up a $600 million net worth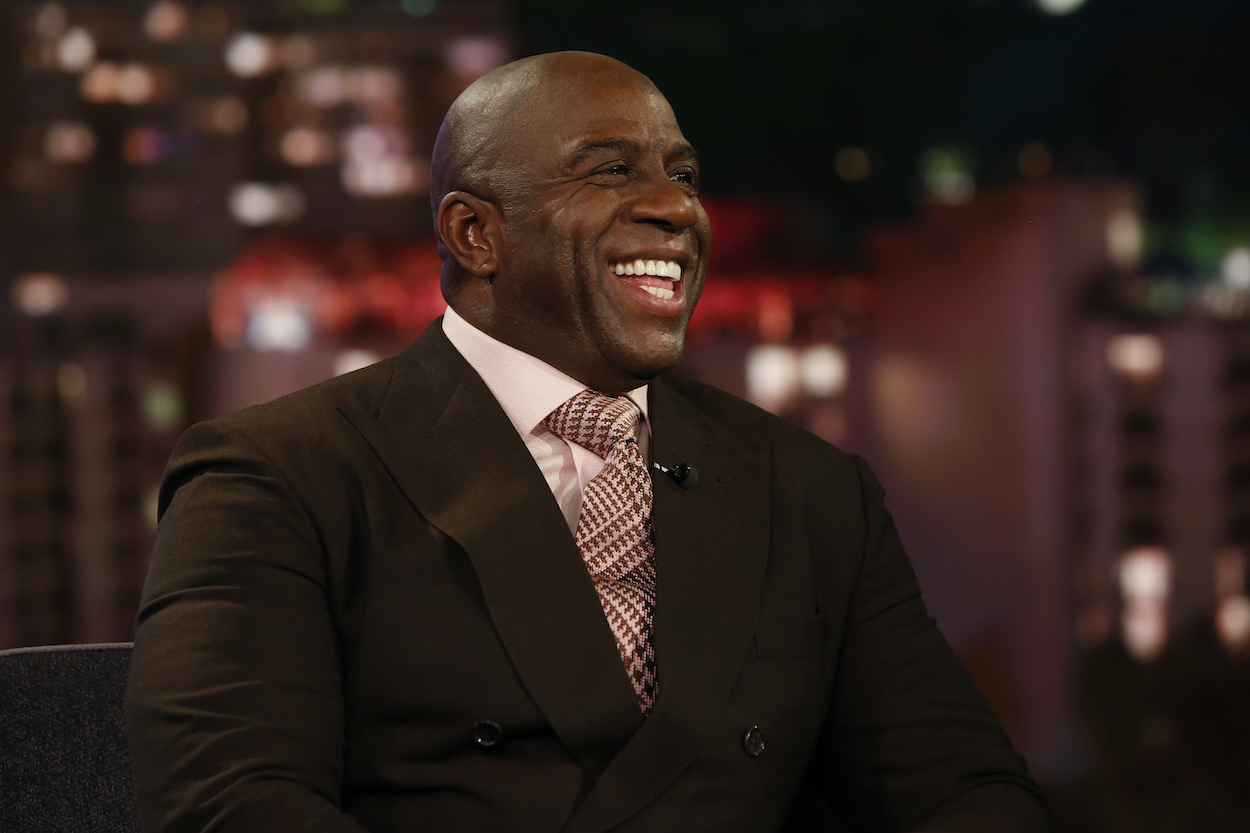 Johnson is considered one of the greatest NBA players of all time, and ever since retiring in 1996, he's become one of the richest.
Throughout his lengthy NBA career, Magic earned just under $40 million in salary, according to Spotrac. If he was playing today, that number would be closer to $400 million.
After announcing his retirement in 1996, Johnson used his modest NBA earnings as a springboard to historic wealth. He's become an extremely successful entrepreneur in his second life, as he started Magic Johnson Enterprises and branched out to own various movie theaters, fast food restaurants, health clubs, real estate, and more.
Johnson has also owned parts of the Lakers, Dodgers, Sparks, and LA Football Club in his retired life.
Add it all up, and Johnson is now worth $600 million today, according to Celebrity Net Worth.
Magic is currently cruising the Mediterranean in a $1.1 million-a-week superyacht
What happens when you have so much money you don't even know how to spend it? Magic, take it from here.
Johnson is back on the Mediterranean for his annual summer vacation on the European seas, this time aboard a 281-foot superyacht that costs — wait for it — $1.1 million a week to charter, per TMZ. Johnson likes to spend about a month in Europe with family and friends, so he's in for a hefty bill by the end of his vacation.
The mega-yacht, which is nicknamed Aquila, is complete with seven bedrooms, a personal gym, a spa, three jet skis, a trampoline, a movie theater, and even its own nightclub.
Accompanying Johnson on his extravagant voyage is his wife, Cookie, Samuel L. Jackson, LL Cool J, and Rodney Peete, among others.
Johnson's yacht vacation has become a yearly tradition
You might think shelling out $1.1 million a week for a vacation would be a once-in-a-lifetime splurge, but Magic actually makes the trip every year. It started out as a vacation for just Johnson and his wife, but it eventually turned into a full-on party involving his celebrity friends.
The crew now hits the Mediterranean once every summer to explore all of Europe. However, it's never been more expensive than it is this time around. Johnson and friends chartered the same Aquila superyacht two summers ago, and it cost $950,000 a week.
Apparently, the price has gone up since then, but Johnson couldn't care less.