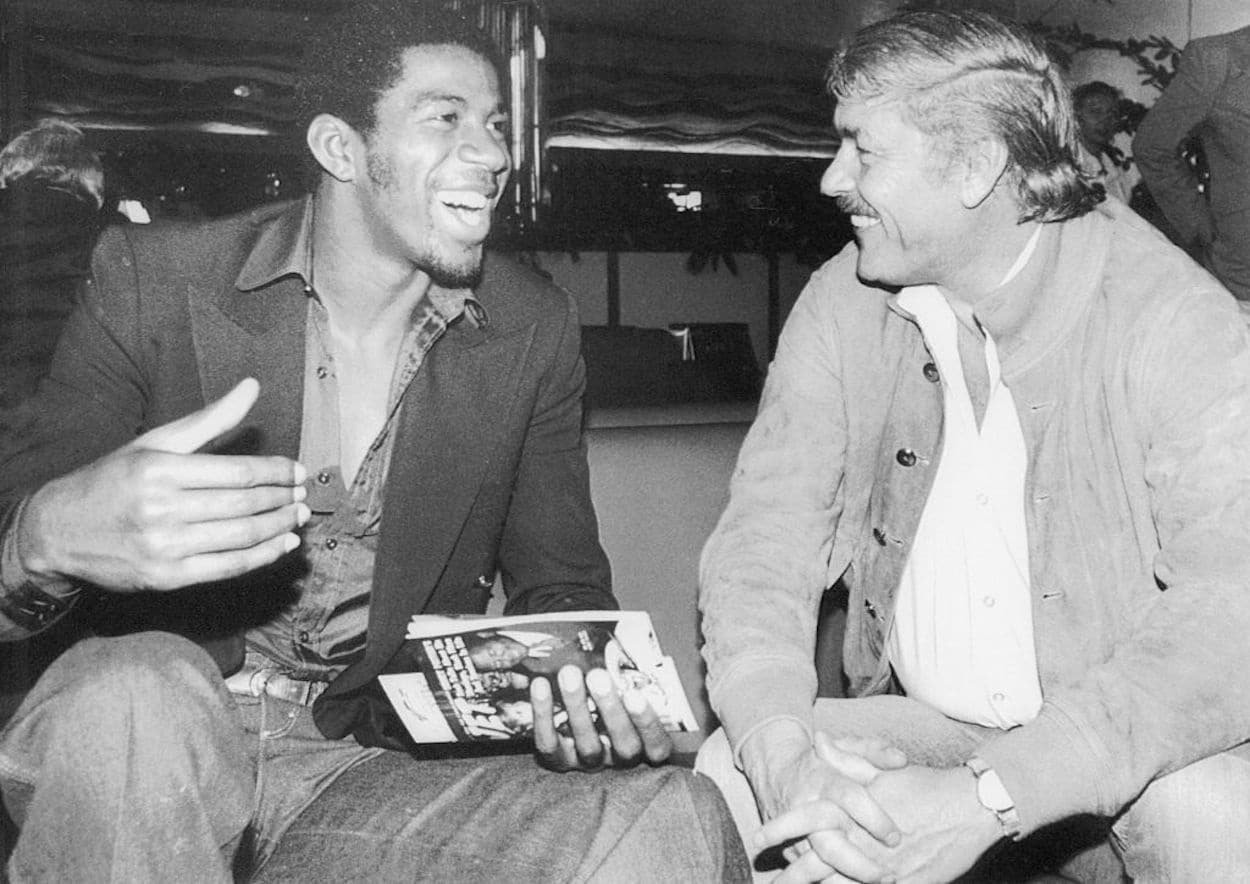 Magic Johnson Turned $15,000 Profits on Trips to Las Vegas Without Placing a Single Bet, Thanks to Jerry Buss
While Magic Johnson was making plenty of money playing basketball, he still scored some extra cash from Jerry Buss during trips to Sin City.
During his time on the NBA hardwood, Magic Johnson scored plenty of wins. His success, however, wasn't limited to basketball, though. Beyond his fame and fortune, the guard also scored during trips to Las Vegas with Lakers owner Jerry Buss. Things in Sin City, however, probably didn't go the way you're imagining.
Magic wasn't making a killing on the slots or hitting blackjack after blackjack. Instead, he was pocketing the chips his boss would give him and cashing them out at the end of the trip.
Think that sounds like something out of a sitcom? Let Johnson tell you exactly what happened.
Magic Johnson would turn a profit after trips to Vegas without gambling
When you hear of someone leaving Las Vegas with thousands of dollars in their pocket, you probably think they hit the jackpot while gambling. Magic Johnson, however, played things a bit differently.
As the former point guard explained to Jimmy Kimmel, he and Dr. Buss would take a commercial flight to Sin City. In the casino, the latter man would play baccarat with Magic sitting behind him.
"So, he would be feeding me chips," Johnson explained. "He'd say, 'Here's $5,000 worth of chips. Go gamble.' And I'd put them in my pocket. And so, the next day, he'd say, 'Here's five more thousand, go gamble.' I put them in my pocket. So we'd be there three days, I'd have me $15,000."
That wasn't the end of the story, though. Years later, Magic realized that his boss had known exactly what was going on the entire time.
"So, I thought all those years, I had tricked him," the Lakers legend continued. "True story. Jeanie Buss calls me and says, 'My dad is dying. And you've got to come see him. He wants to see you.' So I go see him. And first thing he says, Jimmy. He says, 'Magic, I knew you were going to make it well in business. All them times I gave you those chips, I knew you were cashing them in.'"
That, of course, wasn't the only money that Magic Johnson got from Buss over the years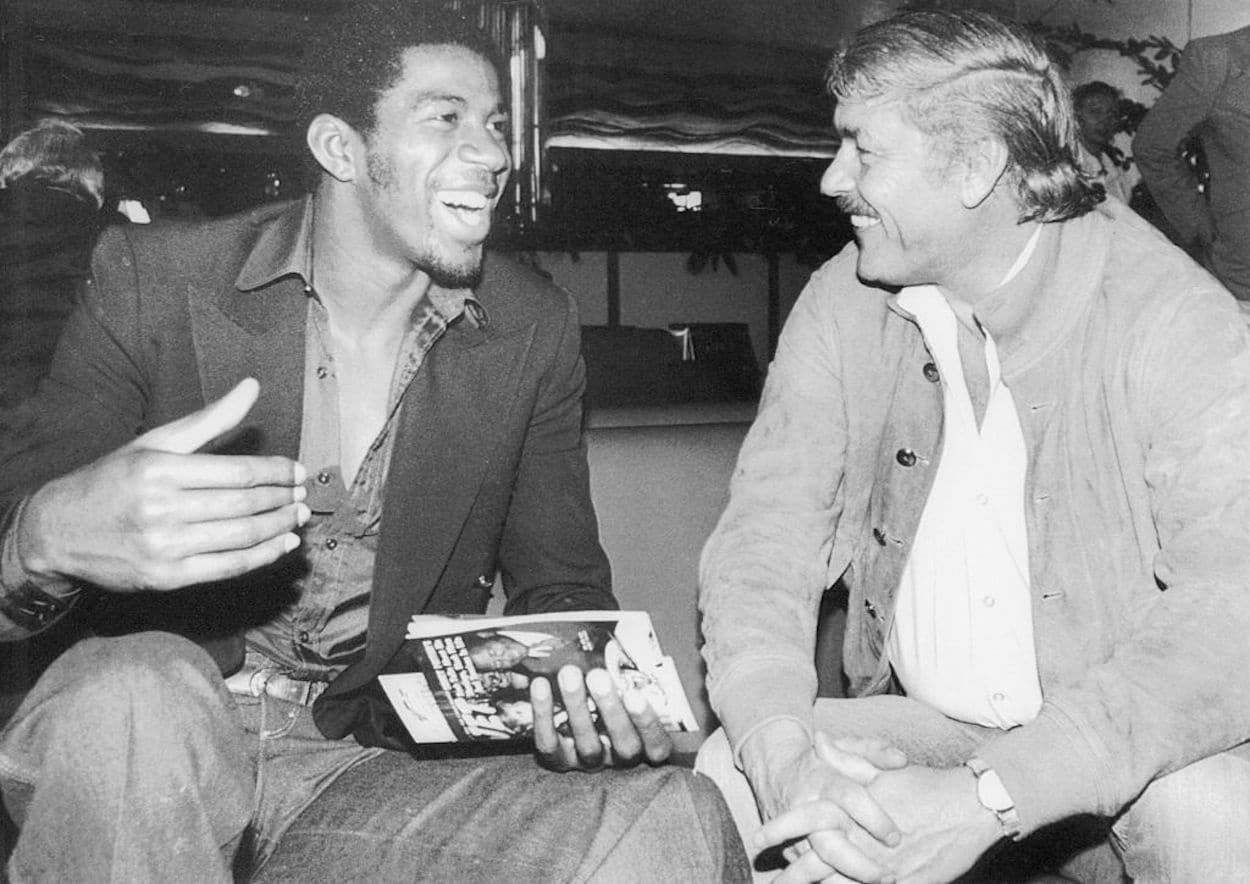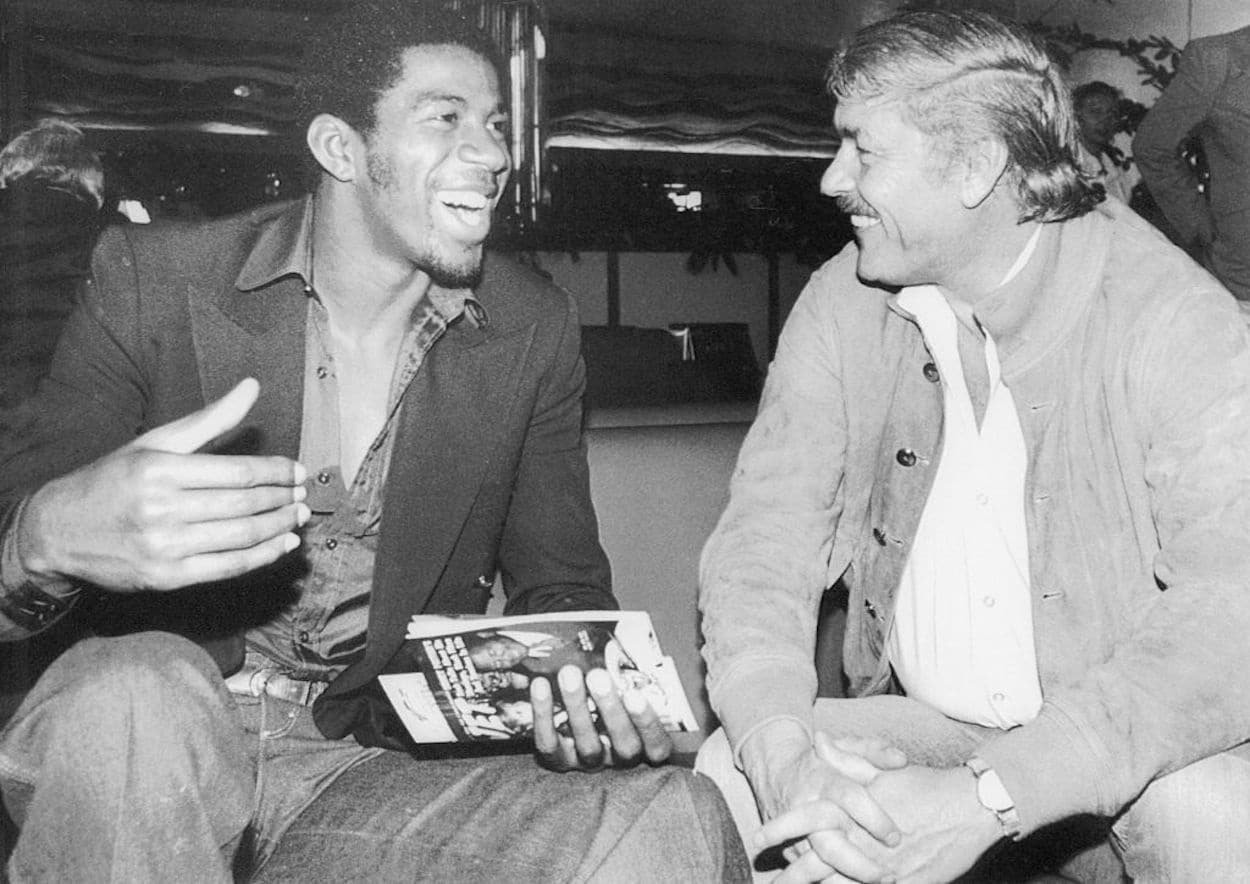 While those $15,000 trips to Las Vegas may loom large in Johnson's mind, they weren't the only money he got from Dr. Jerry Buss. During the guard's time in Hollywood, he was taking home a sizable paycheck.
As recorded by Spotrac, the guard earned $2.3 million across his five-year rookie contract. Before that deal expired, though, it was time for a major raise. Magic and the Lakers signed an unbelievable extension, paying the point guard $25 million for 25 years of service.
While that sort of contract might sound laughable by today's standards, it made plenty of headlines at the time. In a New York Times report, Buss had to explain that the deal took inflation, Johnson's future earning power, and other factors into consideration. He also noted that the deal, which made Magic the third player to eclipse the $1 million mark, was designed to allow the star to take a role within the organization after his playing career came to an end.
"He may even be my coach," Buss said. "Or general manager. Or maybe he'll run the team and I'll just sit back and watch. … Magic is a bright kid and I plan to make him my protege, teach him the business aspect of sports. I realize this is a very unusual contract because we're talking about a kid whose college class just graduated. But what it comes down to is that Magic is part of the family."
Things didn't go exactly according to plan –Johnson's HIV announcement brought his playing career to a premature end — Buss's words did come to fruition. Magic briefly took charge of the Lakers as the franchise's head coach, branched out into business, and eventually rejoined the club as the president of basketball operations.
So, when you consider all that Magic Johnson brought to the Lakers organization, those trips to Las Vegas were just a drop in the financial bucket. If you asked Jerry Buss, each one was probably $15,000 well spent.
How to get help: In the U.S., contact the National Council on Problem Gambling helpline at 1-800-522-4700.