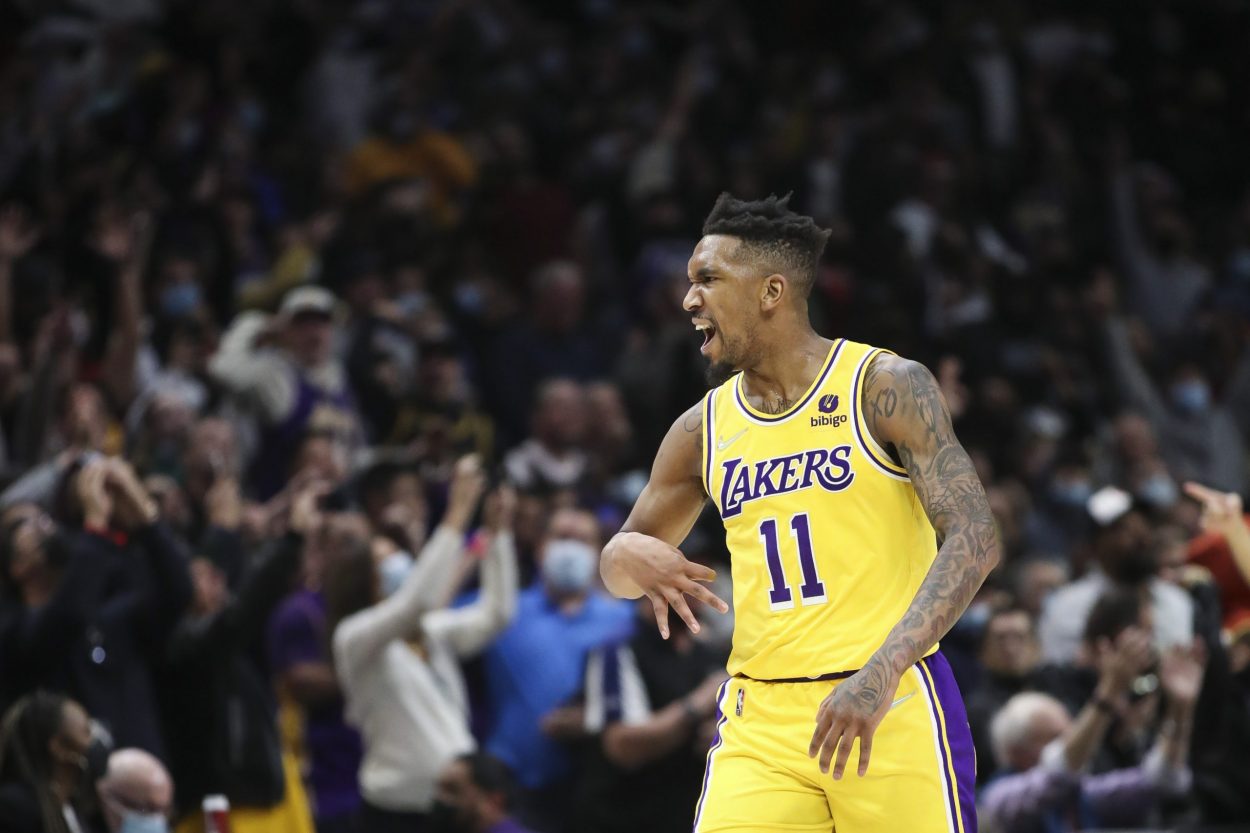 Malik Monk Gives the Lakers a Much-Needed Boost but Is Also Playing His Way Out of LA
Malik Monk's exceptional play is keeping the Lakers afloat, but he's also backing LA further into a corner.
Not much has gone right for the Los Angeles Lakers, a team that has been among the most disappointing in the NBA this season. But for all LA's frustrations and the perceived shortcomings of general manager Rob Pelinka this past summer, the Lakers did strike gold with Malik Monk.
Unfortunately for the Purple and Gold, Monk himself is playing his way into a big bag this summer and backing a financially constrained Laker franchise into a corner. Unless Pelinka can clear cap, Monk is likely one-and-done in LA.
Malik Monk has thrived in a new situation
The Lakers found themselves in a pickle after acquiring Russell Westbrook. They needed depth and bench scoring but lacked the means to sign most free agents. Enter Monk.
The former Kentucky star hit the market following a forgettable tenure with the Charlotte Hornets. He struggled to get consistent minutes and never really jived with management or the coaching staff. However, Monk showed flashes during the 2020-21 campaign, averaging 11.7 points in just under 21 minutes and drilling 40.1% of his three-pointers.
That floor-spacing and microwave-type scoring ability made Monk a low-risk, high-reward signing for the Lakers, especially on a minimum deal. He's far exceeded his contractual value.
Through 48 games, Monk is averaging career-high marks in scoring average (13.0), rebounds (3.3), and assists (2.5). Those numbers hardly do him justice, though. In 16 games as a starter, Monk is averaging 18.3 points on a terrific 62.1% true shooting mark. He's +4.5 in terms of plus-minus.
The 24-year-old offers a vital scoring presence for a Lakers team that ranks just 24th in offensive rating. He's also looked like a strong fit alongside LeBron James and Anthony Davis, and thus should, in theory, be part of the team's plans going forward.
However, the Lakers almost certainly do not have enough flexibility to re-sign Monk this offseason.
The Lakers can only offer Monk a mid-level exception unless they clear space
Westbrook's poor season is made doubly worse by the fact that his contract has hamstrung the Lakers from a luxury-tax perspective. Those issues could make it impossible to re-sign Malik Monk.
According to ESPN's Bobby Marks, the $6.3 million tax mid-level exception is the maximum amount the Lakers can offer Monk this summer unless they clear cap space. It's a relative pittance compared to what he's given LA this season.
Westbrook is the primary culprit for the financial inflexibility, but his contract is hardly the only thing forcing LA's hand.
The Lakers gave Talen Horton-Tucker a three-year, $30 million deal this offseason, but THT has struggled to shoot the ball efficiently and live up to that $10 million annual average value. Kendrick Nunn has a $5.25 million player option for the 2022-23 season that he's almost guaranteed to accept, given he's yet to play a single game this season.
Alas, the Lakers could have a hard time trading guys and manifesting cap space to sign Monk to a multi-year deal. But the Purple and Gold might not have enough to keep Monk around, anyway.
In hindsight…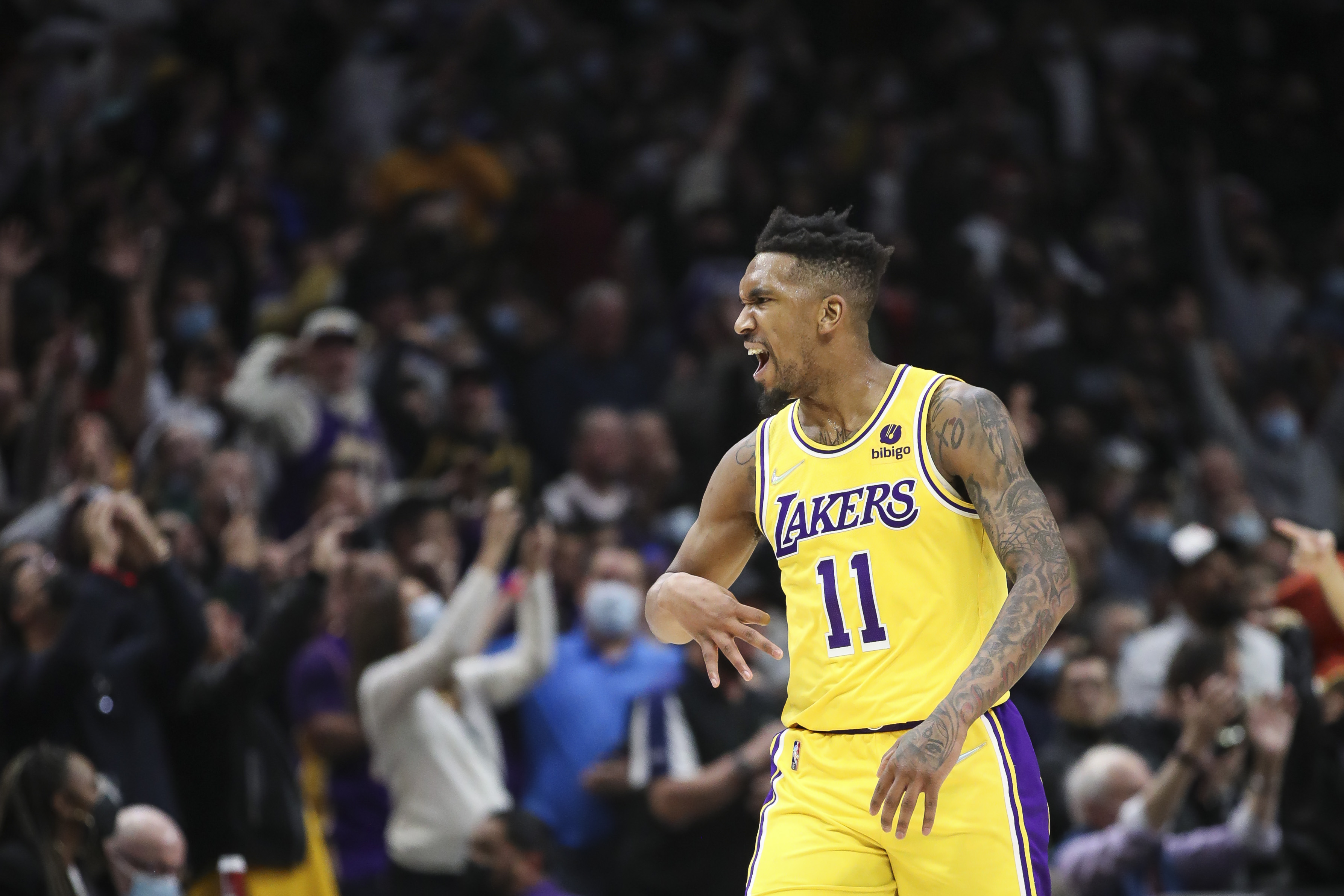 Alex Caruso's defensive abilities alone earned him nearly $37 million in free agency, a value the Lakers felt they could not match. It's reasonable to suggest a team hungry for scoring and shooting could give Monk every bit as much this summer.
A more considerable guaranteed value could force Monk out of LA, regardless of whether the Lakers clear some space.
Teams around the NBA show a certain sense of aggressiveness in free agency. The New York Knicks threw a bunch of money Evan Fournier's way, even though the French swingman's track record never indicated he deserved up to that much money on the open market. Similarly, the Knicks gave Nerlens Noel over $9 million a year despite the veteran big man offering little to no value offensively.
Some might suggest this merely reflects a more specific sense of poor-decision making from New York's front office. But it fits with the idea that teams with money to spend will do just that in free agency.
Thus, contenders or fringe contenders with offensive needs could throw a lot of money Monk's way. He's showcased his offensive upside and would provide necessary scoring depth for any number of teams. Plus, he only just turned 24 years old.
For now, Monk is helping to keep LA's playoff hopes alive. However, his strong play probably takes him out of the Lakers' price range no matter what trades they can or cannot make this summer.
Stats courtesy of Basketball Reference.