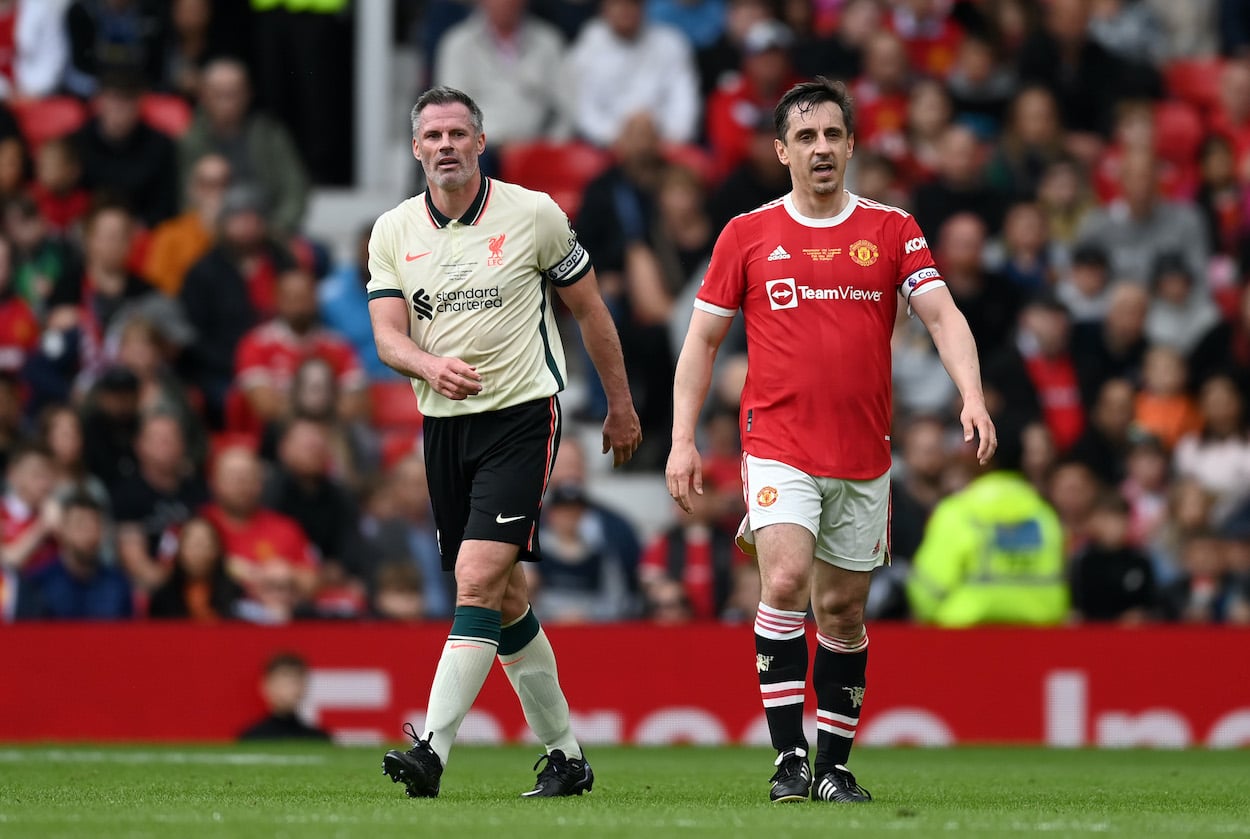 Manchester United and Liverpool Legends Get in Twitter War Over Cristiano Ronaldo Transfer Request
Gary Neville and Jamie Carragher went after each other on Twitter after Cristiano Ronaldo's Manchester United transfer request and it quickly got personal.
International soccer superstar Cristiano Ronaldo made headlines in early July, asking Manchester United for a transfer. This set off a flurry of online debate, mockery, and name-calling. And all that was just between Liverpool legend Jamie Carragher and former United star Gary Neville.
Former Liverpool and Manchester United stars Jamie Carragher and Gary Neville got into it over Cristiano Ronaldo 
Former Liverpool defender and current Sky Sports pundit Jamie Carragher took to Twitter after the Cristiano Ronaldo transfer request news broke and attacked the superstar.
"Ronaldo did exactly what I thought he would do, score goals but make the team worse, Carragher wrote. "The transfer request also kills the idea he turned down Man City because of his love for Man United."
That take of the Ronaldo situation rubbed former Manchester United full-back (and Carragher's fellow Sky Sports pundit) Gary Neville the wrong way.
Neville responded by tweeting that Ronaldo "can turn down City for United because he likes them more and still want to leave this summer. He left before but still loved the club."
The former Class of '92 member also went personal on Carragher. He tweeted that he is full of himself and alluded to his "short period of success" with Liverpool.
Carragher fired the next shot. He called Neville a clown (in emojis) and made fun of him for comparing Ronaldo to Elvis Pressley when he came back to the red side of Manchester. Neville responded quickly with a simple Elvis song title, "A Little Less Conversation."
The former England teammates seem to be going back and forth now all in good fun. Carragher even went so far as to change his Twitter bio. It now reads, "Former @LFC yard dog, now annoying Gary Neville on @SkySportsPL."
Both Carragher and Neville were exceptional players and now are excellent analysts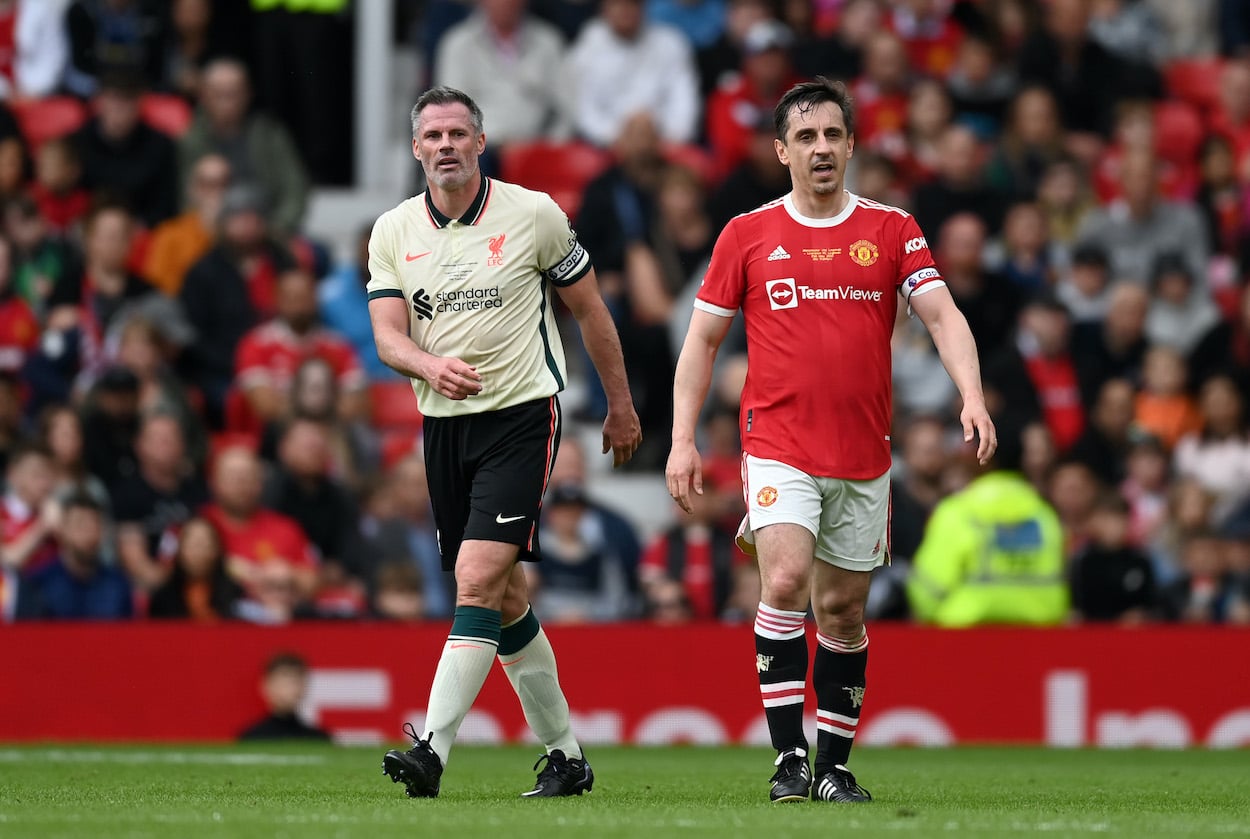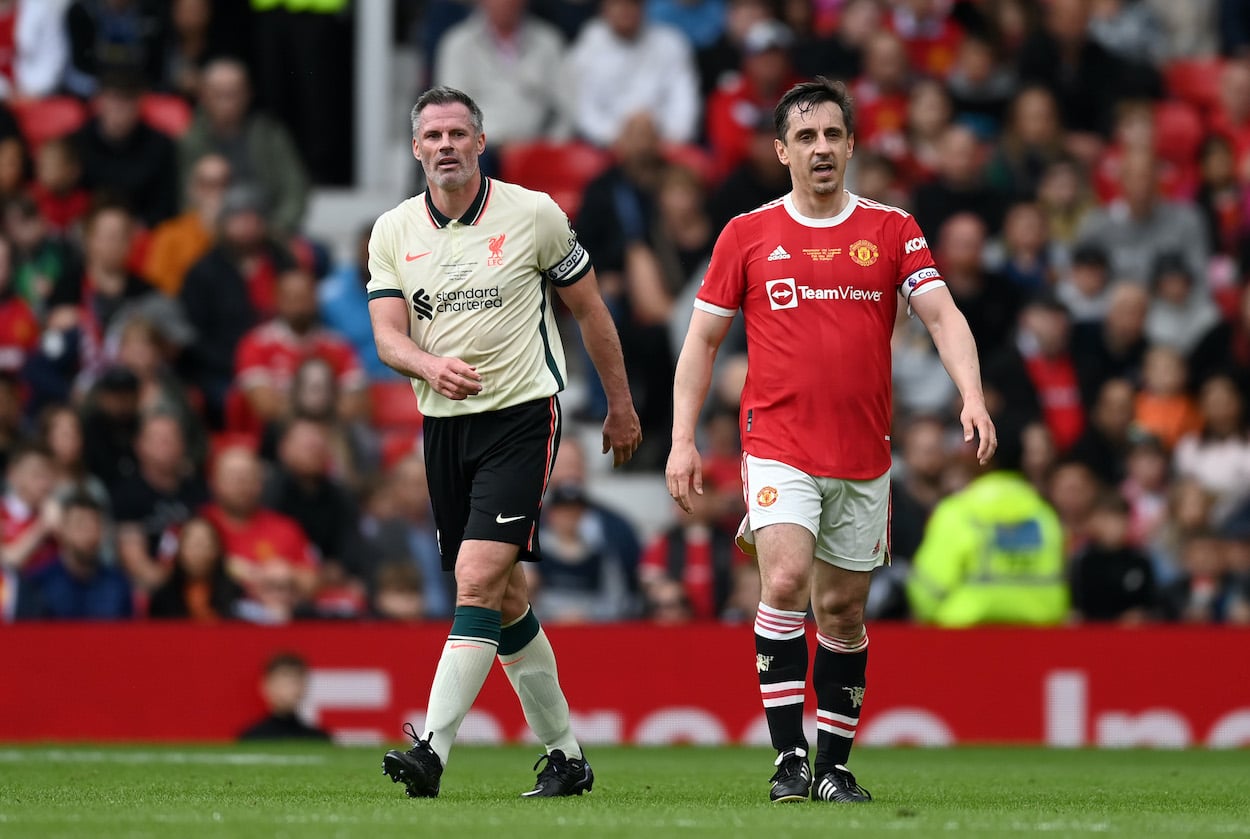 Jamie Carragher and Gary Neville are two of the best players-turned-pundits in football these days. However, before they took to the microphone, each was a star on the pitch for their respective teams.
Carragher started training with his hometown Liverpool's youth team at the age of 10. After making the senior squad at 18, he played his entire 17-year career on the red end of Merseyside. His 508 Premier League games put him ninth all-time for most EPL matches played. He is also second all-time in games played for a single EPL team behind Ryan Giggs' 632 for Manchester United.
As (mostly) a center-back, Carragher helped Liverpool win two FA Cups, three League Cups, and a UEFA Champions League trophy in 2005.
Neville came up with the famed Manchester United Class of '92. The right-back earned his spot out of the United academy as a teenager alongside fellow academy products Giggs, David Beckham, Nicky Butt, Paul Scholes, and brother Phil.
Over the next decade-plus, this fivesome led United to incredible heights. During Neville's time under Sir Alex Ferguson, the Red Devils won eight Premier League titles, three FA Cups, two League Cups, and two Champions League titles. In 1998-99, the crew won a treble, taking home EPL, FA Cup, and UCL trophies in the same season.
Post-football, Neville has managed Valencia in Spain, bought a lower-level English football team (Salford City), and worked in media.
All stats courtesy of Transfermrkt