Manny Ramirez Didn't Take a Shot at Derek Jeter Despite What It Sounds Like
Manny Ramirez couldn't make his induction ceremony to the Boston Red Sox Hall of Fame in May, so the team honored him Monday.
No, Manny Ramirez wasn't doing his best to keep the Boston Red Sox vs. New York Yankees rivalry alive on Monday.
Ramirez spent eight years with the Red Sox and smacked 555 home runs in his illustrious 19-year Major League Baseball career. He was back in Boston on Monday, stopping by the television booth. During the conversation, he brought up Yankees Hall of Fame shortstop Derek Jeter, and many took his comments about Jeter as a dig.
Manny Ramirez happy to be back 'home' in Boston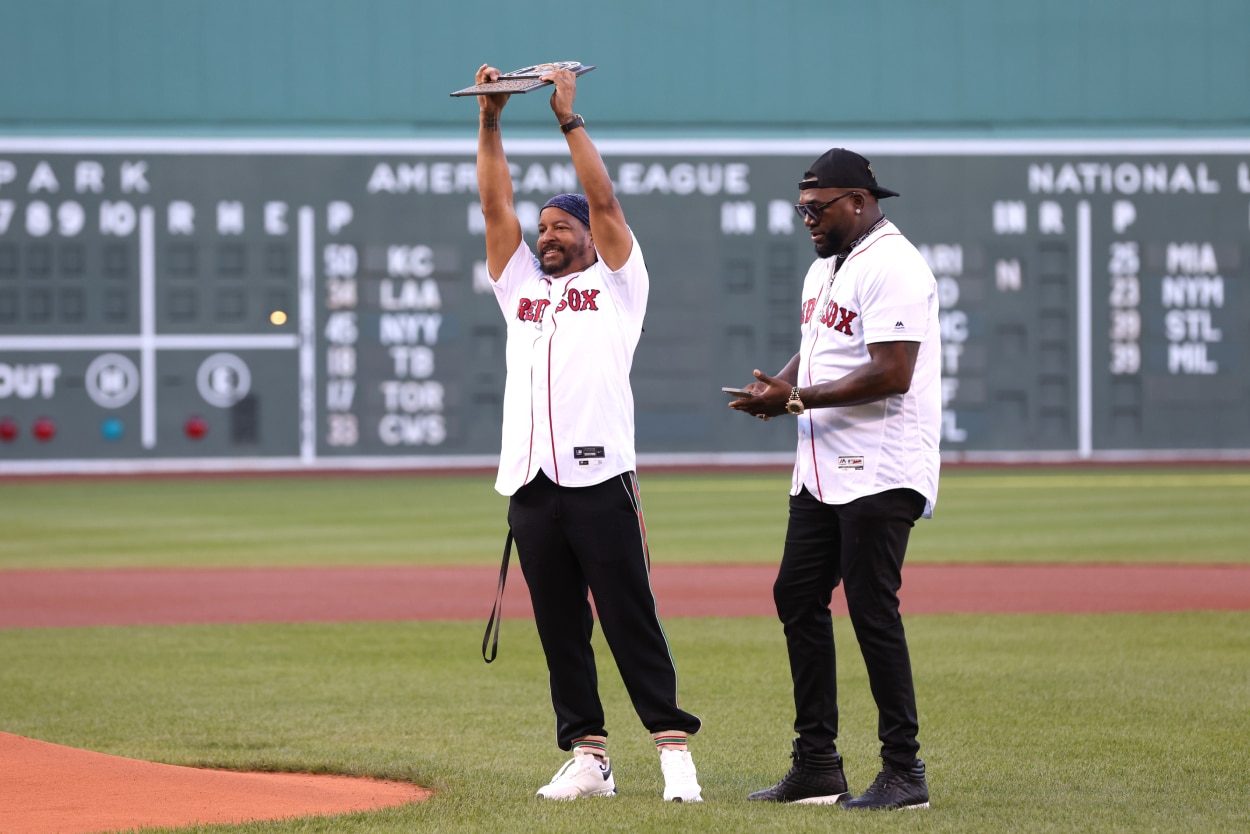 On May 26, the Red Sox held their induction ceremony. The Sox inducted David Ortiz, Rich Gedman, Dan Duquette, and Manny Ramirez. Ramirez wasn't able to attend because of a scheduling conflict. He was back in Boston on Monday, and the Sox honored him then.
The former Sox slugger said he was happy to be back home in Boston.
"This made me feel like I'm back home. That this is my home," Ramirez said, per Ian Browne of MLB.com. "Boston and those fans, they're the best. It doesn't matter how bad you do, they always remember you, they always support you."
Ramirez threw out the first pitch Monday against the Detroit Tigers before making his way into the NESN broadcast booth during the game.
"How nice it is to come back how and how the fans receive you," Ramirez said during the broadcast. "Being with Kevin (Millar) and David (Ortiz), we're like a big family. Every time we get together, we reminisce, and we remember all the good things that we did."
Ramirez's comment about Jeter was no dig
Ramirez spoke highly of Red Sox fans. In fact, his praise of them came across as a shot to Jeter to some.
"You got to understand this," Ramirez said. "If you haven't played in Boston or New York, you're not in the big leagues. If you put Jeter in Kansas City those years, he was just a regular player.
"When I was with Cleveland, I was playing and I was a good player,. But when I got to Boston, I got better because the fans, they will let you know when you're not playing right."
According to WEEI, several outlets went with the first part of the quote without any mention of the fans, making it seem like he was slighting Jeter.
Ramirez was simply praising the fans who made him feel right at home.
Like Sportscasting on Facebook. Follow us on Twitter @sportscasting19 and subscribe to our YouTube channel.