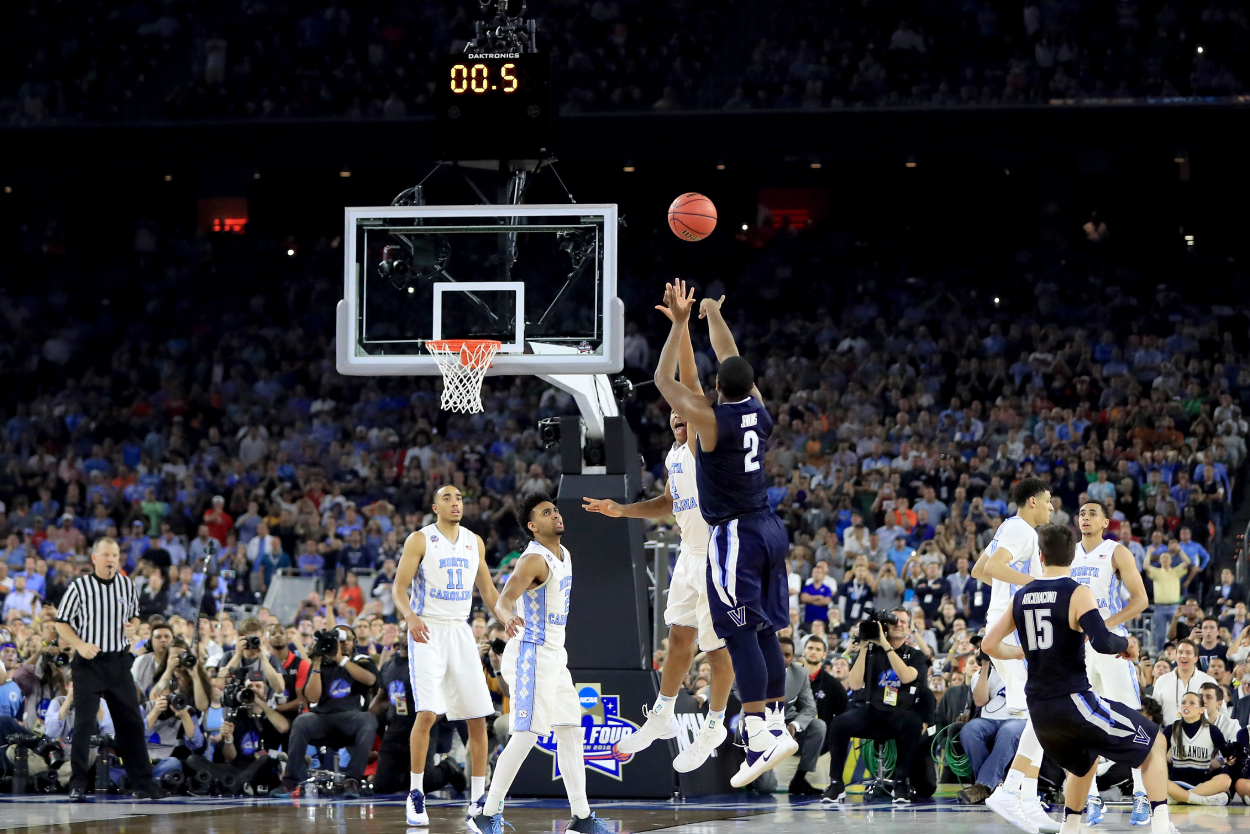 March Madness: Kris Jenkins Went From 'Last Option' to Villanova Legend
Kris Jenkins became Villanova's hero during the 2016 national championship game. However, the March Madness legend wasn't supposed to get the ball. He was the last option.
His shot will forever live in March Madness lore.
But he wasn't supposed to get the ball.
"I was the last option," former Villanova Wildcats star Kris Jenkins, who hit the buzzer-beating three-pointer to win the 2016 Men's NCAA Tournament National Championship Game, said to Sportscasting. "We had [Ryan Arcidiacono] and two more actions that we were looking at, and then I was the last option. So, I'm happy that Arch was able to pitch it back."
Most college basketball fans will remember Jenkins for that one final shot. Villanova die-hards, though, will remember him for much more than that.
Kris Jenkins had a tremendous career at Villanova
Kris Jenkins entered the Villanova program in 2013-14 out of Gonzaga College High School in Washington D.C. He was a nice role player through his first two seasons, shooting at least 37.0% from deep in both years. The team went a combined 63-8 during that span.
However, he had a breakout campaign in 2015-16.
And so did Villanova.
Jenkins averaged 13.6 points and made 38.6% of his 6.5 long-range shots per game that season. The Wildcats went 35-5 overall but benefitted from his hot play at the end of the year. Jenkins averaged 18.4 points in his final 15 games of the season.
"I was fortunate to be on the court with some great players," he said. "They made it easy for me. And with the way that I play, I'm a catch-and-shoot player first. So, that's probably the best/easiest way to score in basketball is when you first catch it. So, being a catch-and-shoot guy, I had a lot of opportunities because I had great teammates."
That elite ability to catch and shoot resulted in him making the most important shot of his career.
During the 2016 national championship game against the North Carolina Tar Heels, Villanova saw UNC's Marcus Paige hit an incredible three-pointer with 4.7 seconds left to tie it 74-74.
However, that quickly became the greatest shot no one ever discusses.
Out of a timeout, Villanova's Ryan Arcidiacono caught the ball at the opposite end of the court. He then took it to his team's three-point line before pitching it back to Jenkins, who put up the game-winning attempt as time expired.
Splash.
"'It's going in,' that was just my thought process when I got a clean look," Jenkins said. "I just thought it was good. It may sound crazy, but I think that about every shot that I shoot. So, I thought that one was no different than all the rest of them."
The shot was monumental for obvious reasons. It won Villanova a national championship. But Jenkins also hit it in front of arguably the greatest basketball player ever, Michael Jordan, who played for North Carolina in college before becoming a six-time NBA champion.
"It was definitely cool to do that," Jenkins said. "Michael Jordan is known for gaming people and winning championships and taking the last shots and things like that. So, to hit a game-winner in front of Michael Jordan is definitely a moment that I will never forget, especially because we won. I was just so happy that we won."
The Villanova legend is looking to continue his basketball career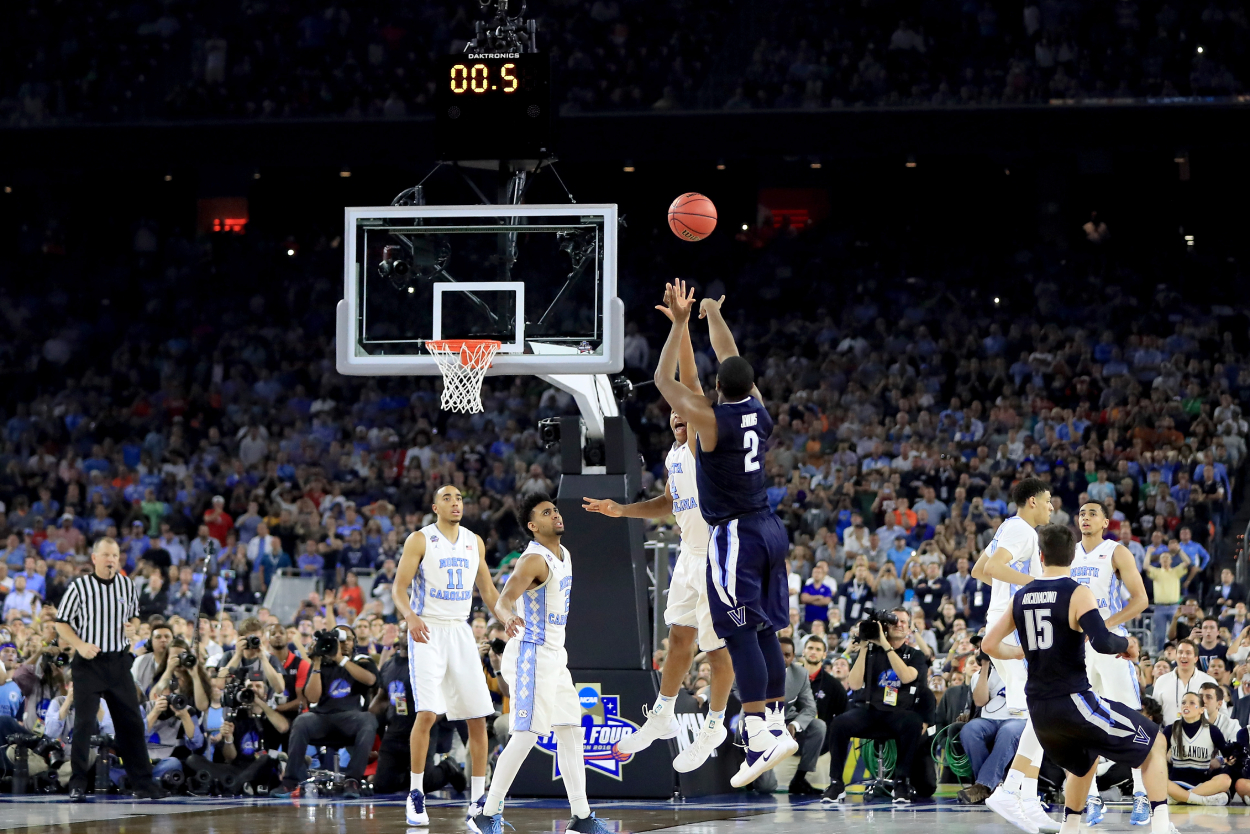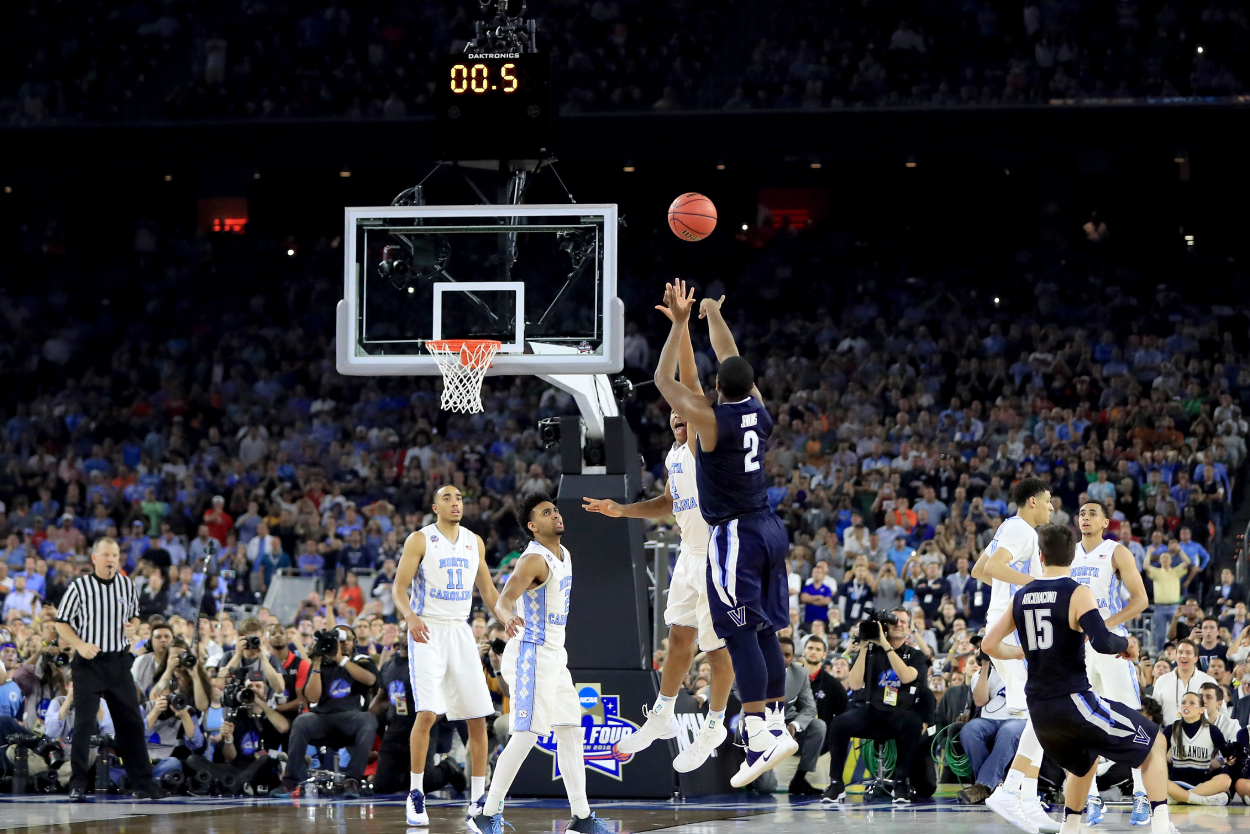 Kris Jenkins played one more season at Villanova in 2016-17. He and his senior class left the school without ever losing consecutive games during their four years in the program.
The forward then played multiple pro seasons overseas and in the G League before the COVID-19 pandemic hit. Now, he's looking to resume his pro career and has multiple teams overseas interested in signing him.
"[I learned] that no matter where you play at or whatever comes up, just remember that you're always playing for the love of the game," Jenkins, who is also working hard off the court with his own apparel and an NFT venture, said. "… No matter how much money that you make or have made and will make, always remember that you started with just the pure love, and to never let the grind or anything that you're going through take that away from you."
Kris Jenkins is confident in Villanova's chances to win the 2022 NCAA Tournament
Jenkins helped usher in a great era of Villanova basketball. The team won its second championship under head coach Jay Wright in 2017-18 before making the Sweet 16 last year.
This season, they are a solid bet to win the natty again. The Wildcats are 26-7 and received a two seed in the South Region. They play 15-seeded Delaware in the round of 64 but may have to go through three-seeded Tennessee and one-seeded Arizona to make the Final Four.
"It's just like a typical Villanova team that's poised to make a deep run," he said. "Got a kind of an older veteran team, some guys that's been in college a couple years. Coach Wright … he's a Hall of Fame coach. I feel like the bracket that we were given, it was fair, and I feel like all they got to do is just go and put the work in."
Wright, who has been the team's coach for two decades, is certainly used to the pressure of the NCAA Tournament. The school has made it to the big dance 16 times under his leadership and has reached three Final Fours.
"It's easy to play for a guy that you feel truly cares about you and wants what's best for you," Jenkins said. "And sometimes he may get on you and push you and be edgy, but that's kind of what you want from a coach or someone that's supposed to help you."
So, who does Jenkins have reaching the Final Four this year? His answer isn't all that surprising.
"Villanova, Villanova, Villanova; that's my Final Four and that's my national champion," Jenkins said.
The Wildcats will tip-off their potential Final Four run against Delaware at 2:45 p.m. on March 18. They will certainly have Jenkins rooting them on.
Stats courtesy of Sports Reference