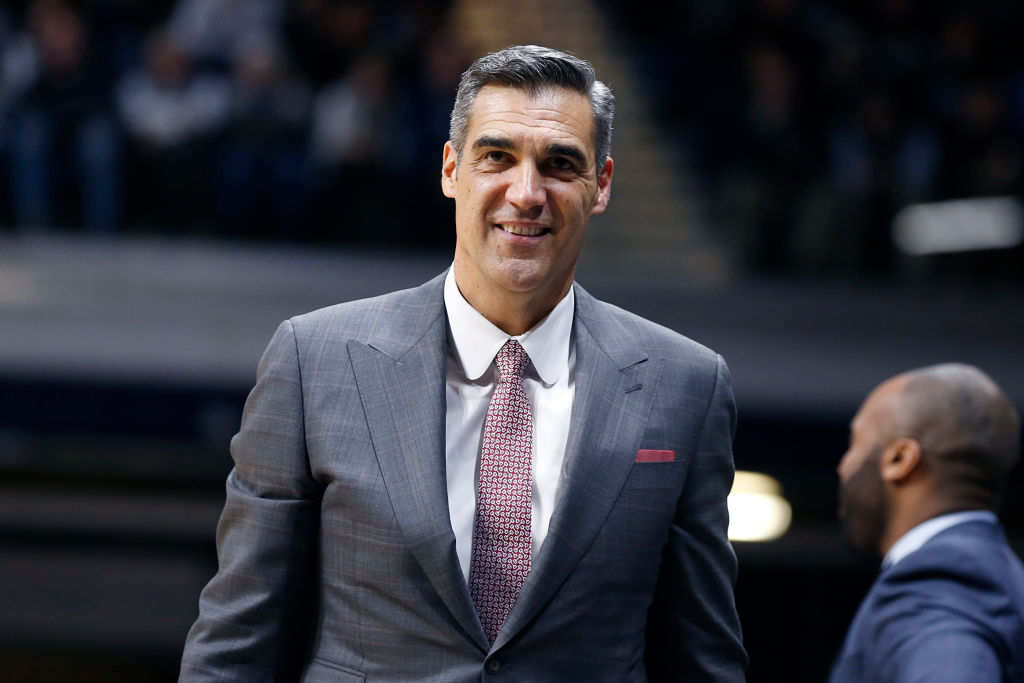 Where Did Jay Wright Coach Basketball Before Villanova?
Villanova's Jay Wright worked his way up quickly as a basketball assistant and has had a stable career as a head coach in a sport in which job-hopping is common.
There is no such thing as having a job for life when it comes to coaching college basketball, but Jay Wright at Villanova must certainly come close. Wright has won 471 games in 19 seasons there and captured two NCAA championships since 2016.
Wright's staying power with Villanova should come as no surprise based upon his career track. Like Duke mentor Mike Krzyzewski, he's a consistent winner who hasn't job-hopped.
Jay Wright's first opportunity as a head coach came at Hofstra
Given that so much of his life up until that point had been lived in eastern Pennsylvania, it shouldn't have come as a surprise that Jay Wright didn't venture far away for his first job running a program.
With Hofstra University having fallen into disrepair over the final two of Butch van Breda Kolff's six seasons in charge, the Long Island school came calling in 1994 and gave Wright the first of the two head coaching jobs he's ever held.
Wright stayed for seven seasons, but he may have been perilously close to being let go had his fourth year been a breakthrough. He recounted in a 2018 interview how his assistant supplied a reality check after a visit to a recruit ended with the player's mother saying she had heard from another coach that the Hofstra staff was about to be fired.
"I came out of the home visit, I said to Tom Pecura, 'Can you believe someone would say that? How could another coach say that?' He said, 'Jay, we've lost for three straight years, we might get fired.' I thought we were doing fine."

Jay Wright, Villanova coach
The Pride went 19-12 that pivotal season, then won 22, 24, and 26 games in Wright's final three seasons. The last two ended with trips to the NCAA Tournament and put Wright on the radar of major colleges, including Villanova.
Jay Wright has been a perfect fit at Villanova
Steve Lappas had the unenviable task of following Rollie Massimino at Villanova. Massimino coached the Wildcats to a memorable win over Georgetown for the 1985 NCAA Tournament title, but the program lost its footing in the hyper-competitive Big East over the next seven seasons and Massimino left the cupboard bare.
Lappas would go 174-110 in nine seasons. But Villanova was showing signs of slipping again and the administration let him walk away when Lappas asked for a long-term contract.
The call went out to Wright, whose rebuilding process began with three straight trips to the NIT. Villanova turned the corner in the 2004-05 season in which it went to the NCAA Sweet 16. That began a run of 14 NCAA Tournament appearances in 15 years that would have been extended this season had the coronavirus outbreak not ended the season prematurely.
Wright's Wildcats have been to the Final Four three times and won the national championship twice. They beat North Carolina, 77-74, for the 2016 title and Michigan, 79-62, in 2018.
Working his way up to the big-time
As stable as his career has been with just two jobs at Hofstra and Villanova as a head coach, Jay Wright went through the usual hectic climb as an assistant coach.
After a stellar scholastic career in Newtown, Pennsylvania, and a playing career at Bucknell University, Wright's first coaching job was as an assistant at the University of Rochester in Division III. He quickly moved up to the staff of Division I Drexel University.
Wright caught his big break in 1987 when Rollie Massimino brought him to Villanova as an assistant. Wright stayed until 1992 when he followed Massimino to UNLV for two seasons. He remained there until Hofstra offered him its top job.