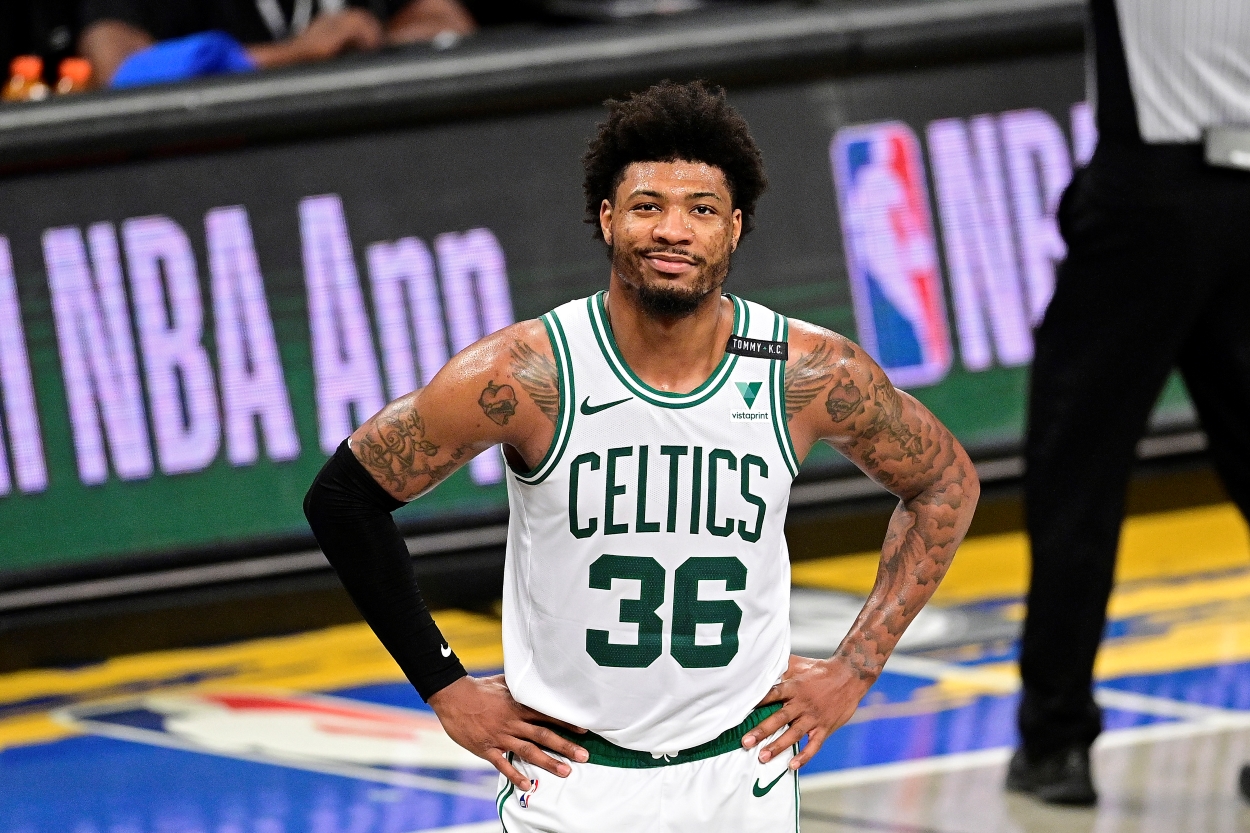 Marcus Smart Admitted He Nearly Left the Boston Celtics for an Extra $13 Million
Marcus Smart confirmed he nearly left the only franchise he's ever known in the Boston Celtics for a bigger payday with another franchise before finally deciding to take a hometown discount. Instead, he will prepare for starting point guard duties for the first time in his professional career under new Celtics head coach Ime Udoka.
Marcus Smart has been a staple of the Boston Celtics franchise since he was a first-round pick in 2014. Players have fluctuated in and out of the roster around him, but Smart has been a Boston main-stay. He's the heart and soul of the team as both a vocal leader and a defensive menace on the floor.
Smart signed an extension this summer to remain with the Celtics for another four seasons, but he admitted he nearly left the only organization he's ever known to chase more money.
Smart signed a four-year, $77 million extension to stay in Boston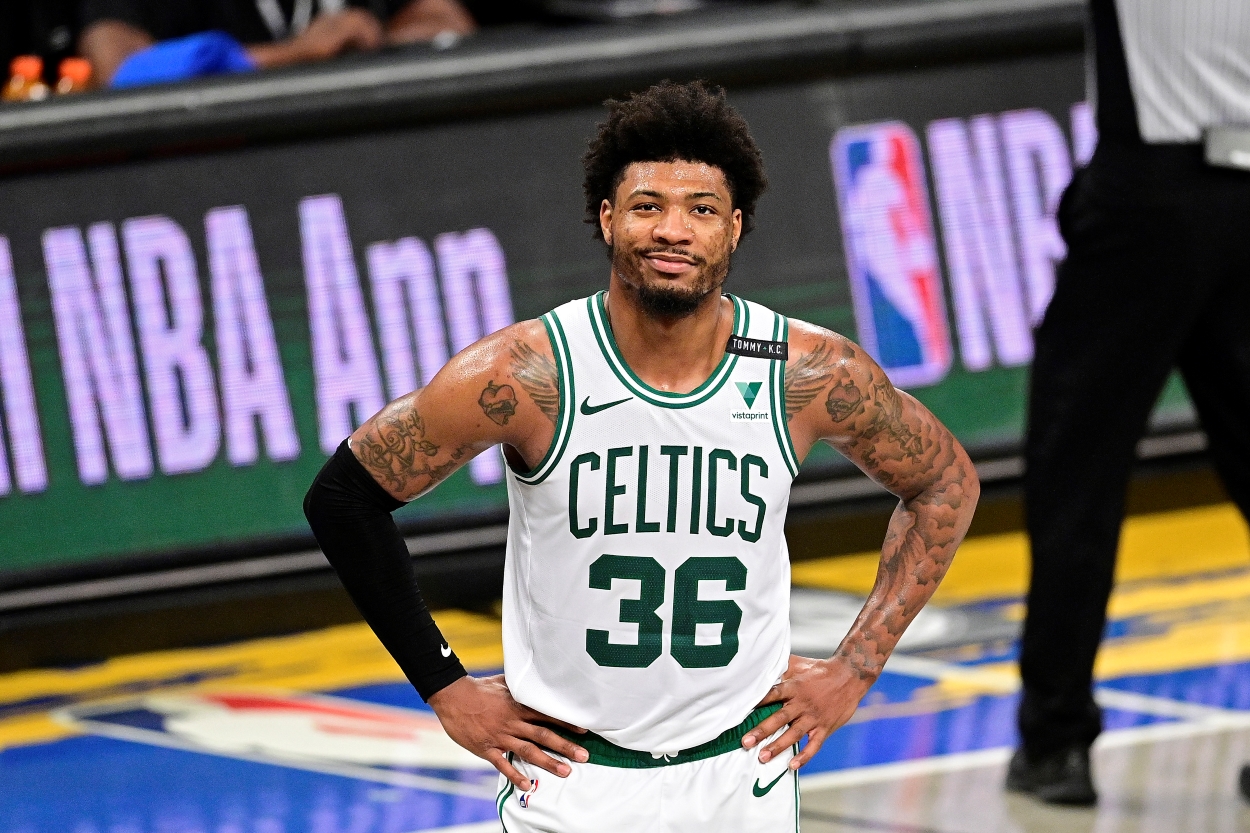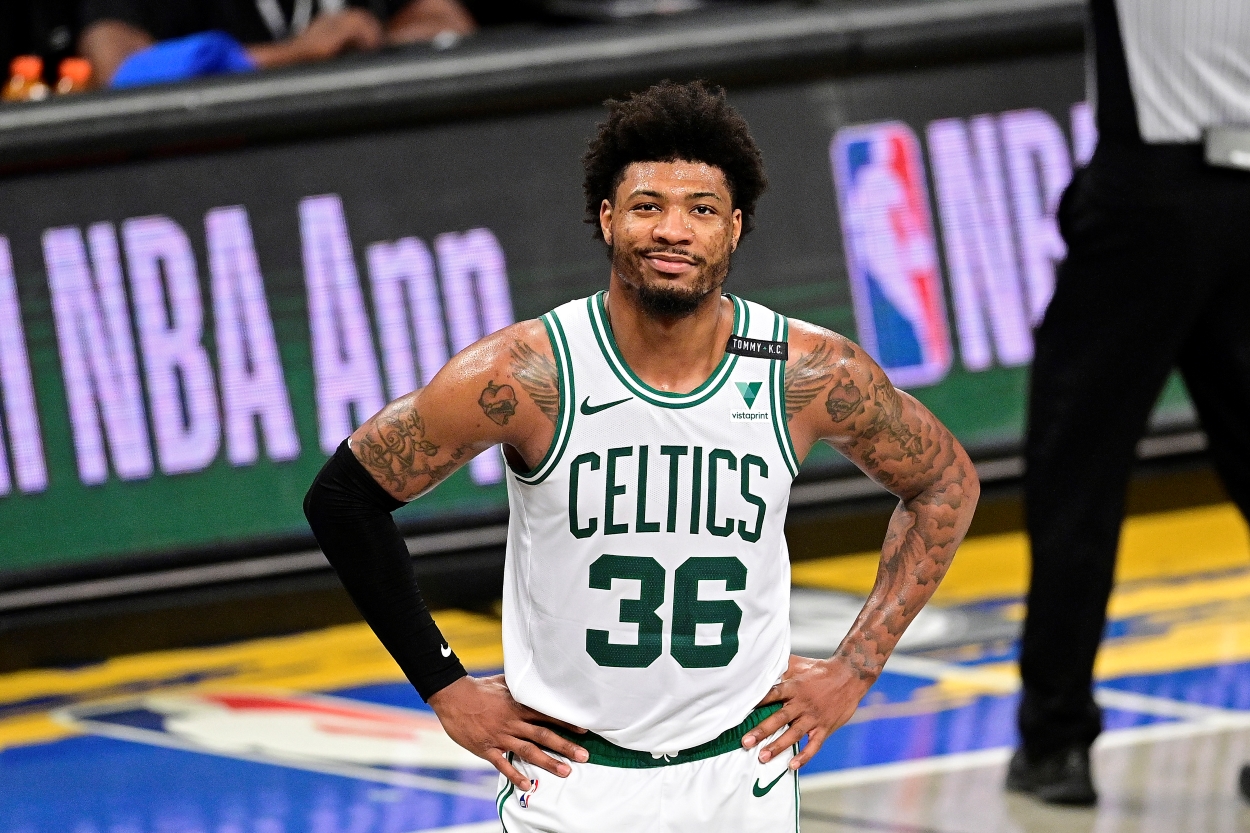 The Boston guard signed a four-year extension worth $77 million this offseason. The deal keeps Marcus Smart in a Celtics uniform through the 2025-26 season.
When he signed the deal, Smart said there's no other organization he'd rather play for, according to NBC Sports:
"There's nowhere else I'd rather play and no other fans I'd rather play in front of. I love Boston, and Boston loves me. We've had some great moments and success in my time here, but there's more to accomplish. I'm ready to put that Celtics jersey back on and get to work out on the Parquet with my teammates."

Smart after signing his extension this past offseason
He recently shared more details on the extension, though, and confirmed he did have ideas about leaving the Celtics.
Smart almost left Boston for more money
The veteran guard admitted he had second thoughts about leaving his home franchise. He felt he was worth more money, somewhere closer to $90 million, he said in an article on The Athletic:
"For me, it was, I've gotta get paid. I've gotta get mine. Everybody else in my position that I've dominated are getting theirs. And it's like, I know I do way more than these guys. I'm on a better team as well. So it's like, what's going on? I was actually willing to go straight into free agency and go to the market.

"So it was a business decision. … I wanted to make sure I give myself a shot for another payday eventually by taking care of business on this one. So it was a business decision for me."

Smart on nearly leaving Boston for more money
The sixth overall pick in 2014 was a point guard at Oklahoma State but has played mostly off the ball since he arrived in the NBA. This season may be his chance to solidify the point guard spot. Boston brought in Dennis Schroder on a one-year deal, but 2021-22 might finally be Smart's chance to take the reigns and shine.
Smart will remain the beating heart of the Celtics
Sure, he's been known to take bad shots at terrible times. He's definitely not a complete offensive player. But Marcus Smart is the engine that makes the Celtics go.
He's one of the toughest players in the league and certainly the toughest on a team accused by some of being soft last year. He's been named to the NBA's All-Defensive First Team both of the previous two seasons.
Even with his flaws, Smart is the kind of player everyone wants on their team. Thankfully for Boston, he decided to take the hometown discount and continue to fight for The Green.
All statistics courtesy of Basketball-Reference and contract details courtesy of Spotrac.