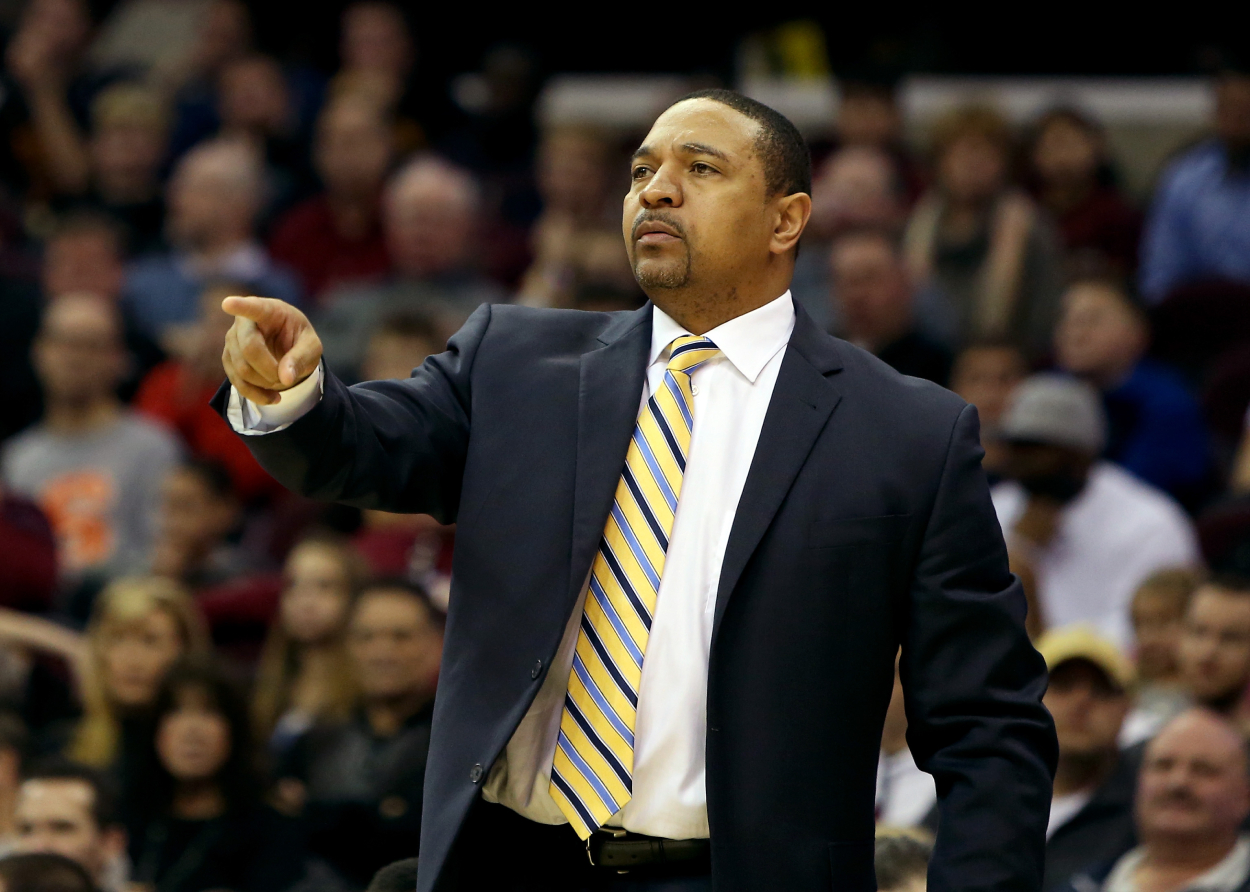 ESPN's Mark Jackson Will Always Be Linked to 2 Murderers Thanks to a Bizarre Coincidence
ESPN's Mark Jackson had success as an NBA player and as coach of the Warriors. However, he is also oddly linked to two murderers.
Many people may know Mark Jackson for his work as an NBA analyst on ESPN. They may also know him for his work as the head coach of the Golden State Warriors. However, before all that, Jackson had a pretty successful playing career that even saw him earn Rookie of the Year honors. Mark Jackson ended up playing for a while, too, as he was in the NBA from 1987-88 through 2003-04. While his playing career brought him a ton of success, a bizarre coincidence also somehow oddly linked him to two wealthy murderers — Lyle and Erik Menendez.
Mark Jackson has become a successful analyst on ESPN
Mark Jackson had success as a player and a coach, but, as mentioned above, many fans probably know him for his work on ESPN.
From 2006 to 2011, Jackson worked with Mike Breen and Jeff Van Gundy on ESPN's lead NBA coverage, according to his ESPN bio. Then, after leaving the network in 2011 to coach the Golden State Warriors, Mark Jackson returned to ESPN in 2014. He has worked with Breen and Van Gundy on there ever since, too.
Jackson has also commentated some massive games for the network, as he covers the NBA Finals for ESPN. He essentially gets to witness NBA history up close and personal every season.
Mark Jackson's success at ESPN, though, is all because of the fact that he also achieved a lot as a player. However, because of a weird coincidence, his playing career is also weirdly linked to two murderers.
The Menendez brothers are in the background of his basketball card
According to The Washington Post, Lyle and Erik Menendez killed both of their parents, Jose and Mary "Kitty" Menendez, "in their Beverly Hills mansion on Aug. 20, 1989, but weren't arrested until March 1990."
Before getting arrested, and after the murders, though, the brothers reportedly spent a ton of money. Erik reportedly spent $60,000 on a tennis coach. Lyle, on the other hand, supposedly bought a restaurant in Princeton, New Jersey, for $550,000 and took "shopping trips to New York accompanied by a team of bodyguards," per The Washington Post.
That's not all they did, though. They also apparently received front-row seats to see the New York Knicks play during the 1989-90 season. According to The Washington Post, the brothers appear to be in the background of Mark Jackson's 1990-91 Hoops basketball card. Jackson ultimately played on the Knicks for over six seasons. The photo on the card was taken during the 1989-90 season.
The appearance of the brothers — who, according to The New York Times were sentenced to life in prison in 1996 — even reportedly increased the card's value, too.
Sure, this is just a weird coincidence that Mark Jackson can't help. But because of this, his playing career is now weirdly linked to the Menendez brothers.
This, obviously, didn't keep him from going on to have a significant amount of success as a player, though.
Mark Jackson had a successful playing and coaching career
After playing college ball at St. John's, Mark Jackson became a first-round pick in the 1987 NBA draft with the New York Knicks.
He then had success in the NBA immediately, too. Jackson ended up winning the Rookie of the Year award in 1987-88, as he averaged 13.6 points per game and 10.6 assists. Then, in Jackson's second season, he earned an All-Star selection by averaging 16.9 points per game and 8.6 assists.
Jackson then didn't score quite as much during the rest of his NBA career, but he still had a great deal of success. From his rookie season in 1987-88 through 2001-02, Jackson only averaged under seven assists per game once. He also even led the league in assists per game in 1996-97 with 11.4.
Overall, in his career, Jackson played for the New York Knicks, Indiana Pacers, LA Clippers, and four other teams. He is also fourth in NBA history in total career assists with 10,334 and averaged eight per game for his career.
After his playing career, and between his stints at ESPN, Mark Jackson then coached the Golden State Warriors for three seasons. They went 23-43 under Jackson in 2011-12, but the Warriors then improved to 47-35 in 2012-13. They even reached the Western Conference Semifinals that year and took the San Antonio Spurs to six games. Then, in his third and final season in 2013-14, the Warriors improved to 51-31, but they lost to the LA Clippers in seven games in the first round.
Despite not coaching the Warriors for very long, Mark Jackson proved during his stint as a head coach, and also during his playing and ESPN careers, that he has a great basketball mind. That basketball IQ ultimately helped him have all of his success, too. It also, though, somewhat played a role in him weirdly getting linked to two murderers.
Stats courtesy of Basketball Reference