ESPN Analyst Richard Jefferson's Father Was Tragically Shot and Killed Not Long After Jefferson's Final NBA Season
Richard Jefferson ultimately became an NBA champion during his basketball career. He has since become a well-known sports media personality in his post-basketball career through his work on ESPN and his podcast. His personality appears to be a big reason why he has had so much success, too, as he is always upbeat and seems to be the life of the party. However, that doesn't mean that he hasn't had to go through tough times. In fact, after the final season of his NBA career, Jefferson sadly had to deal with his father being murdered.
Richard Jefferson had a successful basketball career
Jefferson proved to be a talented player while in college at Arizona. He averaged 11 or more points and over four rebounds in each season from 1998-99 through 2000-01. He also even helped the Wildcats go on a run to the national championship game in 2000-01, which helped him earn All-Tournament honors that year.
Arizona lost to Duke in the championship game, but Jefferson had several big performances in the tourney. He had 15 points and 11 rebounds in the Sweet 16 against Ole Miss, 17 points and eight rebounds in the Final Four against Michigan State, and 19 points and eight rebounds in the title game against Duke.
This led to him becoming the No. 13 overall pick in the 2001 NBA draft.
Jefferson then had a pretty successful professional career. He averaged as many as 22.6 points per game during the 2007-08 season with the New Jersey Nets. He also averaged 19.7 points per game and 5.3 rebounds for the Nets and Milwaukee Bucks from 2003-04 through 2008-09.
However, after averaging 19.6 points for the Bucks in 2008-09, he then just became a solid role player. Jefferson ultimately played for seven different teams from 2008-09 through his final season in 2017-18. In 2015-16, though, he began playing for the Cleveland Cavaliers and became an essential piece to their championship-winning team. He only scored 5.5 points per game in 2015-16, but his leadership and efforts off the bench helped the Cavs come back from a 3-1 deficit in the NBA Finals against the Golden State Warriors to win the title.
Jefferson's final season was in 2017-18 with the Denver Nuggets, but he only appeared in 20 games that year. For his career, he averaged 12.6 points and four rebounds.
He has since started working for ESPN as an analyst, and he has started his own popular podcast, Road Trippin'.
His father was tragically murdered after his final NBA season
According to a USA Today article from 2018, Richard Jefferson's father, Richard Jefferson Sr., was sadly killed in a drive-by shooting in September of that year. The incident occurred in Compton, California.
USA Today reported that the police report said a dark-colored vehicle drove up and someone opened fire. Jefferson Sr. then got rushed to the hospital with gunshot wounds to his torso but was pronounced dead at the hospital. He was 65 years old.
No motive had been known at the time of the incident, according to ESPN.
ESPN also reported that, when Jefferson was young, his parents split, and he then grew up in Glendale, Arizona with his mom. Jefferson Sr. lived in California. Sources also told ESPN that the younger Jefferson had grown closer to his father in the years leading up to the shooting.
Richard Jefferson remembered his father in a heartfelt Instagram post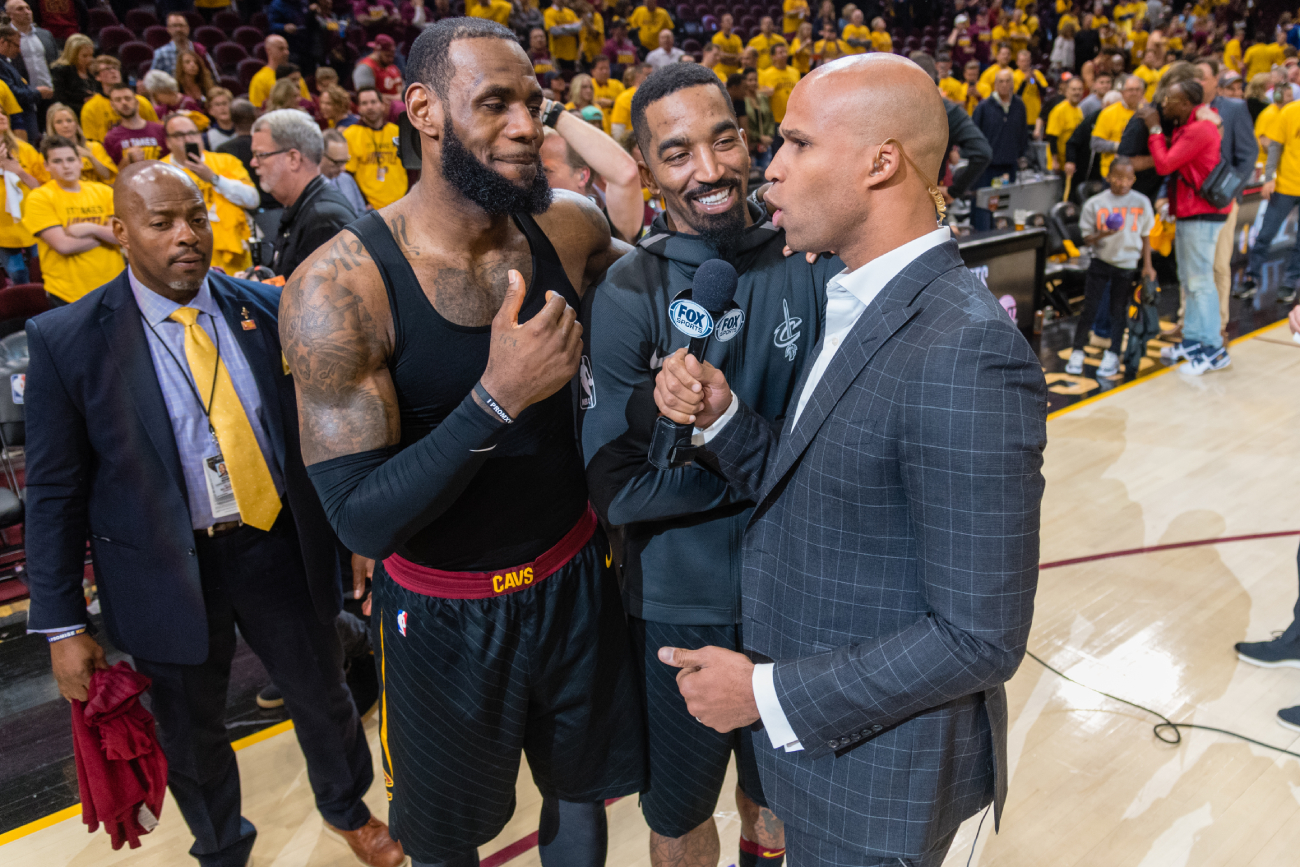 Weeks after the incident, Jefferson remembered his father through a post on Instagram.
"In the last month I've dealt with two life changing events back to back," Jefferson wrote in part of his post. "My decision to move on from basketball and the tragic passing of Big Rich. The support of my family and friends have been huge. This video was taken after he bbq'd for about 20 people, something he would do a few times every summer. All I would do is tell people that I was having people over to my house and the next question was 'Is Big Rich on the grill?' He really was a true OG. I'm going to miss all his one-liners, his cooking and his ability to make a whole room laugh. Until next time!!!!"
While it appears that he might not have grown up with his father in California, it seems that his dad still had a big impact on his life. Additionally, by the video that Jefferson posted on Instagram, it also seems like he maybe got his entertaining personality from his dad.
Richard Jefferson has become a star in the sports media world. His late father might ultimately be a reason why, too.
Stats courtesy of Sports Reference and Basketball Reference