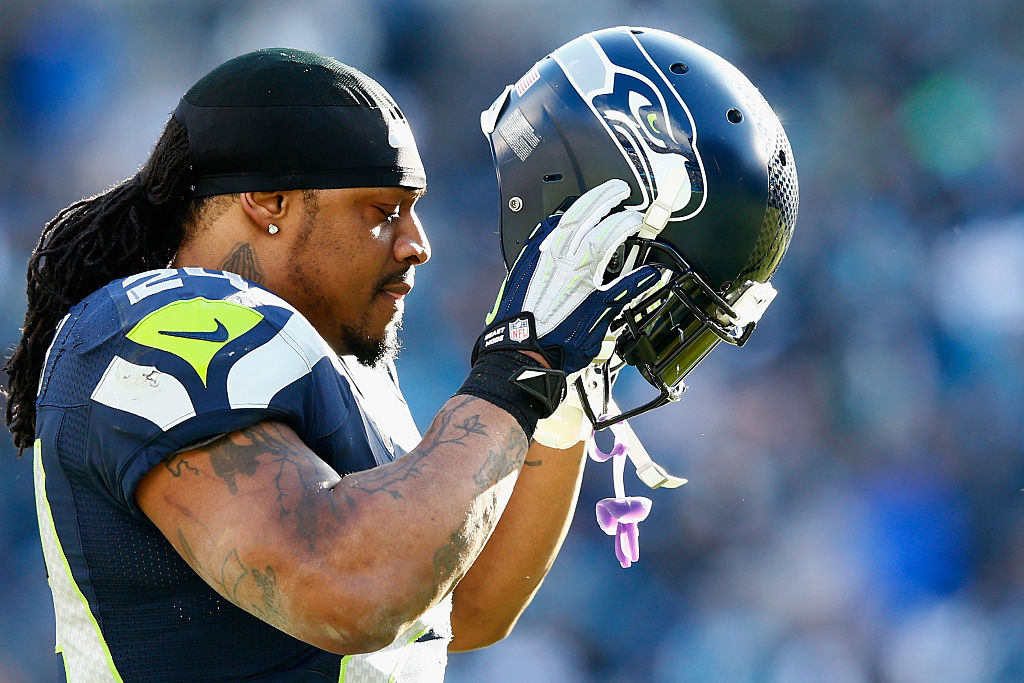 Marshawn Lynch Once Brought up Cereal and Cockroaches When Discussing His Money
Seattle Seahawks running back Marshawn Lynch once brought up cereal and cockroaches while discussing his money.
Marshawn Lynch, as we all know, is a man of few words. The man famous for the "I'm only here so I don't get fined" quote doesn't say a whole lot, but when he does the words can sometimes be puzzling. Lynch, who played for the Seattle Seahawks last season and is mulling on a 2020 return, once talked about being smart with his money and had to bring up cereal and cockroaches to prove his point.
Marshawn Lynch's football career
Marshawn Lynch was a first-round pick, selected No. 12 overall, by the Buffalo Bills in the 2007 NFL draft. Lynch, a bruising 5-foot-11, 215-pound running back, spent the first three-plus seasons of his NFL career with the Bills before being traded mid-season to the Seattle Seahawks in 2010.
It was in Seattle where Lynch made his money and really turned himself into a household name. In seven seasons with the Seahawks, Lynch racked up 58 touchdowns and averaged 4.3 yards per carry. Lynch, in 2013, led the league in touchdowns with 12 before following that up with a 13-TD season in 2014, which was also good enough to lead the league.
In May of 2016, the Seahawks placed Lynch on the injured reserve/retired list, but he decided to return to football in 2017 and the Seahawks traded him to the Oakland Raiders, where he spent two seasons. During his two seasons with the Raiders, he had a modest 10 touchdowns. In 2019, Lynch was back with the Seahawks and played the final regular-season game with the team and then took part in two playoff games. He said he's considering returning to the team in 2020.
Lynch's net worth
When Marshawn Lynch signed on to play the final game of the regular season for the Seattle Seahawks last season, he made $60,588 for that game. Lynch signed a one-year deal for the league minimum that was pro-rated. For any player who has more than 10 years of experience in the NFL, the minimum is $1,030,000 for a 17-week season.
During his 12 years in the NFL, Lynch earned a total of $58,085,000. His first contract with the Buffalo Bills was a five-year deal worth $13,315,000. In 2012, he renegotiated a four-deal deal worth $30 million. In seven seasons with the Seahawks, Lynch made $38,377,353. He went on to make $8,320,588 in two seasons with the Oakland Raiders.
Lynch made the Pro Bowl five times in his career. He also won the Super Bowl when the Seahawks defeated the Denver Broncos 43-8 in Super Bowl XLVIII. Celebritynetworth.com lists Lynch's net worth at $30 million.
Lynch has been very good with his money
Call him frugal or call him smart, but whatever it is Marshawn Lynch has handled his money well. Lynch is appreciative of the wealth he accumulated while playing football. He never forgot his roots and that was brought up when he talked about his money. He saves it up and spends it wisely so he doesn't end up where he started.
In an interview with Sports Illustrated's Jon Wertheim back in 2016, the two had a memorable exchange regarding Lynch's finances. Here's how the conversation went:
Wertheim: Everybody I've spoken to about you has referenced your financial savvy. What's the source of that?
Lynch: You ate cereal before?
Wertheim: I've eaten cereal.
Lynch: Alright. Have you ever had a roach in your cereal before?
Wertheim: No.
Lynch: You haven't, right?
Wertheim: I have not.
Lynch: If you came from eatin' cereal with roaches in it before, Dawg . . . Feel what I'm sayin'? You wouldn't want to do that again, right? Once you've seen the lowest of the low, you don't want to go back. But, like I told you before, it's not me—I have a good team and some smart family members around me.