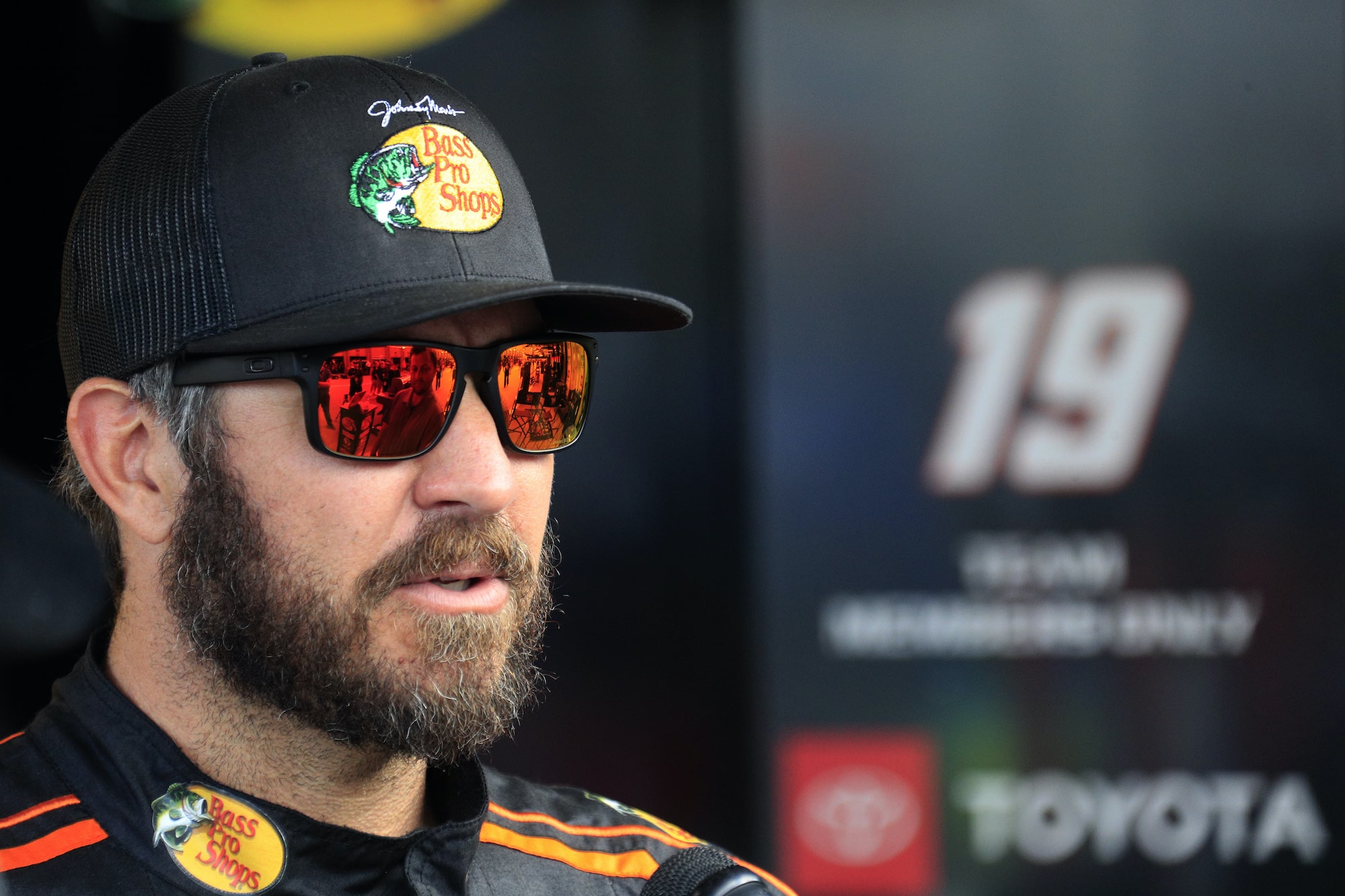 If Martin Truex Jr. Leaves JGR After 2022 It Won't Be Because Ty Gibbs Forced Him Out, According to Report
Martin Truex Jr.'s future with Joe Gibbs Racing in 2023 is still unclear. A recent report indicates if the 2017 champion does retire it won't be because Ty Gibbs took his seat.
Anyone paying attention can see Martin Truex Jr. is having the worst start to a NASCAR Cup Series season since joining Joe Gibbs Racing in 2019. The numbers don't lie. Meanwhile, the 41-year-old has been vague about his future in the sport. 
According to a recent report, if Truex opts not to return in 2023, it won't be because Ty Gibbs got promoted and forced the 2017 Cup Series champion out. 
Martin Truex Jr. off to worst start of season since 2014
Whether it's the Next Gen car, the driver's age, or maybe a combination of the two, there's no denying Martin Truex Jr. is off to his worst Cup Series start in years. You have to go all the way back to 2014, and the last time the driver hadn't reached Victory Lane 14 races into a season.
And the dropoff has been noticeable. 
This year, the driver of the No. 19 has managed just six top-10 finishes and a pair of top 5s. Last year, at this same point in the season, he had recorded eight top-10 finishes and, most importantly, three victories. 
He finished 2021 with four wins, tying him for second in the series with Alex Bowman and only behind Kyle Larson and his impressive 10 victories.
Is Truex having fun?
Last summer Martin Truex Jr. raised a few eyebrows when he spoke with RacinBoys and said the Next Gen car could determine how soon he decides to hang up his helmet for the last time.
"I think, look at the new car, see what it's like, go racing, hopefully, it's fun," Truex said. "Hopefully, I have as much fun as I have driving these things. I love working with my team. I still love racing, but for sure, that's going to be a big deal. If it's not fun, I won't hang around too long. I don't have to do this anymore. I'm still around because I really want to do this and continue winning races and hopefully more championships."
As mentioned above, he hasn't won any races and, as a result, talk of a championship seems a little far-fetched at this point. Based on his own metrics, it wouldn't appear he's having a whole lot of fun.
Ty Gibbs won't be moving up to Cup in 2023, according to grandfather
One thing Truex has talked about this season is his future, albeit in vague terms. At Circuit of the Americas in March, he acknowledged that he would need to decide in the next few months whether or not he wanted to return in 2023 because JGR is planning out its roster and who will fill the four seats.
Last week, Joe Gibbs didn't address Martin Truex Jr.'s situation specifically but did tell the Charlotte Observer that plans for the four JGR seats in 2023 won't include his grandson, Ty, who has already won seven races in the last two seasons, including three times this year.
"We want to be real careful, take our time, and so really our goal was to keep him in Xfinity for two years, and so this is his first year really," Gibbs said. "I think he's had 23 or 24 Xfinity races, so the game plan is two years for sure in Xfinity. Make sure we don't rush him." 
Could Gibbs racing another season in Xfinity allow Truex one more year in the new car, and maybe a retirement tour of sorts? We should find out soon.
Like Sportscasting on Facebook. Follow us on Twitter @sportscasting19 and subscribe to our YouTube channel.