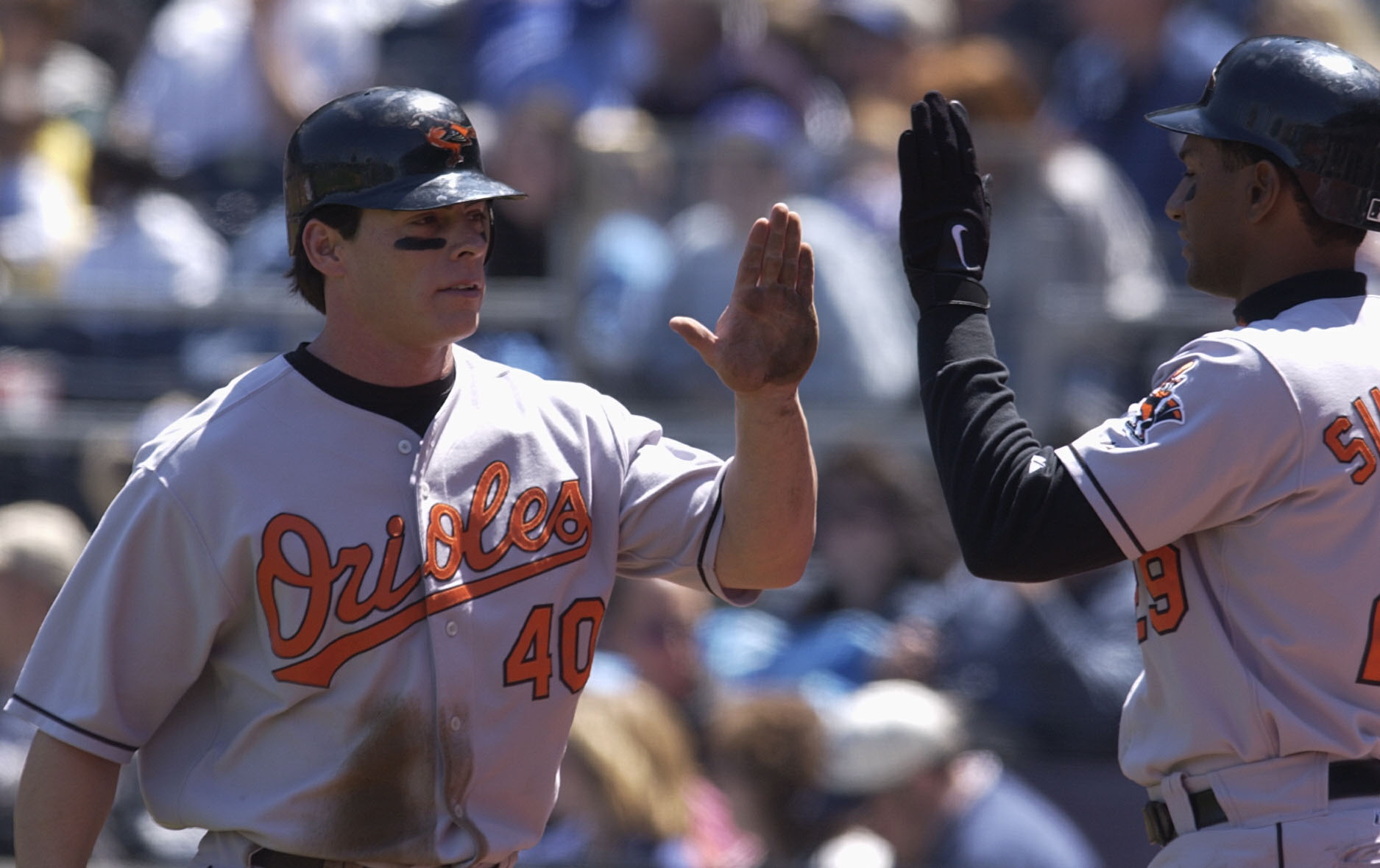 Marty Cordova Moved to DH After a Tanning Incident Gone Wrong
Marty Cordova won the AL Rookie of the Year Award and played nine seasons. But he's best known for a tanning incident gone wrong in Baltimore.
Marty Cordova debuted in the major leagues at a later age and formed a nice career for himself.
A Rookie of the Year-winning outfielder who later played on the first Orioles teams in the post-Cal Ripken Jr. era, Cordova almost spent a decade in the major leagues.
Cordova isn't remembered for his on-field play with the Minnesota Twins or Baltimore Orioles, though. Instead, his lasting legacy came from a tanning incident gone wrong.
Marty Cordova played nine MLB seasons
A 10th-round pick from Orange Coast College (Calif.), the 6-foot, 200-pound Cordova debuted in the majors in 1995.
Cordova hit .277 with 24 home runs, 84 RBIs, 27 doubles, and stole 20 bases for the Twins. That earned him AL Rookie of the Year honors in a year where future All-Stars like Andy Pettitte, Garrett Anderson, and Ray Durham, among others, all debuted.
Cordova hit .309 with 16 home runs, 111 RBIs, and 46 doubles in 1996. Although Cordova remained a mainstay in the Twins' lineup through 1999, his career never really took off the way Minnesota hoped.
Cordova spent 2000 with the Toronto Blue Jays and hit .245 with four home runs and 18 RBIs in 62 games. He bounced back in 2001, when he mashed 20 home runs and hit .301 alongside Jim Thome on the Minnesota Twins.
Cordova was involved in a tanning incident gone wrong
Marty Cordova joined the Baltimore Orioles in 2002. He hit .253 with 18 home runs, 64 RBIs, and 25 doubles in a solid season for the 32-year-old outfielder.
Few remember his clutch hits from that year, though. Instead, Cordova established his legacy in Baltimore as the man who suffered an injury from a tanning bed incident gone wrong.
According to the Baltimore Sun, Cordova burnt his face in a tanning bed. Baltimore moved him to designated hitter so the team could keep him out of the sun.
Cordova, at least, didn't miss any significant time. He hit .238 with 13 home runs and 39 RBIs from June 1 through the end of the season.
Where is Marty Cordova now?
Marty Cordova's MLB career ended when he hit .233 with a home run and four RBIs in nine games for the Orioles in 2003. He retired with a .274 average, 122 home runs, and 540 RBIs across 952 games in nine seasons.
Cordova was inducted into the Southern Nevada Sports Hall of Fame in 2016. He played his high school ball at Bishop Gorman, which lists Ravens All-Pro offensive tackle Ronnie Stanley, Orioles outfielder Joey Rickard, and former Cowboys running back DeMarco Murray among its alumni.
Cordova is the COO of Bent Pixels, a Las Vegas-based company that works with YouTube content creators. According to his LinkedIn, Bent Pixels is a "full-service boutique offering copyright protection, audience development, and premium channel management services."
Entertainers Joe Rogan and Kevin Hart are among the network partners.
Like Sportscasting on Facebook. Follow us on Twitter @sportscasting19.