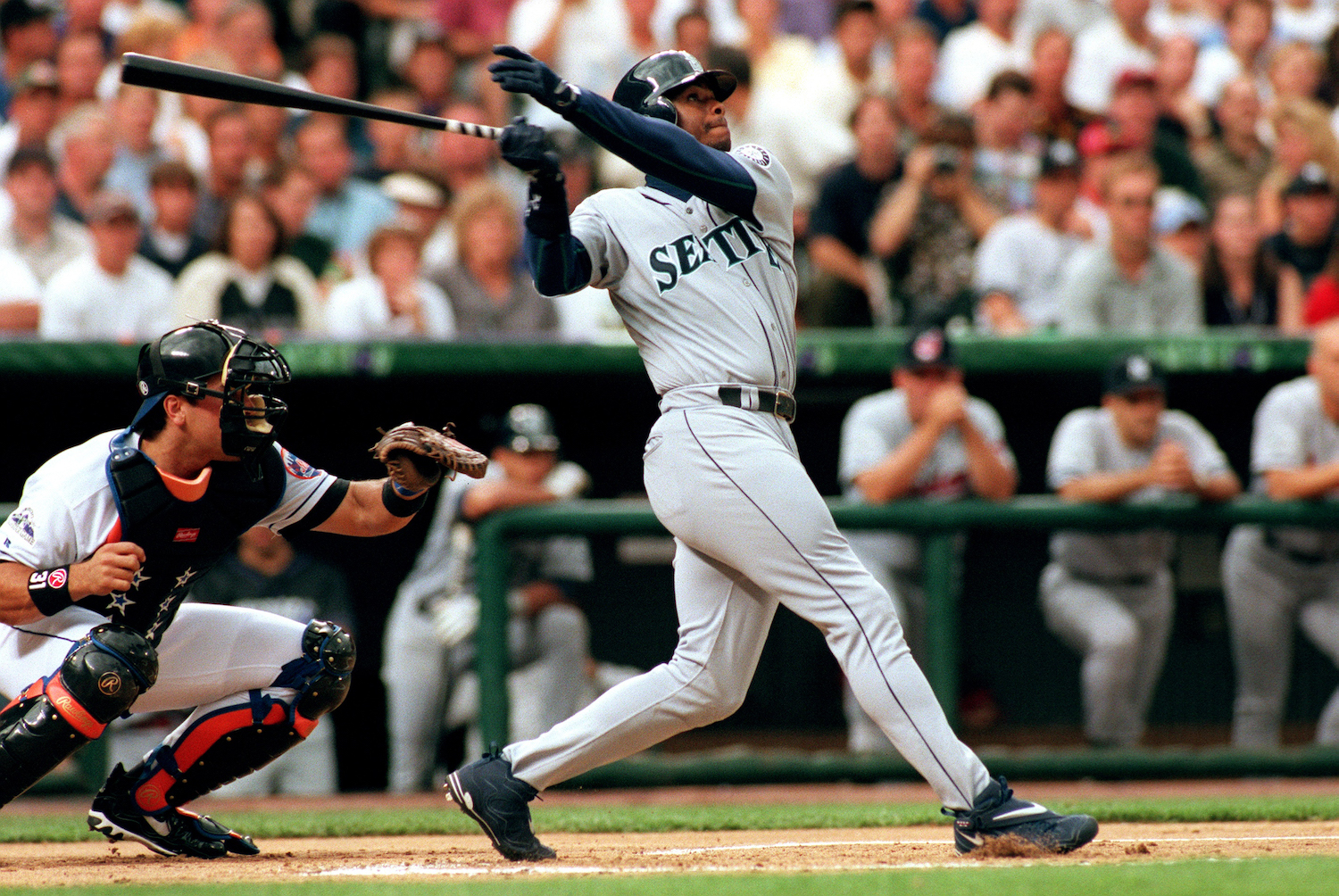 What Is the Record for Longest Consecutive Game Home Run Streak in MLB History?
Home runs make highlights. Hitting streaks make headlines. When you combine the two, you have big news. What is the longest home run streak in MLB history?
New York Yankees superstar Aaron Judge has impressively started the 2020 pandemic-shortened season by displaying his power at the plate homering in five straight games. That home run streak is just one game short of tying two legendary Yankees hitters in Roger Maris and Lou Gehrig for second on the team's all-time list. Who's in first? 
Don Mattingly is at the top of Yankees and MLB history with a home run streak of eight consecutive games. But he's got company. There are two others tied with Mattingly. Here's a list of the hitters who have achieved home run hitting streaks of seven games or longer—a feat achieved fewer times than the number of perfect games pitched in MLB history. 
2 (Tie). Jim Thome, Cleveland Indians (June 25-July 3, 2002) – 7
Jim Thome started his streak at Fenway Park in the first inning of the first game of a two-game set in Boston with a three-run home run off Frank Castillo. The next day Thome hit a solo shot off future Hall of Famer Pedro Martinez. 
Thome returned home to Cleveland and hit three straight against the defending World Series champion Diamondbacks, including a solo blast off Curt Schilling. Thome extended his streak to seven in New York at Yankee Stadium against star pitchers Roger Clemens in the first game of a series and David Wells in the second game. He went hitless in the third game.   
2 (Tie). Barry Bonds, San Francisco Giants (April 12-20, 2004) – 7
Barry Bonds had his longest home run streak in 2004, three years after his record-setting mark of 73 home runs for a season in 2001. His 2004 streak began, like Judge, early in the season. He started the streak with a pair of homers against the Brewers. 
Bonds continued the streak at home against the Dodgers, including a pair of home runs off Jeff Weaver in one game. The Giants outfielder homered in back-to-back games against the Padres to reach seven consecutive games with a home run, but walked twice and struck out in his at-bats against Jake Peavy to end the streak.  
2 (Tie). Kevin Mench, Texas Rangers (April 21-28, 2006) – 7
Kevin Who? Kevin Mench played most of his eight seasons with the Texas Rangers, and that's where he became an unlikely member of the seven-home run club. He began the streak on a big night against Tampa driving in five RBIs on a 3-for-5 night that included a first-inning grand slam.
Mench then proceeded to drive in multiple runs in each of the next five games of the streak including a 2-for-4, four RBIs night against the Oakland A's. Mench blasted his second grand slam in a week on April 26 against the Athletics, and a couple of days later in Cleveland became the first right-handed batter to homer in seven straight. His streak ended with a 1-for-3 performance against the Indians on April 29.
2 (Tie). Kendrys Morales, Toronto Blue Jays (Aug. 19-26, 2018) – 7
Kendrys Morales is the most recent to threaten the all-time mark. He started his streak in the final game of a three-game set at Yankee Stadium and then returned home to Toronto, where he opened the series hitting a pair of homers off Orioles pitcher Andrew Cashner. 
The 35-year-old Morales hit one apiece in his next two games against Baltimore, and then did the same against the Philadelphia Phillies in a three-game series. His streak ended at seven after an 0-for-3 night at the plate against David Hess.  
1 (Tie). Dale Long, Pittsburgh Pirates (May 19-28, 1956) – 8
Dale Long was an obscure first baseman for the Pittsburgh Pirates who started his streak with a four-RBI game at Forbes Field. He was the first player to homer in seven straight games and did so in dramatic fashion homering in his final at-bat. 
He added to his record a couple of days later in Brooklyn with a solo shot off Carl Erskine. Long's streak ended at eight after he went 0-for-4 against Don Newcombe. Long made a prediction about the record.
"Someday somebody will break it, and they'll forget me," Long told the Chicago Tribune in 1986. "It's there to be broken. They break 'em all the time."
1 (Tie). Don Mattingly, New York Yankees (July 8-18, 1987) – 8
Don Mattingly launched his streak with a two-homer game at Yankee Stadium against the Minnesota Twins. Five games later, Mattingly blasted another two home runs on the road against the Texas Rangers and knuckleballer Charlie Hough and Mitch "Wild Thing" Williams to extend the home run streak to six.  
Mattingly hit his seventh consecutive against Bobby Witt to break the deadlock with Lou Gehrig and Roger Maris for most consecutive home runs in Yankees history. He then tied Long the next day with his eighth consecutive home run on a blast off Rangers ace Juan Guzman. His home run streak ended on a night where he still ended with a 2-for-4 performance.
1 (Tie). Ken Griffey, Jr., Mariners (July 20-28, 1993) – 8
Ken Griffey Jr. began his streak with a solo shot at Yankee Stadium in a game opposite Yankees Don Mattingly, who, ironically enough, also hit a home run. Griffey homered again the next day against the Yankees before heading off to Cleveland.
Against the Tribe, Griffey homered each day of the four-game series before returning home on a six-game home run streak. In his first game back at the Kingdome, he hit a grand slam against the Minnesota Twins. The next night, he hit a solo home run and tied Long and Mattingly at eight. The following game he went 2-for-4 narrowly missing a new record but settling for a double off the wall in center field. 
All stats courtesy of Baseball Reference.