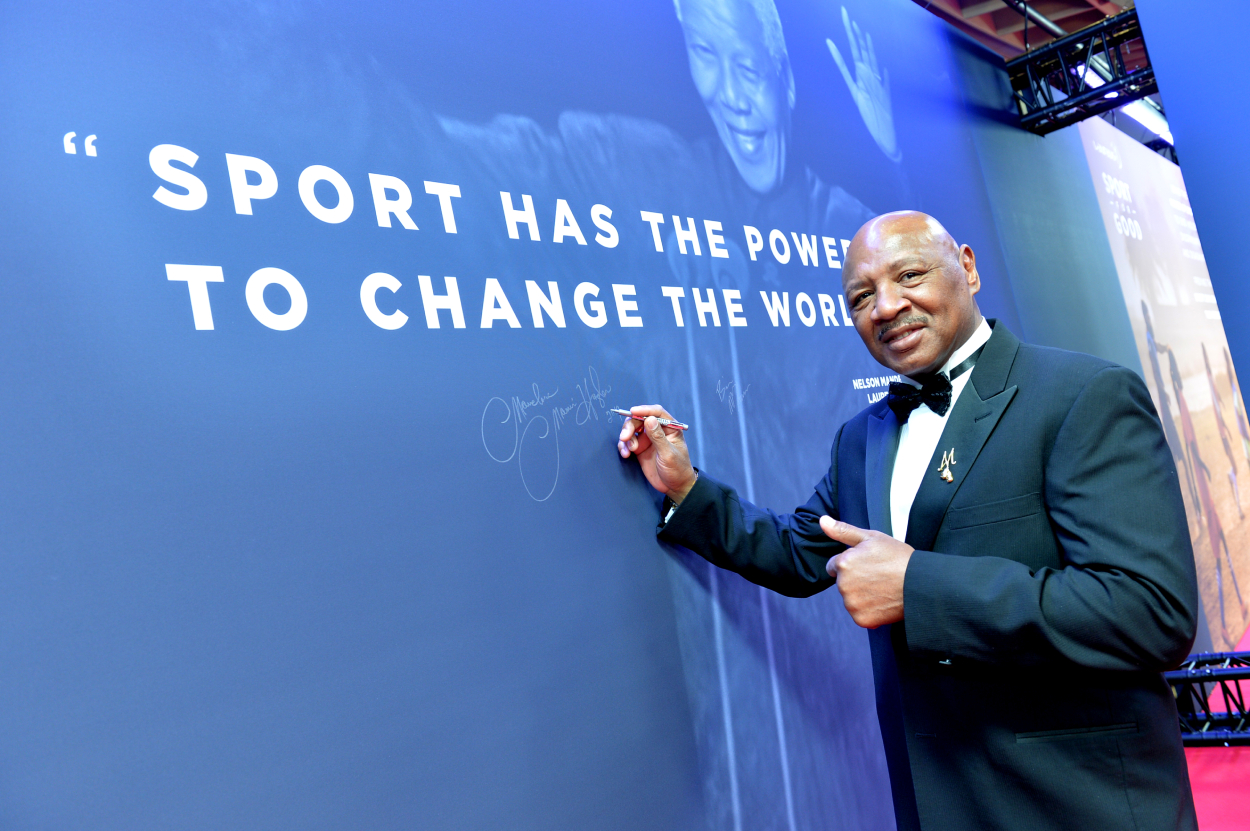 Marvin Hagler's Shocking Death Stuns the Boxing World
Marvin Hagler's sudden death Saturday shocked the boxing world.
Marvin Hagler rarely lost in the boxing ring, losing three times in 67 professional fights. On Saturday, the boxing world suffered a major loss when one of the all-time great boxers, the man they called 'Marvelous' Marvin Hagler, died unexpectedly, his wife announced. He was 66.
Marvin Hagler was a knockout machine
RELATED: Sugar Ray Leonard Gets Emotional With Mike Tyson About Addiction
Marvin Hagler began his professional boxing career on May 18, 1973, when he made quick work of Terry Ryan, knocking him out in the second round. That was just a sign of things to come. Hagler won 62 professional fights, winning 52 of them via knockout. He suffered three losses and had a pair of draws.
Hagler suffered his first loss after going 25-0-1 in his first 26 bouts. He lost to Bobby Watts in a 10-round majority decision on Jan. 13, 1976. Hagler had a tough three-fight stretch, suffering his second loss two fights later when he lost to willie Monroe in a unanimous decision.
Hagler then regrouped, stringing together 37 fights without a loss. The only blip was a draw against Vito Antuofermo on Nov. 30, 1979. during that stretch, he defeated Antuofermo in a rematch and also had wins over Thomas Hearns and Roberto Duran. Hagler lost the final fight of his career, falling to Sugar Ray Leonard in a 12-round split decision on April 6, 1987. He finished his career 62-3 with the two draws.
Hagler's wife announces his death on Facebook
Marvin Hagler was the undisputed middleweight champion from 1980 up until his loss to Sugar Ray Leonard in April of 1987. Hagler was left-handed, something legendary boxer Joe Frazier told him would work against him, among other things. "You have three strikes against you," Frazier said, "You're Black, you're a southpaw, and you're good," Frazier once said, according to ESPN.
On Saturday, Hagler's wife made the announcement of Hagler's death. She posted the information on the verified Marvelous Marvin Hagler Fan Club page on Facebook.
"I am sorry to make a very sad announcement," Kay G. Hagler wrote. "Today unfortunately my beloved husband Marvelous Marvin passed away unexpectedly at his home here in New Hampshire. Our family requests that you respect our privacy during this difficult time."
Hagler's sudden death stuns the boxing world
Marvelous Marvin Hagler's sudden death at the age of 66 shocked the boxing world. Many were quick to offer their condolences and memories on social media. Legendary ring announcer Michael Buffer said he was "crushed" at the news.
Boxer Oscar De La Hoya wrote on Twitter, "Saddened to hear about the death of Marvelous Marvin Hagler. One of the greatest to ever step in the ring!"
Boxing promoter Bob Arum said Hagler was one of the best fighters his company ever promoted. "Marvelous Marvin Hagler was among the greatest athletes that Top Rank ever promoted," Arum wrote. "He was a man of honor and a man of his word, and he performed in the ring with unparalleled determination. He was a true athlete and a true man. I will miss him greatly."