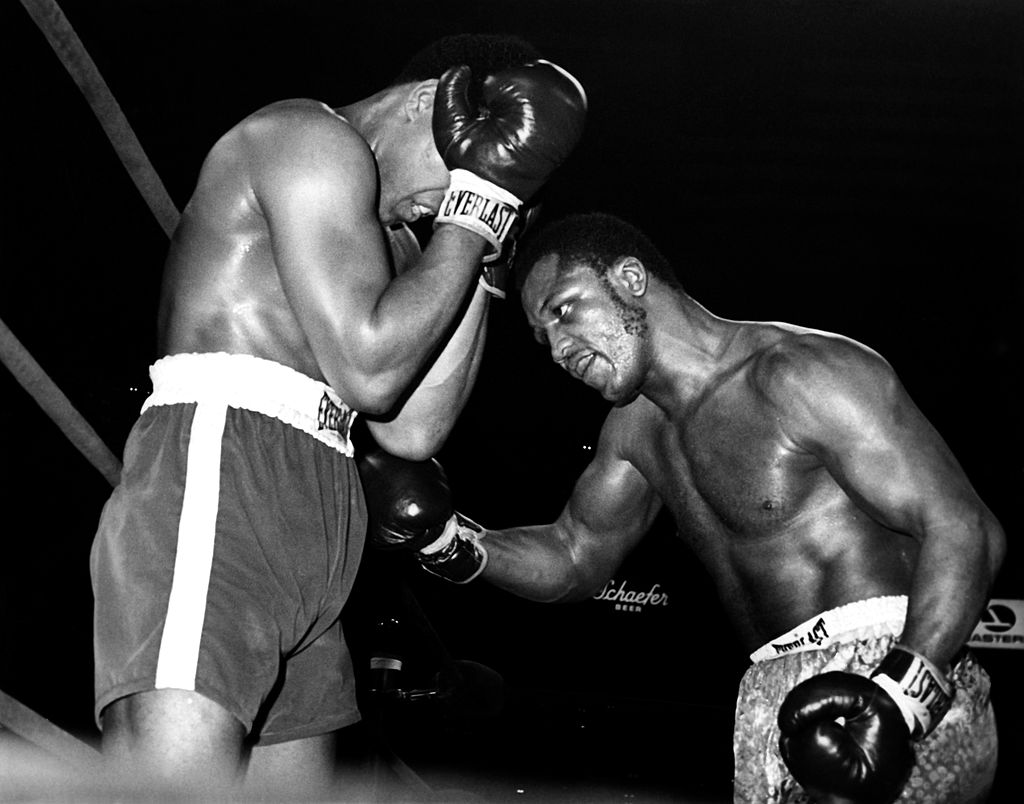 Joe Frazier Was an Inspiration for 'Rocky' But Said the Movie was Sad to Him
Former heavyweight boxing champion Joe Frazier was an inspiration for "Rocky," but said the movie was sad to him.
Smokin' Joe Frazier was one of the most iconic boxers ever to enter the ring. The former undisputed heavyweight champion of the world was known for his speed, strength, and for being the first professional to defeat Muhammad Ali. Frazier was also the inspiration for a pair of classic scenes in the movie "Rocky," but before his death in November of 2011, he admitted he wasn't a big fan of the film.
Joe Frazier hands Muhammadi Ali his first loss
Joe Frazier was the lone U.S. boxer to win a gold medal during the 1964 Olympics and then he turned professional, making his debut in 1965. He earned a first-round technical knockout of Woody Gross in his first bout.
One month later, Frazier struggled in his second fight as he was knocked down in the first round against Mike Bruce. Frazier, however, rallied for another TKO in the third round. Frazier then went on to win his next 27 fights to improve to 29-0. The biggest fight during that stretch came on March 8, 1971.
Frazier found himself fighting Muhammad Ali in what was billed as "The Fight of the Century." Frazier dropped the first two rounds of the bout, but the two exchanged blows in a back-and-forth contest. Frazier wound up handing Ali his first loss, winning a 15-round unanimous decision.
Frazier's career and rematch with Ali
After Joe Frazier knocked off Muhammadi Ali in "The Fight of the Century," Frazier won his next two fights to run his record to 29-0. On Jan. 22, 1973, Frazier met George Foreman in a battle of unbeatens. Frazier entered as the favorite, but Foreman was up to the challenge.
Foreman knocked down Frazier two minutes into the first round, setting the tone for the night. Foreman knocked down Frazier five more times before the second round was over. The contest was stopped during the second round and Frazier lost his title and saw his 29-fight win streak snapped.
Frazier fought Ali again in January of 1974 and Ali won a unanimous decisio0n in 12 rounds. They met again in the 'Thrilla in Manila' and Ali outlasted Frazier wen the fight was stopped in Round 14 after Frazier's eye was swollen shut. In 37 professional fights, Frazier went 32-4 with one draw.
'Rocky' takes a couple of pages from Frazier's book
Joe Frazier made a cameo appearance in Sylvester Stallone's hit movie "Rocky" and the movie used a couple of Frazier's training habits that have turned into iconic scenes. When Frazier was younger, he worked at a slaughterhouse where he would punch sides of beef, which became a training scene in the movie.
In a 2008 interview, Frazier recalled working at the slaughterhouse and spoke of that scene and the classic scene of Rocky Balboa running up the steps of the Philadelphia Museum of Art. "I was the drain man," Frazier said. "My job was to make sure the blood went down the drain," he said. "But sometimes, early in the morning, I'd go down that long rail of meat and work on my punching. That's how Stallone got the same idea for Rocky — just like he used the story about me training by running up the steps of the museum in Philly."
Frazier said he was never compensated for the movie, except for the small cameo appearance. "He never paid me for none of my past," the boxer said. "I only got paid for a walk-on part. "Rocky" is a sad story for me."