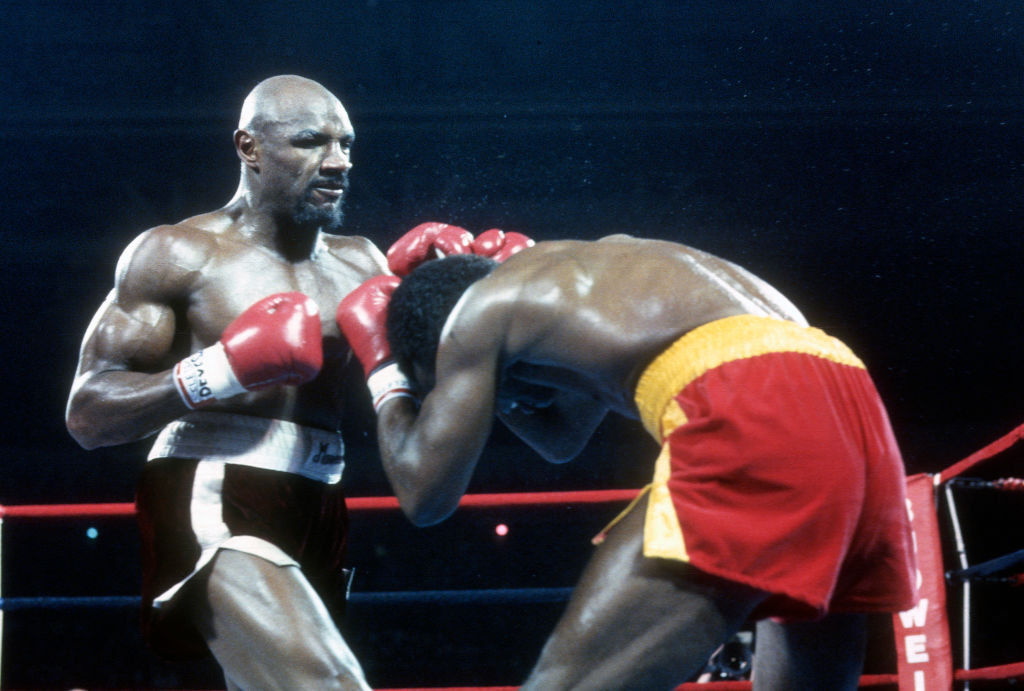 How Much Is Marvelous Marvin Hagler's Net Worth?
Marvelous Marvin Hagler was the world's undisputed middleweight champion for more than six years and was never knocked out despite battling the biggest names in the division.
Few boxers could take a punch like Marvelous Marvin Hagler and fewer still delivered one like the outstanding middleweight did in his prime. Hagler's determination in the ring made him a champion for a nearly unprecedented length of time and his savvy outside it has made him wealthy in retirement.
Marvelous Marvin Hagler fought and beat the best
The boxing world has several fiefdoms that sometimes designate titleholders and compile weight-class rankings based upon questionable criteria, so the phrase "undisputed champion" is rarely accurate. But Marvelous Marvin Hagler was precisely that in the middleweight division from 1980-87.
Hagler made 12 successful title defenses after beating Alan Minter in September 1980. His 79-month reign is the second-longest for a middleweight in more than a century.
Hagler finished 62-3-2, along the way beating big names in the sport including Vito Antuofermo, Roberto Duran, Thomas "Hitman" Hearns, and Juan Roldan. Only one of his title defenses went the distance, 52 of his career victories were by knockout, and he was never knocked out.
He has been inducted into the International Boxing Hall of Fame and the World Boxing Hall of Fame, was twice honored by The Ring magazine as fighter of the year, and was selected fighter of the decade for the 1980s by Boxing Illustrated.
Hagler had a long climb to contender status – his win over Minter was his 54th pro fight – in because he was a southpaw. With so few left-handers of Hagler's ability in the sport to prepare against, opposing trainers shied away from accepting his challenges.
One key break for him was a series of three fights vs. 1972 Olympic gold medalist Ray Seales. Winning their third bout in 1979 opened the door for a fight against Antuofermo for the middleweight championship. The bout ended in a draw and Antuofermo lost to Minter 11 weeks later before Hagler could get a rematch.
Hagler vs. Leonard was a fight that remains debated
Despite his achievements, Marvelous Marvin Hagler's career ended with a loss to Sugar Ray Leonard by a split decision on April 6, 1987, in a battle that boxing fans debated for years.
Leonard came out of a three-year retirement to end Hagler's run as champion.  Two judges had Leonard winning 118-110 and 115-113, respectively, and the third scored it 115-113 for Hagler. Leonard was fighting as a middleweight for the first time and began tiring midway through the 12-round fight, ultimately receiving numerous warnings for holding but never being penalized.
Fight data showed Hagler throwing 792 punches to Leonard's 629, but Leonard landed a handful more blows. The debate among boxing writers and fans centered on the quality of Leonard's punches, with Hagler supporters characterizing them as flashy flurries that may have impressed the judges but inflicted minimal damage.
What is Marvelous Marvin Hagler's net worth?
The combination of his success in the boxing ring and his acting career overseas afterward allows Marvelous Marvin Hagler, whose introduction to the sport included a 55-1 amateur record, to live comfortably in his adopted home of Italy.
Hagler, 65, turned down $15 million for a rematch with Sugar Ray Leonard but has managed his money more wisely than many other champion boxers and is said to be worth $50 million.
He followed his ring retirement by acting in a string of action films including "Indio" and "Indio 2," in which he portrayed an ex-Marine clashing with a former Army colonel while organizing native tribes to protect a rain forest from developers.
Hagler, who attached "Marvelous" to his legal name in 1982, has added to his wealth by doing boxing commentary and through licensing of his image in video games.