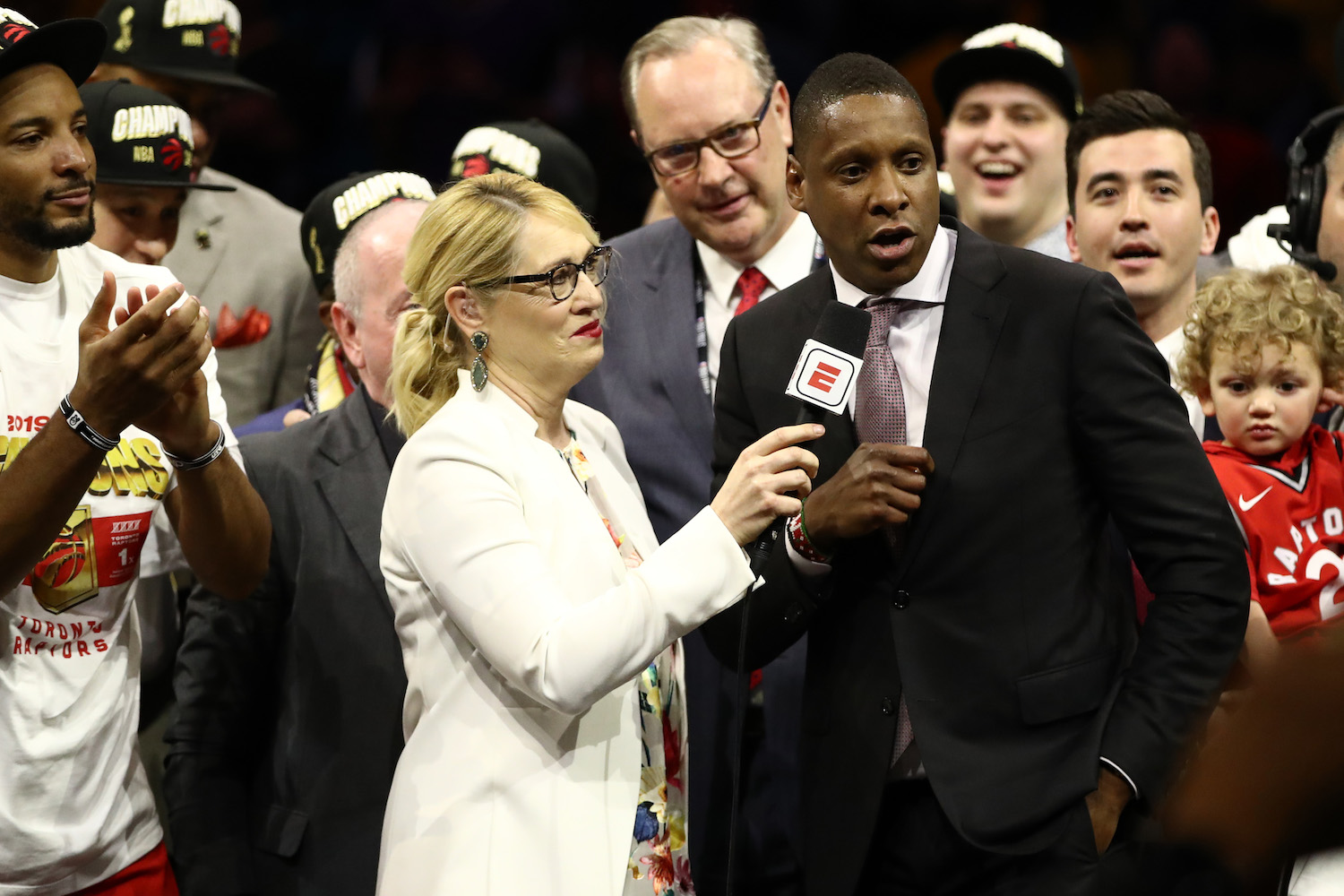 Masai Ujiri Incident Confirms Why Black Lives Matter Is Needed Now More Than Ever
Toronto Raptors president Masai Ujiri wanted to celebrate the NBA title with his team. A rogue deputy had other ideas. Video now shows exactly what happened.
Since the death of George Floyd, numerous Black athletes have opened up about their own experiences and encounters with rogue police. Each account is moving. More than a year ago, Toronto Raptors president Masai Ujiri, who is considered in NBA circles to be one of the best general managers in the game, had his own encounter with law enforcement just moments after the Raptors' title-clinching win. 
Since that time, Ujiri has been the subject of a lawsuit from the sheriff's deputy, who alleged he was the aggressor in the incident. The deputy was suing for various types of damage caused. New bodycam video reveals the deputy was, in fact, the one who instigated the issue and he is now the subject of a countersuit. 
Masai Ujiri confronted by deputy 
It was supposed to be a moment of celebration. The Toronto Raptors had just defeated the Golden State Warriors and won the organization's first NBA title. Masai Ujiri, the team's president and architect, headed down to the court to join up with his players and participate in the post-game festivities. 
Before he made it to the court, Ujiri was intercepted by Alameda County Sheriff's deputy Alan Strickland, who stopped him from passing, then inexplicably shoved him and told him to "back the f–k up." Ujiri approached again, and the deputy once again shoved him backward with both hands. Ujiri then responded and pushed the deputy before others intervened.
Moments later, Ujiri reversed course and walked the other direction, where he was greeted by Kyle Lowry, hugged, and led on to the court to enjoy the celebration.
Deputy sues Ujiri for attack
In February, Strickland and his wife, filed a federal lawsuit against Ujiri seeking a jury trial to resolve the matter. The couple sought general damages in excess of the minimum jurisdictional amount of $75,000, punitive damages, medical expenses, future medical and incidental expenses, loss of earnings, prejudgment interest, property damage, and legal fees.
Strickland claimed in the suit that Ujiri attacked him "and hit him in the face and chest with both fists." The lawsuit also indicated that the force from Ujiri's alleged attack sent Strickland "backward several feet."
Strickland said as a result of the altercation he "suffered, and will continue to suffer, physical, mental, emotional, and economic injuries, including, but not limited to, lost wages, lost opportunity for financial gain, future earning capacity, and past and future medical care and expenses."
Fred VanVleet and Masai Ujiri respond to new video 
With the release of the new video from Strickland's own body camera, it's clear the deputy was the aggressor and shoved Masai Ujiri. The Raptors Fred VanVleet was one of the first to respond to the footage in a post-game press conference after Toronto defeated Brooklyn in Game 2 of their first round opening series.
"Heavy stuff. Obviously, we're all very privileged. Masai is privileged in his world. You just stop and think how good we got it because there's people that are going to be in that same situation walking down the street who don't have money to fight the case," Van Vleet said.
"How many times do cops do things like that without the body cams on, without arena footage. It's a tough situation. It's unfortunate. It's why we're all in the situation now and fighting for social injustice and equality because you see how quick things can get ugly."
Masai Ujiri, who filed a countersuit, has remained quiet on the matter but released a statement thanking everyone for their support.
"What saddens me most about this ordeal is that the only reason why I am getting the justice I deserve in this moment is because of my success," Ujiri said. "Because I'm the President of a NBA team, I had access to resources that ensured I could demand and fight for my justice.
"So many of my brothers and sisters haven't had, don't have, and won't have the same access to resources that assured my justice. And that's why Black Lives Matter."
It's voices like Masai Ujiri and the actions of protesters in the streets of America that continue to bang the drum for racial equality. And for those paying attention, it's clear, that persistent beat is positively transforming our world into a better place one day at a time.