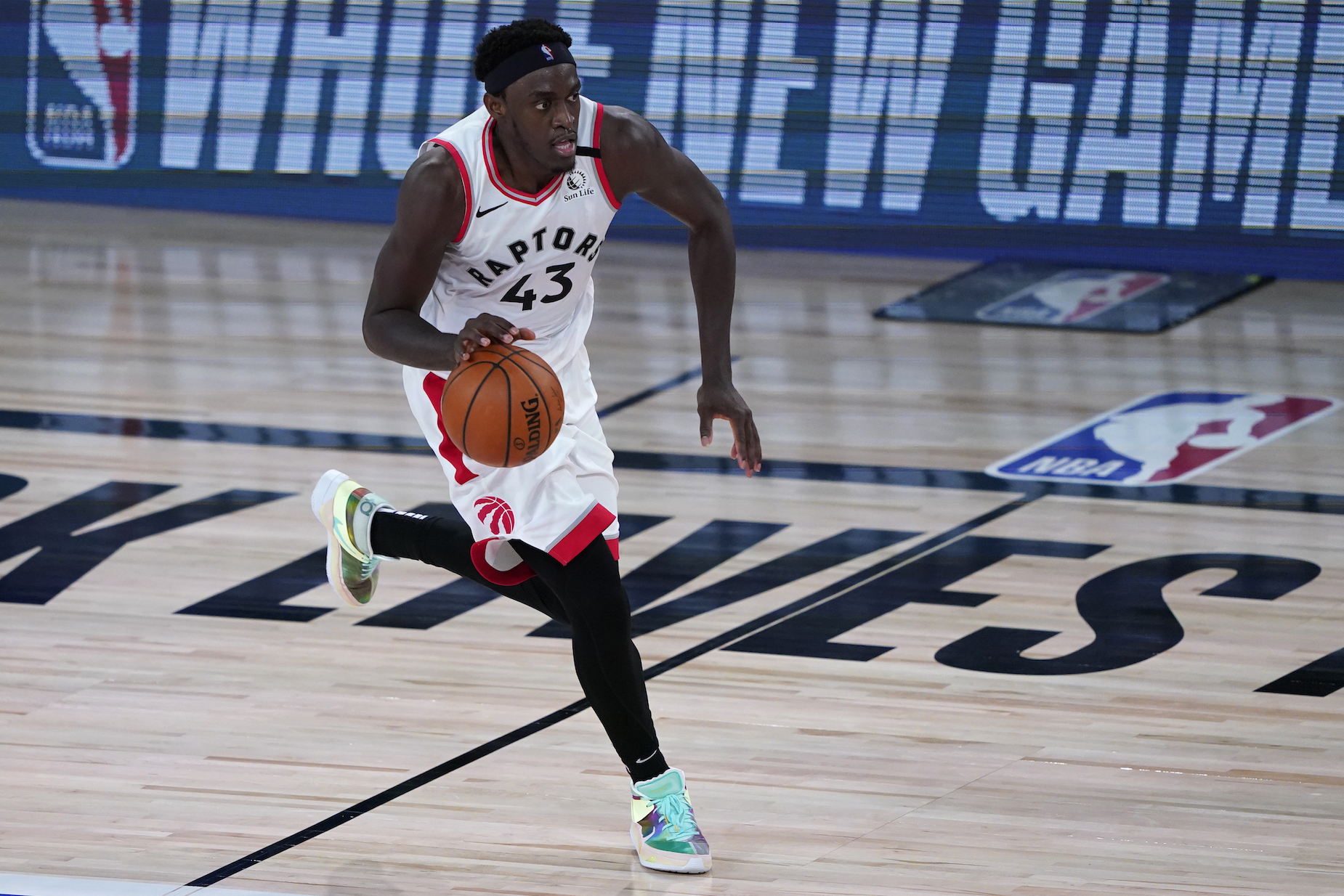 What Are Toronto Raptors Forward Pascal Siakam's Salary and Net Worth?
During his time with the Toronto Raptors, Pascal Siakam has developed into an NBA star. What is his salary and net worth?
Last season, Kawhi Leonard led the Toronto Raptors to their first title in franchise history. While he left town in free agency and headed home to Los Angeles, the Raptors haven't take a step backward; if anything, they're looking as good as ever thanks to Pascal Siakam.
Going forward, it's safe to assume that Spicy P will be the face of the Toronto Raptors franchise. With that in mind, what are the forward's salary and net worth?
Pascal Siakam's rise to NBA stardom
Growing up in Cameroon, Pascal Siakam planned to become a priest. NBA fans everywhere, however, are certainly glad that he had a change of heart.
Pascal had always played basketball recreationally and, after deciding the priesthood wasn't for him, caught the eye of Luc Mbah a Moute. The next year, Siakam earned an invitation to a Basketball Without Borders camp; there, he first crossed paths with Masai Ujiri.
With his heard set on basketball, Siakam moved to the United States and eventually enrolled at New Mexico State. He played two NCAA seasons with the Aggies, capturing the WAC Player of the Year, before entering into the 2016 NBA draft; Ujiri's Toronto Raptors selected him with the 27th overall pick.
Since then, Pascal Siakam has grown by leaps and bounds with each passing season. He started out splitting his time between the NBA and the G-League; then he became a solid role player coming off the bench. During the 2018-19 campaign, he stepped into the starting lineup, winning an NBA title and taking home the Most Improved Player title. With Kawhi Leonard now in Hollywood, Spicy P took another step forward this season; he's averaging 23.5 points, 7.6 rebounds, and 3.6 assists per outing and leading the Raptors back into the playoffs.
Making less than $3 million per season in salary…for now
Based on his performance as Toronto's main man this season, Pascal Siakam seems to be well on his way to NBA stardom. The forward, however, is still being paid like a rookie.
According to Spotrac, Siakam signed a four-year, $6.4 million contract when he first entered the league. While that deal made sense at the time—the forward was a late first-round pick, after all—it's looked like more and more of a bargain with each passing year. Last season, for example, Spicy P earned just over $1.5 million; this year, he's getting a hair more than $2.35 million.
Those artificially depressed salaries, however, will soon be a thing of the past. Starting next season, Pascal Siakam will be playing on a new contract. On paper, that deal will pay the forward $130 million over four years, but things could still get more expensive. At a basic level, the Raptors will pay Spicy P 25% of the salary cap due to Designated Rookie Extension language; depending on his performance, though, he could earn up to $156 million (30% of the salary cap).
What is Pascal Siakam's net worth?
While Pascal Siakam isn't earning a massive salary just yet, that hasn't hurt his bottom line. The young Toronto Raptors forward already has a pretty impressive net worth.
According CelebrityNetWorth, Spicy P's fortune currently sits at roughly $30 million. While that might not seem too impressive given the wealth of basketball's biggest stars, it's still an impressive total when placed in context. Siakam is playing his fourth season on NBA basketball and only became a legitimate starter last season; as his star continues to rise, so will his bank account balance.
Had Pascal Siakam decided to become a priest, things would be quite different today. Not only would the Toronto Raptors be in a much worse spot, but Spicy P himself would have significantly less money in the bank.
Stats courtesy of Basketball-Reference