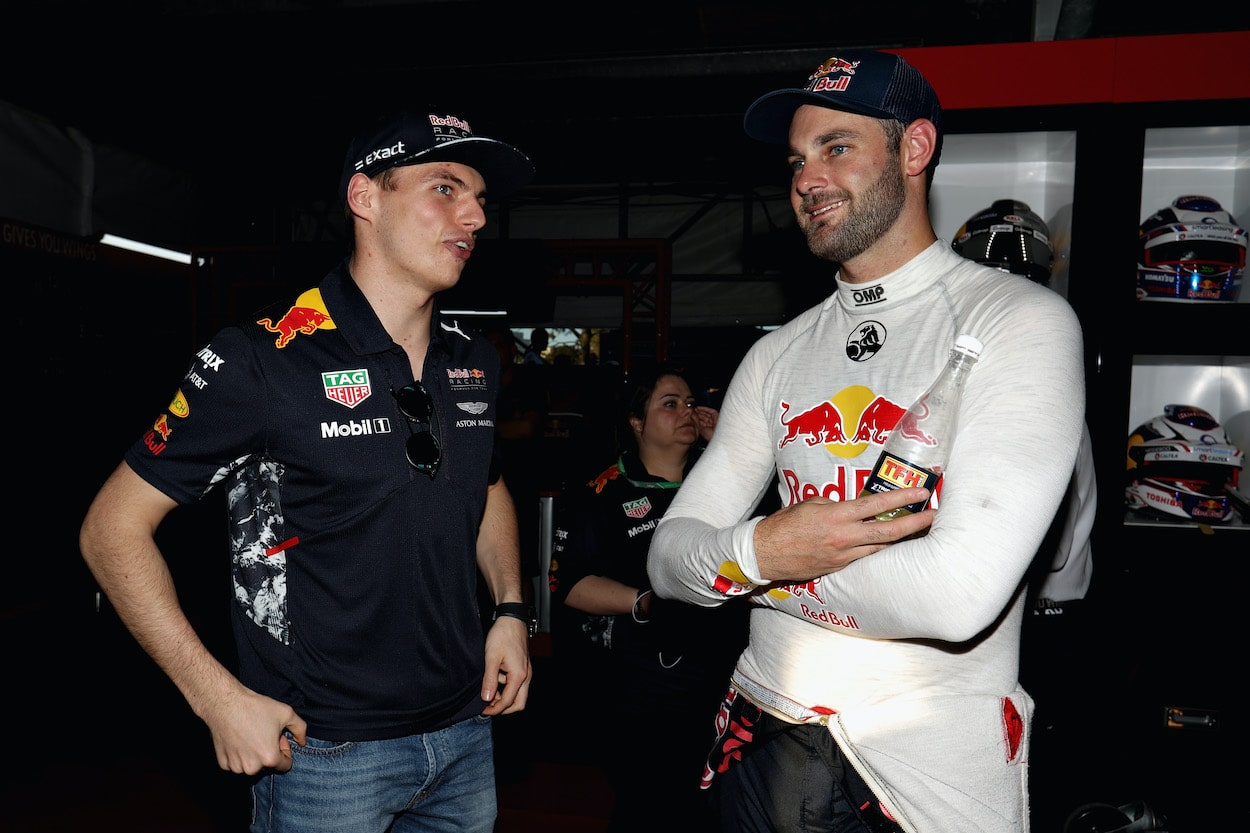 Max Verstappen Excited by Shane van Gisbergen's Win and Addresses His Interest Level in Racing With NASCAR
Max Verstappen watched his friend Shane van Gisbergen win his NASCAR Cup Series debut in the streets of Chicago and addressed if he might be interested in racing with NASCAR in the future.
Max Verstappen appears to be en route to winning a third consecutive F1 championship. When not on the track, he enjoys watching other racers in other disciplines compete around the world, especially when it's his good friend and fellow Red Bull racer Shane van Gisbergen.
The Dutch driver said this week that he nervously watched his Kiwi counterpart pull off the historic NASCAR win in the streets of downtown Chicago and then answered whether or not he might be interested in trying his hand at racing in the American-based series in the future.  
Shane van Gisbergen makes NASCAR history in Chicago
Shane van Gisbergen finished tops in NASCAR Cup Series practice at Chicago. He recorded the third-best time in qualifying. Despite that success, the New Zealander had his doubters, who said practice and qualifying were without other cars beating and banging and, more specifically, using him up on the track.  
When the green flag finally flew in Sunday's race in the downtown streets of the Windy City, the three-time Supercars champion did get pushed around early in the race. But then, like any good athlete, he adjusted to his surroundings and started pushing back.
The 34-year-old stayed up front all day and finished third in Stage 1 and fourth in Stage 2. However, to start the final stage, van Gisbergen fell back to 18th due to pit strategy, only after NASCAR announced it had shortened the race to 75 laps because of impending darkness. 
That didn't matter as the Trackhouse Racing Project 91 car diced its way through the field, passing the best of the best in the Cup Series, including Kyle Larson, Kyle Busch, and Chase Elliott. Even more impressive, the No. 91 fired off strong on an overtime restart and cruised to the historic win, becoming the first Cup driver to win his debut since Johnny Rutherford did it in 1963.
Max Verstappen details his excitement watching van Gisbergen win
This week at Silverstone, Max Verstappen was asked if he watched his good friend pull off the monumental victory in Chicago.
"I stayed awake to watch it," Verstappen said. "And I've never felt so nervous in my life watching someone else race and trying to win it. So yeah, I was literally screaming in front of my monitor for him to win that.
"I mean that's really really impressive to jump in the car and you don't know … they are very hard cars to drive. And he just goes in there and he absolutely dominates the race. So yeah, I know he's a great driver. I know what he's capable of. And I know how good he is in different kinds of disciplines. And he is great of course in V8s, that is what he knows, he's great in the rally car as well, and clearly he is great in a NASCAR as well. And I mean that Shane. He is a crazy right-foot braker still."
Would Verstappen consider racing in NASCAR?
With van Gisbergen's success in the Windy City, the natural question is could other drivers from around the world come over and replicate his winning efforts? Or, in the case of Verstappen, would he even be interested?
"No. It's not my style, I think," he said. "I mean, I like watching it. I think it's really, really cool. And I was really happy for Shane, but I'm happy to maybe go there and just have a beer myself and enjoy the show."
It was quite a show in Chicago. And if van Gisbergen does decide to come back and race with NASCAR in the future, you know his Dutch friend will be nervously watching.
To stay up to date on the latest happenings in NASCAR, including breaking stories you can't find anywhere else, follow Kyle on YouTube and Twitter.