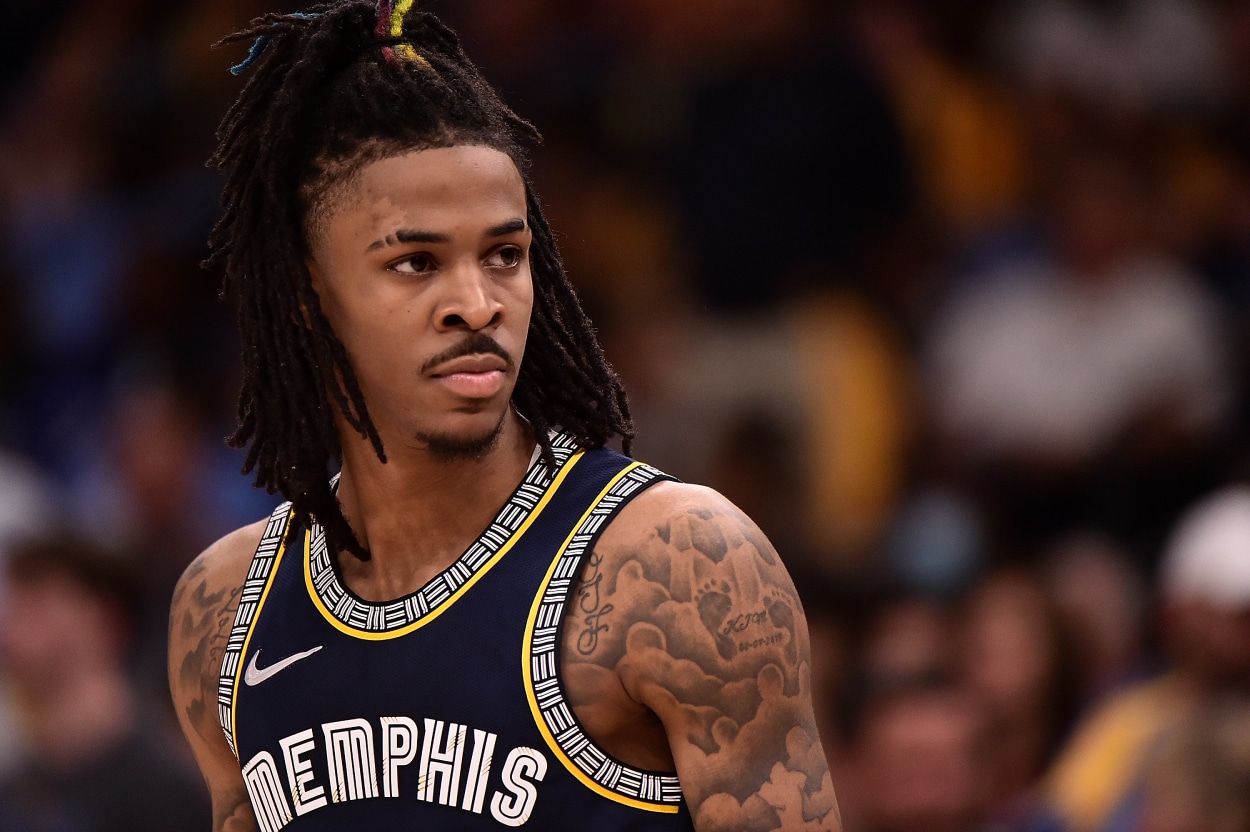 Memphis Grizzlies: Why Isn't Ja Morant Playing?
Memphis Grizzlies star Ja Morant isn't playing in Game 4 of Western Conference semifinals. So, why is the guard out of the lineup? Here's everything you should know.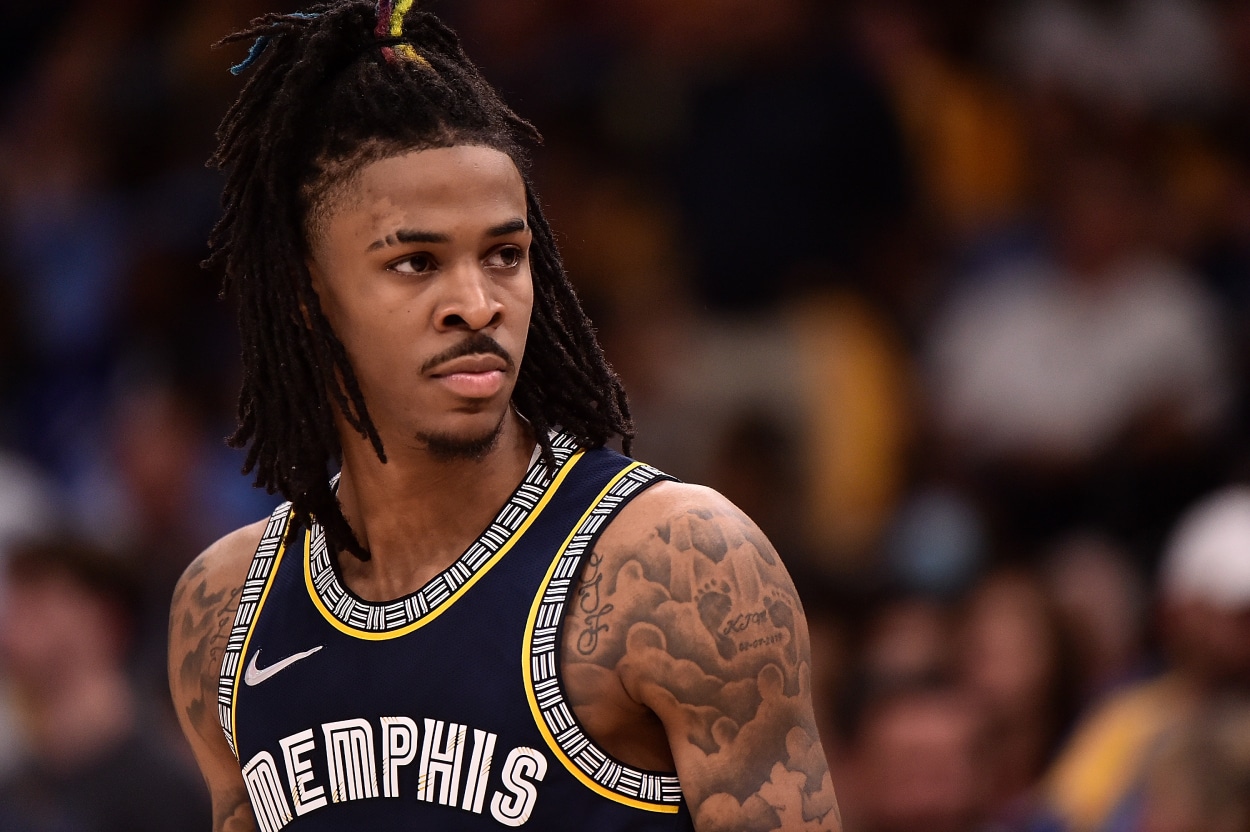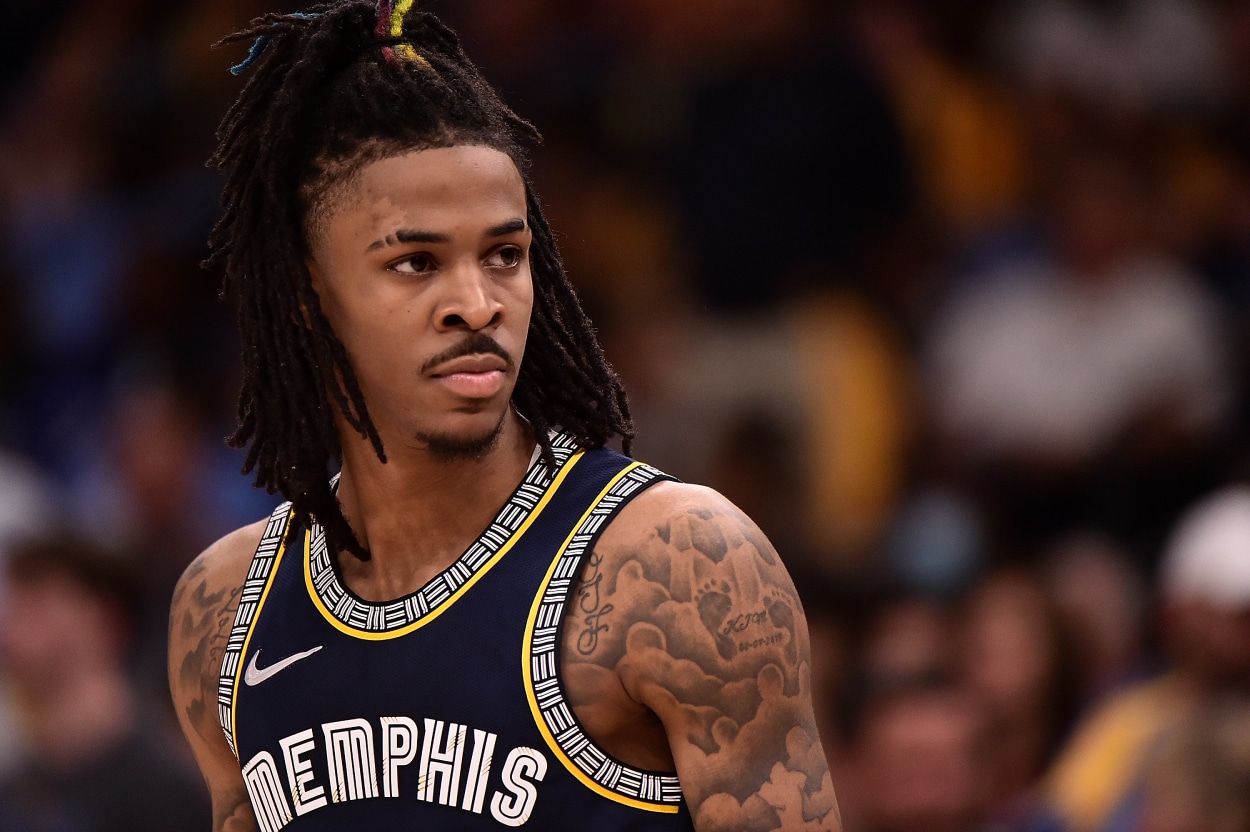 Young stars have taken over in the 2022 NBA Playoffs. LeBron James is at home this year, so players like Giannis Antetokounmpo, Jayson Tatum, Jordan Poole, and others are trying to win the Larry O'Brien Trophy.
However, very few youngsters have become as big of superstars as Ja Morant. The No. 2 overall pick in the 2019 NBA Draft has catapulted the Memphis Grizzlies to the top of the Western Conference and is venturing into league MVP territory.
But the Grizzlies will have to try to defeat one of the NBA's most explosive squads, the Golden State Warriors, without their athletic guard. So, why is Morant out of the lineup for this conference semifinals matchup?
Here's everything you should know.
Ja Morant is out with a knee injury
Ja Morant is out for the Grizzlies due to a knee injury. The team believes it occurred when Warriors guard Jordan Poole grabbed Morant's knee while attempting to reach for the ball during the fourth quarter in Game 3 (h/t ESPN). Golden State went on to win 142-112 to take a 2-1 series lead.
The 2021-22 Most Improved Player left the game with 6:19 left in the fourth quarter and the Grizzlies down by 17. He then subsequently walked to the locker room with a noticeable limp.
Morant didn't talk to reporters after the game, but he took to Twitter and posted a clip of the play involving Poole with the words "broke the code." His caption was in reference to Warriors head coach Steve Kerr's comments about Dillon Brooks earlier in the series. Kerr said Brooks' flagrant foul 2 on Gary Payton II in Game 2 broke code due to Payton getting hit in the head while up in the air attempting a layup. Morant's tweet likely suggested that Poole's play was also unnecessary. However, the point guard eventually deleted it.
Can the Grizzlies win without Ja Morant?
While losing Ja Morant, who has recently received praise from the likes of LeBron James, for any number of games is a massive blow for the Grizzlies, his team might actually be OK.
Memphis went 20-5 in games Morant missed this season. Dillon Brooks, who will return in Game 4 after receiving a one-game suspension for his foul on Gary Payton II, averaged 20.5 points when Morant was out in late November and early December. Jaren Jackson Jr. also recorded 19.1 points during that stretch.
Desmond Bane, one of the league's best shooters, averaged 21.5 points when Morant missed time in late March and early April, while Brooks recorded 20.6.
The Grizzlies have the weapons to stay afloat without Morant, but beating the Warriors in a conference semifinal series could still be difficult. Golden State has players who have been here before in Stephen Curry, Klay Thompson, and Draymond Green, and Jordan Poole and Andrew Wiggins have become stars in their own right.
Hopefully, Morant won't miss much time. The Grizzlies might be able to steal a game without him. However, it's hard to see them eliminating the Warriors entirely without their superstar on the floor.
Stats courtesy of Basketball Reference