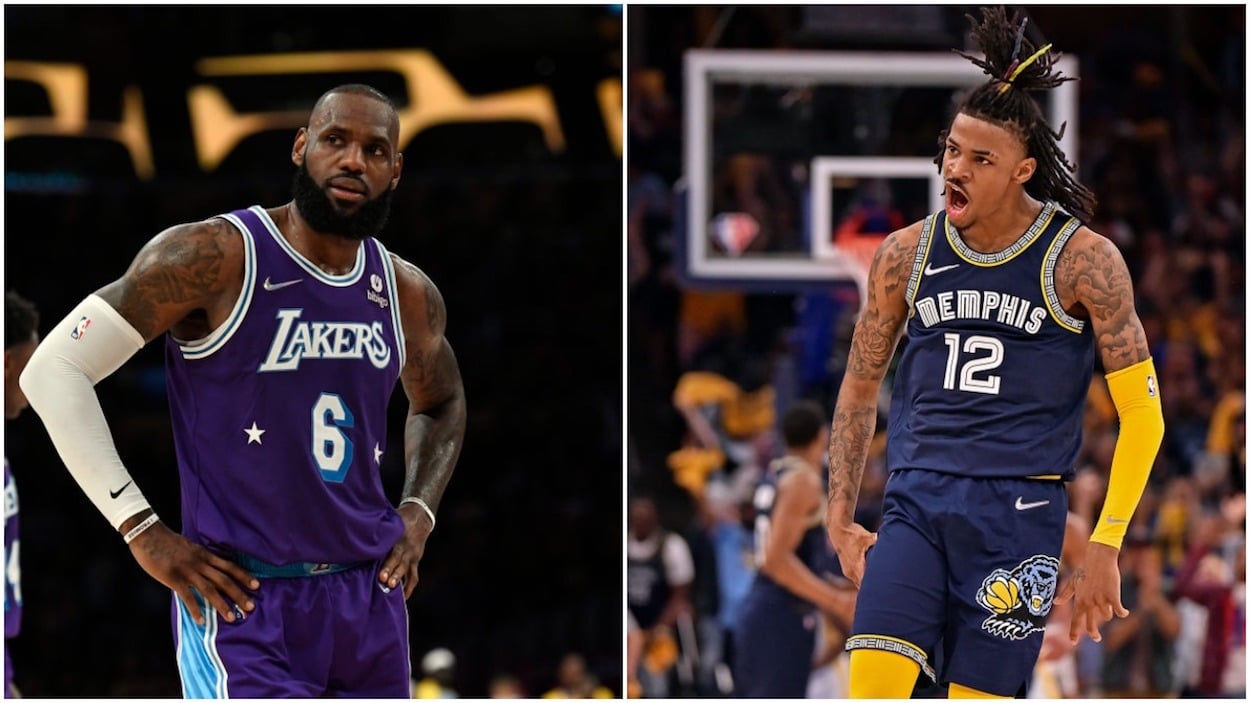 LeBron James Praises Ja Morant While Calling Out 'Dweebs' in the Media
Ja Morant did more than dominate in Game 2 against the Golden State Warriors. He also caught the attention of LeBron James.
Even though his Los Angeles Lakers missed the playoffs, LeBron James is still engaged with the NBA postseason. On a given night, you can find the living legend firing off tweets about what's going on in the Association. For the most part, they read like posts from any other fan, raving about great plays and acknowledging the night's biggest talents. On Tuesday, May 3, the star in question was Ja Morant.
While the Memphis Grizzlies guard was certainly worthy of praise, King James added another component to his social media. He also took a shot at the "dweebs" in the media who named Ja the 2022 Most Improved Player, citing Morant's status as an established star.
LeBron James seems to think that Ja Morant is too good to be a 'most improved player'
Based on his social media activity, it seems like LeBron James was watching the Golden State Warriors-Memphis Grizzlies game on Tuesday night. Along the way, he was impressed by the play of Ja Morant.
"JA so damn tough!!!! There's no way Ja should even have been in MIP talks," LeBron tweeted. "This guy is a flat out [star emoji] and always have been!! Real basketball [brain emoji]s know. Not the majority of dweebs who don't even watch basketball on those voting ballots."
While Morant's skill and toughness are more or less acknowledged as universal truths at some point, the other components of James' tweet are a bit less black and white.
For context, Morant won Rookie of the Year in 2020, establishing himself as one of the NBA's top young talents. He improved as a sophomore but, during the 2021-22 season, truly took things to the next level. That earned him the 2022 Most Improved Player crown.
Some, like James, felt that Ja's early success would make it tougher to earn the award. If you were already Rookie of the Year, that logic goes, how much can you really improve?
While that's a valid school of thought, Morant seems to have blown voters away with the sheer scale of his growth. The guard finished the campaign averaging 27.4 points, 5.7 rebounds, and 6.7 assists per outing; that's an improvement of 8.3 points per game, which was driven by growth in both overall shooting percentage and three-point percentage.
Those improvements are evident in the stats, but are also incredible clear if you watch even a single Grizzlies game.
The Grizzlies' overall success probably also played into Morant's hands. Memphis finished the regular season as the second seed in the Western Conference. That was likely seen as evidence that the guard could lift his team to the next level, showing even further improvement.
Does voting for Morant make certain media members "dweebs?" At the risk of disagreeing with a living NBA legend, not really. It simply comes down to how you assess "improvement."
We can all agree that Morant is an incredible talent, though
As established above, there are two conflicting schools of thought regarding Ja Morant's Most Improved Player title. With that being said, though, everyone (even the "dweebs") can agree that the Grizzlies guard is an elite talent.
Take, for example, Tuesday's game against the Grizzlies. Morant bounced back from the disappointment of missing a game-winner to drop a 47-point masterpiece and even the series. He dominated down the home stretch and, to make things even more impressive, did it while struggling to see out of one eye.
While he made history on the night — Ja joined LeBron and Kobe Bryant as the third player to post multiple 45-point playoff outings before age 23 — Morant's performance felt like something special. Beyond the box score, it was a night when he grabbed the game by the scruff of the neck and refused to lose. That's what elite players do, and the guard proved he belongs in that conversation.
"It's not just the plays," Memphis coach Taylor Jenkins said, according to an AP report (h/t ESPN). "It's just the force that he plays with, the spirit that he plays with. It's infectious. I've said it since day one. Like, you know he's going to be built for moments like this, and this is super impressive."
Circling back to LeBron, the Lakers star fired off another tweet later in the night.
While there's no need to touch the Most Improved Player stuff again, we can all agree on the latter part of that post. No matter how you feel about the 2022 NBA Awards, Ja Morant is clearly a special player. If you haven't gotten the chance to appreciate him just yet, the current postseason is the perfect opportunity to see what the hype is about.
Stats courtesy of Basketball-Reference