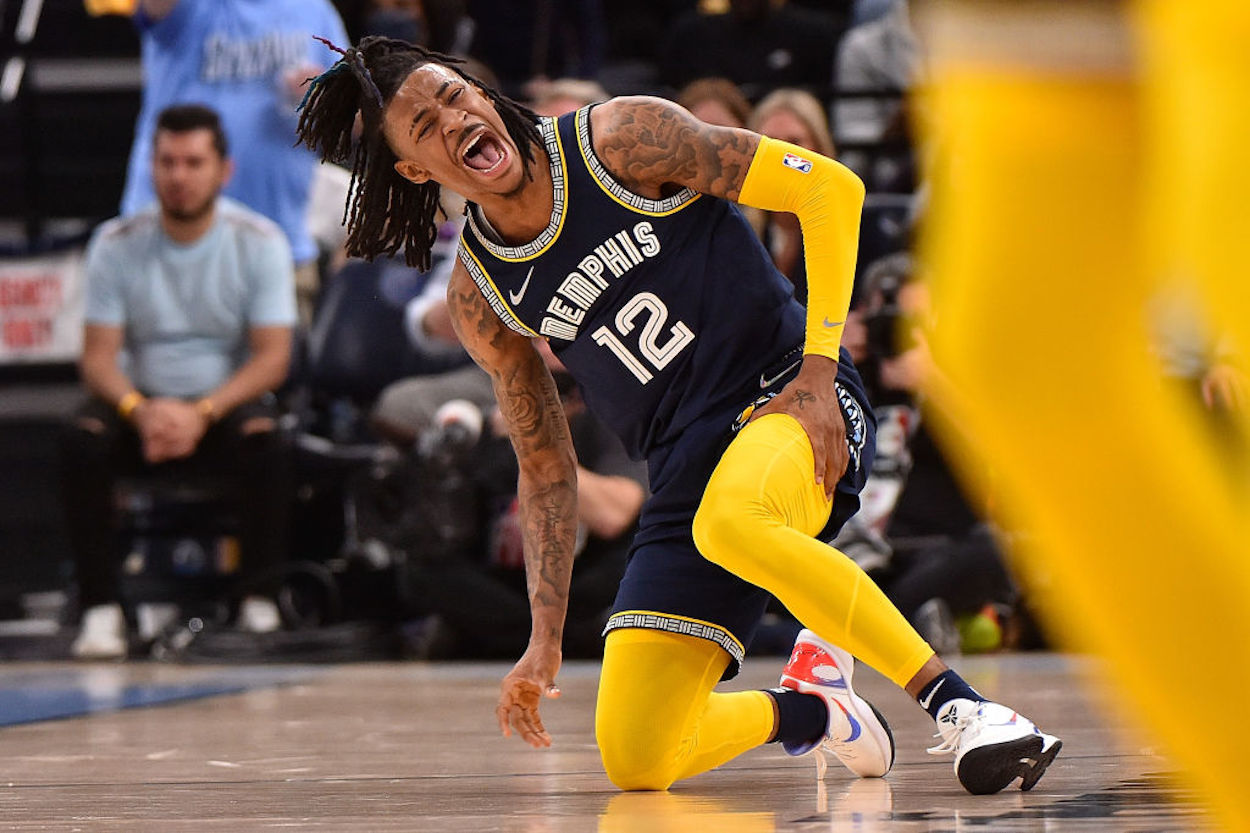 Ja Morant Turned a Painful Childhood Experience Into an On-Court Advantage
Ja Morant is a gifted athlete, but the Memphis Grizzlies star also owes a part of his game to a childhood trampoline accident.
While Murray State might not be a college basketball powerhouse, Ja Morant certainly knows his way around the hardwood. The Memphis Grizzlies guard burst onto the scene during the 2019-2020 campaign and never looked back. He's led his club to the postseason in back-to-back campaigns and stands tall as one of the NBA's brightest young players.
It goes without saying that the guard is naturally talented. He does have an extra advantage in his locker, though.
As a boy, Morant painfully broke his arm while playing on a trampoline. That incident not only proved to be a formative experience in regards to overall toughness but provided Ja with an extra few inches of reach while driving to the basket.
Ja Morant turned a broken arm into a preference for driving left
It goes without saying that no one wants to suffer a painful injury. Ja Morant, however, found an unintentional silver lining to a childhood fall.
"When he was 6, Morant fell off a trampoline and broke his arm," Michael Pina explained in Sports Illustrated. "[His father] Tee was at work when he got a call from his sister. He could hear Ja screaming in the background. 'I'm talking about, he broke it bad,' Tee says. 'Like, his elbow pushed up towards his shoulder.' On the drive to the hospital, Tee tried to calm his son down. 'You gotta be a big man for me. You gotta be a big boy for me,' he says. Then: 'This dude, in all his pain, found a way to stop crying.'"
That toughness is still apparent in the guard's game. As Pina noted, Ja has had his knee scoped, endured a fractured thumb, sprained his ankle, and in November 2021, sprained his MCL. While that's all combined to cost him some playing time — Morant has suited up for 187 regular-season contests across three campaigns — it hasn't prevented him from establishing himself as an NBA star.
On a more tangible level, that broken arm has also affected how Morant attacks the rim.
"As a result of the accident, Ja's left arm is an inch or two longer than his right," Pina added. "To this day, he drives left twice as often as he does with his dominant hand. 'He goes left every time because he can reach out farther,' says Shaq Buchanan, Morant's college roommate and guard for the G League's Memphis Hustle."
While it's impossible to know how much of a benefit that provided to Morant, just about anyone who's ever played youth basketball knows the importance of dribbling with your weak hand. Combining a high level of competency, two extra inches of reach, AND Ja's incredible athleticism almost seems unfair.
That broken arm fits into a fine tradition of 'what if' basketball injuries
Without the benefit of hindsight, it's impossible to assess how Morant's career would have panned out without those extra two inches of reach. One thingwe do know, however, is that the Grizzlies' guard isn't the only man in NBA history to have suffered a 'what if' injury.
Jumping back in history, Michael Jordan accidentally cut off part of his toe while attempting to chop wood as a child. While he managed to move forward with no ill effects, it's easy to imagine the blade falling further up his foot and causing serious consequences.
Later in life, MJ also sliced into a finger on his shooting hand with a cigar cutter. Again, he didn't suffer a major setback, but things could have ended much more tragically. As documented in an NBC Sports post, Jerry Krause wrote in his unpublished memoirs that "it was seriously questionable if [Jordan] could regain enough movement in the finger to be himself again as a shooter."
Looking at another NBA legend, Larry Bird also dealt with two hand injuries of his own. While the Celtics star made his name on the hardwood, he was known to play some softball and, during one game, hurt his finger. From then on, he could never straighten the digit beyond 45 degrees. "How great a baseball player would Mickey Mantle have been if he hadn't torn up his knee early in his career? One wonders what kind of shooter Bird would be now if he had a straight finger," John Papanek mused in a 1981 Sports Illustrated story. 
Then, in 1985, Larry Legend suffered a finger injury ahead of the NBA Finals; the Celtics, of course, ended up losing to the LA Lakers in a famous showdown. While Bird wasn't solely to blame for the defeat — Cedric Maxwell was also hurting, and Dennis Johnson struggled from the field — it's impossible to imagine how things could have gone if the star forward was at his best.
As fans, it's easy to look at sports as a pure meritocracy, where the best player always wins. In reality, there's usually some element of luck involved. Just consider Ja Morant's broken arm. It could have ruined his athletic career forever; instead, it gave him an extra weapon to use on the court.