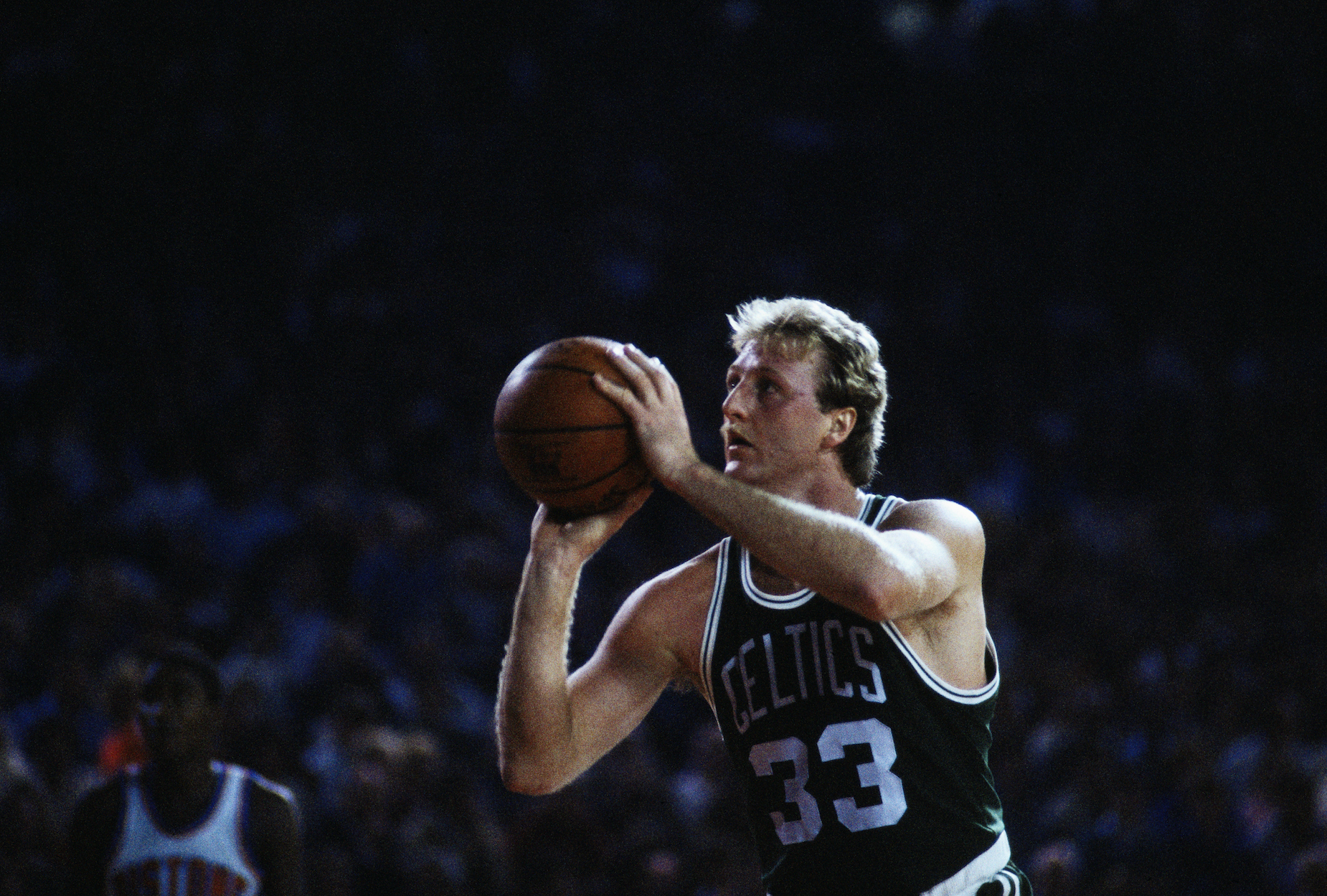 Larry Bird Became a Deadly NBA Scorer Despite a Permanently Bent Finger 'Shaped Much Like a Boomerang'
Before he became a legendary NBA marksman, Larry Bird suffered a permanent finger injury during a softball game.
As any longtime sports fan can confirm, injuries serve as an unfortunate equalizer. No matter how talented any one player might be, their body calls the shots; even an all-time great can't play if they're unable to move freely. During his time with the Boston Celtics, Larry Bird experienced that painful reality.
While a back injury ultimately ended the forward's career, Bird also dealt with a more subtle physical issue during his time on the hardwood. Despite his silky shooting touch, Larry Legend also played through a pretty serious finger problem that he sustained on the softball field.
Larry Bird became a living legend thanks to his scoring touch
When you think of a professional basketball player, someone with incredible athleticism probably springs to mind. Bird was never the fastest man on the floor, but that didn't stop him from becoming an NBA legend.
While he almost left basketball behind after a brief spell at the University of Indiana, Bird eventually hit the hardwood at Indiana State. The Sycamores might not be a household name today, but with their star forward leading the way, they made a famous run to the 1979 NCAA title game. Although Magic Johnson's Michigan State Spartans came out on top, Larry Legend proved he could elevate a team to the next level.
That ability wasn't limited to the college ranks, though. Bird joined the Celtics as the sixth overall pick of the 1979 NBA draft and immediately lifted the floundering franchise back to relevance. During his time in Beantown, Larry Legend developed a reputation as a proven winner who was supremely confident in his skills. While he was never the most athletic man on the court, he could score with incredible ease and trash-talk all night long.
Beyond those tales of his exploits, the forward's resume speaks for itself. During his 13 seasons with the Celtics, Bird averaged 24.3 points, 6.3 assists, and 10.0 rebounds per outing. He also earned three NBA MVP titles and won three championships, earning him a place in Boston lore.
Larry Bird played his entire NBA career with a damaged finger
It goes without saying that fingers are a crucial part of any basketball player's success as everything from getting backspin on a jumper to catching a pass requires soft hands. Although his impressive resume doesn't indicate any shortcomings, Larry Legend actually played his entire NBA career with a bad digit.
"Bird laughs a little bit and holds up his right index finger," John Papanek recounted in a 1981 Sports Illustrated story. "'This,' he says. The finger is shaped much like a boomerang, permanently bent toward his thumb at a 45-degree angle. Two operations have failed to straighten it; he can bend it only halfway to his palm. 'I didn't have this in college,' he says."
For all of his time on the hardwood, the forward didn't even sustain the injury playing basketball. Bird bent it trying to field a line drive during a softball game and never straightened the finger again. Despite his eventual NBA success, that fateful finger became a "what-if" about his legendary career.
"How great a baseball player would Mickey Mantle have been if he hadn't torn up his knee early in his career? One wonders what kind of shooter Bird would be now if he had a straight finger," Papanek wrote. "'That's what Red [Auerbach] was telling me when I was trying to sign,' Bird says."
Michael Jordan also suffered through a bizarre finger issue
During his NBA career, Bird starred in plenty of iconic duels with Michael Jordan. While the two men developed their own rivalry on the hardwood and had their fair share of differences, they also had parallel finger issues.
As explained in an NBC Sports story sharing pieces of Jerry Krause's unfinished memoir, His Airness' love of cigars came back to bite him.
In the summer after winning the last championship, [Jordan] cut his index finger of his shooting hand very badly with a cigar cutter. It was seriously questionable if he could regain enough movement in the finger to be himself again as a shooter. He could have easily put us in an extremely tough situation by saying he wanted to play and force us to sign him to the biggest contract in team sports history. It would then have been easy to go on the disabled list with the finger injury and spend the rest of that strike-shortened season picking up checks every two weeks and not playing at all. But Michael being Michael, once he signed a contract, he gave you a thousand percent effort and would not think of stiffing you.

Jerry Krause
Part of what makes the likes of Bird and Jordan so legendary is their sheer willpower. Nothing, including some severely injured fingers, could stop them from giving their all in an unceasing pursuit of the top spot.
Stats courtesy of Basketball-Reference