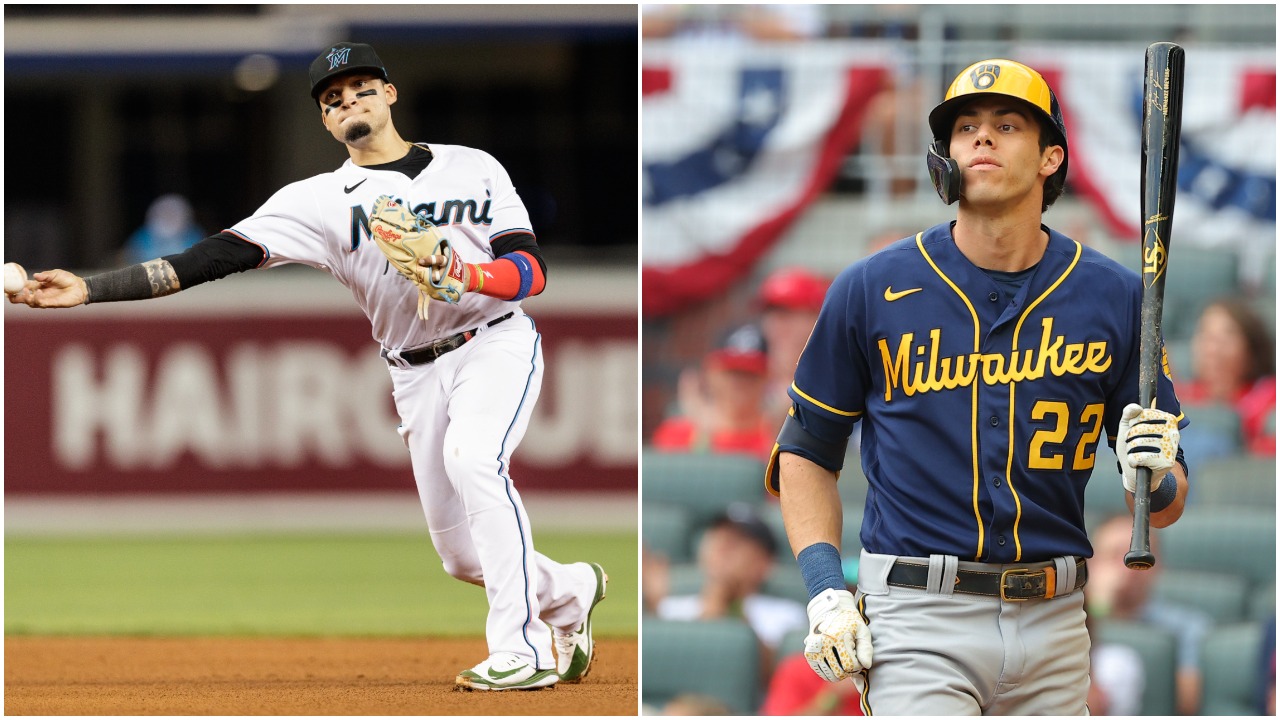 The Miami Marlins Recently Put the Final Touches on the All-Time Bad Christian Yelich Trade
The Miami Marlins have officially made the Christian Yelich trade one of the worst in MLB history.
The Miami Marlins took on calculated risk when they traded budding MLB star outfielder Christian Yelich to the Milwaukee Brewers before the 2018 season. Miami had already signaled its intent to start over after trading Giancarlo Stanton's massive contract to the New York Yankees. Still, Yelich was on a team-friendly deal and looked like a possible franchise player.
Instead, the Marlins tried to get future value for Yelich. Over four years later, the deal looks like it will go down as one of the worst in league history.
The trade might have been somewhat salvageable if even one of the players Miami obtained in the package panned out. However, after the Marlins recently parted ways with Isan Diaz, not a single guy from the deal is still on Miami's roster.
In a word: Yikes.
The Marlins designated Isan Diaz for assignment, cutting ties with every player from the Christian Yelich trade
In trading Yelich to the Brewers, the Marlins believed they were receiving four players who could contribute to the future success of the franchise. Over four years later, those players are gone.
After signing free-agent outfielder Jorge Soler to a three-year, $36 million contract, the Marlins designated infielder Isan Diaz for assignment (DFA). The move was a fairly obvious one, though it's a painful reminder of past front-office transgressions.
At the time of the Yelich trade, outfielder Lewis Brinson was the No. 13 prospect in MLB. The Marlins added positional depth in Diaz — also in MLB's Top 100 prospects at the time — and outfielder Monte Harrison while also nabbing arm talent in the form of right-hander Jordan Yamamoto.
None of the four panned out. The Marlins traded Yamomoto to the New York Mets last February. They DFA'd Brinson this past November, doing the same to Harrison just days before cutting ties with Diaz.
If it wasn't already clear, it's now a certainty that the Yelich deal was an all-time lousy decision on Miami's part.
One of the worst MLB trades in history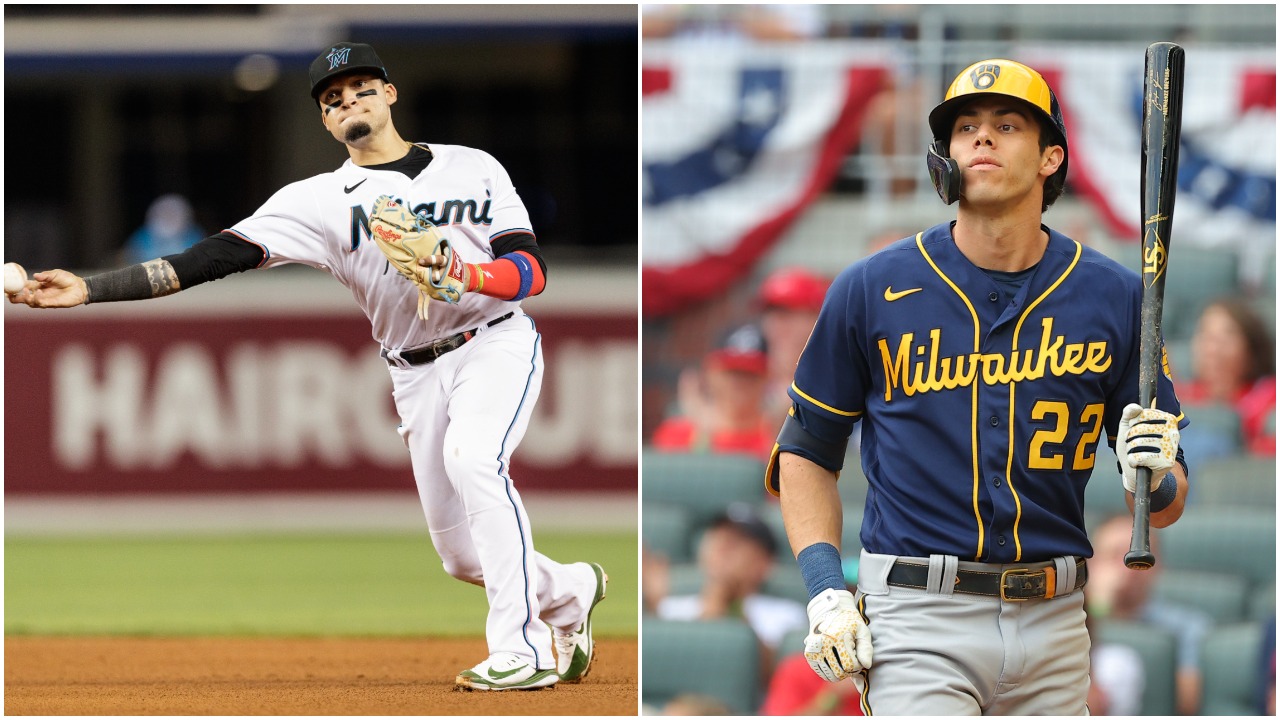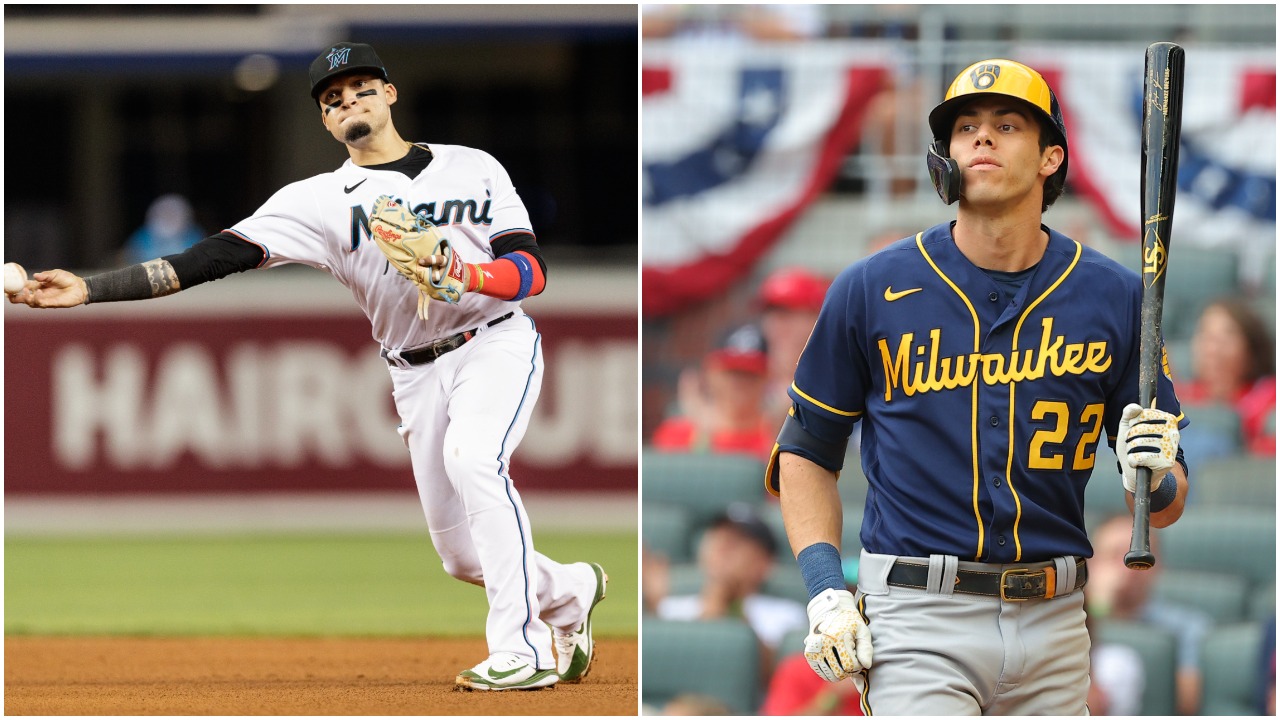 Want some stats? Here we go.
Christian Yelich won National League MVP honors in his first season with the Brewers (2018). According to FanGraphs, he was worth 7.7 wins above replacement (fWAR) in 2018. What were the cumulative 12.6 fWAR numbers of the four players the Marlins acquired in Miami? That would be -4.9 fWAR.
That's right: Yelich was worth 12.6 more wins in a single season than Lewis Brinson, Isan Diaz, Jordan Yamamoto, and Monte Harrison in all of their Marlins seasons combined. To top it all off, Yelich did it again.
The Brewers star was arguably even better in 2019, hitting a career-high 44 homers and posting 7.8 fWAR. He would likely have repeated as NL MVP were it not for a late-season broken kneecap. Although he struggled in a pandemic-shortened 2020 season and dealt with injuries in 2021, Yelich remains one of the game's most enticing talents because of his hit tool, power, and speed.
Conversely, Brinson had a horrendous .573 OPS in 320 games with the Marlins. Diaz was even worse, slashing .185/.275/.287 in 145 games. Harrison never got much of a chance in the bigs, but he didn't exactly dazzle in the minors, either. Yamamoto had a respectable 4.46 ERA in 15 starts in 2019, only to give up an astonishing 23 earned runs and eight homers in only 11.1 innings of work in 2020.
Needless to say, the Yelich gamble did not pay off for Miami. What might have happened if the Marlins kept their core together?
Hard for Marlins fans to play the 'What If?' game
Marlins fans must wonder what might have happened if they tried keeping everyone together. Still, that's tough to envision.
Miami, not the Yankees, signed Giancarlo Stanton to his 13-year, $325 million deal in November 2014. That move alone indicated the low-budget Marlins were willing to spend at least some money in an effort to be competitive. And, for a time, the team actually built some momentum.
Although the Marlins failed to crack the 80-win mark in 2016, they won nine more games (79) than the previous season. Yelich became a star, hitting .298 with 21 homers and an .859 OPS. Young catcher J.T. Realmuto also showed signs of stardom, with Miami possessing a solid bullpen and one of the game's top arms in Jose Fernandez.
But Fernandez's tragic death in September 2016 seemed to change the franchise's trajectory for good.
The Cuban ace had rapidly become Miami's cornerstone player, more so than Stanton or Yelich. When he died, the Marlins appeared to lack a sense of direction. Aside from a surprise playoff run in 2020, the franchise remains in a constant state of rebuilding.
In many ways, it still would have made sense to keep at least Yelich as a guy to build around. He signed a seven-year, $49.5 million contract in 2015, which should have given the Marlins more time to field a competitive group and, down the road, try to extend the likes of Realmuto.
Given how long Yelich and Stanton were under club control, they didn't necessarily need to rush into a rebuild. Had they committed to spending money (a big ask for a low-payroll team), the Marlins could have made a run at things. Ultimately, though, Fernandez's death feels like a significant inflection point, which is why it's difficult — and perhaps improper — to play the "What If?" game.
Even still, the way things have transpired in the past four years indicates that the Yelich deal belongs among the worst MLB trades in history. That's probably true even if Yelich never returns to MVP form.
Stats courtesy of Baseball Reference unless otherwise noted.