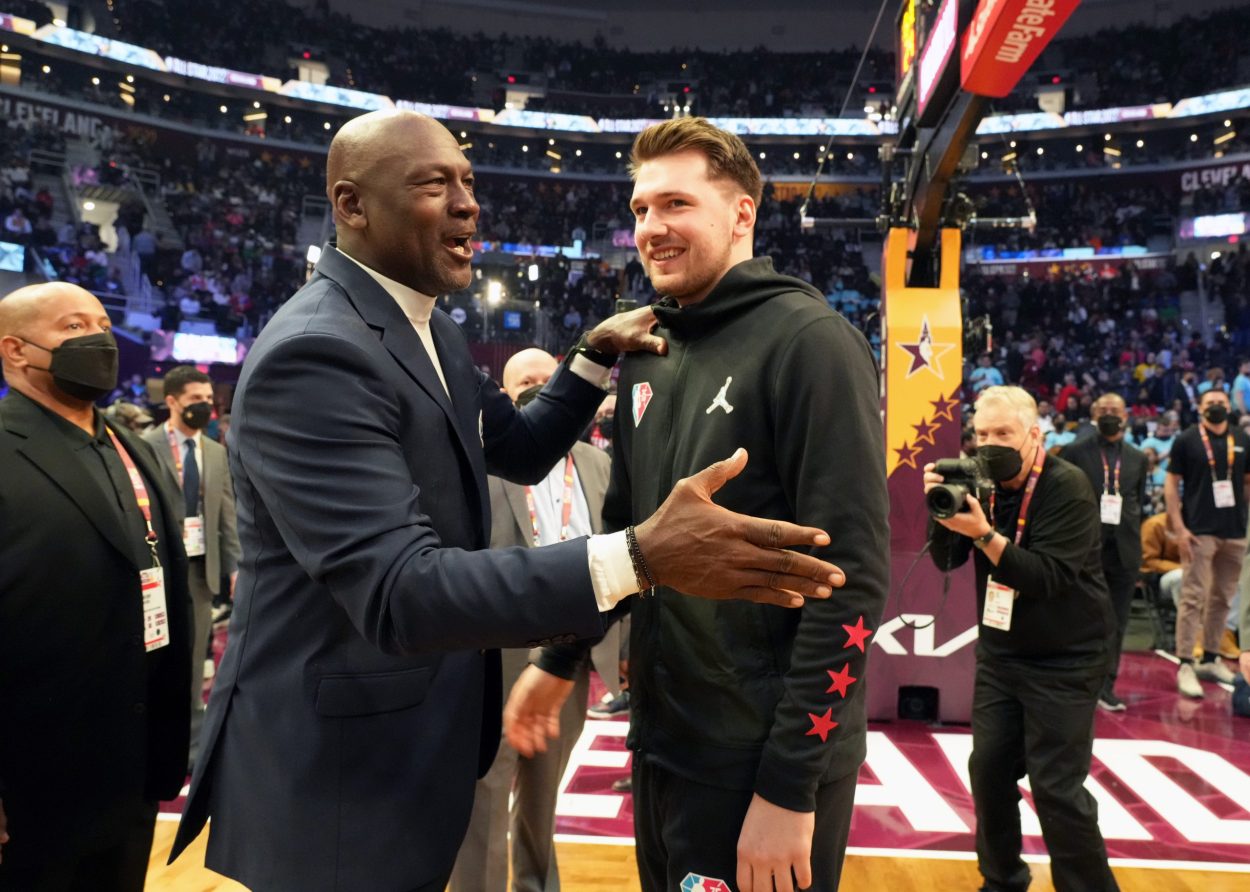 Michael Jordan Would Still Dominate in the Modern NBA, but Would He Be the League's Best Player?
Michael Jordan had the physical tools and skill level to excel in today's NBA. Would he be the best player in the league?
Michael Jordan transcended the sport of basketball almost as soon as he made his Chicago Bulls debut. His explosive athleticism and skill made him an unprecedented talent and pioneer for the game in his era.
Would MJ still have the same gravitas in the modern NBA?
Today's athletes are bigger, stronger, and faster than ever before. They're also more skilled. Nobody like Giannis Antetokounmpo really existed in the 1980s and 1990s. Centers used to almost exclusively play on the block. Nowadays, Nikola Jokic and Joel Embiid fire away from three-point range, handle the ball in transition, and display the brilliant court vision fans might typically expect from a point guard.
The landscape has also changed dramatically. Scoring point guards are all the rage because of the league's shift toward becoming a more perimeter-centric league. Stretch-4 and stretch-5 types are highly sought-after.
With all these details, let's break down Jordan's game and assess where he might fit when stacked up against today's NBA stars.
Michael Jordan's biggest strength: Physical tools
This is not to say Jordan isn't one of the most skilled players in NBA history. But his physical traits are the most translatable for projecting his success in today's era.
Jordan had the leaping ability and speed when he came to the NBA. Later in his career, he made a concerted effort to add muscle while retaining the aforementioned attributes, making him one of the most dynamic athletes in all of sports.
Mike made good use of his supreme physical gifts.
His Airness could beat defenders off the dribble at the point of attack. He had a knack for acrobatic finishes at the rim, but much of his ability to finish through contact can be attributed to tremendous body control. Mike could also split double-teams and raise up for mid-range jumpers.
Eventually, Jordan developed a deadly fadeaway. Again, strength played a significant role here. He set defenders up by backing them down on the low block and getting deep post position, creating enough sleight of hand to the point where he could spin back and launch his high-arcing jumper off either shoulder.
Additionally, the Bulls icon had enormous hands. Jordan's ball fakes are the stuff of legend, and they'd undoubtedly provide an advantage in today's NBA. It's a similar characteristic to Kawhi Leonard, who earned the nickname "The Claw" for a very particular reason.
In an era when players are bigger and faster, Jordan's advanced physical tools as a 2-guard would serve him quite well. Imagine what he could do without hand-checking.
Jordan's most glaring weakness: Perimeter jumper
Michael Jordan hardly had any weaknesses on either end of the floor. But, at least as far as today's NBA is concerned, he never posed much of a threat from the perimeter.
Mike shot just under 33% from three-point range during his career, though he did have some more respectable campaigns in that regard. Jordan made 37.6% of his triples during the 1989-90 campaign and topped out at a career-high 42.7% from deep during the 1995-96 season, albeit with the arc moved slightly in.
Given some of those outliers — not to mention an insatiable drive to succeed — it's hard to argue that Jordan wouldn't have made himself into a dependable three-point shooter. Again, outside jumpers weren't seen as an efficient shot in MJ's era. Today, teams love to rely on spacing and are hoisting more threes than ever.
Rule changes would also force Jordan to adjust. In the past, teams could run offensive sets and clear out one side of the floor because of the illegal defense rule, allowing adept post players such as MJ to exploit one-on-one matchups. But that rule doesn't exist anymore, which is why having an adequate number of floor-spacers is a premium.
In any case, Jordan would likely look like a slightly more willing shooter in today's NBA, certainly one who averages more than 1.7 triples per game for his career. With a more frenetic and fluid offensive pace, he would probably have even fewer reservations about pulling the trigger, shooting in transition, and taking on an even higher usage.
Where would His Airness fit in the modern landscape?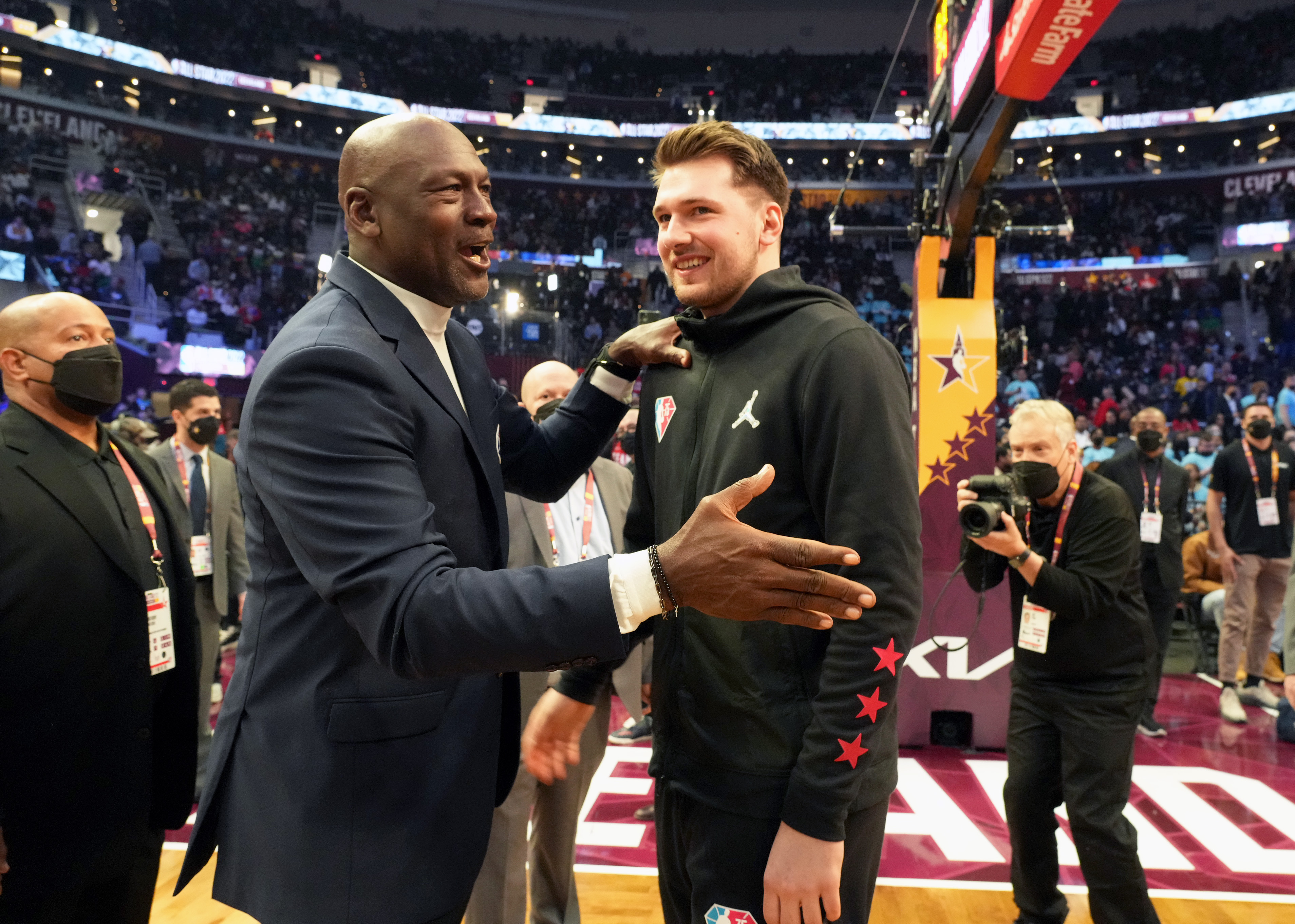 Pinpointing exactly where Michael Jordan would rank in today's NBA is a bit arbitrary. Pitting players against one another is a subjective and, as the MVP race has shown, nauseating task. That's even harder from a cross-generational perspective.
But, say NBA players are split into tiers. Jordan would still find himself in that top tier, alongside Antetokounmpo, Jokic, Embiid, Kevin Durant, Luka Doncic, LeBron James, and Stephen Curry.
Mike's physical gifts align nicely with the increased speed and strength of the sport. The intangibles and will to win are almost unparalleled. If he honed his outside jumper, he'd be a legitimate three-level scorer with a strong handle and commendable chops as a passer and playmaker in the open floor.
Historians don't talk enough about his defense, either.
Jordan made nine All-Defensive teams and led the league in steals three times, harassing ball-handlers and always posing a danger to pick pockets or play the passing lanes. He also had exceptional instincts and timing as someone who knew when to leave his assignment and attempt to block opposing bigs around the rim.
All this is to say: Jordan would still be a dominant force in today's NBA. Whether fans, peers, and pundits would consider him the best player is another question. But he'd certainly be in the conversation.
Maybe that conversation is irrelevant. Perhaps, like the GOAT debates or "best player" discourse, everyone would simply appreciate the greatness.
Stats courtesy of Basketball Reference.