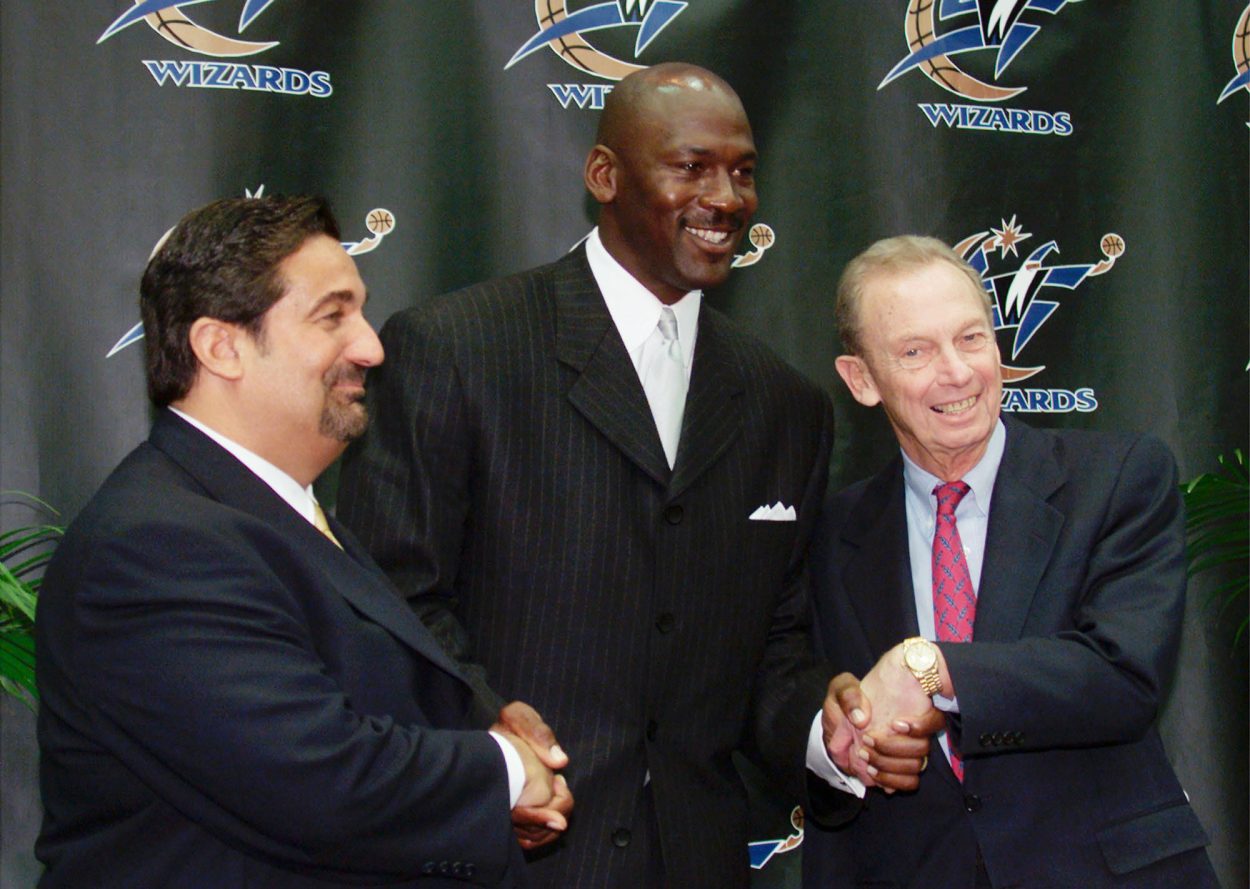 Michael Jordan's Dismissal of the Bulls for an Executive Role With the Wizards Needs Revisiting
Taking a look back at the path that led Michael Jordan away from the Chicago Bulls organization and toward the Washington Wizards.
Michael Jordan and the Chicago Bulls are synonymous entities. But aside from the Air Jordan statue featuring prominently outside the United Center, there's little tying His Airness to the franchise with which he won six NBA championships.
Jordan's disassociation began when he received a minority stake with the Washington Wizards in 2000. The team also named him chief of basketball operations in what became a forgettable and short-lived tenure. Curiously, MJ had a chance to stay with the Bulls organization in some capacity, but he never had an interest in anything other than a pathway to ownership. With Jerry Reinsdorf in the owner's box, that never seemed likely.
Of course, Jordan eventually did gain a majority stake with the Charlotte Hornets (then named the Bobcats). However, given how everything transpired, is it possible he took the Wizards job as a slight to Reinsdorf?
Michael Jordan and Jerry Reinsdorf had a complicated relationship
Reinsdorf has always expressed endless gratitude for the prominence and wealth Jordan brought to the Bulls. But their dynamic is incredibly complex.
While The Last Dance docuseries showed MJ's issues with former Bulls general manager Jerry Krause, His Airness also had tension with Reinsdorf. That began with Chicago's desire to keep Jordan off the floor as he worked his way back from an ankle injury late in the 1985-86 campaign.
Things came full circle at the end of Mike's Bulls career. He publicly blasted Krause and Reinsdorf for refusing to publically back head coach Phil Jackson. In April 1998, MJ suggested the Bulls make Jackson GM. Reinsdorf sided with Krause. During the airing of The Last Dance, Reinsdorf recalled Jordan's cigar cutter incident and used that to defend Chicago's decision to transition.
To Reinsdorf's credit, he tried to convince Jackson to stay on as head coach. However, Jordan always seemed to feel that management's efforts to keep the band together lacked cohesion and emphasis.
So when Money's playing career ended, he wanted structural change in the Windy City. When it became clear he wouldn't get his wish, he bolted for Washington, D.C.
Jordan joined the Wizards only after it became clear he could not supplant Reinsdorf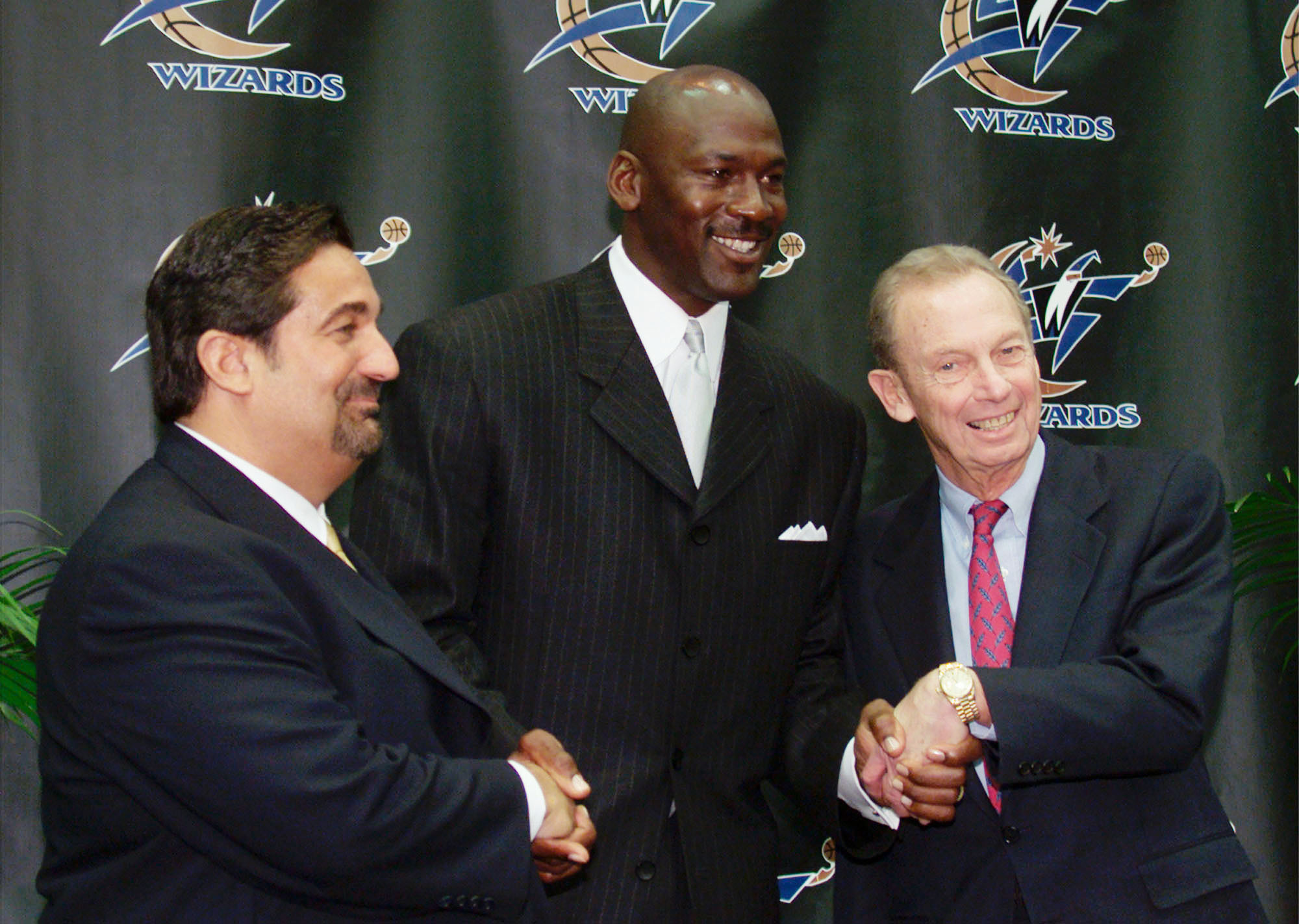 Although Jerry Reinsdorf's on-again, off-again relationship with Michael Jordan ultimately contributed to the breakup of the Bulls dynasty, Reinsdorf still wanted post-retirement MJ in the mix. It didn't work out.
Reinsdorf said in February 2013 (h/t ESPN) that he approached Jordan about taking a role with the Bulls. However, Jordan's desire for total autonomy made a continued partnership implausible.
"I talked to [Jordan] early on and he was very clear that if he was going to be part of something, he wanted to be running it and there was just no room for him. If he wanted to be involved like Scottie [Pippen, who took on an advisory role with the Bulls], it would be a no-brainer. But Michael was much too big for that."

–Jerry Reinsdorf (2013), via ESPN
Instead, Jordan headed to the nation's capital.
According to the Chicago Tribune, the Wizards gave Jordan an estimated $50 million ownership share. Washington also made Mike chief of basketball operations. He certainly had more authority, but it still wasn't majority ownership.
Was this all just a way of sticking it to Reinsdorf?
What were MJ's true intentions?
At the time of his Wizards hiring, Michael Jordan said that he hoped to build a winner. But his stint in D.C. turned into a bit of a soap opera.
As was noted in ESPN's SportsCentury, Jordan very rarely made himself available to the public. He was conspicuously absent from the owner's box during most games.
More notably, Jordan came out of retirement a second time almost as soon as he assumed his post. Mike played fairly impressively for a guy approaching 40 years old, but he negatively impacted the culture. At the end of the 2002-03 season and a third retirement, the Wizards relieved MJ of his duties.
Jordan's front-office role with the Wizards lacked a sense of authenticity and ingenuity. Perhaps he really was trying to get back at Reinsdorf.
It matters little now. Jordan got his wish as governor of the Hornets. He's hoping to finally achieve sustainable success in Charlotte. However, personal vendettas may well be the reason he has no current involvement with the Bulls.