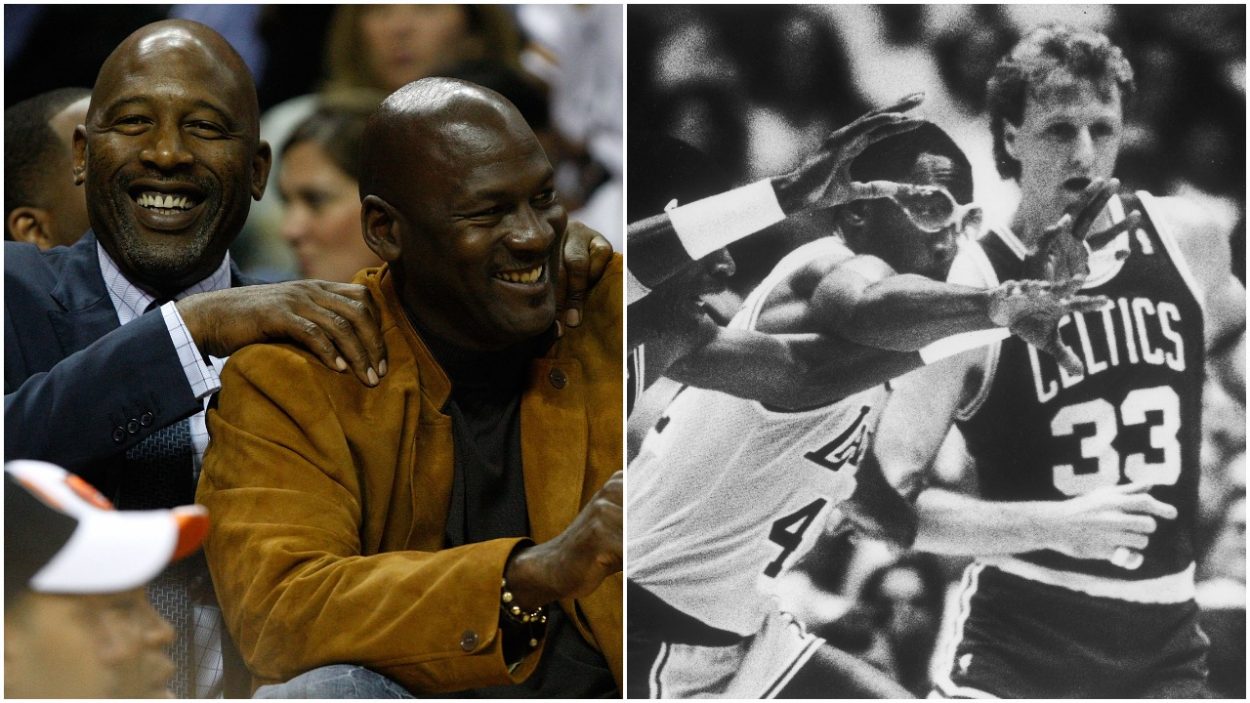 James Worthy Once Surprisingly Revealed Why He Would 'Much Rather' Guard Michael Jordan Over Larry Bird
Michael Jordan is widely considered the NBA GOAT, but James Worthy surprisingly explained why he preferred guarding MJ over Larry Bird.
James Worthy's career spanned from 1982 to 1994. As such, the former Los Angeles Lakers great had the privilege of playing in one of the NBA's greatest rivalries against Larry Bird and the Boston Celtics while also witnessing the birth of Michael Jordan's Chicago Bulls dynasty. Big Game James' timeline gives him a unique perspective on the two legends, but the guy he deemed more difficult to guard might come as a surprise.
Jordan carved out a reputation as one of the most dangerous scorers in league history, and his explosive athleticism made him a bit of an anomaly in that era. Realistically, not even the "Bad Boy" Detroit Pistons' Jordan Rules could stop Mike.
But despite MJ's physical gifts, Worthy still suggested he far preferred guarding His Airness over Larry Legend.
James Worthy faced Larry Bird's Celtics and Michael Jordan's Bulls in the NBA Finals
James Worthy played a significant role in the Lakers' iconic rivalry with Larry Bird and the Celtics in the 1980s. He also had a hand in passing the torch to Michael Jordan and the Bulls in the 1990s.
Worthy's first trip to the NBA Finals is one he would probably like to forget. In fact, he's still mad about it. The former Lakers forward committed a brutal turnover at the end of Game 2, allowing Bird and the Celtics to tie the series. Boston went on to win in seven games.
However, LA got the last laugh.
The Lakers beat the Celtics in 1985, then again in 1987. Boston eventually ceded the Eastern Conference crown to the Pistons as Bird and Co. struggled to overcome late-career injuries. But LA hadn't finished its run. Worthy captured Finals MVP honors and officially earned the "Big Game James" moniker in 1988, posting an absurd 36-point triple-double to down Detroit.
The Pistons got revenge on the Lakers with a sweep in 1989, then LA failed to reach the Finals in 1990. The Lakers returned to the NBA's ultimate showcase in 1991, but they had the unfortunate distinction of facing a Jordan-led Bulls team that refused to lose.
In some ways, that final Finals loss to the Bulls marked the beginning of the end for Worthy. He made his last All-Star team in 1992 but played just 54 games. The following two seasons saw sizable minutes decreases, and the Hall of Famer hung it up in 1994.
Still, Worthy had the good fortune of witnessing Bird and Jordan at their respective peaks. Interestingly, he felt the Hick from French Lick posed a greater defensive challenge.
Worthy would opt to guard Jordan over Bird any day of the week
James Worthy didn't even need to think twice when considering whether Michael Jordan or Larry Bird proved a more challenging cover.
During ESPN's SportsCentury on Bird (h/t YouTube), Worthy said he'd take guarding Jordan over Bird every single time. Big Game James explained that Bird's basketball IQ meant defenders had to approach attacking him methodically, rather than instinctually.
"I would much rather guard Michael Jordan than Larry Bird, because you have to play the game as a thinker when you're playing [Bird]. You have to get inside his mind. Larry wasn't quick, he couldn't jump really high, but there were just some sleepless nights."

–James Worthy on Larry Bird, via ESPN SportsCentury
Bird could impact the game without scoring. He ranks ninth all-time in triple-doubles (59). But as Larry Legend said himself, he probably could have racked up far more if he desired.
Indeed, the outstanding all-around gifts Bird had, as well as his anticipation and hand-eye coordination, made him one of the most dynamic players in NBA history. Still, is it possible that Worthy is underselling Jordan's offensive gifts?
Mike could do it all, too
James Worthy described guarding Larry Bird as something of a chess match. However, guarding Michael Jordan made for much of the same. Worthy need only look back on the 1991 Finals to understand as much.
Jordan totally decimated LA on both ends during that series. He averaged 31.2 points on a whopping 55.8% shooting, also racking up 11.4 assists, 6.6 rebounds, 2.8 steals, and 1.4 blocks per game. Money also fended off allegations of taunting, pointing to a psychological destruction of the Purple and Gold.
Jordan showed the full array of his talents. He routinely beat opponents off the dribble to get to the basket. When help defense arrived, Jordan could stop on a dime and pull up for a mid-range jumper or spin off either shoulder to create separation. The Bulls icon repeatedly collapsed LA's defense and found open teammates, notably John Paxson in the closeout game.
Later in his career, Jordan became a master technician in the post, routinely deploying his famous fadeaway jumper to score over opponents. He showed more savvy. Still, by 1991, Jordan's combination of athleticism and skill made him the most unguardable force on the planet.
Maybe Worthy is just toying with his former North Carolina teammate because Mike gave him buckets.
[Correction: An earlier version of this article incorrectly stated that James Worthy's career ended in 1984.]
Stats courtesy of Basketball Reference.