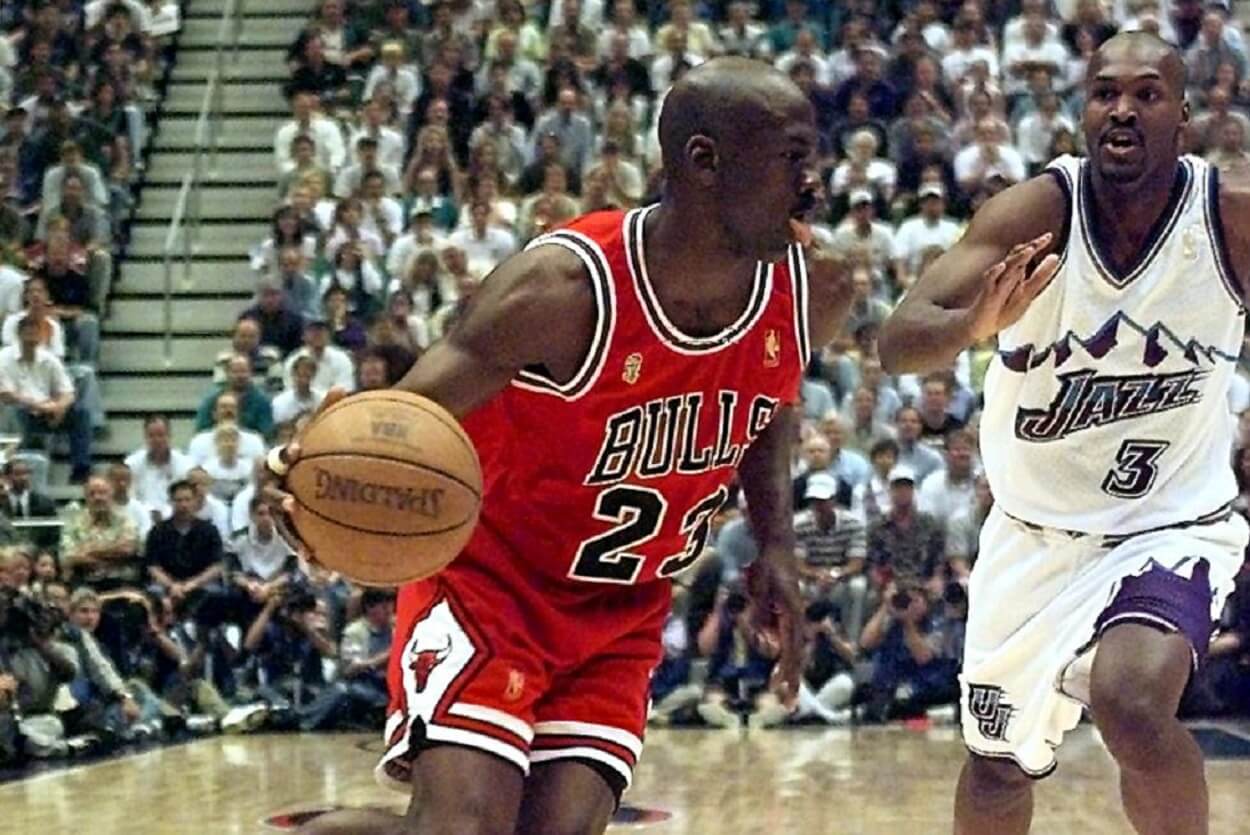 Michael Jordan's 'Flu Game' Shoes Sold For a Pretty Penny at Auction
The shoes worn by Michael Jordan in his famous "Flu Game" during the 1997 NBA Finals sold for $1.38 million.
Michael Jordan put on plenty of memorable performances throughout his NBA career, arguably none more memorable than his "Flu Game" during the 1997 NBA Finals.
As the years went on, of course, we learned that the Chicago Bulls' Game 5 matchup with the Utah Jazz should have been called the "Poisoned Pizza Game," but that's beside the point. No matter the circumstance, an ailing Jordan went out and put on a performance for the ages.
And we can now add yet another chapter to the scintillating story as the shoes Jordan wore that night have sold for a pretty penny at auction.
Michael Jordan's "Flu Game" shoes sold fetched $1.38 million at auction
After four games of the '97 Finals, the Bulls and Jazz were tied 2-2, with Game 5 set for the night of June 11 at the Delta Center in Salt Lake City.
But ahead of the pivotal matchup, it was reported that Michael Jordan was experiencing "flu-like symptoms," which we later learned were the result of some bad pizza he'd eaten the night before in his hotel room, which caused a case of food poisoning.
Nevertheless, Jordan was determined to go out and compete. And he certainly did just that.
Despite his illness, MJ played more than 44 minutes that night and dropped a game-high 38 points, shooting 13 for 27 from the floor and 10 for 12 from the foul line, while also adding seven rebounds, five assists, three steals, and a block in a 90-88 victory. Two nights later, Jordan dropped 39 as the Bulls won their fifth title in seven years.
But back to the "Flu Game."
Once Jordan's memorable night was over, he signed his sneakers and gave them to Jazz ball boy Preston Truman, who'd gotten on MJ's good side by bringing him applesauce before games in Utah. Truman kept the shoes for more than 15 years before consigning them to an auction house in 2013, at which point they sold for a then-record $104,765, per ESPN.
That record has long since fallen, and a pair of Air Jordan XIII Breds that MJ wore in Game 2 of the 1998 NBA Finals set a new mark in April 2023, selling for $2.238 million. And while Michael Jordan's "Flu Game" shoes didn't reach that amount, they sold for $1.38 million on Wednesday with collectibles marketplace Goldin.
So while not a record, this is still quite the impressive haul. The executive chairman and founder of Goldin, Ken Goldin, propped up the pair of sneakers by saying that "'The Flu Game' shoes are the most important [game-used Jordan] shoes to hit the market — period."