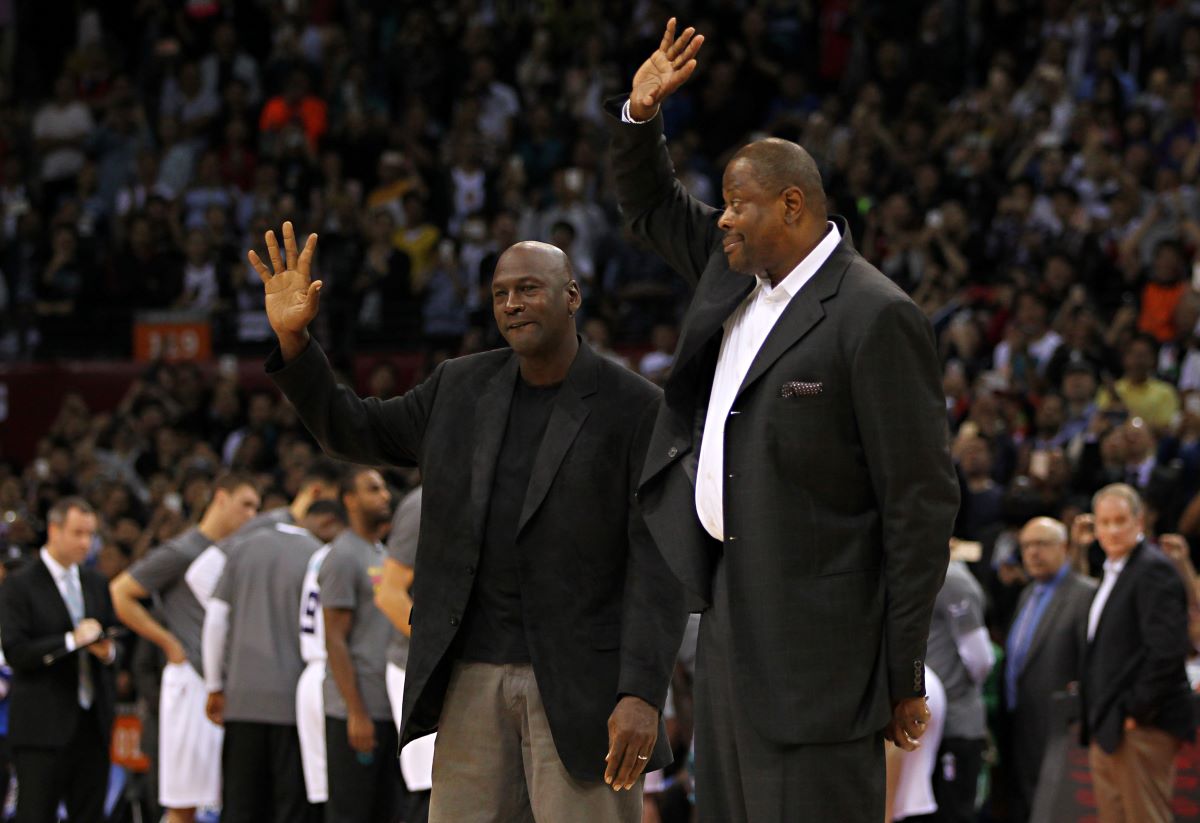 Michael Jordan Insulted Patrick Ewing While Talking About His Positive Attitude: 'He Has a Very Positive Attitude Even Though He's Been Losing Against Me'
Michael Jordan and Patrick Ewing were close friends. However, the Bulls legend always teased the Knicks icon.
Michael Jordan and Patrick Ewing are close friends. They shared the same agent when they were superstars in the NBA and spent a lot of time with each other when they weren't playing NBA games for the Chicago Bulls and New York Knicks, respectively.
Just because he was good friends with Ewing, though, didn't mean Jordan wouldn't irritate the Knicks star from time to time. After all, he did have bragging rights over Ewing since he never lost to the talented big man when it mattered most.
Michael Jordan insulted Patrick Ewing while talking about his positive attitude
During an interview with SLAM Magazine in 1997 after winning his fifth NBA championship, Jordan was asked who he thought hated to lose most. The Bulls legend went with Scottie Pippen, Hakeem Olajuwon, Charles Barkley, and Ewing, but he also made sure to alert the writer that Ewing always lost to him.
"I think Pippen hates to lose," Jordan said. "I think Olajuwon hates to lose. I think Barkley. And Ewing — totally hates to lose. I mean, he has a very positive attitude … even though he's been losing against me."
Not only did Jordan never lose to Ewing in the NBA playoffs the five times they faced each other, but he also defeated him on the NCAA's biggest stage. That's what always allowed MJ to gloat.
Michael Jordan beat Patrick Ewing in college and in the NBA
Jordan and UNC faced off against Ewing and Georgetown in the 1982 NCAA Championship Game. The Tar Heels won by a final score of 63-62. Jordan hit the game-winning shot, preventing Ewing from becoming a champion in college for a second time.
The Bulls and Knicks faced each other five times in the NBA playoffs during the Jordan era. Chicago won each series. The only time New York won was in 1994 when His Airness was playing baseball. Jordan certainly took great pride in beating Ewing in the playoffs five different times and preventing his pal from winning a championship since he was a fierce competitor.
With the Bulls, Jordan went 6-0 in the NBA Finals and won six Finals MVPs. Meanwhile, Ewing led the Knicks to the Finals twice, losing to the Houston Rockets and San Antonio Spurs. The Georgetown product is one of the greatest players in NBA history never to win a title, and Jordan played a big part in that.
Jordan and Ewing do have two things in common: They both won gold medals at the Olympics and are in the Naismith Memorial Basketball Hall of Fame. Despite not being a champion in the NBA, Ewing certainly has to be proud to be in the Hall of Fame.
MJ and Big Pat are all-time greats
Jordan and Ewing are undoubtedly two of the greatest players in NBA history. The former is widely regarded as the best player of all time, while the latter was an elite two-way center in his prime.
Along with winning six rings, six Finals MVPs, and five regular-season MVPs with the Bulls, Jordan averaged 31.5 points and won 10 scoring titles. He is also one of three players in NBA history to win MVP and DPOY in the same season. Olajuwon and Giannis Antetokounmpo are the other two.
As for Ewing, he averaged 22.8 points and 10.4 rebounds during his run with the Knicks. He also played in 11 All-Star Games and made seven All-NBA squads.