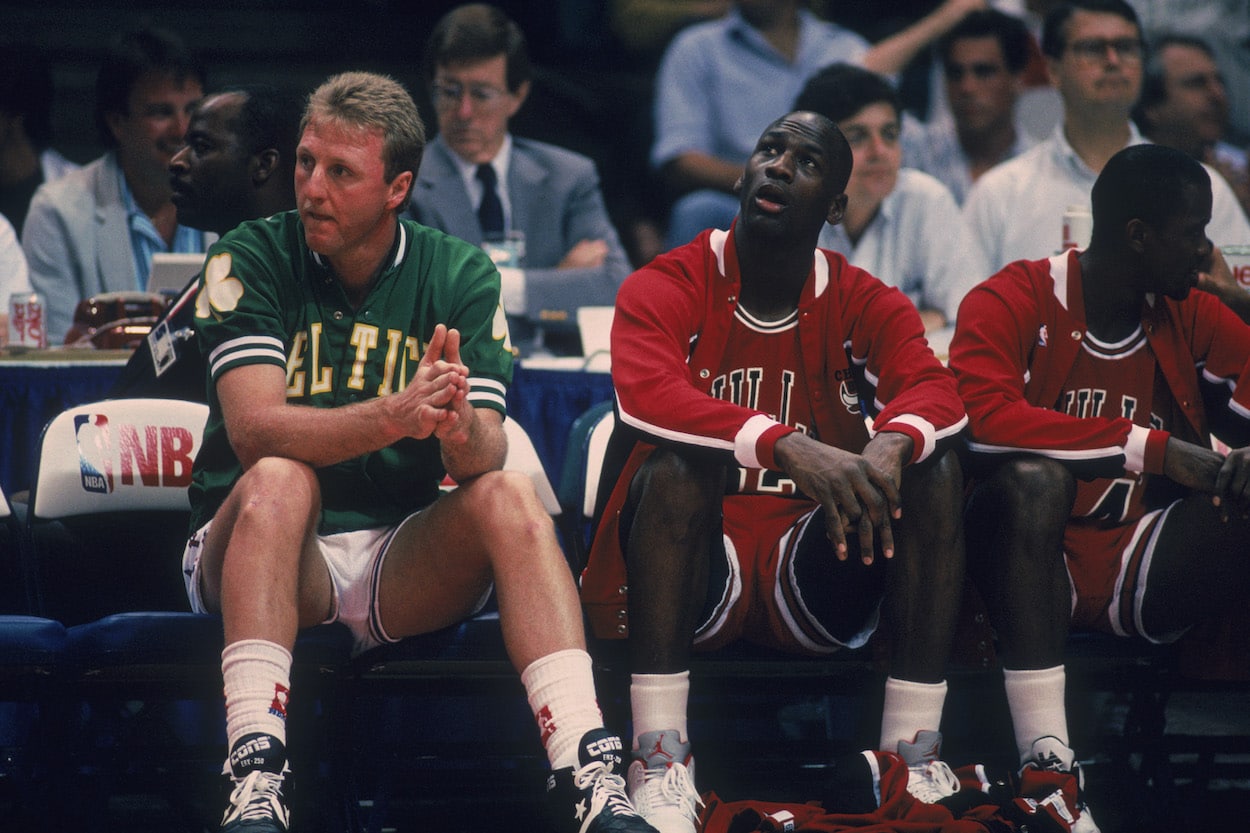 Michael Jordan Never Thanked Larry Bird for the 'Biggest Comment' He's Ever Received Because He Wanted to Maintain His Competitive Edge
Michael Jordan never wanted to show any weakness to his NBA rivals.
Michael Jordan was unlike any other athlete we've ever seen compete at the highest level of sports. If you were ever in his way of winning a championship with the Chicago Bulls, he would run you over before he would ever break bread with you or embrace you as a friend.
When it came to Larry Bird, Jordan clearly respected and admired him, but he was never going to let him know that. After Bird compared Jordan to God during the 1986 playoffs, MJ refused to thank him for the glowing compliment simply because he didn't want to show any signs of weakness.
Larry Bird compared Michael Jordan to God after his 63-point playoff performance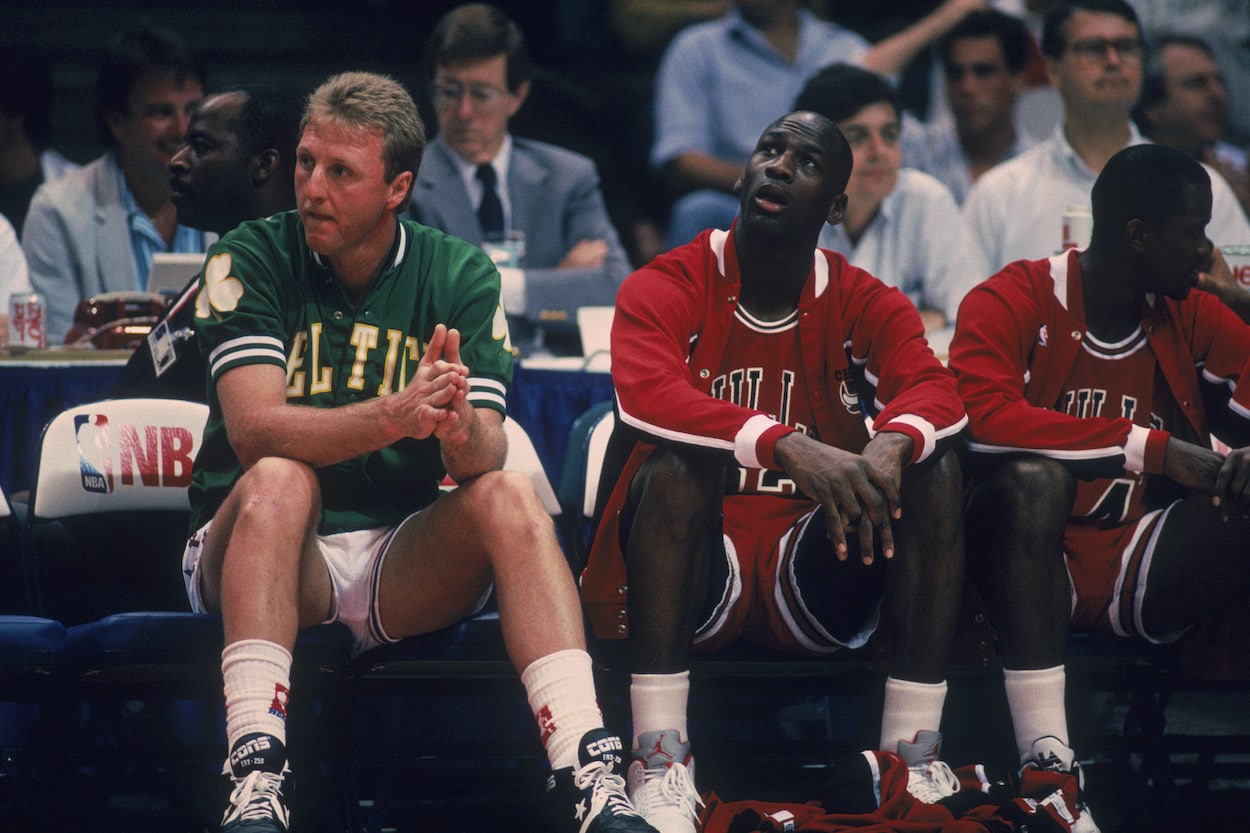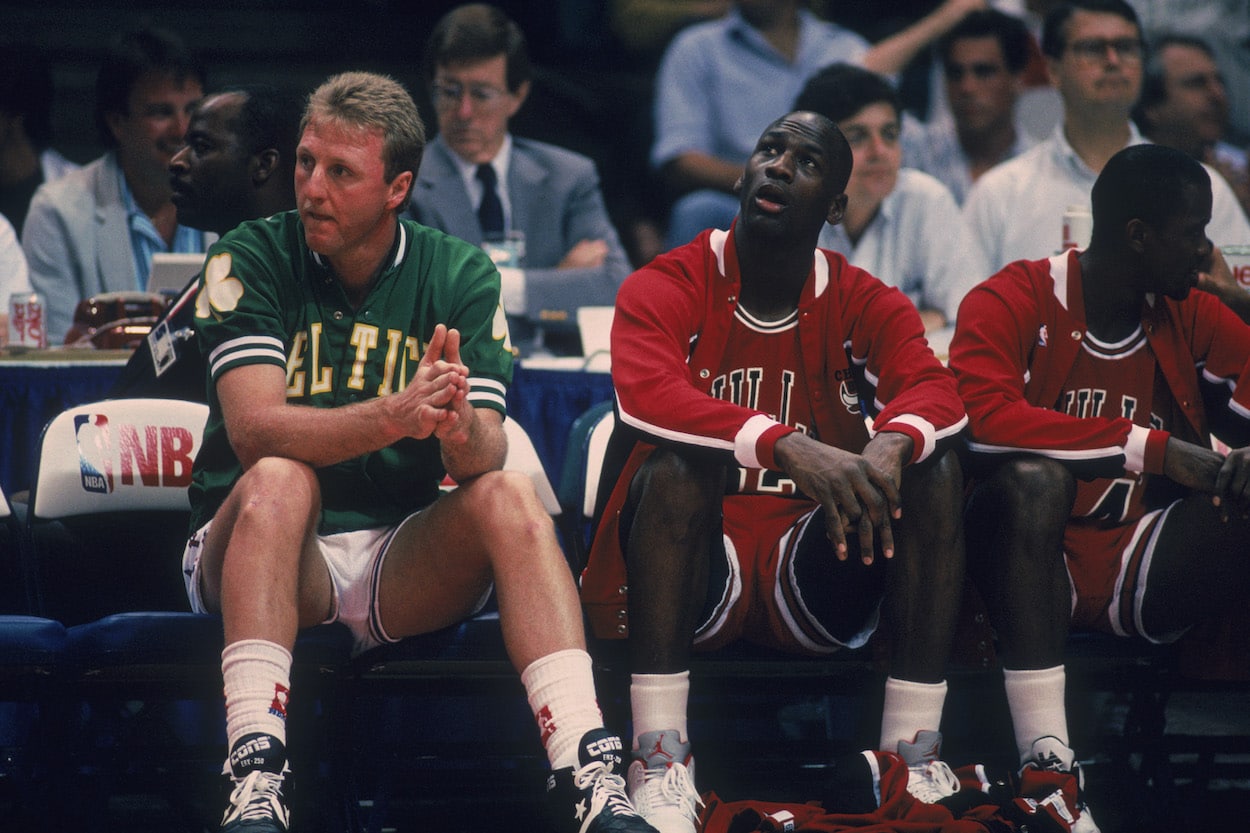 In 1986, a 23-year-old Jordan went toe-to-toe with Bird and the Boston Celtics in the first round of the playoffs. Jordan's Bulls didn't have enough firepower or depth to hang with the eventual NBA champions, but MJ wasted no time proving he was about to become a force to be reckoned with for years to come.
Jordan kicked off the series with a 49-point performance in Game 1. In Game 2, he exploded for an NBA postseason record 63 points in a 135-131 overtime loss. MJ drained 22 of his 41 attempts to go along with five rebounds, six assists, three steals, and two blocks. It remains one of the greatest playoff performances in league history.
After the game, Bird gave Jordan the greatest compliment he's ever received.
"I think he's God disguised as Michael Jordan," Bird said at the time. "He is the most awesome player in the NBA. Today in Boston Garden, on national TV, in the playoffs, he put on one of the greatest shows of all time."
Jordan never thanked Bird for the compliment to maintain his competitive edge
At the time, Jordan was just a young star trying to find his way in the NBA. Bird, on the other hand, was already a bona fide superstar and a future Hall of Famer. You would think Jordan would have reached out at some point to say thank you for the glowing compliment.
But he never did, and there's a reason why.
"When Bird gave me that comment, you know, that was the biggest comment I've ever received, and that was the type of respect that he gave me," Jordan explained on Jackie MacMullan's Icons Club podcast. "But I never really called him or embraced him. I wanted to maintain that competitive edge that we had against each other."
We'll never see another Michael Jordan for as long as we live.
Like Sportscasting on Facebook. Follow us on Twitter @sportscasting19.