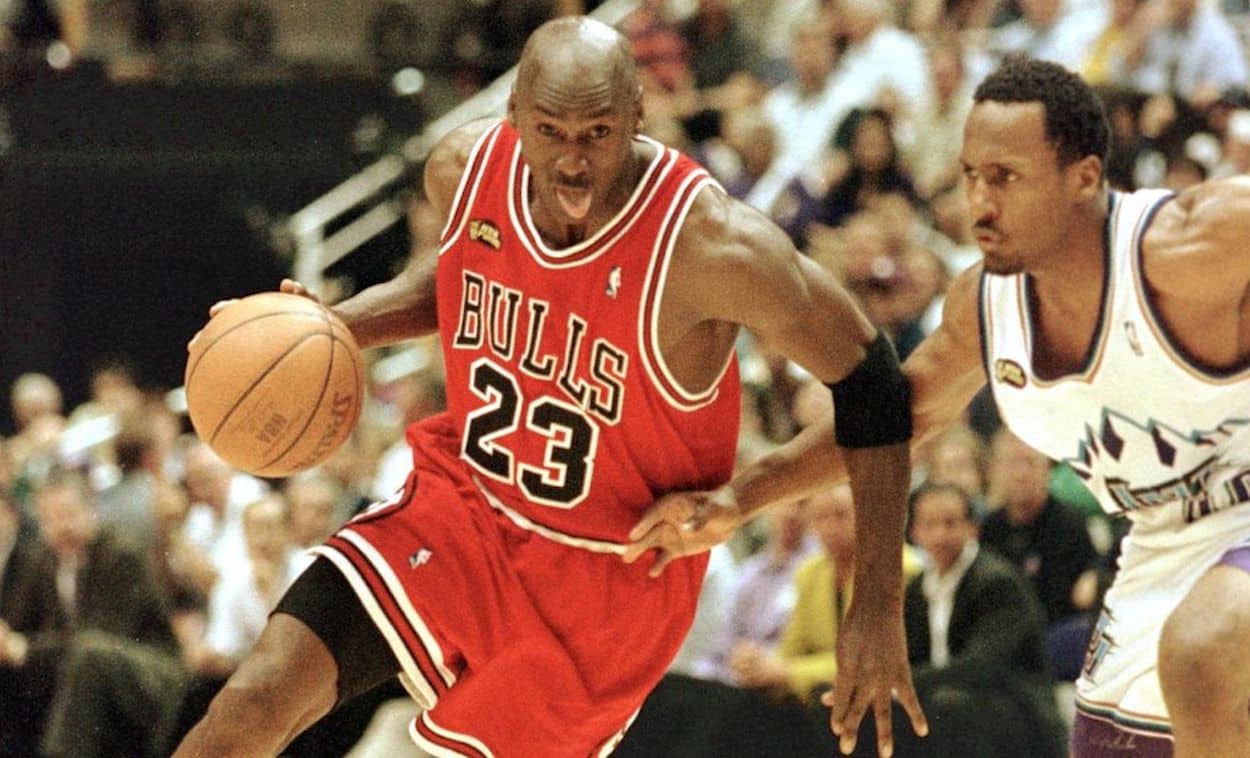 Michael Jordan's 'Last Dance' Jersey Is Poised to Make $3 Million-Plus History
If you want to own a piece of Michael Jordan's past and NBA history, you'll have to pay an eye-watering amount of money.
Whether you love him or hate him, Michael Jordan towers over the sports landscape. Virtually everyone knows His Airness, and if you're interested in collecting memorabilia, it's tough to beat anything connected to the living NBA legend. Just be prepared to spend a pretty penny.
Take, for example, a game-worn jersey from the 1998 NBA Finals. While owning a piece of MJ's 'Last Dance' may seem like a dream for any sports fan, it won't come cheap. The jersey is hitting the auction block, where it's set to sell for at least an eye-popping $3 million.
Michael Jordan collectibles can be pricy, but a 'Last Dance' jersey takes the cake
Over the years, plenty of Michael Jordan merchandise has hit the market. While sky-high prices are the norm — a basketball card featuring pieces of game-worn Jordan, Kobe Bryant, and LeBron James jerseys recently fetched more than $1 million — the latest piece of history is expected to make, well, history.
As reported by CNN, a jersey worn by His Airness during Game 1 of the 1998 NBA Finals is hitting the auction block. While any MJ jersey will be pricy, this one has the added benefit of both history and pop-cultural relevance. The 1997-98 Bulls campaign was Jordan's last before his second retirement and saw him win his final NBA championship. The season was, of course, returned to prominence by The Last Dance, which gives the jersey a bit of additional juice.
Beyond that, the jersey also has rarity working in its favor. Game-worn pieces are understandably limited, and since the 1998 NBA Finals only lasted six games, there's a finite number of uniforms that MJ would have worn.
All of that combines to make this jersey extremely desirable. According to CNN, Sotheby's estimates that it will sell for somewhere between $3 million and $5 million. That sets a new record for the largest estimate ever placed on a Jordan jersey.
To be clear, though, His Airness isn't a stranger to setting records at auction. In 2021, a pair of game-worn sneakers from his rookie year hit the auction block. Not only did they become the first sneakers to break the $1 million mark, but they also became the most expensive shoes ever sold in an auction.
While the 'Last Dance' jersey won't officially hit the block until early September, one thing remains clear: It's going to cost a sizable sum of money.
Better start hunting for loose change in the couch ASAP.
Like Sportscasting on Facebook. Follow us on Twitter @sportscasting19 and subscribe to our YouTube channel.