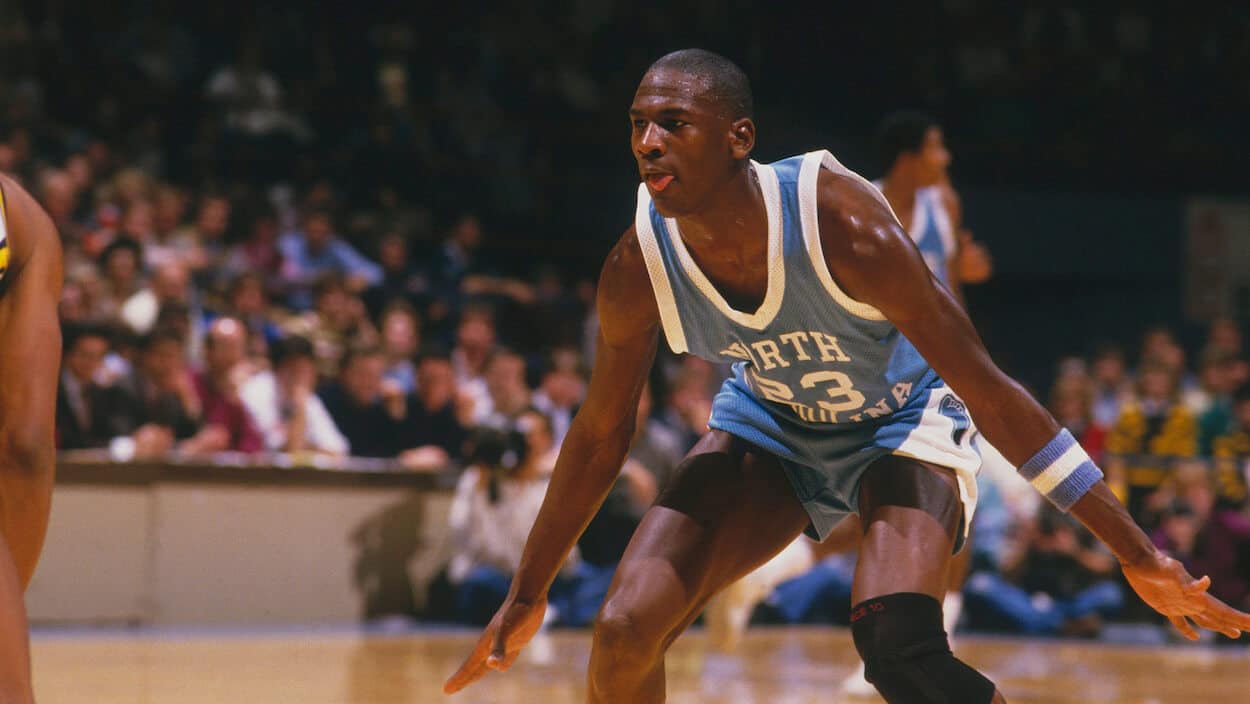 Michael Jordan's National Championship-Winning Shot Earned Him a Playboy Spread
Michael Jordan made the 1982 Playboy All-America Team after his freshman year at North Carolina with an interesting group of players.
For decades, a nomination to the preseason Playboy All-America Team was one of the biggest honors in college basketball. And while the honor often went to upperclassmen, the 1982-83 team featured North Carolina sophomore Michael Jordan. At the time, he was one of the lesser-known players on the team. Of course, we all know how that changed over time.
Michael Jordan made an immediate impact at North Carolina
Michael Jordan burst onto the national basketball scene in the 1981-82 season as a freshman at North Carolina at a time when freshmen were usually buried at the end of the bench.
However, as the Playboy All-America Team video notes, Jordan was "one of the few freshmen ever to start under head coach Dean Smith." And that decision from the legendary coach paid off immediately.
Jordan played in 34 games as a freshman and averaged 13.5 points, 1.8 assists, 4.4 rebounds, and 1.2 steals. He also rounded out a roster that included future NBA stars James Worthy and Sam Perkins and future UNC head coach Matt Doherty.
After a stellar regular season, the Tar Heels rolled into the 1982 NCAA Tournament. They beat James Madison, Alabama, Villanova, and Houston on their way to a matchup with Patrick Ewing and the Georgetown Hoyas.
In one of the best March Madness finals of all time, UNC was down 61-62 with under 20 seconds to go when Jimmy Black found Jordan on the wing, and the cold-blooded freshman nailed the shot to put the Tar Heels up by one.
A few seconds later, Georgetown guard Fred Brown infamously threw the ball right to Worthy, and the game was over.
On the strength of that season and that shot, Playboy put "Mike Jordan," as they called him in the video, on its All-America Team. At the time, he was one of the least accomplished players on that squad.
He would eventually become the most famous person on the team, although not the only one who would go on to become an NBA star.
What happened to the rest of the preseason 1982 Playboy All-America Team?
The 1982 Playboy All-America Team was a collection of the best college basketball players in the country heading into the 1982-83 season. That team featured the eventual Player of the Year in college basketball, the eventual No. 1 picks in the 1983 and 1985 NBA Draft, three Hall of Famers, and five NBA All-Stars.
Here is the 1982 Playboy All-America Team and how their careers panned out (from left to right, top to bottom).
Doc Rivers, Marquette
Most NBA fans know Doc Rivers as the former coach of the Philadelphia 76ers, Los Angeles Clippers, Boston Celtics, and Orlando Magic. However, he was also an excellent point guard at Marquette, and after the Atlanta Hawks took him with the seventh pick in the second round of the 1983 draft, Rivers went on to have an outstanding 15-year career where he made one All-Star team in 1987-88.
Patrick Ewing, Georgetown
Besides Michael Jordan, Patrick Ewing is by far the most famous and most accomplished player in this picture. Ewing played four years at Georgetown, went to the New York Knicks No. 1 overall in 1985, and became an 11-time All-Star and Naismith Basketball Hall of Fame member. He never won an NBA title, but alongside Jordan, he won two gold medals in 1984 and as a member of the 1992 Olympic Dream Team in Barcelona. Ewing was let go as head coach of his alma mater after the 2022-23 season.
Coach Terry Holland, Virginia
Terry Holland played and coached at Davidson before moving to Virginia in 1974. In 1982, Holland was still riding high from his recruitment of 7-foot-4 Ralph Sampson, who helped bring the Cavaliers three ACC titles but no national championships. Holland died in Feb. 2023 at the age of 80.
Jon Sundvold, Missouri
Missouri native Jon Sundvold stayed at home for college and became a four-year player and an All-American for the Missouri Tigers. The Seattle SuperSonics took him 16th overall in the 1983 NBA Draft, and he played nine NBA seasons, averaging 7.7 points and 2.9 assists per game. Sundvold retired in 1992 and is currently a broadcaster for Mizzou basketball.
Michael Jordan, North Carolina
Whatever happened to that guy? Oh, that's right. He won six titles, six Finals MVPs, five NBA MVPs, made 14 All-Star Games, and is widely considered the greatest basketball player of all time.
Sam Perkins, North Carolina
In 1982, Sam Perkins was the better North Carolina Tar Heel in this picture. He finished his college career as the school's all-time leader in blocked shots and rebounds. He also won gold with Michael Jordan and Patrick Ewing in 1984, the same year he was the Dallas Mavericks No. 4 overall pick in the draft. Perkins had a solid 17-year NBA career averaging 11.9 points and 6.0 rebounds per game. Since retiring in 2001, Perkins has spent much of his time on charitable missions with organizations like the Special Olympics and NBA Cares.
Ralph Sampson, Virginia
At 7-foot-4, Ralph Sampson was one of the most dominant forces in college basketball history, but injuries and tough luck took a toll on his career. He was the Naismith Player of the Year in college basketball three times and the No. 1 pick in the 1983 NBA Draft by Houston Rockets. Sampson won the Rookie of the Year Award, and the following year, the team paired him with Houston Cougars center Hakeem Olajuwon. However, the "Twin Towers" never reached their potential as Sampson made four All-Star teams (and eventually the Hall of Fame for his college and pro careers) but never became a truly dominant player in the pros after several knee surgeries.
Dale Ellis, Tennessee 
Dale Ellis went No. 9 overall to the Dallas Mavericks in the 1983 NBA Draft and became one of the best sharpshooters in NBA history. He made 40.3% of his 3-point shots in the NBA, and 1,719 made 3s was a league record until Reggie Miller passed Ellis. The former Volunteer played 17 NBA seasons and made an All-Star Game in 1989, where he won the NBA 3-Point Contest.
Sam Bowie, Kentucky
Kentucky big man Sam Bowie is most famous (infamous?) for being the player drafted between Hakeem Olajuwon and Michael Jordan in the 1984 NBA Draft. Injuries plagued Bowie throughout his 10-year pro career, and he never reached the level of his superstar draft counterparts. After basketball, Bowie worked as a broadcaster on Kentucky games and still lives in Lexington.
Ennis Whatley, Alabama
Ennis Whatley was the 13th overall selection in the 1983 NBA Draft and had a long pro basketball career, playing 10 NBA seasons. He also played professionally in the Philippines, Israel, and Lithuania. He is now an inspirational speaker in retirement.
Keith Lee, Memphis State
Keith Lee followed up his distinguished college career at Memphis State, going 11th overall in the 1985 NBA Draft to the Chicago Bulls, who traded him to the Cleveland Cavaliers. He also played in the USBL, CBA, and Argentina. He retired in 1995 and has coached high school basketball back in Memphis.