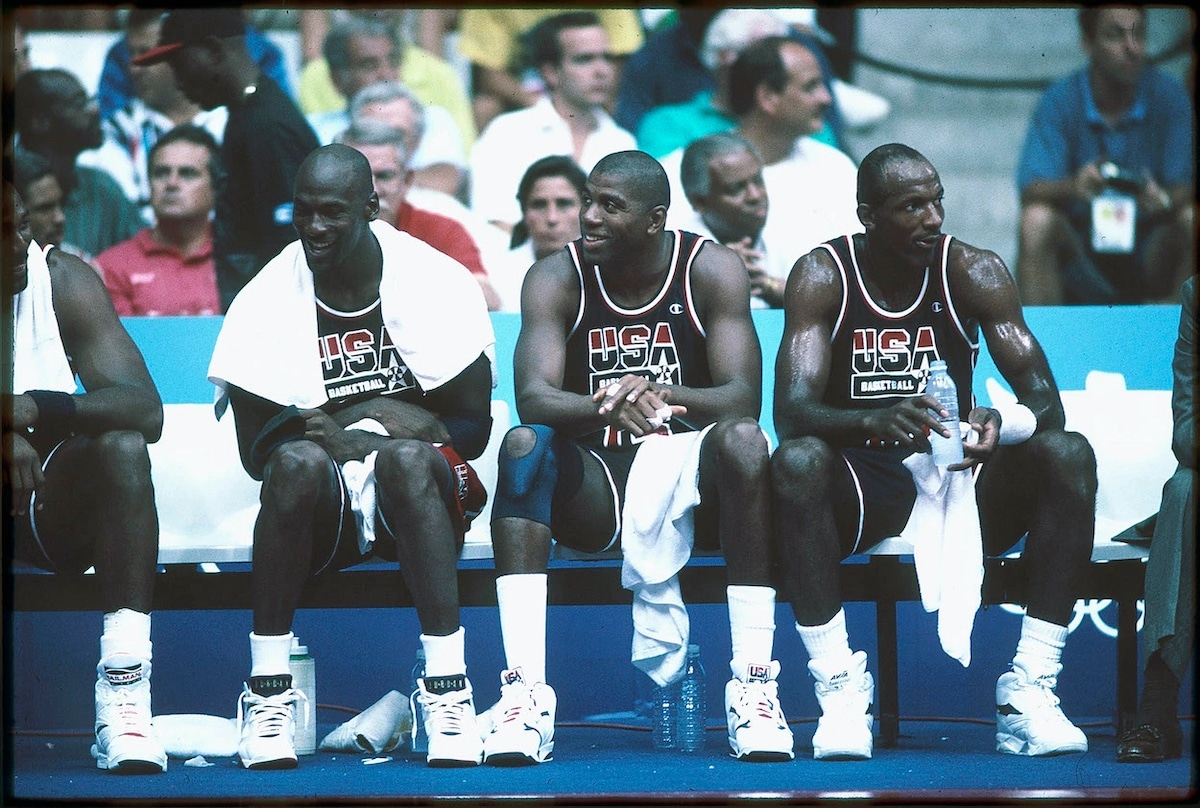 Michael Jordan Rode 1 Dream Team Member So Hard Coaches and Teammates Asked MJ to 'Dial It Back'
Michael Jordan always went hard at his rivals but while with the Dream Team, he harassed Clyde Drexler so badly that coaches and players had to step in.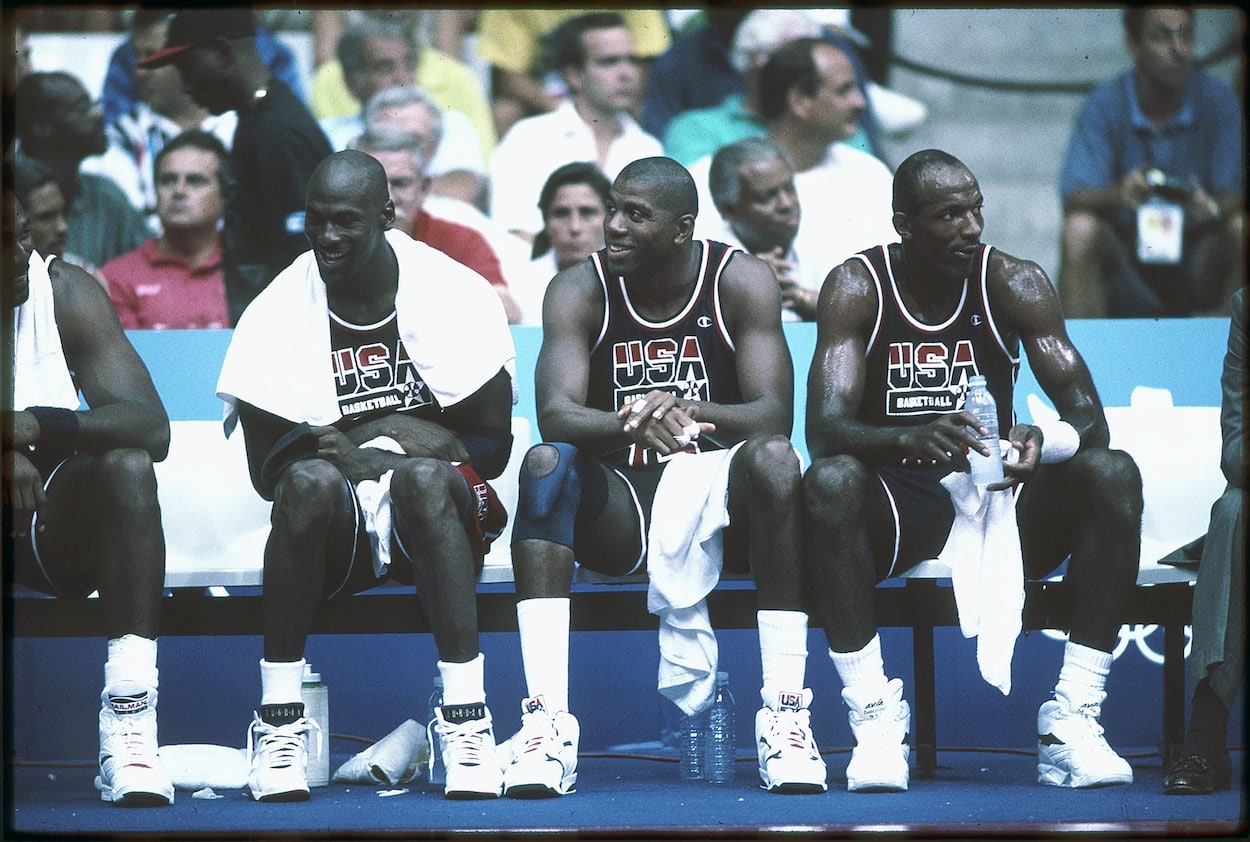 Michael Jordan could talk trash as well as he could play basketball, and that's saying a lot. Jordan was ruthless on the court with opponents and, in some cases, even harsher with his own teammates. The 1992 U.S. Olympic Dream Team was no exception. It may have been the best collection of basketball players ever assembled, but that didn't stop Jordan from riding opponent-turned-teammate Clyde Drexler so hard his teammates had to step in.
Michael Jordan and Clyde Drexler were rivals
The similarities between Michael Jordan and Clyde Drexler are apparent. Jordan is 6-foot-6, 212-pounds to Drexler's 6-foot-7, 222-pounds. Drexler is a year older and was drafted a season before Jordan. And they were both fluid, skilled shooting guards who could score with the best of them.
During the 1991-92 season leading into the Olympics, even their stats were similar. There averages that season were:
Jordan: 30.1 points, 6.4 rebounds, 6.1 assists, 2.3 steals
Drexler: 25.0 points, 6.6 rebounds, 6.7 assists, 1.8 steals
With stat lines like these, it's no surprise that Jordan's Chicago Bulls and Drexler's Portland Trail Blazers met in the 1992 NBA Finals.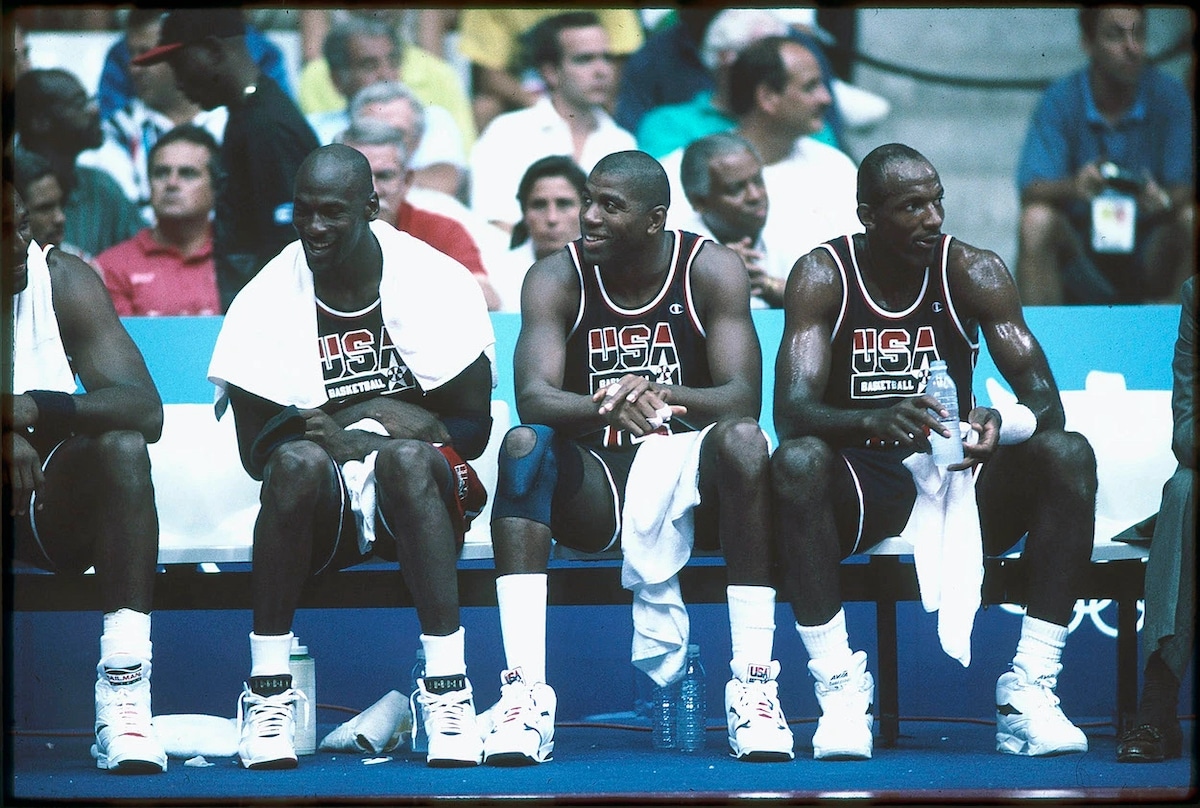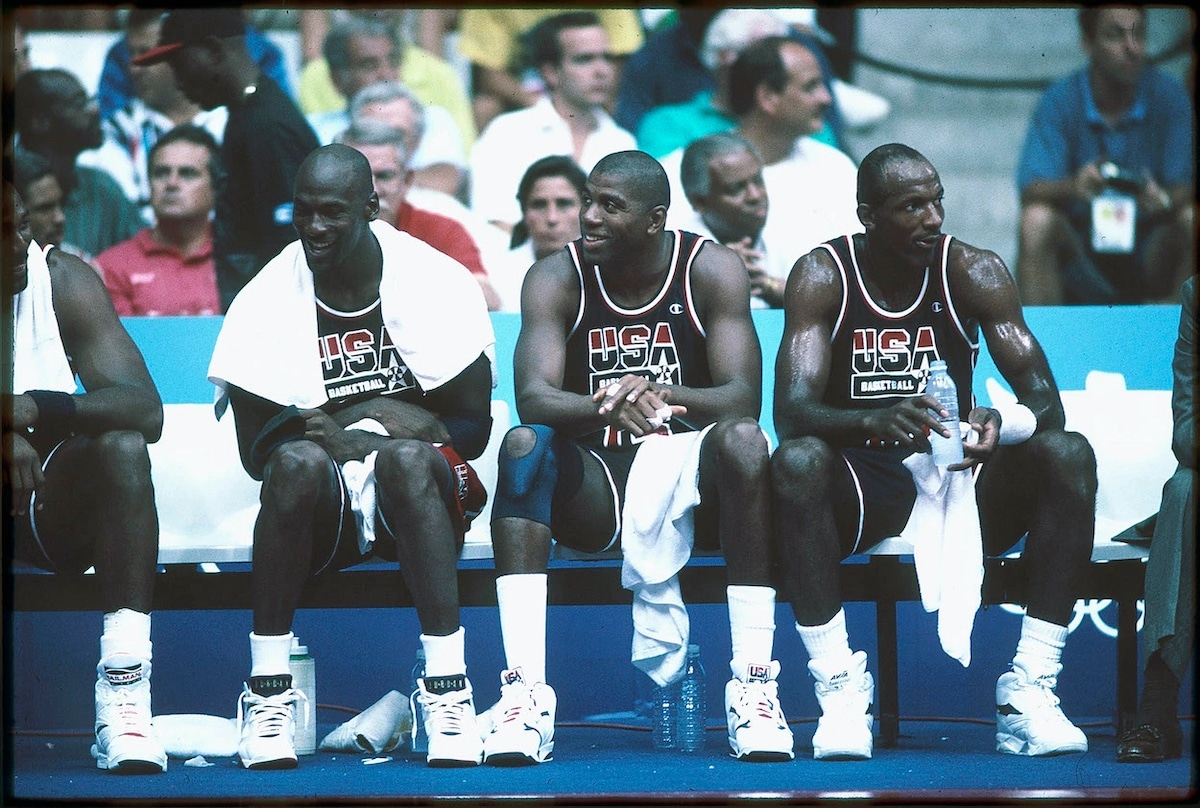 Drexler played well in that series, scoring right around his season average with 24.8 points per game. He just couldn't stop Jordan, who picked it up a notch, pouring in 35.8 points per game in a 4-2 Bulls series win. That gave Jordan his second NBA title heading into the Dream Team summer.
The other reason Jordan had extra motivation when he faced Drexler is that the Trail Blazers famously passed on the North Carolina guard at No. 2 in the 1984 NBA Draft. Portland wanted size, so it infamously took 7-foot-1 Kentucky center Sam Bowie over Jordan. Plus, the team liked the SG it drafted the year before from Houston, Clyde Drexler.
It doesn't take much to whip Jordan into a trash-talking frenzy with an opponent. The NBA Finals showdown and the nearly decade-old draft snub were more than enough to put Drexler firmly in Jordan's crosshairs when Dream Team practices started in the summer of 1992.
Jordan went after his rival so hard with the Dream Team in 1992 that teammates and coaches stepped in 
The 1992 U.S. Olympic Men's Basketball Team, aka the Dream Team, is the greatest team ever assembled in basketball (and possibly any sport's) history.
When this team came together, Michael Jordan was the unquestionable best player in the world. He may have deferred to elder statesman Magic Johnson and Larry Bird when it came time to pick a team captain, but there was no doubt the Dream Team was Jordan's team.
This was bad news for Clyde Drexler, the other shooting guard on the team. As longtime NBA insider Jackie MacMullan reports in her Icons Club podcast, no relationship on the Dream Team "was more complex than Jordan and Drexler."
MacMullan explains that "Drexler's 'sin' was methodically building an MVP season for himself in 1991-92," which "prompted pundits to suggest he was in close pursuit of MJ as the game's best player." While "Drexler never fueled this notion," that didn't matter to Jordan.
In the 1992 Finals, Jordan attacked Drexler all series to make the point about his greatness over the Western Conference star. Jordan's attack mode didn't stop once he lifted the Larry O'Brien trophy, though:
When the Dream Team gathered for its initial workouts in San Diego, Jordan hounded Clyde on defense, harassed him as Drexler brought the ball up the floor, and reminded him he had kicked his a** just weeks earlier in the Finals. … The haranguing became so intense, the coaching staff and some of Jordan's teammates asked him to dial it back.

Jackie MacMullan on Michael Jordan and Clyde Drexler
Drexler insists that Jordan's ire didn't bother him. He says it only meant he was 'a real threat' to Jordan. However, MacMullan paints a different picture.
She tells a story of Drexler accidentally grabbing two left shoes one day before practice and then wearing them without saying anything, so he didn't draw Jordan's barbs.
The team eventually noticed Drexler's faux pas, and, as fellow Dream Teamer Chris Mullin tells it, Jordan told Drexler, "that's kind of why you guys lost to us."
Drexler eventually won championships but never beat his nemesis
The knock on Michael Jordan as the greatest player of all time is that he never had a true rival. Bill Russell had Wilt Chamberlain, Magic Johnson had Larry Bird, and even LeBron James has gone back and forth with a host of great players, from Paul Pierce and Kevin Garnett to Stephen Curry and Kevin Durant.
Jordan never had rivals who got the better of him from time to time because he destroyed them all. Isiah Thomas, Clyde Drexler, Dominique Wilkins, Charles Barkley, Patrick Ewing and John Starks, and John Stockton and Karl Malone all stepped up to challenge His Airness, and MJ chopped them all down to size.
Drexler would eventually get his championship in 1995 with the Houston Rockets.
Hakeem Olajuwon and the Rockets won the 1994 title while Jordan was away playing minor league baseball. A year later, the team acquired Drexler at the trade deadline and made another run to the Finals.
Jordan returned for the last 17 games of the regular season in 1995, but the Chicago Bulls fell short in the Eastern Conference playoffs. They lost four games to two in the conference semis to a young Shaquille O'Neal and the Orlando Magic.
Drexler got his ring at the age of 32 and retired after three more seasons. He was a first-ballot Hall of Famer six years later. The NBA named him one of the 50 Greatest Players in NBA History in 1996, and he was on the NBA 75th Anniversary Team in 2021.
Drexler is no doubt one of the best of all time. He's just not Michael Jordan.
All stats courtesy of Basketball Reference
Like Sportscasting on Facebook. Follow us on Twitter @sportscasting19 and subscribe to our YouTube channel.