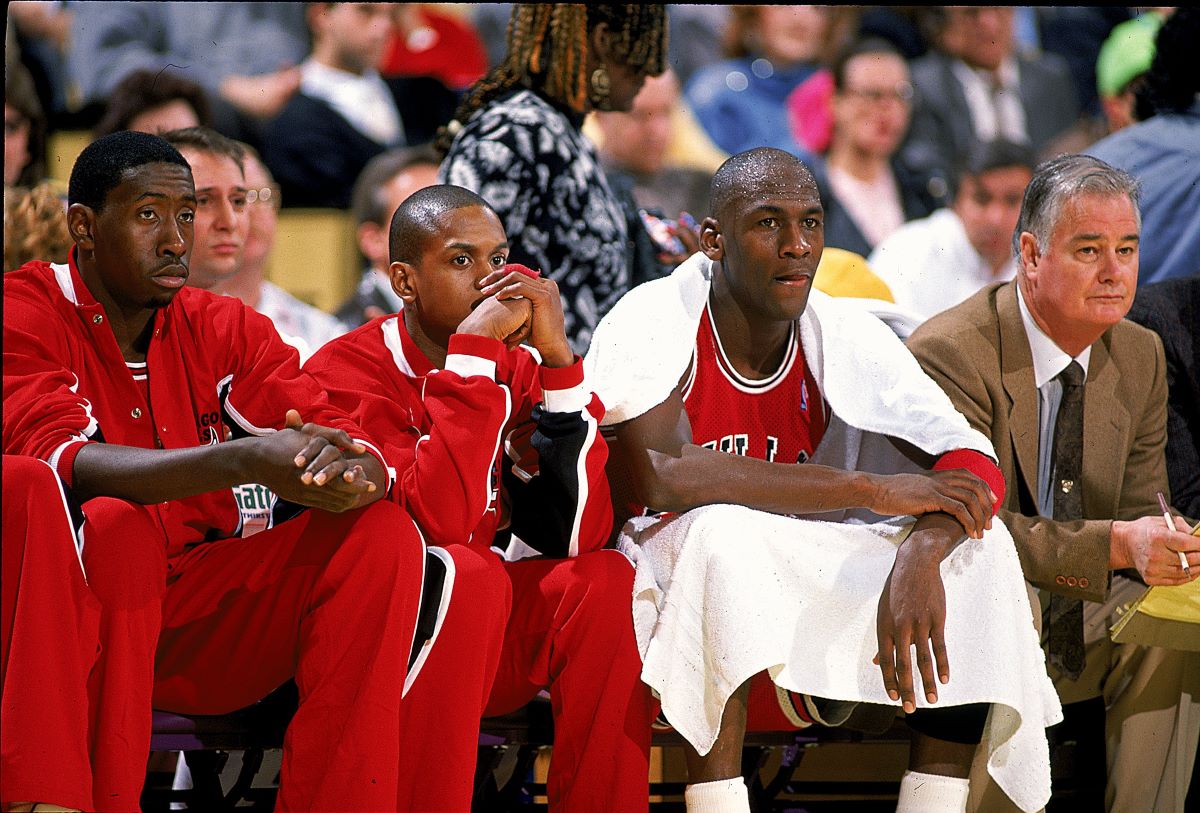 Michael Jordan Scored Career-High 69 Points Against Cavs Because Fans Cheered After He Got Hurt: 'That Right There Pissed Me Off, That's When I Went Crazy'
There was a reason Bulls legend Michael Jordan torched the Cavs for 69 points back in 1990.
On March 28, 1990, Michael Jordan had the best scoring game of his career. The Chicago Bulls legend poured in a whopping 69 points against the Cleveland Cavaliers to lead his team to a 117-113 win in overtime.
Jordan was in attack mode all night long against the Cavs. Many people speculated that the superstar went off for 69 points since no other Bulls player even scored 20. However, during the summer of 1997, Jordan admitted the real reason he destroyed the Cavs.
Michael Jordan was upset Cavs fans cheered after he got hurt
After winning his fifth championship in 1997, Jordan told SLAM Magazine the backstory of his memorable 69-point game against the Cavs in 1990. Apparently, Cleveland fans cheered after His Airness was fouled hard by Hot Rod Williams. Jordan laid on the ground in pain and was mad that the crowd was cheering.
After getting up and collecting his breath, Jordan decided to teach the Cavs fans a lesson about never celebrating following a player getting hurt.
"I think the game I had against Cleveland, when I had 69, that was strictly off of anger and disappointment," Jordan said. "Earlier in the first quarter, when I think I got a hard foul from Hot Rod and I—you know, I fell the wrong way, and I was really in pain. And the whole crowd cheered! And that right there pissed me off, because they was more in tune to winning than someone's health. And that kind of got me fired up. That's when I went crazy."
Not only did Jordan score 69 points in 50 minutes versus the Cavs, but he was also highly efficient, which shouldn't be a surprise since he's statistically the most efficient player in NBA history.
Michael Jordan shot 62.2% from the field during his 69-point game
Jordan shot 23-of-37 from the field and 21-of-23 from the free-throw line against the Cavs during his 69-point game. The six-time champion also had 18 rebounds, six assists, and four steals.
The Bulls only had one other player score in double-figures. That was big man Horace Grant, who put up 16 points. Scottie Pippen struggled in the game, shooting only 3-of-10 overall for a grand total of seven points. He also had a team-high eight turnovers.
Jordan was forced to put the Bulls on his back due to Pippen's struggles, and the scoring machine didn't disappoint. It was an incredible performance by MJ, who averaged 33.6 points during the 1989-90 season to win his fourth consecutive scoring title.
The Bulls won 55 games in 1989-90 and made it all the way to the Eastern Conference Finals, where they lost to the Detroit Pistons in seven hard-fought games. In Episode 4 of The Last Dance, Jordan said that he cried on the team bus because he was devastated about coming up one game short of reaching the Finals. His father, James, came on the bus and told him to forget about the loss and gear up for next season, which turned out to be historic for the Bulls.
MJ and Bulls had magical 1990-91 season
The 1990-91 season was stellar for Jordan and the Bulls. MJ won his second MVP, fifth straight scoring title, first championship, and first Finals MVP. The Bulls won 61 games in the regular season and defeated the New York Knicks, Philadelphia 76ers, Pistons, and Los Angeles Lakers to capture their first title in franchise history.
Jordan may be the most decorated player of all time. Along with his six championships and six Finals MVPs, the UNC product won 10 scoring titles and five regular-season MVPs. The Bulls icon is also the all-time leader in points per game and player efficiency rating.
The Bulls not only retired Jordan's No. 23, but they also built a statue of him. It used to be outside the United Center in Chicago, Illinois, but it's now inside the stadium and one of the biggest attractions in the Windy City.
Jordan averaged 31.5 points in 930 games with the Bulls. While he had several spectacular performances with Chicago, his 69-point game stands out the most to Black Jesus.