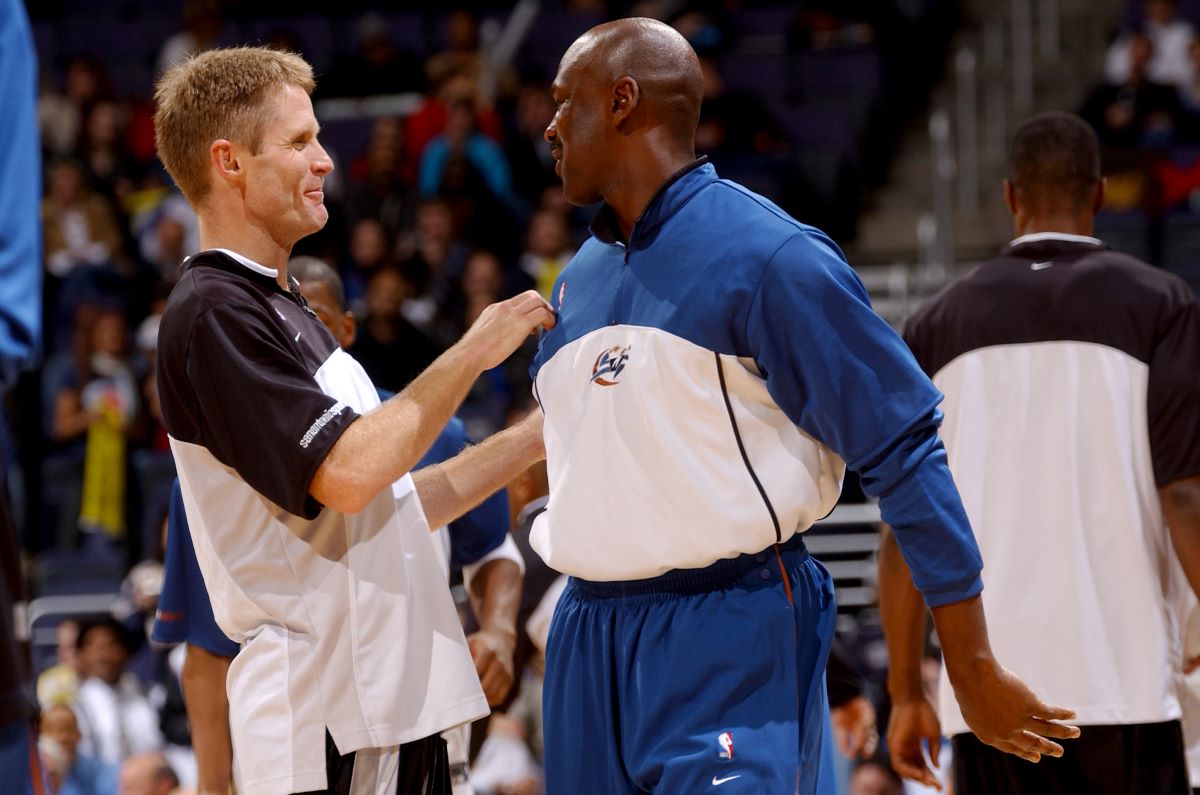 Michael Jordan Unintentionally Helped Steve Kerr Change His Life: 'It All Added Up to Kind of Giving Me a Boost to Another Level in My Own Life'
Michael Jordan played a big role in Steve Kerr's life changing for the good. He just didn't do it on purpose.
Scottie Pippen isn't the only player who will be persistently connected to Michael Jordan. Golden State Warriors head coach Steve Kerr, who won three titles with Jordan on the Chicago Bulls, will forever be linked to His Airness as well.
One of the best shooters in NBA history, Kerr has lived an incredible basketball life. He not only won three championships with Jordan and the Bulls, but he also captured two more on the San Antonio Spurs with Tim Duncan and Gregg Popovich.
After his NBA career ended, Kerr remained in the basketball world, and he partially owes his success to Jordan even though the superstar shooting guard didn't intend to change his life.
Michael Jordan and Steve Kerr didn't get off on the right foot
Before the 1995-96 season, Jordan and Kerr got into a fight at practice. Bulls head coach Phil Jackson had Kerr guard Jordan, who was aggressive and angry since some of his new teammates weren't taking things seriously.
Jackson sensed Jordan's aggression and tried to tone him down by calling ticky-tack fouls. The five-time MVP got even more irate, fouled Kerr hard, and said, "Now that's a fu**ing foul."
Kerr got up from the floor and hit Jordan in the chest. MJ then punched the sharpshooter in the eye and was thrown out of practice by Jackson. While taking a shower, he realized what he did was wrong and called Kerr to apologize. He also gained a lot of respect for him since he saw that the Arizona product wasn't afraid of confrontation and to stand up for himself.
The Bulls went 72-10 in 1995-96, with Jordan winning MVP. They defeated the Seattle SuperSonics in the NBA Finals for Jordan's fourth title and fourth Finals MVP.
In 1996-97, the Bulls made it back to the Finals. They faced the Utah Jazz, and Jordan trusted Kerr to hit the biggest shot of the series.
Steve Kerr hit the game-winning shot in Game 6 off a great pass by Michael Jordan
With Game 6 of the '97 Finals tied at 86, the Bulls had the ball with 28 seconds left. Everyone in the United Center expected Jordan to take the last shot, but he knew the Jazz would double him.
During the timeout before the Bulls inbounded the ball, Jordan told Kerr to be ready to shoot. John Stockton left Kerr to double MJ, who found the marksman right behind the free-throw line. Kerr hit the jumper with five seconds left in regulation to give Chicago a two-point lead, and the United Center crowd was in a frenzy.
The Jazz still had a shot to tie the game or win it on a 3-pointer. However, Pippen stole the inbounds pass from Bryon Russell and dished it ahead to Toni Kukoc, who dunked the ball at the buzzer for the final exclamation point.
That shot by Kerr was the biggest jumper of his life, not just his NBA career. He not only helped the Bulls win their fifth title, but he changed his life for the better.
Kerr's life hasn't been the same since that shot
On an episode of All The Smoke with Matt Barnes in 2020, Kerr talked about how his game-winner with the Bulls changed his life forever. While Jordan was only thinking about making the right basketball play against the Jazz, he played a role in Kerr's life never being the same since he passed him the ball in crunch time on the NBA's biggest stage.
"(That shot) led to another contract. I was a free agent a couple of years later, and the Spurs gave me a five-year contract which was the most money I ever made in my career, which allowed me to buy a house in San Diego and take care of my family," Kerr said. "So, it changed a lot of things. I think hitting that shot probably got me my job in TV, you know, because playing for the Bulls and having a big moment took me from a place of relative obscurity to, 'Oh, we know that guy.' So, that season, those years in Chicago and hitting that shot, it all added up to kind of giving me a boost to another level in my own career and life."
After his playing career ended in 2003, Kerr was an executive with the Phoenix Suns from 2007 to 2010 before working for TNT as an NBA broadcaster. In the summer of 2014, he became the Warriors' head coach and has guided the franchise to three titles.