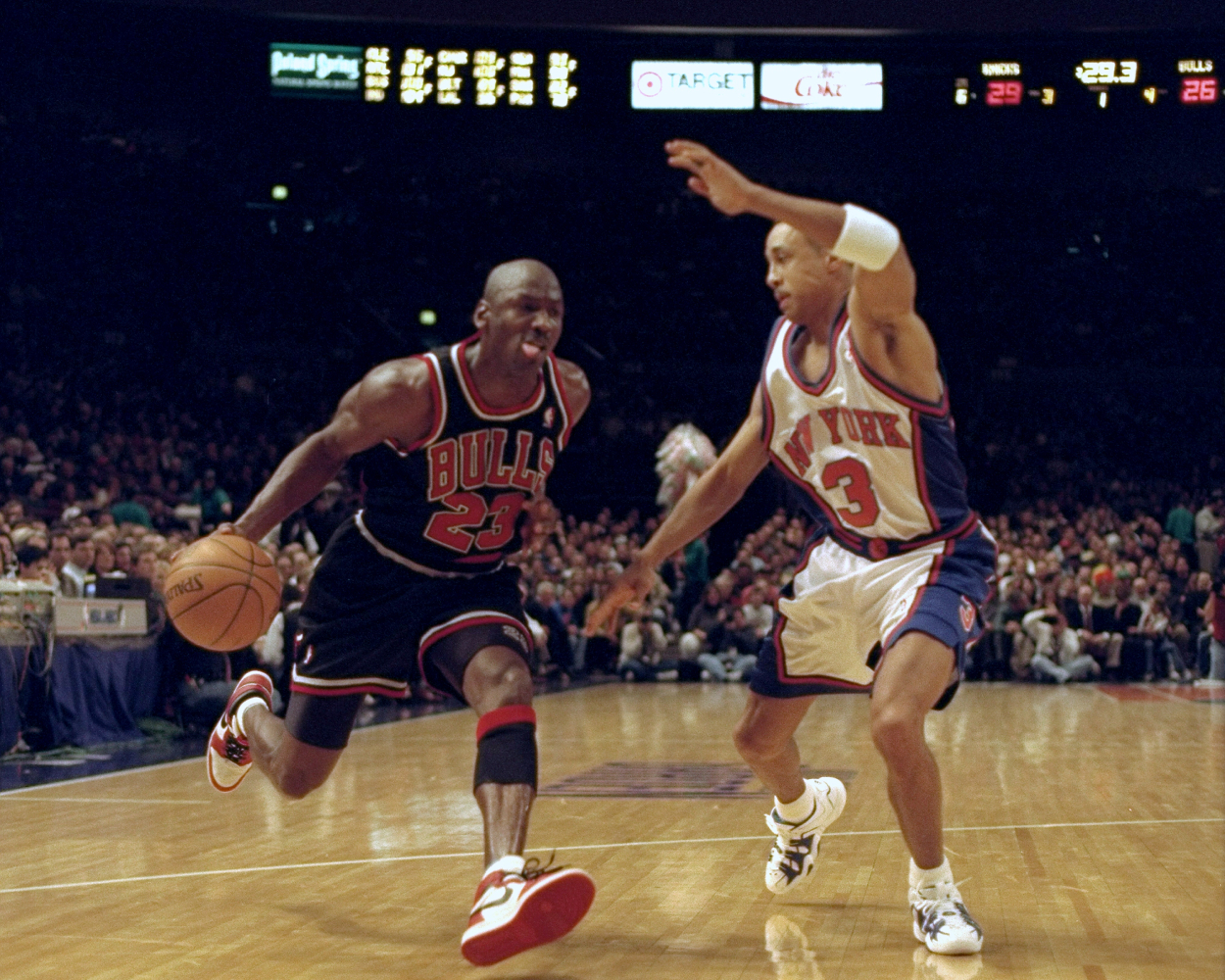 Michael Jordan's Scouting Report Consisted of 2 Words, According to John Starks
Former New York Knicks guard John Starks said that Michael Jordan's scouting report consisted of just two words.
Former New York Knicks guard John Starks was known for his offense and long-range shooting. He was also assigned some difficult defensive tasks, such as guarding stars like Reggie Miller and Michael Jordan. Before each game, Starks and the staff would go over the scouting report of their opponent. When the Knicks played the Chicago Bulls and Starks was matched up with Jordan, his scouting-report meeting was over quickly.
John Starks said Michael Jordan could not be cracked mentally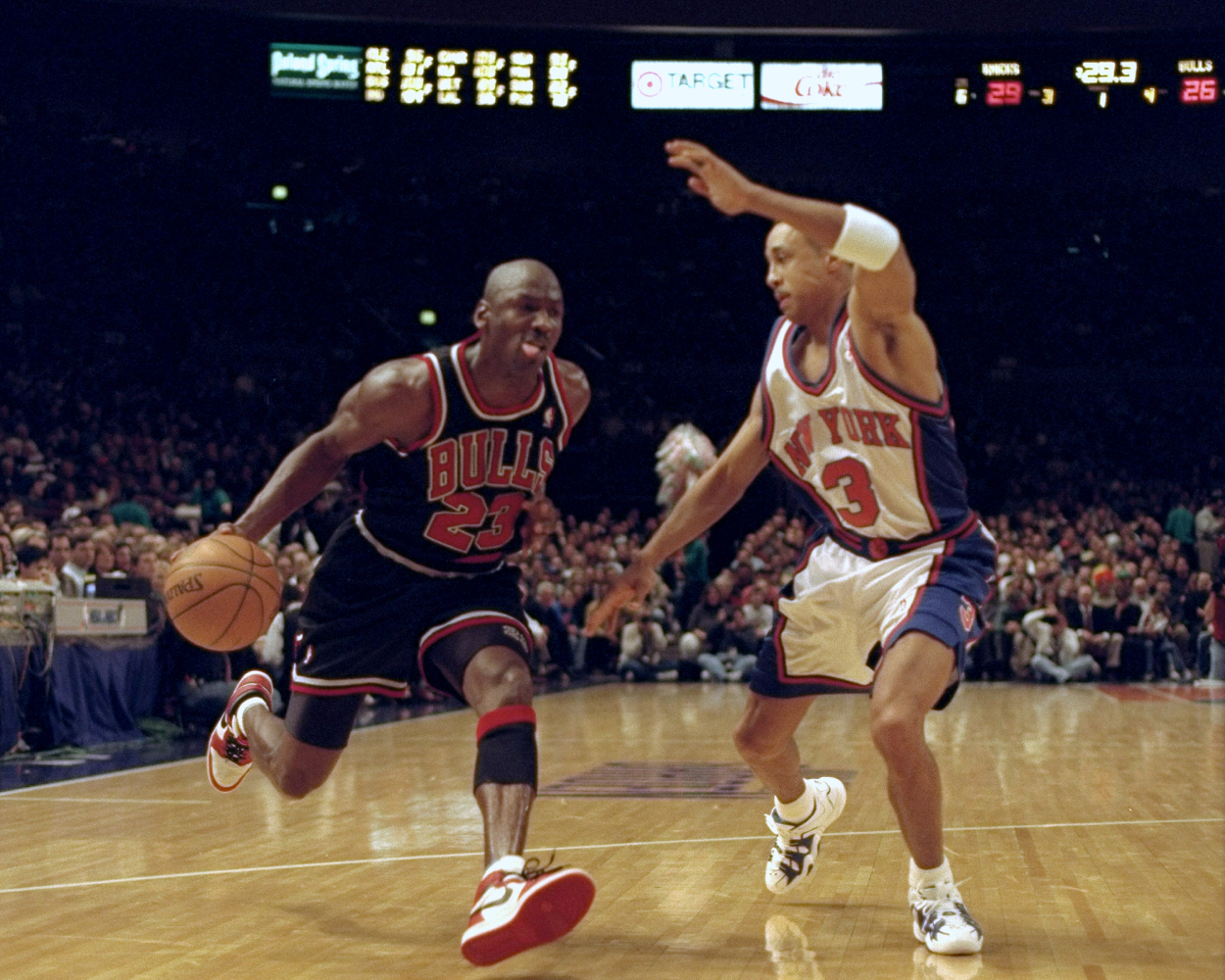 Basketball in the 1980s and the early '90s was a completely different brand than what it is today. Back then, the game was much more physical. It was an in-your-face type of game with a pound-the-ball-inside emphasis. Today's game is more finesse with a heavy dose of 3-point shooting.
In a 2017 article in The Players' Tribune, Starks pulled no punches when it came to determining which era of basketball was better.
"People love to rank NBA eras, so let me be clear — my generation was the best," Starks wrote. "The way we played the game was incredible. Even if you were watching the game on TV, you could feel the passion on the court. People on the street come up to me all the time and say, 'John, we miss that game. We miss the physicality!' Players were getting after it every night. Pro basketball used to be a contact sport."
The mental aspect was a big part of Starks' defensive scheme. Unfortunately for him, it never worked on Jordan.
"Certain guys I could get to mentally," Starks said in an interview with comedian Sam Morril. "But him, I could never get to mentally. Believe me, I tried my best. He was that special player that you couldn't break his will. If anything, you're just taking him to another level."
Michael Jordan's scouting report consisted of two words, according to Starks
Jordan's Bulls faced Starks' Knicks in the 1993 Eastern Conference Finals. The Knicks had homecourt advantage and made the most of it, winning the first two games of the best-of-seven series. It was Starks' left-handed, baseline dunk over Jordan that helped seal the Game 2 victory.
"That may have been the loudest moment I've ever heard at Madison Square Garden," said Knicks broadcaster Walt 'Clyde' Frazier to MSG Networks regarding the Starks dunk. "The crowd catapults you. They make you do things that normally you could not do. I'm sure Starks probably couldn't do that again if he tried."
While Starks and the Knicks took the 2-0 series lead, the Bulls won the next four to advance to the NBA Finals. Jordan got the last laugh, going for 54 points in a Game 4 victory.
Starks had no answer for Air Jordan. Nobody ever did.
"Jordan was a nightmare to guard," Starks said. "We used to get scouting reports on certain guys. You'd look at that scouting reports and they'd say take your right hand away. Take your left hand away. Push him this way. Push him that way.
"On him, it's just like, good luck."
Starks said talking was a big part of his game
Starks didn't have the physical attributes to cover some of the more athletic guys in the league. Guys like Jordan and Miller gave him fits. Starks would often turn to trash-talking to try and get them off their game a bit.
Starks said he did a lot of talking because he knew he had teammates who had his back.
"There was a lot of guys in the league back then that I used to get to all the time," Starks said, "because I had (Charles Oakley) and Patrick (Ewing) behind me."
Starks played 13 years in the NBA after going undrafted in 1988. He signed with the Golden State Warriors after playing collegiately at Oklahoma State. He earned a tryout with the Knicks in 1990 and eventually earned the starting shooting guard spot and stuck with the team through 1998.
Starks had his best year during the 1993-94 season when he averaged a career-high 19 points and a career-best 5.9 assists while helping the Knicks reach the NBA Finals. Starks made his lone NBA All-Star appearance that season.
He also played for the Utah Jazz and Chicago Bulls.