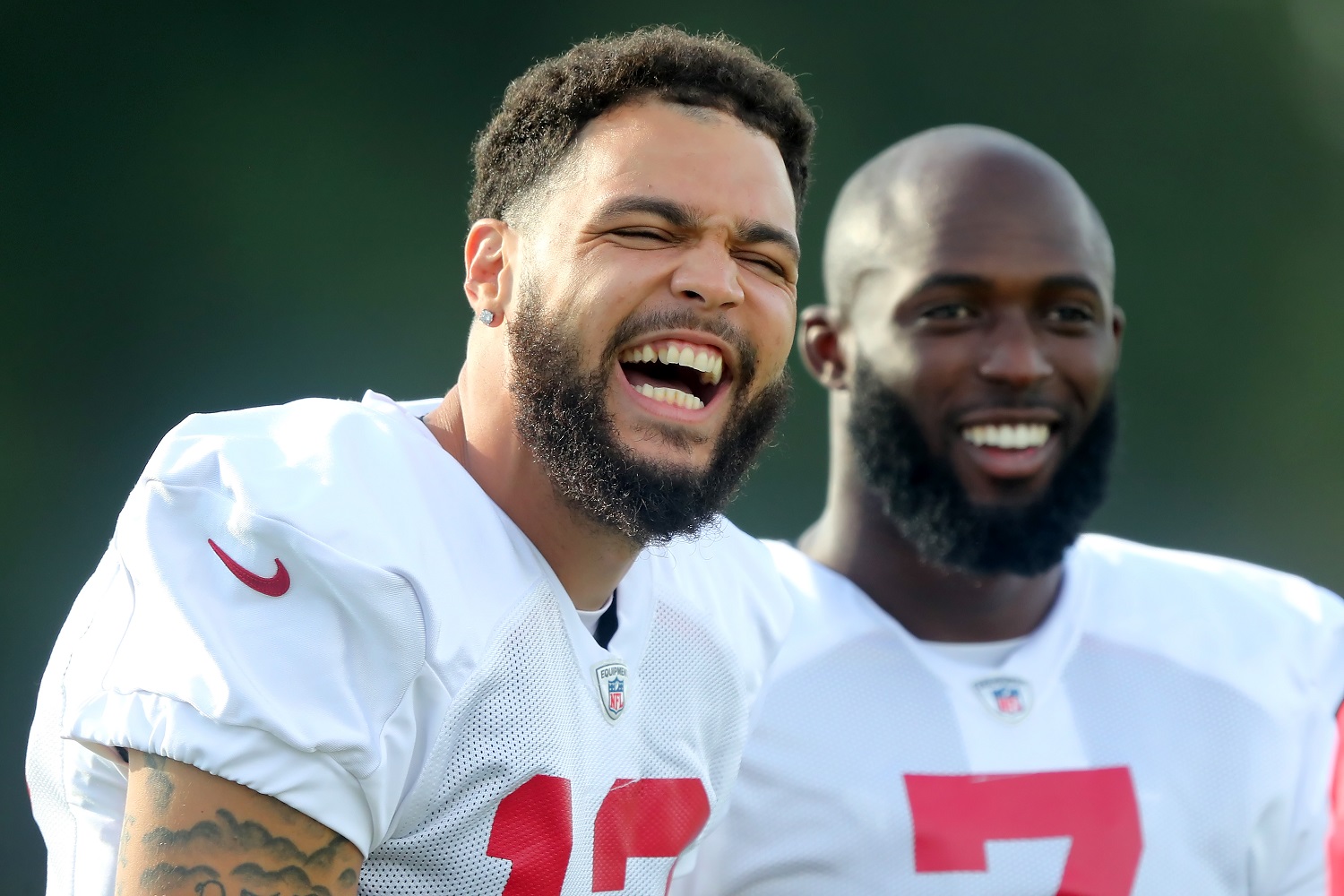 Mike Evans Puts NFL Defenses on Notice With a Bold Claim About the Buccaneers: 'We're Miles Ahead of Where We Were Last Year'
Mike Evans says going through a normal offseason has put the Tampa Bay Buccaneers well ahead of schedule as they prepare to defend their Super Bowl title.
The Dallas Cowboys got bad news over the weekend with the disclosure that All-Pro guard Zack Martin will miss the 2021 NFL season opener after testing positive for COVID-19. And then Mike Evans delivered worse news. The Tampa Bay Buccaneers wide receiver is promising that opposing defenses will have their hands full this season.
The Tampa Bay Buccaneers are in great shape in 2021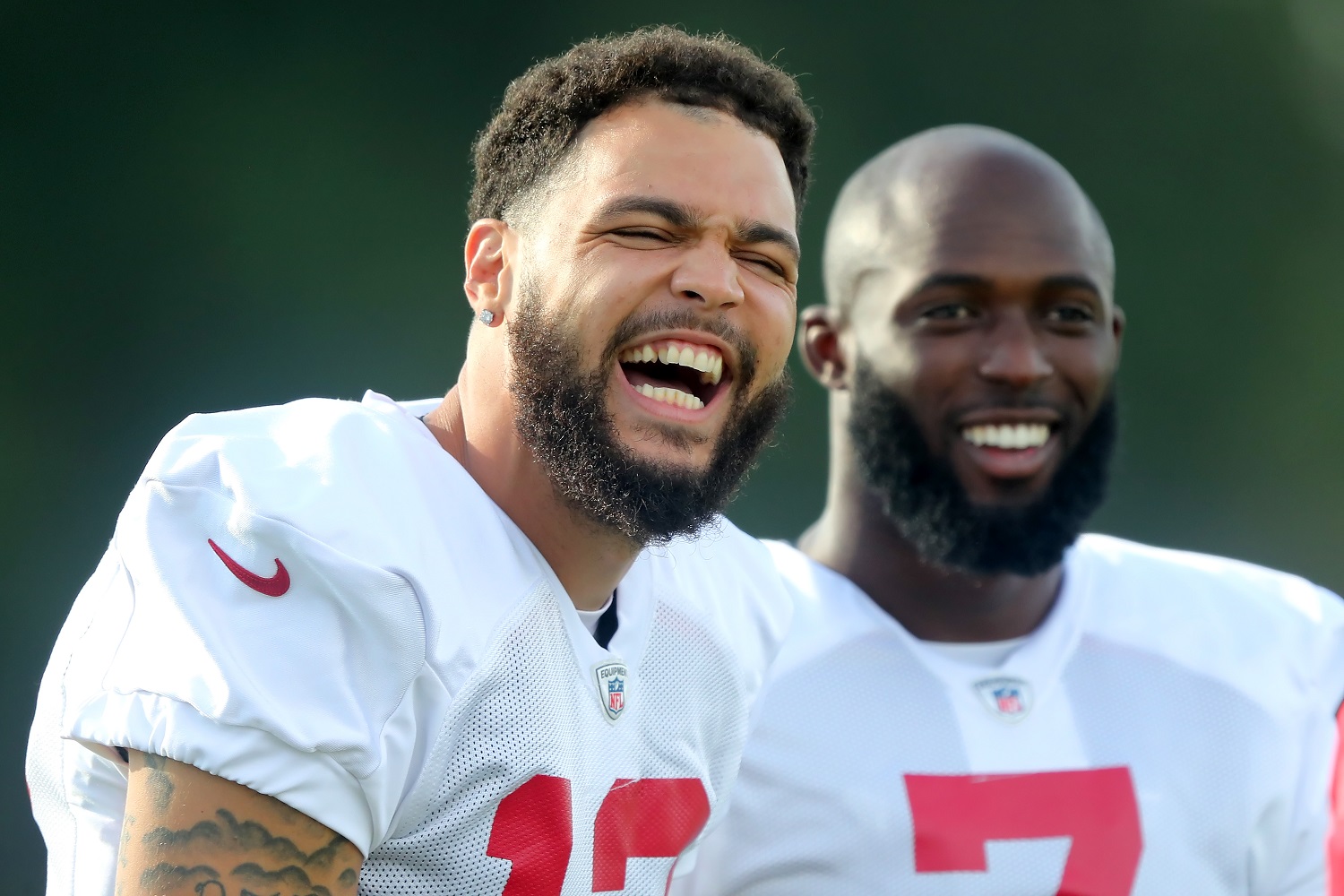 It's both truth and fallacy that there is minimal room for improvement for a Super Bowl champion as it seeks to retain the Vince Lombardi Trophy.
No NFL team has successfully defended its crown since the New England Patriots in Super Bowl 39 following the 2004 season. Some of the teams unsuccessful in their title defense certainly improved from year to year but not as much as at least one team that had been close behind.
In the case of the Buccaneers, there honestly is little room for improvement. They came out of the Week 13 bye to win their final eight games last year and have come as close as anyone in memory to returning intact a starting 22 that ranked third in points scored and eighth in points allowed.
But the Bucs didn't even win their division and dropped five games last season, so how can anyone argue there's minimal room for to get better? That's because those final eight games showed just how much the team improved along the way. Remember, coach Bruce Arians had to integrate Tom Brady into the system without the benefit of a normal offseason or any preseason games. Antonio Brown was a late addition to a receivers' room led by Mike Evans, and we didn't see the real Leonard Fournette until the playoffs.
Tampa Bay Buccaneers receiver Mike Evans puts NFL defenses on notice
The NFL season kicks off Thursday with Tampa Bay hosting the Dallas Cowboys, and eighth-year receiver Mike Evans has an alarming message for defenses across the league: The Bucs may have scored 492 regular-season points a year ago, but there's a lot more where that came from.
"We're miles ahead of where we were last year. Not just me and (Tom Brady making a) connection, but the whole team, the whole offense. It's really exciting and hopefully we can do something really special this year."

Mike Evans
The potential aerial circus alone should strike fear into defensive coordinators. Evans (70 catches, 13 touchdowns) and Chris Godwin (65 and seven) constituted a formidable duo before Brown arrived in Week 9, and Scotty Miller is a deep-ball threat. Throw in tight ends Rob Gronkowski, Cameron Brate, and O.J. Howard, and Brady has plenty of options without having to throw to anyone coming out of the backfield, where Leonard Fournette and Ronald Jones will do the bulk of the carrying.
If Evans' assertion after practice on Sunday that the offense is "miles" ahead of where it was a year ago is accurate, the Bucs should be lighting up the scoreboard on a regular basis.
Mike Evans says the offense will employ some new twists
Mike Evans has logged 532 catches and 61 touchdowns through seven seasons. His 13 scores in 2020 represented a career high, and he thinks there's more to come thanks to the combination of his own offseason work and the fact that the Buccaneers conducted a normal offseason as COVID-19 restrictions eased.
That means the offense will eschew status quo and aim big.
"We've got the rapport now with Tom now," Evans said. "We're trying to mix in the no-huddle here and there. Everybody's on the same page. And last year we felt we left a lot out there. A lot.
"With the guys we have on this team, we shouldn't be doing that. The games could have been a little easier for us last year. Hopefully, this year we show out."
On a personal level, Evans is putting himself on the line.
"If I'm in good shape and I'm healthy, I feel I'm the best receiver on the planet," he said.
Those are big words, but Evans has the crew around him to make it happen.
All stats courtesy of Pro Football Reference.