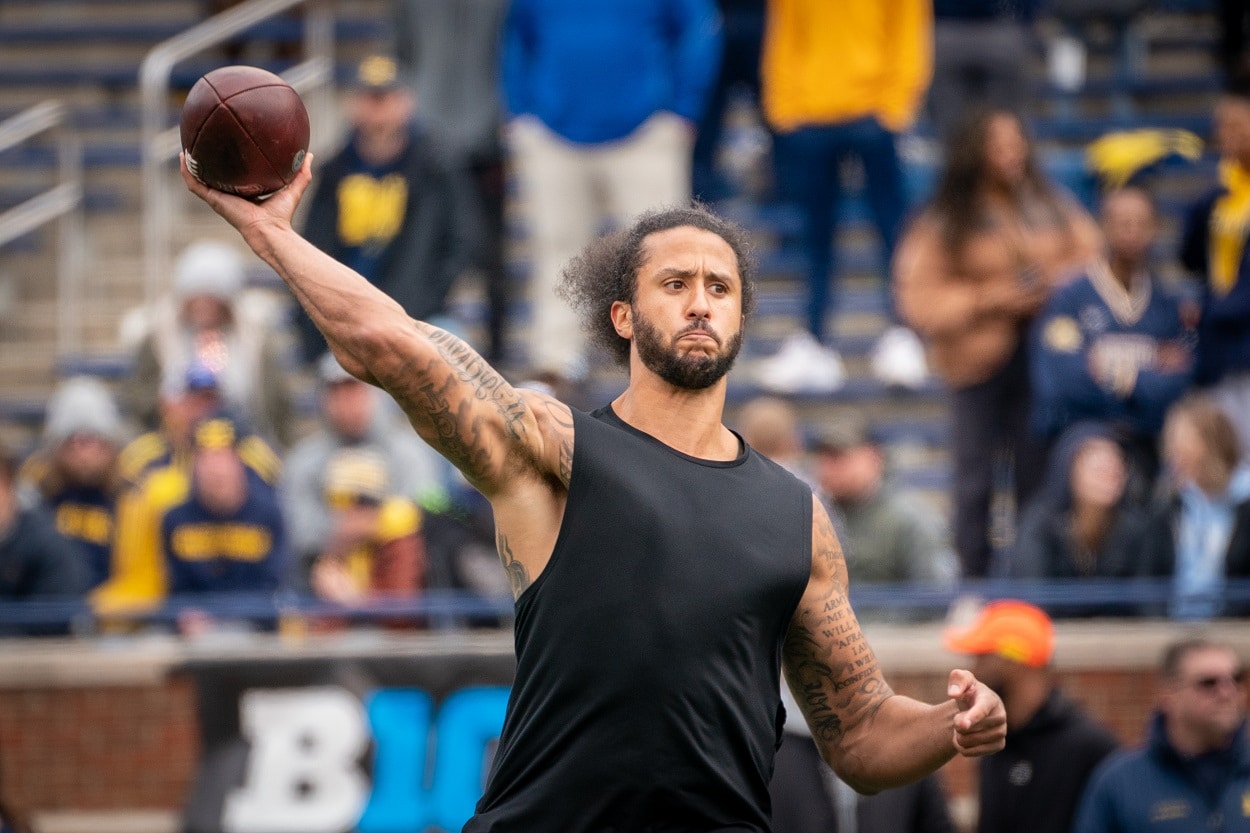 Mike Florio Believes Colin Kaepernick Could Legitimately Compete for Starting Quarterback With 5 NFL Teams
Mike Florio believes there are five starting jobs in the NFL that Colin Kaepernick could win.
lt took more than five years for Colin Kaepernick to get a real workout with an NFL team after opting out of his contract with the San Francisco 49ers in March 2017. Kaepernick, of course, has essentially been blackballed from the league due to his controversial kneeling protests during the playing of the national anthem during the 2016 campaign.
While the Nevada alum held a workout for several NFL teams in November 2019, nothing came of it. Just like nothing has yet to come from Kaepernick's recent workout with the Las Vegas Raiders. But the process had to start somewhere, right? That's not to say he won't sign with the Raiders, as he could certainly be a fantastic backup option for Las Vegas behind Derek Carr.
And Kaepernick, who seemingly had no interest in being a backup for a long time, says he's now open to that option if that's what it takes to get back to the NFL.
But NBC Sports' Mike Florio thinks there are five teams for which the 34-year-old could be QB1, not QB2.
That's a pretty bold take when discussing a guy who hasn't taken a real snap since New Year's Day in 2017. Kaepernick completed 17 of 22 passes for 215 yards and a touchdown for the Niners that day in a 25-23 loss to the Seattle Seahawks.
Kaepernick became the starter in San Francisco during his second NFL season in 2012 and promptly led the team to the Super Bowl, where the 49ers lost to the Baltimore Ravens. In six seasons, he completed 59.8% of his passes for 12,271 yards with 72 touchdowns against 30 interceptions. Kaepernick added 2,300 yards and 13 scores on the ground.
So how does Colin Kaepernick stack up against the current starters for the teams Florio mentioned?
Atlanta Falcons
With longtime starter Matt Ryan now with the Indianapolis Colts, the Atlanta Falcons have Marcus Mariota and rookie Desmond Ridder as their options at quarterback. Ridder, the Cincinnati product, was taken in the third round of this year's draft and obviously has no NFL stats.
Mariota, on the other hand, has plenty of it and actually has very similar career numbers to those of Kaepernick. Mariota's record as a starter is 29-32. Kaepernick's is 28-30. Mariota has a better completion percentage (62.8%) and has thrown for more yards (13,437) and touchdowns (77), but also has more interceptions (45).
Carolina Panthers
The Carolina Panthers' top two options at quarterback are Sam Darnold and rookie Matt Corral, who was also taken in the third round of this year's draft.
Darnold went 4-7 in his first year in Carolina in 2021 after going 13-25 in three seasons with the New York Jets. Like Kaepernick, his career completion percentage is 59.8%, and he's thrown for 10,624 yards with 54 touchdowns against 52 interceptions.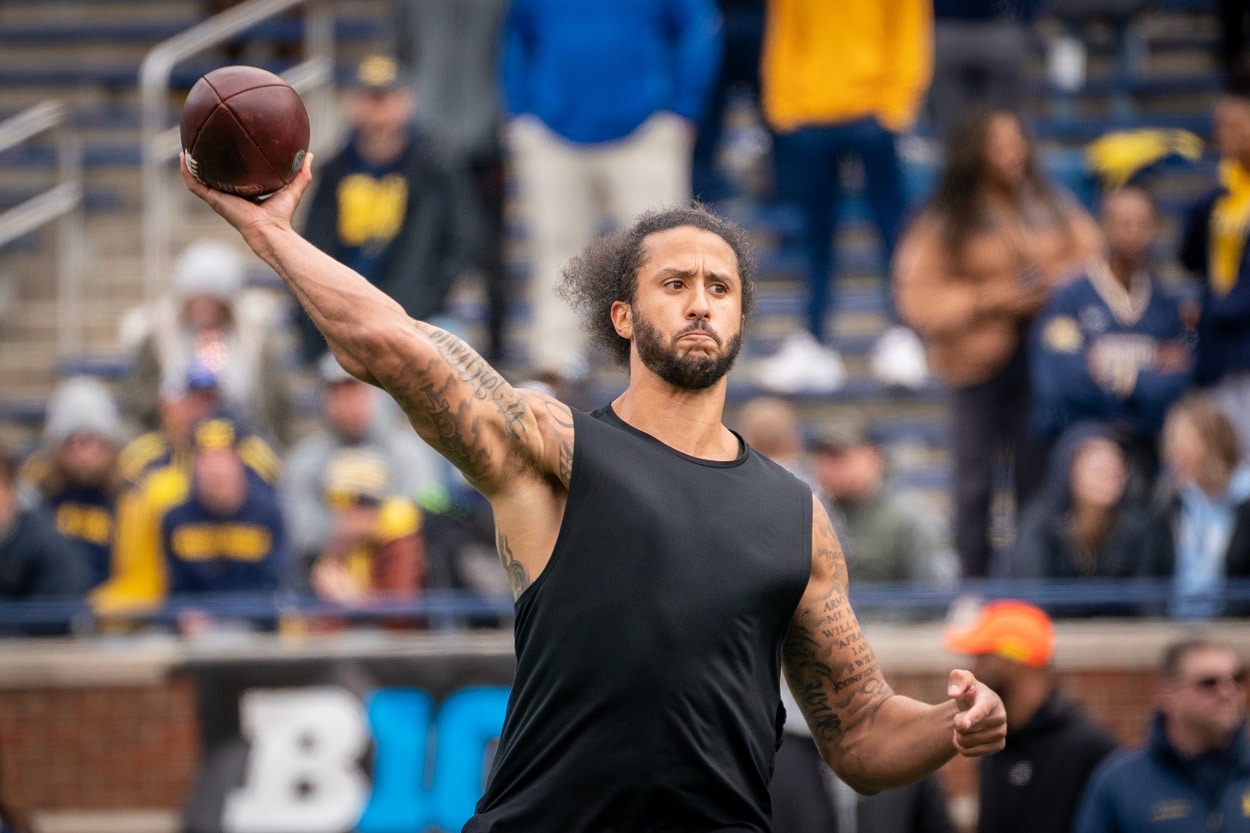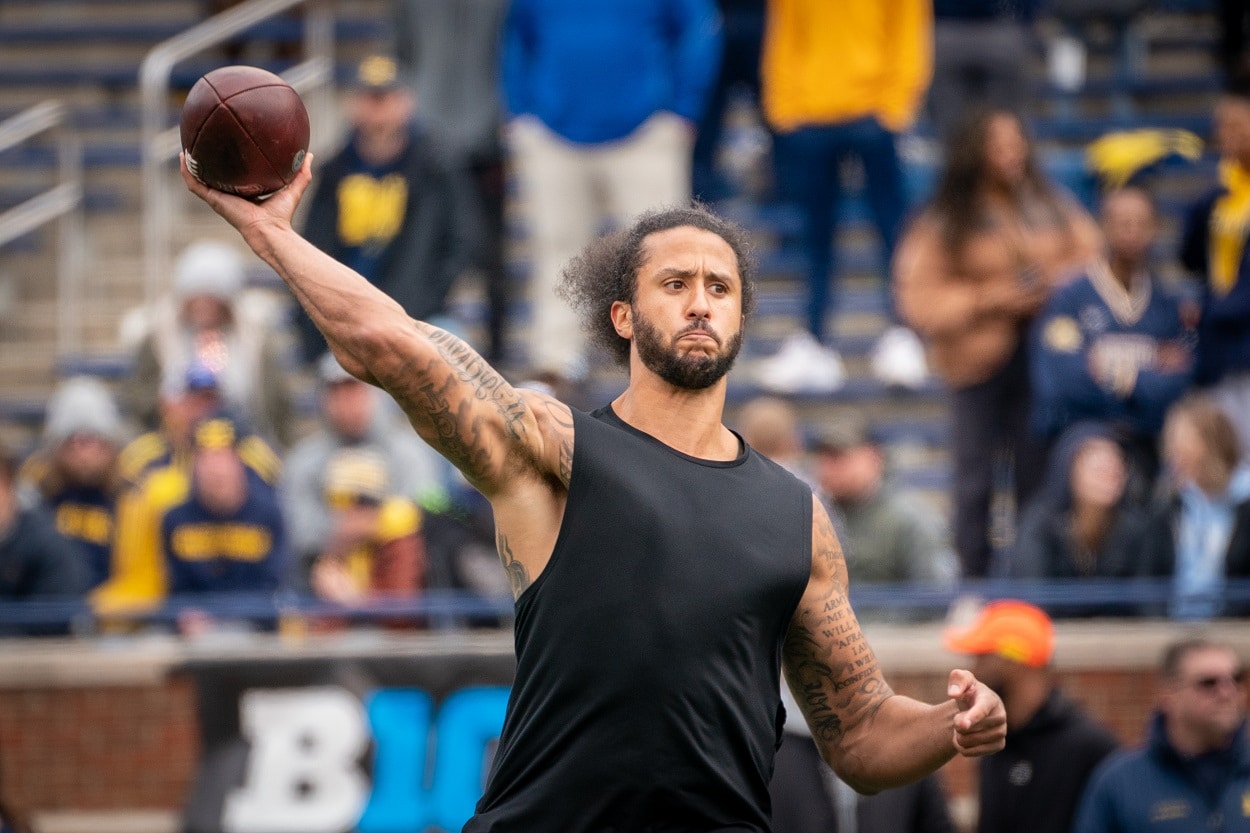 Houston Texans
With Deshaun Watson finally entirely out of the picture for the Houston Texans, it's clear Lovie Smith will stick with second-year Stanford alum Davis Mills at QB1. Mills went 2-9 as a starter in 2011, completing 66.8% of his passes for 2,664 yards with 16 touchdowns against 10 interceptions.
Miami Dolphins
The Miami Dolphins are seemingly set with Tua Tagovailoa as their starting quarterback, but perhaps they added Teddy Bridgewater for a reason. And maybe that reason is that they don't have as much faith in Tagovailoa as Dolphins fans might want the franchise to have in a top-five selection.
Bridgewater was also a first-round pick back in 2014. Kaepernick was a second-round selection in 2011. This one seems like a long shot. But after five years, maybe they're all long shots.
Seattle Seahawks
With Russell Wilson now under center for the Denver Broncos, the Seattle Seahawks' top two options are Geno Smith and Drew Lock. Smith started three games for the Seahawks in 2021, his first starts since 2017, going 1-2.
Lock also made three starts a season ago, going 0-3 for the Broncos.
Stats courtesy of Pro Football Reference
Like Sportscasting on Facebook. Follow us on Twitter @sportscasting19 and subscribe to our YouTube channel.